Abstract
The scientific literature suggests ethnicity may be a risk factor for drowning. Ontario, Canada is one of the most ethnically diverse places in the world. The objective of our study was to determine if Asians, Africans and Hispanics were at an increased risk of drowning compared to Greater Europeans. Ethnicity served as a surrogate for country of origin. Using Coroner's reports, all unintentional drowning deaths in Ontario from 2004 to 2008 were reviewed. The ethnicity of drowning victims was estimated using a previously validated name-based ethnicity classifier. Age-standardized drowning rates were calculated by sex and place of residence (rural vs. non-rural) for people of each ethnicity group using the method of direct standardization. For residents of Ontario living in rural areas, the age-standardized drowning rate was significantly higher among men of Asian, African, or Hispanic ethnicity compared to men of Greater European ethnicity (RR 13.9; 95 % CI 8.1–23.8) and for women of Asian, African, or Hispanic ethnicity compared to women of Greater European ethnicity (RR 23.9; 95 % CI 6.4–89.1). These high-risk individuals need to be considered when developing drowning prevention strategies.
Access options
Buy single article
Instant access to the full article PDF.
US$ 39.95
Tax calculation will be finalised during checkout.
Subscribe to journal
Immediate online access to all issues from 2019. Subscription will auto renew annually.
US$ 79
Tax calculation will be finalised during checkout.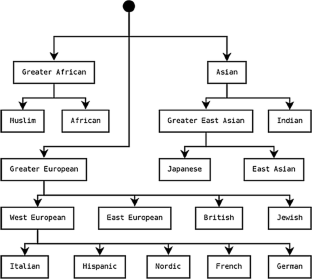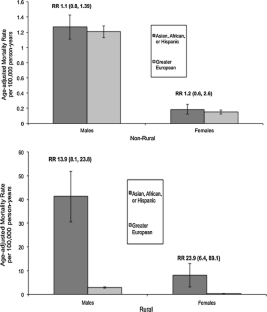 References
1.

World Health Organization. Drowning factsheets. http://www.who.int/mediacentre/factsheets/fs347/en/. Accessed 8 Sept 2012.

2.

Royal Lifesaving Society Canada. The national drowning trends report: 1991–2000. Lifesaving Society of Canada's website. http://www.lifesaving.ca/. Accessed 12 Jan 2013.

3.

Smartrisk. The economic burden of injury. www.smartrisk.ca/downloads/burden/Canada2009/EBI-Eng-Final.pdf. Accessed 19 March 2012.

4.

Lewis P. Census highlights: factsheet 7—immigration and citizenship. 2006. http://www.fin.gov.on.ca/en/economy/demographics/census/cenhi06-7.html. Accessed 8 Nov 2012.

5.

Chui T, Tran K, Maheux H. Canada's Ethnocultural Mosaic, Census. 2006. http://www12.statcan.ca/census-recensement/2006/as-sa/97-562/pdf/97-562-XIE2006001.pdf. Accessed 8 Sept 2013.

6.

Saluja G, Brenner RA, Trumble AC, Smith GS, Schroeder T, Cox C. Swimming pool drownings among US residents aged 5–24 years: understanding racial/ethnic disparities. Am J Public Health. 2006;96:728–33. doi:10.2105/AJPH.2004.057067.

7.

Stirbu I. Injury mortality among ethnic minority groups in the Netherlands. J Epidemiol Community Health. 2006;60:249–55. doi:10.1136/jech.2005.037325.

8.

Quan L, Crispin B, Bennett E, Gomez A. Beliefs and practices to prevent drowning among Vietnamese-American adolescents and parents. Inj Prev. 2006;12:427–9. doi:10.1136/ip.2006.011486.

9.

Wilkins R. Use of postal codes and addresses in the analysis of health data. Health Rep. 1993;5:157–77.

10.

Ambekar A, Ward C, Mohammed J, Male S, Skiena S. Name-ethnicity classification from open sources. In: Proceedings of the 15th ACM SIGKDD international conference on Knowledge discovery and data mining, 2009, p 49–58.

11.

Gulliver P, Begg D. Usual water-related behaviour and "neardrowning" incidents in young adults. Aust N Z J Public Health. 2005;29:238–43.

12.

Rahman A, Giashuddin SM, Svanström L, Rahman F. Drowning—a major but neglected child health problem in rural Bangladesh: implications for low income countries. Int J Inj Contr Saf Promot. 2006;13:101–5. doi:10.1080/17457300500172941.

13.

Rahman F, Bose S, Linnan M, Rahman A, Mashreky S, Haaland B, Finkelstein E. Cost-effectiveness of an injury and drowning prevention program in Bangladesh. Pediatrics. 2012;130:1621–8.

14.

Cummings P, Mueller BA, Quan L. Association between wearing a personal floatation device and death by drowning among recreational boaters: a matched cohort analysis of United States Coast Guard data. Inj Prev. 2011;17:156–9. doi:10.1136/ip.2010.028688.

15.

Wintemute GJ, Teret S, Kraus J, Wright M. Alcohol and drowning: an analysis of contributing factor and discussion of criteria for case selection. Accid Anal Prev. 1990;22:291–6.

16.

Iltan C. In a nation defined by water, new Canadians struggle to stay safe. The Globe and Mail. 15 July 2010.

17.

Fang Y, Dai L, Jaung MS, Chen X, Yu S, Xiang H. Child drowning deaths in Xiamen city and suburbs, People's Republic of China, 2001 5. Inj Prev. 2007;13:339–43. doi:10.1136/ip.2007.016683.

18.

Quan LL, Cummings PP. Characteristics of drowning by different age groups. Inj Prev. 2003;9:163–8.

19.

Mateos P. A review of name-based ethnicity classification methods and their potential in population studies. Popul Space Place. 2007;13:243–63. doi:10.1002/psp.457.
Acknowledgments
Preliminary findings from this study were presented at the 2011 World Conference on Drowning Prevention, Danang, Vietnam, May 10, 2011. This project was funded by an unrestricted Grant from the Lifesaving Society of Ontario. The funder had no input on study design, data acquisition, data interpretation, or manuscript writing. The authors thank Dr. Jim Edwards, June Lindsell, and the Office of the Chief Coroner of Ontario for support, valued input, and access to data. The authors wish to thank Angela Prencipe of the Toronto Region Statistics Canada Research Data Centre for guidance in accessing Census data and Jing Shen for expert assistance in programming and data extraction. The authors also wish to thank Marisa Creatore of the Centre for Research on Inner City Health for her assistance in using the Statistics Canada Postal Code Conversion File. The Centre for Research on Inner City Health gratefully acknowledges the support of the Ontario Ministry of Health and Long-Term Care. The results and conclusions are those of the authors, and no official endorsement by any of the above organizations is intended or should be inferred.
About this article
Cite this article
Gallinger, Z.R., Fralick, M. & Hwang, S.W. Ethnic Differences in Drowning Rates in Ontario, Canada. J Immigrant Minority Health 17, 1436–1443 (2015). https://doi.org/10.1007/s10903-014-0095-7
Keywords
Drowning

Ethnicity

Ontario

Harm prevention

Swimming

Immigrant