Abstract
A systematic review of literature reporting prevalence rates of posttraumatic stress disorder (PTSD) and depression amongst community samples of resettled Iraqi refugees was undertaken. A search of the electronic databases of Medline, PsychINFO, CINAHL, PILOTS, Scopus, and Cochrane, up to November 2013 was conducted. Following the application of the inclusion and exclusion criteria, eight empirical papers were included in the review and analysis. Specifically, six studies reported on PTSD prevalence (total n = 1,912), which ranged from 8 to 37.2 % and seven studies reported on rates of depression (total n = 1,647) noted to be 28.3 to 75 %. The overall interobserver agreement for the methodological quality assessment was good to excellent with a Kappa coefficient of 0.64. Iraqi refugees continue to represent one of the largest groups being resettled worldwide. This systematic review indicates that prevalence of PTSD and depression is high and should be taken into consideration when developing mental health early intervention and treatment services.
Access options
Buy single article
Instant access to the full article PDF.
US$ 39.95
Tax calculation will be finalised during checkout.
Subscribe to journal
Immediate online access to all issues from 2019. Subscription will auto renew annually.
US$ 79
Tax calculation will be finalised during checkout.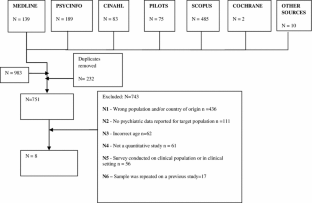 References
1.

United Nations High Commissioner for Refugees. Statistical Yearbook 2010: trends in displacement, protection and solutions. 2010. Available from http://www.unhcr.org/refworld/docid/4f06ecf72.html.

2.

Hollifield M, et al. Measuring trauma and health status in refugees: a critical review. JAMA. 2002;288(5):611–21.

3.

Fazel M, et al. Prevalence of serious mental disorder in 7000 refugees resettled in western countries: a systematic review. Lancet. 2005;1365(9467):1309–14.

4.

Keyes E. Mental health status in refugees: an integrative review of current research. Issues Ment Health Nurs. 2000;21(4):397–410.

5.

Hashemian F, et al. Anxiety, depression, and posttraumatic stress in Iranian survivors of chemical warfare. JAMA. 2006;296(5):560–6.

6.

De Jong M, et al. The trauma of War in Sierra Leone. Lancet. 2000;355(2):2067–8.

7.

Steel Z, et al. Mental disorders, disability and health service use amongst Vietnamese refugees and the host Australian population. Acta Psychiatr Scand. 2005;111(4):300–9.

8.

Carlson R. Trauma experiences, posttraumatic stress, dissociation, and depression in Cambodian refugees. Am J Psychiatry. 1991;148(11):4.

9.

Porter M, Haslam N. Predisplacement and postdisplacement factors associated with mental health of refugees and internally displaced persons. JAMA. 2005;294(5):10.

10.

Steel Z, et al. Association of torture and other potentially traumatic events with mental health outcomes among populations exposed to mass conflict and displacement: a systematic review and meta-analysis. JAMA. 2009;302(5):537–49.

11.

Wood R. The Political Terror Scale (PTS): a re-introduction and a comparison to the CIRI. Hum Rights Q. 2010;32(2):367–400.

12.

Al-Saffar S. Integrating rehabilitation of torture victims into the public health of Iraq. Torture. 2007;17(2):156–68.

13.

Shoeb M, et al. The Harvard trauma questionnaire: adapting a cross-cultural instrument for measuring torture, trauma and posttraumatic stress disorder in Iraqi refugees. Int J Soc Psychiatry. 2007;53(5):447–63.

14.

Alhasnawi S, et al. The prevalence and correlates of DSM-IV disorders in the Iraq Mental Health Survey (IMHS). World Psychiatry. 2009;8:97–109.

15.

United Nations High Commissioner for Refugees. Mid-year trends 2013. 2014. Available from http://unhcr.org/52af08d26.html.

16.

Rejinders J, et al. A systematic review of prevalence studies of depression in Parkinson's disease. Mov Disord. 2008;23(2):183–9.

17.

Cohen J. A coefficient of agreement for nominal scales. Educ Psychol Meas. 1960;20(1):37–46.

18.

Landis R, Koch G. The measurement of observer agreement for categorical data. Biometrics. 1997;33(1):159–74.

19.

Jamil H, Nasser-McMillen SC, Lambert RG. Immigration and attendant psychological sequelae: a comparison of three waves of Iraqi immigrants. Am J Orthopsychiatry. 2007;77(2):199–205.

20.

Kira I, et al. The physical and mental status of Iraqi refugees and its etiology. Ethn Dis. 2007;17(3):79–82.

21.

Laban C, et al. Impact of a long asylum procedure on the prevalence of psychiatric disorders in Iraqi asylum seekers in The Netherlands. J Nerv Ment Dis. 2004;192(12):843–51.

22.

Nickerson A, et al. Fear of cultural extinction and psychopathology among Mandaean refugees: an exploratory path analysis. CNS Neurosci Ther. 2009;15:227–39.

23.

Sondergaard H, et al. Self-reported life event patterns and their relation to health among recently resettled Iraqi and Kurdish refugees in Sweden. J Nerv Ment Dis. 2001;189(12):838–45.

24.

Taylor E et al. Physical and mental health status of Iraqi resettled in the United States. J Immigr Minor Health. 2013. doi:10.1007/2Fs10903-013-9893-6.

25.

Johnston V et al. Measuring the health impact of human rights violations related to Australian asylum policies and practices: a mixed methods study. BMC Int Health Hum Rights. 2009;9(1). doi:10.1186/1472-698X-9-1.

26.

Takeda J. Psychological and economic adaptation of Iraqi male refugees: implications for social work practice. J Soc Serv Res. 2000;26(3):1–21.

27.

Sondergaard H, Theorell T. Alexithymia, emotions and PTSD; findings from longitudinal study of refugees. Nord J Psychiatry. 2004;58(3):185–91.

28.

Kazarian S, Taher D. Validation of the Arabic center for epidemiological studies depression (CES-D) scale in a Lebanese community sample. Eur J Psychol Assess. 2010;26(1):68–73.

29.

Mahfound Z, et al. The Arabic validation of the Hopkins Symptoms Checklist-25 against MINI in a disadvantaged suburb of Beirut, Lebanon. Int J Educ Psychol Assess. 2013;13(1):17–33.

30.

Kessler R, et al. Twelve-month and lifetime prevalence and lifetime morbid risk of anxiety and mood disorders in the United States. Int J Methods Psychiatr Res. 2012;21(3):169–84.

31.

Steel Z, et al. Two year psychosocial and mental health outcomes for refugees subjected to restrictive or supportive immigration policies. Soc Sci Med. 2011;72(7):1149–56.

32.

Silove D, et al. The impact of the refugee decision on the trajectory of PTSD, anxiety, and depressive symptoms among asylum seekers: a longitudinal study. Am J Disaster Med. 2007;2(6):321–9.

33.

Sulaiman-Hill C et al. Sampling challenges in a study examining refugee resettlement. BMC Int Health Hum Rights. 2011; 11(2). doi:10.1186/1472-698x-11-2.
Acknowledgments
Dr. Tasnim Hasan was supported with a summer scholarship from the School of Medicine, The University of Western Sydney.
About this article
Cite this article
Slewa-Younan, S., Uribe Guajardo, M.G., Heriseanu, A. et al. A Systematic Review of Post-traumatic Stress Disorder and Depression Amongst Iraqi Refugees Located in Western Countries. J Immigrant Minority Health 17, 1231–1239 (2015). https://doi.org/10.1007/s10903-014-0046-3
Keywords
PTSD

Depression

Iraqi refugees

Western countries