Abstract
Estrogen and endocrine-disrupting chemicals (EDCs) that are associated with several health outcomes have been found in hair products. We evaluated the proportion, frequency, duration, and content of hair products in a racially/ethnically diverse population. We recruited n = 301 African-American, African-Caribbean, Hispanic, and white women from the New York metropolitan area. We collected data on hair oil, lotion, leave-in conditioner, root stimulator, perm, and other product use. Estrogen and EDC information was collected from commonly used hair products' labels (used by >3% of population). African-American and African-Caribbean women were more likely to use all types of hair products compared to white women (P < 0.0001). Among hair product users, frequency varied significantly by race/ethnicity, but not duration. More African-Americans (49.4%) and African-Caribbeans (26.4%) used products containing placenta or EDCs compared to whites (7.7%). African-American and African-Caribbean women were more likely to be exposed to hormonally-active chemicals in hair products.
Access options
Buy single article
Instant access to the full article PDF.
US$ 39.95
Tax calculation will be finalised during checkout.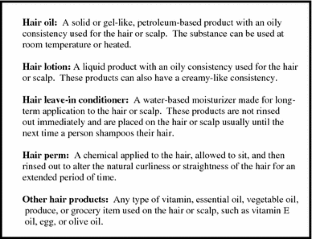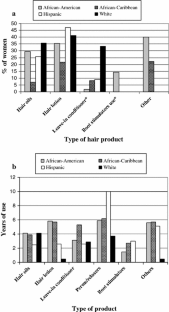 References
1.

Tiwary CM. Premature sexual development in children following the use of estrogen- or placenta-containing hair products. Clin Pediatr (Phila). 1998;37(12):733–9.

2.

Donovan M, et al. Personal care products that contain estrogens or xenoestrogens may increase breast cancer risk. Med Hypotheses. 2007;68(4):756–66.

3.

Li ST, et al. Hormone-containing hair product use in prepubertal children. Arch Pediatr Adolesc Med. 2002;156(1):85–6.

4.

Tiwary CM, Ward JA. Use of hair products containing hormone or placenta by US military personnel. J Pediatr Endocrinol Metab. 2003;16(7):1025–32.

5.

Hulka BS, Moorman PG. Breast cancer: hormones and other risk factors. Maturitas. 2001;38(1):103–13. (discussion 113–116).

6.

Stahlhut RW, et al. Concentrations of urinary phthalate metabolites are associated with increased waist circumference and insulin resistance in adult U.S. males. Environ Health Perspect. 2007;115(6):876–82.

7.

Tiwary CM. A survey of use of hormone/placenta-containing hair preparations by parents and/or children attending pediatric clinics. Mil Med. 1997;162(4):252–6.

8.

Zalko D, et al. Viable skin efficiently absorbs and metabolizes bisphenol A. Chemosphere. 2010;82(3):424–30.

9.

Gomez E, et al. Estrogenic activity of cosmetic components in reporter cell lines: parabens, UV screens, and musks. J Toxicol Environ Health A. 2005;68(4):239–51.

10.

Hatch EE, et al. Association of urinary phthalate metabolite concentrations with body mass index and waist circumference: a cross-sectional study of NHANES data, 1999–2002. Environ Health. 2008;7:27.
Acknowledgments
Andrea Deierlein, Ghasi Phillips, Gonzalo Maldanado, Denise Esserman, Lina Titievsky, Teresa Janevic, Kellee White, Danella Hafeman, Sharon Schwartz, study and focus group participants. This project was funded by a pilot grant from The Jean Sindab African-American Breast Cancer Project.
About this article
Cite this article
James-Todd, T., Senie, R. & Terry, M.B. Racial/Ethnic Differences in Hormonally-Active Hair Product Use: A Plausible Risk Factor for Health Disparities. J Immigrant Minority Health 14, 506–511 (2012). https://doi.org/10.1007/s10903-011-9482-5
Keywords
Personal care products

African-American

Endocrine disruptors