Abstract
Health care policymakers have cited transportation barriers as key obstacles to providing health care to low-income suburbanites, particularly because suburbs have become home to a growing number of recent immigrants who are less likely to own cars than their neighbors. In a suburb of New York City, we conducted a pilot survey of low income, largely immigrant clients in four public clinics, to find out how much transportation difficulties limit their access to primary care. Clients were receptive to the opportunity to participate in the survey (response rate = 94%). Nearly one-quarter reported having transportation problems that had caused them to miss or reschedule a clinic appointment in the past. Difficulties included limited and unreliable local bus service, and a tenuous connection to a car. Our pilot work suggests that this population is willing to participate in a survey on this topic. Further, since even among those attending clinic there was significant evidence of past transportation problems, it suggests that a population-based survey would yield information about substantial transportation barriers to health care.
Access options
Buy single article
Instant access to the full article PDF.
USD 39.95
Price excludes VAT (USA)
Tax calculation will be finalised during checkout.
References
Felland LE, Lauer JR, Cunningham PJ. Suburban poverty and the health care safety net. Res Briefs. 2009;13:1–12.

Nandi A, et al. Access to and use of health services among undocumented Mexican immigrants in a US urban area. Am J Public Health. 2008;98(11):2011–20.

Guendelman S, et al. The effects of child-only insurance coverage and family coverage on health care access and use: Recent findings among low-income children in California. Health Serv Res. 2006;41(1):125–47.

Standish K, et al. Household density among undocumented Mexican immigrants in New York City. J Immigr Minor Health. 2008;12(3):310–8.

Berube A, Kneebone E. Two steps back: City and suburban poverty trends: 1999–2005 in Living Cities Census Series. Washington, DC: Brookings Institution; 2006.

Michael S, Eichberg S. Vital signs: measuring long Island's social health. Garden City, NY: Adelphi University; 2006.

Pathman DE, Ricketts TC, Konrad TR. How adults' access to outpatient physician services relates to the local supply of primary care physicians in the rural southeast. Health Serv Res. 2006;41(1):79–102.

Okoro CA. Access to health care among older adults and receipt of preventive services. Results from the Behavioral Risk Factor Surveillance System, 2002. Prev Med. 2005;40(3):337–43.

Arcury TA, et al. Access to transportation and health care utilization in a rural region. J Rural Health. 2005;21(1):31–8.

Blazer DG. Health services access and use among older adults in north carolina: urban vs. rural residents. Am J Public Health. 1995;85(10):1384–90.

Coronado GD, et al. Use of Pap test among Hispanics and non-Hispanic whites in a rural setting. Prev Med. 2004;38(6):713–22.
Appendix: Transportation Survey
Appendix: Transportation Survey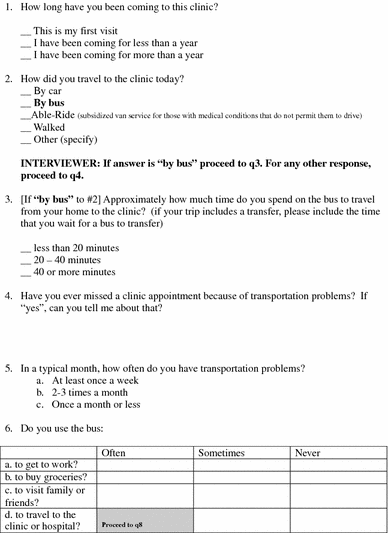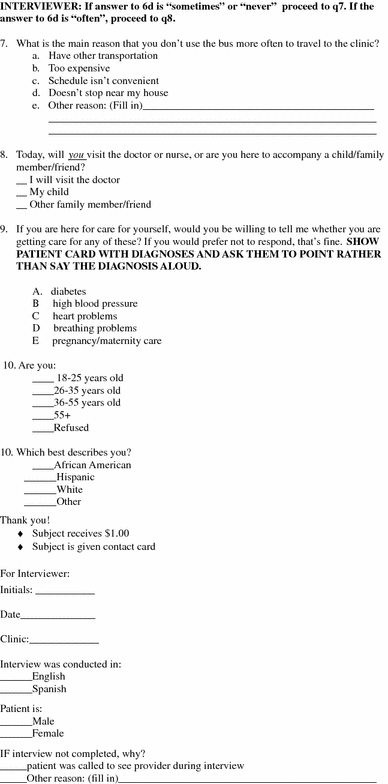 About this article
Cite this article
Silver, D., Blustein, J. & Weitzman, B.C. Transportation to Clinic: Findings from a Pilot Clinic-Based Survey of Low-Income Suburbanites. J Immigrant Minority Health 14, 350–355 (2012). https://doi.org/10.1007/s10903-010-9410-0
Published:

Issue Date:

DOI: https://doi.org/10.1007/s10903-010-9410-0
Keywords
Transportation

Health care

Primary care

Suburban

Low-income

Immigrants