Abstract
Using PISA 2018 data from nearly half a million 15-year-olds across 72 middle- and high-income countries, this study investigates the relationship between economic development and adolescent subjective well-being. Findings indicate a negative log-linear relationship between per-capita GDP and adolescent life satisfaction. The negative nexus stands in stark contrast to the otherwise positive relationship found between GDP per capita and adult life satisfaction for the same countries. Results are robust to various model specifications and both macro and micro approaches. Moreover, our analysis suggests that this apparent paradox can largely be attributed to higher learning intensity in advanced countries. Effects are found to be more pronounced for girls than for boys.
Access options
Buy single article
Instant access to the full article PDF.
USD 39.95
Price excludes VAT (USA)
Tax calculation will be finalised during checkout.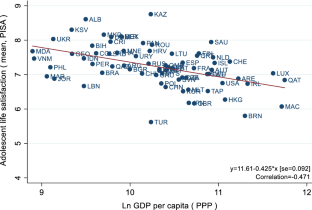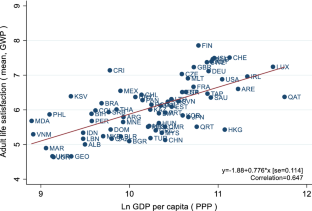 Notes
We define learning intensity as the product of quantity and complexity of learning tasks completed by a student within a given time period, e.g., a school year. The amount of learning that happens in school is known to be positively correlated with the level of economic development of a country. Due to differing returns to education across nations, Becker et al. (1990) concluded that "societies with limited human capital choose large families and invest little in each member; those with abundant human capital do the opposite". Hence, parental investment in education of their offspring is highest in high-income countries, and so are the expectations that teachers and parents have in the actual cognitive efforts that children exert (Becker et al., 1990; Mincer, 1984). Given the importance of education and the overall level of development, high-income countries also provide higher school quality (World Bank, 2017; 2021). According to the World Bank (2017), "37 million African children will learn so little in school that they will not be much better off than kids who never attended school". The secular expansion of schooling and of cognitive effort over the twentieth century economic development processes of OECD nations have further been associated with generational gains in intelligence levels and growth in the human prefrontal cortex (Blair et al., 2005; Flynn 1984, 1987).

A growing body of literature documents declining levels of adolescent SWB between the ages 10 and 15 (Casas and González-Carrasco, 2019). If it is true that schoolwork pressure and test requirements increased during early teen age, it would be advisable to control for education-related factors (Wiklund et al., 2012). Comparing PISA 2015 and 2018 data, Marquez and Long (2021) find declining levels of adolescent life satisfaction in 39 out of 46 countries over time.

Among the 72 countries that measured life satisfaction, the measure was reported by 92.4 percent of students. PISA 2018 data does not contain math, reading, and science scores for Vietnam, and for Spain it does not contain reading scores. When test scores were reported for a country, they were reported for 100 percent of students, without any missing values.

All variables are measured for the year 2018. In case of missing values in 2018, the earliest year available is being used.

Positive and negative emotions were asked in the following manner: "Thinking about yourself and how you normally feel: how often do you feel […]?" (response scale: "1" = 'never', "2" = 'rarely', "3" = 'sometimes', "4" = 'always'). Individual averages across four positive emotions (happy, joyful, cheerful, lively) were used to construct a measure of positive emotions, while averages across four negative emotions (afraid, scared, sad, miserable) were used to construct a measure of negative emotions. Lastly, meaning in life is measured using a 3-item index of perceived meaning in life constructed and provided by the OECD's PISA team. Students were asked to report the extent to which they agree with the statements: "My life has clear meaning or purpose"; "I have discovered a satisfactory meaning in life"; and "I have a clear sense of what gives meaning to my life." The index was scaled using a generalized partial credit model and values of the index correspond to Warm likelihood estimates (WLE). The estimates were then standardized so that the mean of the index value for the OECD student population was zero and the standard deviation was one (equal weight given to countries) (OECD, 2019b; 2021).

We average across all three subjects to proxy for the average level of academic performance by country. However, in a separate robustness check we will examine whether our results hold when using separate test scores by subject.

Positive goal interdependence (co-operation) leads to promotive interaction and exists when individuals perceive that they can reach their goals if and only if the people with whom they are co-operatively linked also reach their goals. Negative goal interdependence (competition) exists when individuals perceive that they can obtain their goals if and only if the people with whom they are competitively linked fail to obtain their goals, and results in oppositional interaction. No goal interdependence leads to no interaction.

Individual-level variables were selected from a larger pool of individual controls. The ones remaining proved to be particularly significant for adolescent well-being.

We distinguish Confucian and Non-Confucian countries in East Asia, given the much stronger educational competition in the former. Confucian societies include Korea, China, Taiwan, Japan, Vietnam, Hong Kong, and Macao.

Data on adult life satisfaction was only available for 70 out of the 72 countries. When restricting the sample in column (1) to these 70 countries, the coefficient estimate for ln GDP per capita is similar (coeff. -0.360; s.e. 0.086).

We checked for the presence of multicollinearity among regressors of model (6) in Table 3. VIFs were all below 4. Interestingly, competition and co-operation showed a positive bivariate correlation, indicating that these can be complementing each other (ρ = 0.39).

Imputed values are predicted based on a multivariate regression of lower secondary net enrollment on ln GDP per capita, average and expected years of schooling for 2018 from the Human Development Index, as well as 10 world region dummies.
References
Ahn, S. Y., & Baek, H. J. (2012). Academic achievement-oriented society and its relationship to the psychological well-being of Korean adolescents. In The Psychological Well-being of East Asian Youth (pp. 265–279). Springer, Dordrecht.

Akyol, P., Krishna, K., & Wang, J. (2021). Taking PISA seriously: How accurate are low-stakes exams? Journal of Labor Research, 42(2), 184–243.

Aknin, L. B., Hamlin, J. K., & Dunn, E. W. (2012). Giving leads to happiness in young children. PLoS ONE, 7(6), e39211.

Bălțătescu, S. (2021). Ruut Veenhoven's Livability Concept and Children's Happiness Around the Globe. In The Pope of Happiness (pp. 1–13). Springer, Cham.

Becker, G. S., Murphy, K. M., & Tamura, R. (1990). Human capital, fertility, and economic growth. Journal of Political Economy, 98(5, Part 2), S12–S37.

Becker, G. S. (1993). Human capital: A theoretical and empirical analysis, with special reference to education. University of Chicago press.

Ben-Arieh, A. (2008). The Child indicators movement: Past, present, and future 591(1). Child Indicators Research, 1(1), 3–16.

Blair, C., Gamson, D., Thorne, S., & Baker, D. (2005). Rising mean IQ: Cognitive demand of mathematics education for young children, population exposure to formal schooling, and the neurobiology of the prefrontal cortex. Intelligence, 33(1), 93–106.

Bücker, S., Nuraydin, S., Simonsmeier, B. A., Schneider, M., & Luhmann, M. (2018). Subjective well-being and academic achievement: A meta-analysis. Journal of Research in Personality, 74, 83–94.

Campbell, O. L. K., Bann, D., & Patalay, P. (2021). The gender gap in adolescent mental health: a cross-national investigation of 566,829 adolescents across 73 countries. SSM-Population Health, 13, 100742.

Casas, F., & González-Carrasco, M. (2019). Subjective well-being decreasing with age: New research on children over 8. Child Development, 90(2), 375–394.

Chiu, M. M., Chow, B. W. Y., McBride, C., & Mol, S. T. (2016). Students' sense of belonging at school in 41 countries: Cross-cultural variability. Journal of Cross-Cultural Psychology, 47(2), 175–196.

Choi, A. (2018). Emotional well-being of children and adolescents: Recent trends and relevant factors," OECD Education Working Papers 169, OECD Publishing.

Clark, A. E., & Lepinteur, A. (2019). The causes and consequences of early-adult unemployment: Evidence from cohort data. Journal of Economic Behavior and Organization, 166, 107–124.

Coupe, T., & Obrizan, M. (2018). Adolescents'(un) happiness in transition. Journal of Comparative Economics, 46(3), 858–873.

Dalziel, P., Saunders, C., & Saunders, J. (2018). Wellbeing economics (p. 196). Springer Nature.

Deaton, A. (2008). Income, health, and well-being around the world: Evidence from the Gallup World Poll. Journal of Economic Perspectives, 22(2), 53–72.

Deutsch, M. (1949). A theory of co-operation and competition. Human Relations, 2(2), 129–152.

De Neve, J. E., & Oswald, A. J. (2012). Estimating the influence of life satisfaction and positive affect on later income using sibling fixed effects. Proceedings of the National Academy of Sciences, 109(49), 19953–19958.

Diener, E. (1994). Assessing subjective well-being: Progress and opportunities. Social Indicators Research, 31(2), 103–157.

Dijkstra, P., Kuyper, H., Van der Werf, G., Buunk, A. P., & van der Zee, Y. G. (2008). Social comparison in the classroom: A review. Review of Educational Research, 78(4), 828–879.

Festinger, L. (1954). A theory of social comparison processes. Human Relations, 7(2), 117–140.

Flynn, J. R. (1984). The mean IQ of Americans: Massive gains 1932 to 1978. Psychological Bulletin, 95(1), 29.

Flynn, J. R. (1987). Massive IQ gains in 14 nations: What IQ tests really measure. Psychological Bulletin, 101(2), 171.

Gibbons, S., & Silva, O. (2011). School quality, child wellbeing and parents' satisfaction. Economics of Education Review, 30(2), 312–331.

Gilman, R., & Huebner, S. (2003). A review of life satisfaction research with children and adolescents. School Psychology Quarterly, 18(2), 192.

Gilman, R., & Huebner, E. S. (2006). Characteristics of adolescents who report very high life satisfaction. Journal of Youth and Adolescence, 35(3), 293–301.

Gneezy, U., Niederle, M., & Rustichini, A. (2003). Performance in competitive environments: Gender differences. The Quarterly Journal of Economics, 118(3), 1049–1074.

Gneezy, U., & Rustichini, A. (2004). Gender and competition at a young age. American Economic Review, 94(2), 377–381.

Gneezy, U., Leonard, K. L., & List, J. A. (2009). Gender differences in competition: Evidence from a matrilineal and a patriarchal society. Econometrica, 77(5), 1637–1664.

Hanushek, E. A. (2013). Economic growth in developing countries: The role of human capital. Economics of Education Review, 37, 204–212.

Hanushek, E. A. (2020). Education production functions. The economics of education (pp. 161–170). Academic Press.

Heller-Sahlgren, G. (2018). Smart but unhappy: Independent-school competition and the wellbeing-efficiency trade-off in education. Economics of Education Review, 62, 66–81.

Helliwell, J. F., Layard, R., and Sachs, J. D. (2019). World Happiness Report 2019.

Hofmann, S., & Mühlenweg, A. (2018). Learning intensity effects in students' mental and physical health–Evidence from a large scale natural experiment in Germany. Economics of Education Review, 67, 216–234.

Högberg, B. (2021). Educational stressors and secular trends in school stress and mental health problems in adolescents. Social Science & Medicine, 270, 113616.

Johnson, D. W., & Johnson, R. T. (2005). New developments in social interdependence theory. Genetic, Social, and General Psychology Monographs, 131(4), 285–358.

Kim, T., Jang, H., & Kim, J. (2022a). Peers' private tutoring and adolescent depressive symptoms: Quasi-experimental evidence from secondary schools in South Korea. Journal of Adolescent Health, 70(4), 658–665.

Kim, T., Jang, H., & Kim, J. (2022b). Do peers affect private tutoring engagement in Korea? Evidence from a quasi-experimental approach. Asia Pacific Education Review, 1–13.

Kosher, H., & Ben-Arieh, A. (2017). What children think about their rights and their well-being: A cross-national comparison. American Journal of Orthopsychiatry, 87(3), 256–273.

Krell, M. (2017). Evaluating an instrument to measure mental load and mental effort considering different sources of validity evidence. Cogent Education, 4(1), 1280256.

Kuan, P. Y. (2018). Effects of cram schooling on academic achievement and mental health of junior high students in Taiwan. Chinese Sociological Review, 50(4), 391–422.

Layard, R., Clark, A. E., Cornaglia, F., Powdthavee, N., & Vernoit, J. (2014). What predicts a successful life? A life-course model of well-being. The Economic Journal, 124(580), F720–F738.

Lee, B. J., & Yoo, M. S. (2015). Family, school, and community correlates of children's subjective well-being: An international comparative study. Child Indicators Research, 8(1), 151–175.

Lee, J., Rhee, D. E., & Rudolf, R. (2019). Teacher gender, student gender, and primary school achievement: Evidence from ten Francophone African countries. The Journal of Development Studies, 55(4), 661–679.

Lemma, P., Borraccino, A., Berchialla, P., Dalmasso, P., Charrier, L., Vieno, A., Lazzeri, G., & Cavallo, F. (2015). Well-being in 15-year-old adolescents: a matter of relationship with school. Journal of public health, 37(4), 573–580.

Levin, K. A., & Currie, C. (2010). Family structure, mother‐child communication, father‐child communication, and adolescent life satisfaction. Health Education.

Lundborg, P., Nilsson, A., & Rooth, D. O. (2014). Adolescent health and adult labor market outcomes. Journal of Health Economics, 37, 25–40.

Marquez, J. (2021). Does school impact adolescents' life satisfaction differently for students of different socio-economic status? A comparative study in 33 countries, Education Inquiry.

Marquez, J., & Long, E. (2021). A global decline in adolescents' subjective well-being: A comparative study exploring patterns of change in the life satisfaction of 15-year-old students in 46 countries. Child Indicators Research, 14(3), 1251–1292.

Marquez, J., & Main, G. (2021). Can schools and education policy make children happier? A comparative study in 33 countries. Child Indicators Research, 14(1), 283–339.

Mincer, J. (1984). Human capital and economic growth. Economics of Education Review, 3(3), 195–205.

Moksnes, U. K., Løhre, A., Lillefjell, M., Byrne, D. G., & Haugan, G. (2016). The association between school stress, life satisfaction and depressive symptoms in adolescents: Life satisfaction as a potential mediator. Social Indicators Research, 125(1), 339–357.

Morgan, A. R., Rivera, F., Moreno, C., & Haglund, B. J. (2012). Does social capital travel? Influences on the life satisfaction of young people living in England and Spain. BMC Public Health, 12(1), 138.

McCarty, C. A., Mason, W. A., Kosterman, R., Hawkins, J. D., Lengua, L. J., & McCauley, E. (2008). Adolescent school failure predicts later depression among girls. Journal of Adolescent Health, 43(2), 180–187.

OECD (2013). OECD Guidelines on Measuring Subjective Well-being. OECD.

OECD (2019a). PISA 2018 Results (Volume I): What Students Know and Can Do, PISA, OECD Publishing, Paris, https://doi.org/10.1787/5f07c754-en.

OECD (2019b). PISA 2018 Results (Volume II): Where All Students Can Succeed, PISA, OECD Publishing, Paris, https://doi.org/10.1787/b5fd1b8f-en.

OECD (2020). PISA 2018 Results (Volume III): What School Life Means for Students' Lives, PISA, OECD Publishing, Paris, https://doi.org/10.1787/c414e291-en.

OECD (2021). PISA 2018 Technical Report. http://www.oecd.org/pisa/data/pisa2018technicalreport/.

Park, N. (2004). The role of subjective well-being in positive youth development. The Annals of the American Academy of Political and Social Science, 591(1), 25–39.

Plenty, S., & Mood, C. (2016). Money, peers and parents: Social and economic aspects of inequality in youth wellbeing. Journal of Youth and Adolescence, 45(7), 1294–1308.

Proctor, C. L., Linley, P. A., & Maltby, J. (2009). Youth life satisfaction: A review of the literature. Journal of Happiness Studies, 10(5), 583–630.

Quis, J. S. (2015). Does higher learning intensity affect student well-being? Evidence from the National Educational Panel Study (No. 94). BERG Working Paper Series.

Quis, J., & Reif, S. (2017). Health effects of instruction intensity: Evidence from a natural experiment in German high schools. SOEPpaper No. 916.

Rees, G. (2017). Children's activities and time use: Variations between and within 16 countries. Children and Youth Services Review, 80, 78–87.

Rees, G. & Main, G. (eds) (2015) Children's views on their lives and well-being in 15 countries: A report on the Children's Worlds survey, 2013–14. York, UK: International Survey of Children's Well-being.

Robeyns, I. (2006). Three models of education: Rights, capabilities and human capital. Theory and Research in Education, 4(1), 69–84.

Roseth, C. J., Johnson, D. W., & Johnson, R. T. (2008). Promoting early adolescents' achievement and peer relationships: The effects of cooperative, competitive, and individualistic goal structures. Psychological Bulletin, 134(2), 223.

Shenhav, A., Musslick, S., Lieder, F., Kool, W., Griffiths, T. L., Cohen, J. D., & Botvinick, M. M. (2017). Toward a rational and mechanistic account of mental effort. Annual Review of Neuroscience, 40, 99–124.

Solmi, M., Radua, J., Olivola, M., Croce, E., Soardo, L., Salazar de Pablo, G., Il Shin, J., Kirkbride, J. B., Jones, P., Kim, J. H., Kim, J. Y., & Fusar-Poli, P. (2022). Age at onset of mental disorders worldwide: large-scale meta-analysis of 192 epidemiological studies. Molecular Psychiatry, 27(1), 281–295.

Steinmayr, R., Crede, J., McElvany, N., & Wirthwein, L. (2016). Subjective well-being, test anxiety, academic achievement: Testing for reciprocal effects. Frontiers in Psychology, 6, 1994.

Steinmayr, R., Heyder, A., Naumburg, C., Michels, J., & Wirthwein, L. (2018). School-related and individual predictors of subjective well-being and academic achievement. Frontiers in Psychology, 9, 2631.

Stevenson, B., & Wolfers, J. (2013). Subjective well-being and income: Is there any evidence of satiation? American Economic Review, 103(3), 598–604.

UNDP. (2020). Human development report 2020. UNDP.

UNESCO UIS (2021). UNESCO UIS online data portal. http://data.uis.unesco.org/, Retrieved January 18, 2021.

UNGA. (1989). Convention on the rights of the child. United Nations, Treaty Series, 1577(3), 1–23.

Westbrook, A., & Braver, T. S. (2015). Cognitive effort: A neuroeconomic approach. Cognitive, Affective, & Behavioral Neuroscience, 15(2), 395–415.

Wiklund, M., Malmgren-Olsson, E., Öhman, A., Bergström, E., & Fjellman-Wiklund, A. (2012). Subjective health complaints in older adolescents are related to perceived stress, anxiety and gender—a cross-sectional school study in Northern Sweden. BMC Public Health, 12, 993.

World Bank. (2017). World development report 2018: Learning to realize education's promise. The World Bank.

World Bank. (2020). World development indicators. The World Bank.

World Bank. (2021). The human capital index 2020 update: Human capital in the time of COVID-19. World Bank. https://doi.org/10.1596/978-1-4648-1552-2
Funding
Research funding was provided by Korea University, Grant Number K2001391.
Additional information
Publisher's Note
Springer Nature remains neutral with regard to jurisdictional claims in published maps and institutional affiliations.
Appendix
Appendix
See Tables
8 and
9.
See Figs.
3,
4,
5, and
6.
Rights and permissions
Springer Nature or its licensor holds exclusive rights to this article under a publishing agreement with the author(s) or other rightsholder(s); author self-archiving of the accepted manuscript version of this article is solely governed by the terms of such publishing agreement and applicable law.
About this article
Cite this article
Rudolf, R., Bethmann, D. The Paradox of Wealthy Nations' Low Adolescent Life Satisfaction. J Happiness Stud 24, 79–105 (2023). https://doi.org/10.1007/s10902-022-00595-2
Accepted:

Published:

Issue Date:

DOI: https://doi.org/10.1007/s10902-022-00595-2
Keywords
JEL Classification