Abstract
Numerous studies have reported a positive individual-level association between happiness and two psychologically distinct states of mind: religious faith and subjective freedom (a feeling of life control). Although the strength of these relationships varies across countries, no general pattern driving this variation has been shown so far. After surveying 40,534 randomly selected respondents from 43 nations, we find that in countries where happiness is more closely related to religious faith, it is less strongly associated with subjective freedom, and vice versa. We have also identified the driving force behind this inverse relationship. Rising individualism and emancipative values, as an outcome of modernization, diminish the importance of religious faith for people's happiness, while increasing the importance of subjective freedom. We conclude that the dominant emancipatory direction of cultural evolution favors freedom over religion.
Access options
Buy single article
Instant access to the full article PDF.
US$ 39.95
Tax calculation will be finalised during checkout.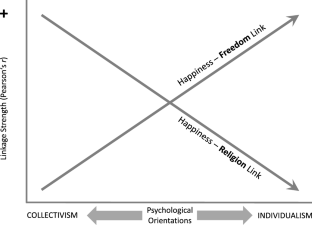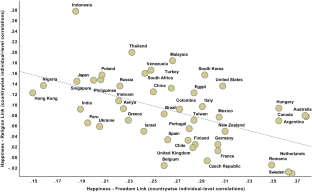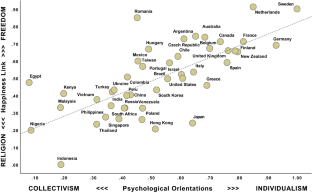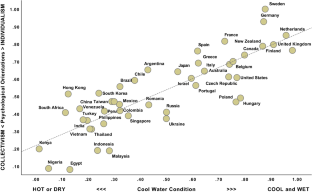 Notes
1.

In Christianity's most important prayer, God (supposedly the author of that prayer) receives a number of requests, the most important of which is to lead not the believers into temptation and deliver them from evil. In Al-Fatiha, the opening of the Quran and a quintessential Muslim prayer, Allah is asked to "show us the straight path, the path of those whom Thou hast favored, not (the path) of those who earn Thine anger nor of those who go astray".
References
Abdel-Khalek, A. M. (2006). Happiness, health, and religiosity: Significant relations. Mental Health, Religion, and Culture, 9(1), 85–97.

Abu-Raya, H. (2016). Religiousness and subjective well-being among Israeli-Palestinian college students: Direct or mediated links? Social Indicators Research, 126(2), 829–844.

Alexander, A., Inglehart, R., & Welzel, C. (2012). Measuring effective democracy: A defense. International Political Science Review, 33, 41–62.

Beugelsdijk, S., & Welzel, C. (2018). Dimensions and dynamics of national culture: Synthesizing Hofstede with Inglehart. Journal of Cross-Cultural Psychology, 49(10), 1469–1505.

Brunkert, L., Kruse, S., & Welzel, C. (2018). A tale of culture-bound regime evolution: The centennial democratic trend and its recent reversal. Democratization, 25, 1–23. https://doi.org/10.1080/13510347.2018.1542430.

Coppedge, M., Gerring, J., Lindberg, S., et al. (2018). V-Dem Country Year Dataset 7. Varieties of Democracy (V-Dem) Project. Retrieved May 1, 2019, from www.vdem-net.org.

Frijters, P., & Beatton, T. (2012). The mystery of the U-shaped relationship between happiness and age. Journal of Economic Behavior and Organization, 82(2–3), 525–542.

Furnham, A., & Christoforou, I. (2007). Personality traits, emotional intelligence, and multiple happiness. North American Journal of Psychology, 9(3), 439–462.

Gundelach, P., & Kreiner, S. (2004). Happiness and life satisfaction in advanced European countries. Cross-Cultural Research, 38(4), 359–386.

Harzing, A. W. (2006). Response styles in cross-national survey research: A 26-country study. International Journal of Cross-Cultural Management, 6(2), 243–266.

He, J., Bartram, D., Inceoglu, I., & Van de Vijver, F. J. R. (2014). Response styles and personality traits: A multilevel analysis. Journal of Cross-Cultural Psychology, 45(7), 1028–1045.

Hofstede, G. (1980). Culture's consequences: International differences in work-related values. Beverly Hills, CA: Sage.

House, R. J., Hanges, P. J., Javidan, M., Dorfman, P. W., & Gupta, V. (Eds.). (2004). Culture, leadership, and organizations: The GLOBE study of 62 societies. Thousand Oaks, CA: Sage.

Inglehart, R. (2018). Cultural evolution: People's motivations are changing and reshaping the world. New York: Cambridge University Press.

Joshanloo, M. (2011). Investigation of the contribution of spirituality and religiousness to hedonic and eudaimonic well-being in Iranian young adults. Journal of Happiness Studies, 12(6), 915–930.

Kemmelmeier, M. (2016). Cultural differences in survey responding: Issues and insights in the study of response biases. International Journal of Psychology, 51(6), 439–444.

Krys, K., Uchida, Y., Oishi, S., & Diener, E. (2018). Open society fosters satisfaction: explanation to why individualism associates with country level measures of satisfaction. Journal of Positive Psychology. https://doi.org/10.1080/17439760.2018.1557243.

Larson, R. (1989). Is feeling "in control" related to happiness in daily life? Psychological Reports, 64(3), 775–784.

Levin, J. (2014). Religion and happiness among Israeli Jews: Findings from the ISSP Religion III Survey. Journal of Happiness Studies, 15(3), 593–611.

Lim, C., & Putnam, R. D. (2010). Religion, social networks, and life satisfaction. American Sociological Review, 75(6), 914–933.

Lipset, S. M. (1989). Continental divide. London: Routledge.

Minkov, M. (2018). A revision of Hofstede's model of national culture: Old evidence and new data from 56 countries. Cross-Cultural and Strategic Management, 25(2), 231–256.

Minkov, M., Dutt, P., Varma, T., Schachner, M., Morales, O., Sanchez, C. J., et al. (2017). A revision of Hofstede's individualism-collectivism dimension: A new national index from a 56-country study. Cross-Cultural and Strategic Management, 24(3), 386–404.

Minkov, M., Schachner, M., Sanchez, C., & Morales, O. (2019). A new worldwide measure of happiness explains national differences in suicide rates and cigarette consumption. Cross-Cultural Research, 53(4), 355–384.

Pannells, T. C., & Claxton, A. F. (2008). Happiness, creative ideation and locus of control. Creativity Research Journal, 20(1), 67–71.

Schwartz, S. H. (2008). Cultural value orientations: Nature and implications of national differences. Moscow: State University—Higher School of Economics Press.

Schwartz, S. H. (2008b). The seven Schwartz cultural value orientations for 80 countries. Research Gate. Retrieved May 1, 2019, from https://www.researchgate.net/publication/304715744_The_7_Schwartz_cultural_value_orientation_scores_for_80_countries.

Smith, P. B. (2004). Acquiescence response bias as an aspect of cultural communication style. Journal of Cross-Cultural Psychology, 35(1), 50–61.

Snoep, L. (2008). Religiousness and happiness in three nations: A research note. Journal of Happiness Studies, 9(2), 207–2011.

Spector, P. E., Cooper, C. L., Sanchez, J. I., O'Driscoll, M., Sparks, K., Bernin, P., et al. (2001). Do national levels of individualism and internal locus of control relate to well-being: an ecological level international study. Journal of Organizational Behavior, 22(8), 815–832.

Welzel, C. (2013). Freedom rising: Human empowerment and the quest for emancipation. New York: Cambridge University Press.

Welzel, C., & Inglehart, R. (2010). Agency, values, and well-being: A human development model. Social Indicators Research, 97, 43–46.

Welzel, C., & Inglehart, R. (2019). Political culture, value change and mass beliefs. In C. Haerpfer, et al. (Eds.), Democratization (2nd (fully revised) ed., pp. 134–157). Oxford: Oxford University Press.

Witter, R. A., Stock, W. A., Okun, M. A., & Haring, M. J. (1985). Religion and subjective well-being in adulthood: A quantitative synthesis. Review of Religious Research, 26(4), 332–342.
Ethics declarations
Conflict of interest
The authors declare that they have no conflict of interest.
Ethical Approval
The study uses data from adults who participated in the research voluntarily. The whole data collection was done anonymously online. All respondents had been informed that they could skip any question that made them feel uncomfortable or abandon the study at any time.
Additional information
Publisher's Note
Springer Nature remains neutral with regard to jurisdictional claims in published maps and institutional affiliations.
About this article
Cite this article
Minkov, M., Welzel, C. & Schachner, M. Cultural Evolution Shifts the Source of Happiness from Religion to Subjective Freedom. J Happiness Stud 21, 2873–2888 (2020). https://doi.org/10.1007/s10902-019-00203-w
Keywords
Happiness

Subjective well-being

Religion

Subjective freedom

Individualism