Abstract
This study assesses trends and differentials in happiness among the U.S. population. Using data from the General Social Survey, 1972–2016 and the intersectionality paradigm to guide this work, I find that happiness differentials across gender and race are generally converging; however, patterns are quite complex and contingent on group membership (i.e. gender, race). Black women for instance, present a consistent pattern of improvement in happiness across decades, while White women display a persistent pattern of decline. In contrast, Black men experienced a discernable pattern of improvement in happiness between the 1970s and 1990s, followed by a leveling off in the early-2000s. White men experienced moderate gains in happiness between the 1970s and 1990s, but after the Great Recession/Obama Era, White male happiness followed a pattern of unprecedented decline, with the "happiness advantage" they once enjoyed (as a group) over Black men and women largely vanishing. In fact, although advantaged White men in the general population (i.e. financially satisfied) were about as happy as their White female and African–American female peers after the Great Recession, disadvantaged White men who were financially dissatisfied were less likely to report the same sentiment when compared to their White female and Black female peers who were similarly disadvantaged. Taking these patterns in account, I conclude with a discussion of what these patterns demonstrate regarding the changing nature of racial and gender inequality in the United States, past and present.
Access options
Buy single article
Instant access to the full article PDF.
US$ 39.95
Tax calculation will be finalised during checkout.
Subscribe to journal
Immediate online access to all issues from 2019. Subscription will auto renew annually.
US$ 79
Tax calculation will be finalised during checkout.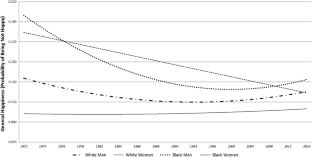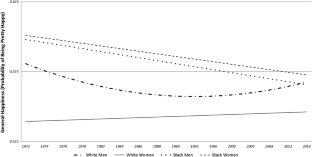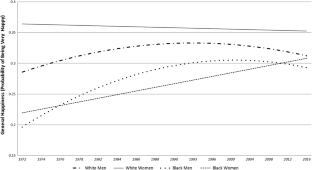 Notes
1.

It should be noted that although I am assessing "sex differences" in happiness (comparing self-identified males and females), per convention, I retain the language "gender" and "gender differences" consistent with the work of intersectional scholars (i.e. gender, race and class) and published work on temporal patterns in happiness using the General Social Survey (see Blanchflower and Oswald 2004; Coverdill et al. 2011; Hughes and Thomas 1998; Schnittker 2008; Stevenson and Wolfers 2009).

2.

Supplementary analysis using the fully interactive intersectional model (race × gender × year) as opposed to the simplified intersectional model presented here (e.g. black men × year), demonstrates that coefficients are nearly identical across models, and the general pattern presented here does not differ depending on the model of choice.

3.

This analytic choice does not bias the "year" variable in anyway. In fact, it facilitates a more substantive interpretation of the effect of year. By recoding year to 0–4.4, a unit increase in year can be interpreted as a 10-year or decade change in the odds of being happy.

4.

I refer to political economy to highlight the intersection of economics (markets) and politics (the state) and the degree to which individuals are embedded in societies, markets and the state.

5.

6.

To adjust for noise, these temporal patterns are presented with a race-gender specific (best fit) trend lines from 1972 to 2016.

7.

Based on the analysis alternating the race/gender referent, it was determined that the "main effect" variable for Black Women in Model 1 (representing average differences across the span of the survey for Black women) and Model 2 (representing Black female–White male happiness differentials in 1972) was significantly different from the main effect for White women and the omitted category (White men), but not Black men.

8.

Supplementary analysis (not shown in Table 4) demonstrates that White male–female gap in happiness across the lower and upper bounds of happiness were statistically indistinguishable in the 2000s. The pattern in the 2010's represents a complete reversal of White male progress in the prior decade.

9.

To ensure substantive and reliable conclusions could be drawn regarding changes in predicted probabilities across income, the top category was set to 50% of median household income to accommodate variation in income distributions across race and gender. Although about 29% of White women and 36% of White men resided in households with incomes in excess of $80,000 during the 2010s, 11% of Black Women and about 19% of Black men earned incomes in this range.

10.

Among unemployed Black men the distribution of the happiness outcome during the post-recession years was as followed: Not Too Happy (n = 22); Pretty Happy (n = 28); Very Happy (n = 5). Among Black men who were employed Full-Time, the distribution of happiness was as followed: Not Too Happy (n = 41); Pretty Happy (n = 153); Very Happy (n = 83).
References
Ailshire, J. A., & House, J. S. (2011). The unequal burden of weight gain: An intersectional approach to understanding social disparities in BMI trajectories from 1986 to 2001/2002. Social Forces,90, 397–423.

Aldous, J., & Ganey, R. F. (1999). Family life and the pursuit of happiness: The influence of gender and race. Journal of Family Issues,20, 155–180.

Beale, F. (1970). Double Jeopardy: To be black and female. In T. Cade (Ed.), Words of fire: An anthology of African American feminist thought (pp. 90–110). New York: Signet.

Blanchflower, D. G., & Oswald, A. J. (2004). Well-being over time in Britain and the USA. Journal of Public Economics,88, 1359–1386.

Bowleg, L. (2012). The problem with the phrase women and minorities: Intersectionality—An important theoretical framework for public health. American Journal of Public Health,102, 1267–1273.

Brown, T. H., Richardson, L. J., Hargrove, T. W., & Thomas, C. S. (2016). Using multiple-hierarchy stratification and life course approaches to understand health inequalities: The intersecting consequences of race, gender, SES, and age. Journal of Health and Social Behavior,57, 200–222.

Choo, H. Y., & Ferree, M. M. (2010). Practicing intersectionality in sociological research: A critical analysis of inclusions, interactions, and institutions in the study of inequalities. Sociological Theory.,28, 129–149.

Collins, P. H. (2000). Black feminist thought: Knowledge, consciousness, and the politics of empowerment. New York: Routledge.

Coverdill, J. E., Lopez, C. E., & Petrie, M. A. (2011). Race, ethnicity and the quality of life in America, 1972–2008. Social Forces,89(3), 783–805.

Crenshaw, K. (1989). Demarginalizing the intersection of race and sex: A black feminist critique of antidiscrimination doctrine, feminist theory and antiracist politics. University of Chicago Legal Forum,139, 67.

Crenshaw, K. (1991). Mapping the margins: Intersectionality, identity politics, and violence against women of color. Stanford Law Review,43, 1241–1299.

Cummings, J. L., & Jackson, P. B. (2008). Race, gender and SES disparities in self-rated health 1974–2004". Research on Aging,2, 137–167.

Davis, A. Y. (1983). Women, race and class. New York: Random House.

Deaton, A. (2012). The financial crisis and the well-being of Americans 2011 OEP hicks lecture. Oxford Economic Papers,64, 1–26.

Diener, E. (1994). Assessing subjective well-being: Progress and opportunities. Social Indicators Research,31, 103–157.

Diener, E., Suh, E. M., Lucas, R. E., & Smith, H. L. (1999). Subjective well-being: Three decades of progress. Psychological Bulletin,125, 276–302.

Easterlin, R. (2001). Income and happiness: Towards a unified theory. The Economic Journal,111, 465–484.

Easterlin, R. (2003). Happiness of women and men in later life: Nature, determinants, and prospects. In M. J. Sirgy, D. Rahtz, & A. C. Samli (Eds.), Advances in quality-of-life theory and research (pp. 13–26). Dordrecht: Kluwer Academic Publishers.

Easterlin, R. (2015). Happiness and economic growth–the evidence. In W. Glatzer, L. Camfield, V. Moller, & M. Rojas (Eds.), Global handbook of quality of life (pp. 283–299). Dordrecht: Springer.

Erving, C. L. (2011). Gender and physical health: A study of African American and Caribbean black adults. Journal of Health and Social Behavior,52(3), 383–399.

Ford, C., & Airhihenbuwa, C. O. (2010). The public health critical race methodology: Praxis for antiracism research. Social Science and Medicine,71, 1390–1398.

Grollman, E. A. (2014). Multiple disadvantaged statuses and health: The role of multiple dimensions of discrimination. Journal of Health and Social Behavior,55, 3–19.

Hancock, A.-M. (2007). When multiplication doesn't equal quick addition: Examining intersectionality as a research paradigm. Perspectives on Politics,5, 63–79.

Hanmer, M. J., & Kalkan, K. O. (2013). Behind the curve: Clarifying the best approach to calculating predicted probabilities and marginal effects from limited dependent variable models. American Journal of Political Science,57, 263–277.

Hoynes, H., Miller, D. L., & Schaller, J. (2012). Who suffers during recessions? Journal of Economic Perspectives,26, 27–48.

Hughes, M., & Thomas, M. E. (1998). The continuing significance of race revisited: A study of race, class, and quality of life in America 1972–1996. American Sociological Review,63, 785–795.

King, D. (1988). Multiple Jeopardy, multiple consciousness: The context of a black feminist ideology. Signs: Journal of Women in Culture and Society,14, 42–72.

Long, J. S., & Freese, J. (2006). Regression models for categorical and limited dependent variables. Thousand Oaks: Sage Publications.

Lyubomirsky, S. (2008). The how of happiness: A scientific approach to getting the life you want. New York: Penguin Books.

Malat, J., Timberlake, J., & Williams, D. R. (2011). The effects of Obama's political success on the self-rated health of blacks, hispanics, and whites. Ethnicity and Disease,21, 349–355.

McCall, L. (2005). The complexity of intersectionality. Signs,30, 1771–1800.

Mullings, L. (1997). On our own terms: Race, class and gender in the lives of African American women. New York: Routledge.

Roxburgh, S. (1996). Gender differences in work and well-being: Effects of exposure and vulnerability. Journal of Health and Social Behavior,37, 265–277.

Royston, P. (2005). Multiple imputation of missing values: Update of ice. Stata Journal,5, 527–536.

Schnittker, J. (2007). Working more and feeling better: Women's health, employment, and family life, 1974–2004. American Sociological Review,72, 221–238.

Schnittker, J. (2008). Diagnosing our national disease: Trends in income and happiness, 1973–2004. Social Psychology Quarterly,71, 257–280.

Simon, R. W. (1995). Gender, multiple roles, role meaning, and mental health. Journal of Health and Social Behavior,36, 182–194.

Stevenson, B., & Wolfers, J. (2008). Happiness inequality in the United States. The Journal of Legal Studies,37(S2), S33–S79.

Stevenson, B., & Wolfers, J. (2009). The paradox of declining female happiness. American Economic Journal: Economic Policy,1(2), 190–225.

Stevenson, B., & Wolfers, J. (2012). Subjective and objective indicators of racial progress. The Journal of Legal Studies, 41(2), 459–493.

Walby, S., Armstrong, J., & Strid, S. (2012). Intersectionality: Multiple inequalities in social theory. Sociology,46, 224–240.

Wall, H. J. (2009). This recession's effect on employment: How it stacks up for blacks, whites, men and women. Bridges, 110, 10.

Weber, L., & Parra-Medina, D. (2003). Intersectionality and women's health: charting a path to eliminating health disparities. In M. T. Segal, V. Demos, & J. J. Kronenfeld (Eds.), Advances in gender research: Gender perspectives on health and medicine volume 7 (pp. 181–230). Bingley, UK: Emerald Group Publishing.

Williams, R. (2012). Using the margins command to estimate and interpret adjusted predictions and marginal effects. The Stata Journal,12(2), 308–331.

Woolf, S. H., Chapman, D. A., Buchanich, J. M., Bobby, K. J., Zimmerman, E. B., & Blackburn, S. M. (2018). Changes in midlife death rates across racial and ethnic groups in the United States: systematic analysis of vital statistics. BMJ, 362, k3096.

Yang, Y. (2008). Social inequalities in happiness in the United States, 1972–2004: An age-period-cohort analysis. American Sociological Review,73, 204–226.
Acknowledgements
Research reported in this publication was supported by the National Center of Minority Health and Health Disparities (NCMHD) of the National Institutes of Health (NIH) under award #R36MD004957. The author would also like to acknowledge the helpful comments from the editor, reviewers and colleagues.
Additional information
Publisher's Note
Springer Nature remains neutral with regard to jurisdictional claims in published maps and institutional affiliations.
The original version of this article was revised. Table 1 was published incorrectly. The correct Table 1 is updated in the article.
Appendix
Appendix
See Table 6.
About this article
Cite this article
Cummings, J.L. Assessing U.S. Racial and Gender Differences in Happiness, 1972–2016: An Intersectional Approach. J Happiness Stud 21, 709–732 (2020). https://doi.org/10.1007/s10902-019-00103-z
Keywords
Happiness

Subjective well-being

Intersectionality

Race

Gender

SES

Financial satisfaction

Great recession

Unemployment