Abstract
The promotion, maintenance, and improvement of well-being among the oldest old population is becoming a great public health concern. This study aimed to explore the experiences of individuals aged 80 plus regarding their mental well-being (MWB) and its contributing factors in four European countries. A qualitative approach was followed, with twenty-three focus groups. One hundred and seventeen respondents were recruited from senior community centers, adult day care centers, and nursing homes. Data was assessed using qualitative content analysis. Participants' perspectives on MWB were collated along four dimensions: functional, social, personal and environmental. Staying healthy and maintaining independence, having close relationships with others, and insightful experiences with friends positively contributed to MWB. Additionally, engagement in fruitful or inspiring activities contributed to enhance personal development, which, in turn, had beneficial effects on MWB. Having a positive outlook was also found to be associated with MWB. Results reinforce the dynamic and multidimensional nature state of MWB, as well as highlighting the significance of psychosocial factors. Developing and implementing policy actions including a focus on the social and physical environment as well as strengthening personal capabilities and self-esteem, can foster MWB among the oldest old population.
This is a preview of subscription content, log in to check access.
Access options
Buy single article
Instant access to the full article PDF.
US$ 39.95
Price includes VAT for USA
Subscribe to journal
Immediate online access to all issues from 2019. Subscription will auto renew annually.
US$ 99
This is the net price. Taxes to be calculated in checkout.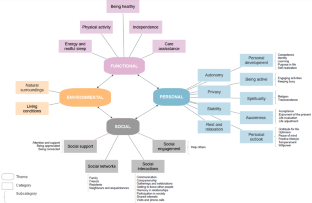 References
Algilani, S., Ostlund-Lagerstrom, L., Schoultz, I., Brummer, R. J., & Kihlgren, A. (2016). Increasing the qualitative understanding of optimal functionality in older adults: a focus group based study. BMC Geriatrics, 16, 70. https://doi.org/10.1186/s12877-016-0244-z Retrieved from https://www.ncbi.nlm.nih.gov/pubmed/27007861.

Baltes, P. B., & Baltes, M. M. (1990). Successful aging. Perspectives from the behavioral sciences. Cambridge: Cambridge University Press.

Barnes, M., Taylor, D., & Ward, L. (2013). Being well enough in old age. Critical Social Policy,33(3), 21. https://doi.org/10.1177/0261018312471163.

Bengtsson, M. (2016). How to plan and perform a qualitative study using content analysis. Nursing Plus Open,2, 8–14. https://doi.org/10.1016/j.npls.2016.01.001.

Bryant, C., Bei, B., Gilson, K.-M., Komiti, A., Jackson, H., & Judd, F. (2016). Antecedents of attitudes to aging: A study of the roles of personality and well-being. The Gerontologist,56(2), 256–265. https://doi.org/10.1093/geront/gnu041.

Carstensen, L. L., Isaacowitz, D. M., & Charles, S. T. (1999). Taking time seriously. A theory of socioemotional selectivit. American Psychologist,54(3), 16.

Cho, J., Martin, P., Margrett, J., Macdonald, M., & Poon, L. W. (2011). The relationship between physical health and psychological well-being among oldest-old adults. Journal of Aging Research,2011, 605041. https://doi.org/10.4061/2011/605041.

Cho, J., Martin, P., Poon, L. W., & Georgia Centenarian Study. (2015). Successful aging and subjective well-being among oldest-old adults. Gerontologist,55(1), 132–143. https://doi.org/10.1093/geront/gnu074.

Cohen-Mansfield, J., Hazan, H., Lerman, Y., & Shalom, V. (2016). Correlates and predictors of loneliness in older-adults: A review of quantitative results informed by qualitative insights. International Psychogeriatrics,28(4), 557–576. https://doi.org/10.1017/s1041610215001532.

Cohen-Mansfield, J., Shmotkin, D., Blumstein, Z., Shorek, A., Eyal, N., Hazan, H., et al. (2013). The old, old-old, and the oldest old: Continuation or distinct categories? An examination of the relationship between age and changes in health, function, and wellbeing. The International Journal of Aging and Human Development,77(1), 37–57. https://doi.org/10.2190/AG.77.1.c.

Deci, E., & Ryan, R. (1985). Intrinsic motivation and self-determination in human behaviour. New York: Plenum.

Deci, E., & Ryan, R. (2000). The "what" and "why" of goal pursuits: Human needs and the self-determination of behavior. Psychological Inquiry,11(4), 227–268. https://doi.org/10.1207/S15327965PLI1104_01.

Diener, E. (1984). Subjective well-being. Psychological Bulletin,95, 33.

Diener, E. (2013). The remarkable changes in the science of subjective well-being. Perspectives on Psychological Science,8(6), 663–666. https://doi.org/10.1177/1745691613507583.

Diener, E., Emmons, R. A., Larsen, R. J., & Griffin, S. (1985). The satisfaction with life scale. Journal of Personality Assessment,49(1), 5.

Douma, L., Steverink, N., Hutter, I., & Meijering, L. (2017). exploring subjective well-being in older age by using participant-generated word clouds. Gerontologist,57(2), 229–239.

Downe-Wamboldt, B. (1992). Content analysis: Method, applications, and issues. Health Care for Women International,13(3), 313–321. https://doi.org/10.1080/07399339209516006.

Elo, S., Kääriäinen, M., Kanste, O., Pölkki, T., Utriainen, K., & Kyngäs, H. (2014). Qualitative content analysis: A focus on trustworthiness. SAGE Open. https://doi.org/10.1177/2158244014522633.

Erikson, E. H. (1982). The life cycle completed. New York: Norton.

European Union. (2016). European framework for action on mental health and wellbeing. Retrieved from: https://ec.europa.eu/research/participants/data/ref/h2020/other/guides_for_applicants/h2020-SC1-BHC-22-2019-framework-for-action_en.pdf.

Eurostat. (2017). People in the EU-population projections. Retrieved from https://ec.europa.eu/eurostat/statistics-explained/index.php/People_in_the_EU_-_population_projections.

Farver-Vestergaard, I., & Ruggeri, K. (2017). Setting national policy agendas in light of the Denmark results for well-being. JAMA Psychiatry,74(8), 773–774. https://doi.org/10.1001/jamapsychiatry.2017.1330.

Finlay, J., Franke, T., McKay, H., & Sims-Gould, J. (2015). Therapeutic landscapes and wellbeing in later life: Impacts of blue and green spaces for older adults. Health Place,34, 97–106. https://doi.org/10.1016/j.healthplace.2015.05.001.

Folch-Lyon, E., & Trost, J. F. (1981). Conducting focus group sessions. Studies in Family Planning,12(12), 7.

Forsman, A. K., Herberts, C., Nyqvist, F., Wahlbeck, K., & Schierenbeck, I. (2012). Understanding the role of social capital for mental wellbeing among older adults. Ageing & Society,33(05), 804–825. https://doi.org/10.1017/s0144686x12000256.

Glaser, B., & Strauss, A. (1967). The discovery of grounder theory: Strategies for qualitative research. New York: Aldine Publishing Company.

Graneheim, U. H., Lindgren, B. M., & Lundman, B. (2017). Methodological challenges in qualitative content analysis: A discussion paper. Nurse Education Today,56, 29–34. https://doi.org/10.1016/j.nedt.2017.06.002.

Granerud, A., Imingen, I., & Eriksson, B. (2017). Everyday life and wellbeing among the oldest elderly in Norway—A qualitative study. Open Journal of Social Sciences,05(07), 97–111. https://doi.org/10.4236/jss.2017.57007.

Heckhausen, J., Wrosch, C., & Schulz, R. (2010). A motivational theory of life-span development. Psychological Review,117(1), 32–60.

Huppert, F. A. (2014). The state of wellbeing science: Concepts, measures, interventions, and policies. In F. A. Huppert & C. L. Cooper (Eds.), Wellbeing: A complete reference guide interventions and policies to enhance wellbeing (Vol. 6). Chinchester: Wiley.

Huppert, F. A., & So, T. T. C. (2013). Flourishing across Europe: Application of a new conceptual framework for defining well-being. Social Indicators Research, 110(3), 837–861. https://doi.org/10.1007/s11205-011-9966-7.

Jivraj, S., Nazroo, J., Vanhoutte, B., & Chandola, T. (2014). Aging and subjective well-being in later life. The Journals of Gerontology Series B, Psychological sciences and social sciences,69(6), 930–941. https://doi.org/10.1093/geronb/gbu006.

Krueger, R. A., & Casey, M. A. (2000). Focus groups: A practical guide for applied research (3rd ed.). London: New Delhi SAGE.

Lukaschek, K., Vanajan, A., Johar, H., Weiland, N., & Ladwig, K. H. (2017). "In the mood for ageing": Determinants of subjective well-being in older men and women of the population-based KORA-age study. BMC Geriatrics,17(1), 126. https://doi.org/10.1186/s12877-017-0513-5.

Mays, N., & Pope, C. (1995). Qualitative research: Rigour and qualitative research. British Medical Journal,311(6997), 109–112. https://doi.org/10.1136/bmj.311.6997.109.

Miret, M., Caballero, F. F., Olaya, B., Koskinen, S., Naidoo, N., Tobiasz-Adamczyk, B., et al. (2017). Association of experienced and evaluative well-being with health in nine countries with different income levels: A cross-sectional study. Global Health,13(1), 65. https://doi.org/10.1186/s12992-017-0290-0.

Miret, M., Cabello, M., Marchena, C., Mellor-Marsá, B., Caballero, F. F., Obradors-Tarragó, C., et al. (2015). The state of the art on European well-being research within the area of mental health. International Journal of Clinical and Health Psychology,15(2), 171–179. https://doi.org/10.1016/j.ijchp.2015.02.001.

Neubauer, A. B., Schilling, O. K., & Wahl, H. W. (2017). What do we need at the end of life? Competence, but not autonomy, predicts intraindividual fluctuations in subjective well-being in very old age. The Journals of Gerontology Series B, Psychological Sciences and Social Sciences,72(3), 425–435. https://doi.org/10.1093/geronb/gbv052.

NICE. (2015). Older people: Independence and mental wellbeing. United Kingdom: National Institute for Health and Care Excellence.

Nyqvist, F., Cattan, M., Conradsson, M., Nasman, M., & Gustafsson, Y. (2017). Prevalence of loneliness over 10 years among the oldest old. Scandinavian Journal of Public Health,45(4), 411–418. https://doi.org/10.1177/1403494817697511.

Pinquart, M. (2002). Creating and maintaining purpose in life in old age: A meta-analysis. Ageing International,27(2), 90–114. https://doi.org/10.1007/s12126-002-1004-2.

Pinquart, M., & Sörensen, S. (2000). Influences of socioeconomic status, social network, and competence on SW in later life: A meta-analysis. Psychology and Aging,15(2), 38. https://doi.org/10.1037//0882-7974.15.2.187.

Poon, L. W., & Cohen-Mansfield, J. (2011). Understanding well-being in the oldest old. Cambridge: Cambridge University Press.

Read, S., Grundy, E., & Foverskov, E. (2016). Socio-economic position and subjective health and well-being among older people in Europe: A systematic narrative review. Aging & Mental Health,20(5), 529–542. https://doi.org/10.1080/13607863.2015.1023766.

Rico-Uribe, L. A., Caballero, F. F., Martin-Maria, N., Cabello, M., Ayuso-Mateos, J. L., & Miret, M. (2018). Association of loneliness with all-cause mortality: A meta-analysis. PLoS ONE,13(1), e0190033.

Ryan, R. M., & Deci, E. L. (2001). On happiness and human potentials: A review of research on hedonic and eudaimonic well-being. Annual Review of Psychology,52, 25.

Ryff, C. (1989). Happiness is everything, or is it? Explorations on the meaning of psychological well-being. Journal of Personality and Social Psychology,57(6), 12.

Ryff, C. (2014). Psychological well-being revisited: Advances in the science and practice of eudaimonia. Psychotherapy and Psychosomatics,83(1), 10–28. https://doi.org/10.1159/000353263.

Seligman, M. (2011). Flourish: A visionary new understanding of happiness and well-being. New York: Free Press.

Steptoe, A., Deaton, A., & Stone, A. A. (2015). Subjective wellbeing, health, and ageing. The Lancet,385(9968), 640–648. https://doi.org/10.1016/s0140-6736(13)61489-0.

Strauss, A., & Corbin, J. (1990). Basics of qualitative research: Grounded theory procedures and techniques. Newbuty Park, CA: SAGE.

Sugiyama, T., & Thompson, C. W. (2007). Outdoor environments, activity and the well-being of older people: Conceptualising environmental support. Environment and Planning A: Economy and Space,39(8), 1943–1960. https://doi.org/10.1068/a38226.

Tomini, F., Tomini, S. M., & Groot, W. (2016). Understanding the value of social networks in life satisfaction of elderly people: A comparative study of 16 European countries using SHARE data. BMC Geriatrics. https://doi.org/10.1186/s12877-016-0362-7.

Tornstam, L. (1999). Transcendence in later life. Generations,23, 9.

Ward, L., Barnes, M., & Gahagan, B. (2012). Well-being in old age: Findings from participatory research. Retrieved from Brighton, UK: University of Brighton.

Westerhof, G. J., Dittmann-Kohli, F., & Thissen, T. (2001). Beyond life satisfaction: Lay conceptions of well-being among middle-aged and elderly adults. Social Indicators Research,56(2), 26. https://doi.org/10.1023/A:1012455124295.

Whitley, R., & Crawford, M. (2005). Qualitative research in psychiatry. The Canadian Journal of Psychiatry,50(2), 7.
Acknowledgements
Our deepest appreciation to all the individuals who helped with the recruitment procedure and the study/interview participants for their generous contribution, which made this work possible.
Funding
This study was funded by The Joint Programming Initiative (JPI) "More Years, Better Lives- The Potential and Challenges of Demographic Change"; and has received funding by the "Acciones de Programación Conjunta Internacional 2016" program (PCIN-2016-118) of the Spanish Research Agency (AEI) of the Spanish Ministry of Economy, Industry and Competitiveness; the Italian Ministry of Health; the Academy of Finland; and the Research Council of Norway.
Ethics declarations
Conflict of interest
The authors declare that they have no conflict of interest.
Additional information
Publisher's Note
Springer Nature remains neutral with regard to jurisdictional claims in published maps and institutional affiliations.
About this article
Cite this article
Lara, E., Martín-María, N., Forsman, A.K. et al. Understanding the Multi-Dimensional Mental Well-Being in Late Life: Evidence from the Perspective of the Oldest Old Population. J Happiness Stud 21, 465–484 (2020). https://doi.org/10.1007/s10902-019-00090-1
Keywords
Well-being

Oldest old

Social relationships

Active aging

Functioning

Qualitative study