Abstract
Although low life satisfaction is related to alcohol abuse among young adults, there is no clear evidence of a specific relationship between wellbeing indexes and alcohol consumption. Several studies have reported different nonlinear relationships. The role of other variables may explain the inconsistent relationships between life satisfaction and alcohol consumption. Concerning individual factors, people's expectations regarding drinking alcohol (i.e., drinking motives) are considered the most proximal antecedents of alcohol use and may mediate the relationship between life satisfaction and drinking alcohol. Regarding relational factors, social relations are related to both wellbeing and alcohol consumption. The aim of the present study was to examine the relationships among life satisfaction, drinking motives, and alcohol consumption in a sample of young adults. The data were collected by means of a self-report questionnaire from a sample of 536 young adults (median age: 22 years). We tested a structural equation model, assuming the hypothesized relationships, simultaneously on males and females to investigate gender differences. The results showed the influence of social relations on life satisfaction, which in turn influenced participants' expectations regarding drinking alcohol. Drinking motives were antecedents of alcohol use. Among women, low satisfaction increased coping expectation, which, in turn, increased alcohol consumption. The most dangerous expectation about drinking was that alcohol may enhance a person. Prevention campaigns should aim to deconstruct this idea.
Access options
Buy single article
Instant access to the full article PDF.
US$ 39.95
Tax calculation will be finalised during checkout.
Subscribe to journal
Immediate online access to all issues from 2019. Subscription will auto renew annually.
US$ 79
Tax calculation will be finalised during checkout.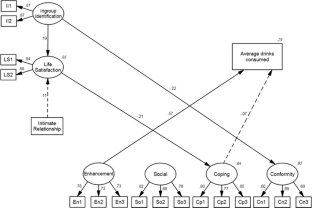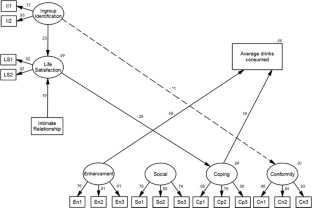 Notes
1.

The legal age for buy alcoholic beverage in Italy is 18 years old.

2.

Because the impossibility to establish causality in cross-sectional studies, in order to provide a more solid evidence of the hypothesized relationships among variables some authors (e.g., Hayes 2013) suggest to establish a counter-argument to rule out the alternative possibility of a different relation path, by testing alternative models in which the pathways among variables are reversed. Following this suggestion, we tested an alternative model in which the pathways among variables are reversed. The model fit dramatically worsened, suggesting that the model presented in the paper is correct: χ2 (252) = 849.37, p < .001, CFI = .84, TLI = .81, RMSEA = .067 (90% CL = .062 .072).
References
Alati, R., Kinner, S., Najman, J. M., Fowler, G., Watt, K., & Green, D. (2004). Gender differences in the relationships between alcohol, tobacco and mental health in patients attending an emergency department. Alcohol and Alcoholism, 39(5), 463–469.

Atwell, K., Abraham, C., & Duka, T. (2011). A parsimonious, integrative model of key psychological correlates of UK university students' alcohol consumption. Alcohol and Alcoholism, 46(3), 253–260.

Bagozzi, R. P. (1993). Assessing construct validity in personality research: Application to measures of self-esteem. Journal of Research in Personality, 27, 49–87.

Bagozzi, R. P., & Edwards, J. R. (1998). A general approach for representing constructs in organizational research. Organizational Research Methods, 1, 45–87.

Barrett, A. E. (2000). Marital trajectories and mental health. Journal of Health and Social Behavior, 41, 451–464.

Bentler, P. M. (1990). Comparative fit indexes in structural models. Psychological Bulletin, 107, 238–246.

Browne, M. W. (1990). Mutmum PC: User's guide. Columbus, OH: Ohio State University, Department of Psychology.

Caldwell, T. M., Rodgers, B., Jorm, A. F., Christensen, H., Jacomb, P. A., & Korten, A. E. (2002). Patterns of association between alcohol consumption and symptoms of depression and anxiety in young adults. Addiction, 97(5), 583–594.

Capozza, D., Brown, R., Aharpour, S., & Falvo, R. (2006). A comparison of motivational theories of identification. In R. Brown & D. Capozza (Eds.), Social identities: Motivational, emotional and cultural influences (pp. 51–72). Hove: Psychology Press.

Chatterton, P., & Hollands, R. (2002). Theorising urban playscapes: Producing, regulating and consuming youthful nightlife city spaces. Urban Studies, 39(1), 95–116.

Cox, W. M., & Klinger, E. (1988). A motivational model of alcohol use. Journal of Abnormal Psychology, 97(2), 168–180.

Diener, E. D., Emmons, R. A., Larsen, R. J., & Griffin, S. (1985). The satisfaction with life scale. Journal of Personality Assessment, 49(1), 71–75.

Diulio, A. R., Cero, I., Witte, T. K., & Correia, C. J. (2014). Alcohol-related problems and life satisfaction predict motivation to change among mandated college students. Addictive Behaviors, 39(4), 811–817.

Ennett, S. T., Foshee, V. A., Bauman, K. E., Hussong, A., Cai, L., Reyes, H. L. M., et al. (2008). The social ecology of adolescent alcohol misuse: An integration of social ecology, social learning, and social control theories. Child Development, 79, 1777–1791.

Fox, C. L., Towe, S. L., Stephens, R. S., Walker, D. D., & Roffman, R. A. (2011). Motives for cannabis use in high-risk adolescent users. Psychology of Addictive Behaviors, 25(3), 492.

Ham, L. S., & Hope, D. A. (2003). College students and problematic drinking: A review of the literature. Clinical Psychology Review, 23(5), 719–759.

Haslam, S. A., Jetten, J., Postmes, T., & Haslam, C. (2009). Social identity, health and well-being: An emerging agenda for applied psychology. Applied Psychology, 58(1), 1–23.

Hayes, A. F. (2013). Introduction to mediation, moderation, and conditional process analysis: A regression-based approach. New York: Guilford Press.

Holmila, M., & Raitasalo, K. (2005). Gender differences in drinking: Why do they still exist? Addiction, 100(12), 1763–1769.

Hu, L., & Bentler, P. M. (1998). Fit indices in covariance structure modeling: Sensitivity to underparameterized model misspecification. Psychological Methods, 3, 424–453.

Kroger, J. (2000). Ego identity status research in the new millennium. International Journal of Behavioral Development, 24(2), 145–148.

Kuntsche, E., & Kuntsche, S. (2009). Development and validation of the drinking motive questionnaire revised short form (DMQ-R SF). Journal of Clinical Child & Adolescent Psychology, 38, 899–908.

Levy, A. B., Bell, R. A., & Lin, E. (1980). Life satisfaction: Aspirations and alcohol use: A preliminary report. Social Indicators Research, 8(4), 441–452.

Lipton, R. I. (1994). The effect of moderate alcohol use on the relationship between stress and depression. American Journal of Public Health, 84(12), 1913–1917.

Maggs, J. L., Frome, P. M., Eccles, J. S., & Barber, B. L. (1997). Psychosocial resources, adolescent risk behaviour and young adult adjustment: Is risk taking more dangerous for some than others? Journal of Adolescence, 20(1), 103–119.

Massin, S., & Kopp, P. (2014). Is life satisfaction hump-shaped with alcohol consumption? Evidence from Russian panel data. Addictive Behaviors, 39(4), 803–810.

Mazzardis, S., Vieno, A., Kuntsche, E., & Santinello, M. (2010). Italian validation of the drinking motives questionnaire revised short form (DMQ-R SF). Addictive Behaviors, 35, 905–908.

Meirer, A., & Allen, G. (2008). Intimate relationship development during the transition to adulthood: Differences by social class. New Directions for Child and Adolescent Development, 119, 25–39.

Montgomery, M. (2005). Psychosocial intimacy and identity: From early adolescence to emerging adulthood. Journal of Adolescent Research, 20, 346–374.

Murphy, J. G., McDevitt-Murphy, M. E., & Barnett, N. P. (2005). Drink and be merry? Gender, life satisfaction, and alcohol consumption among college students. Psychology of Addictive Behaviors, 19(2), 184.

O'Malley, P. M., & Johnston, L. D. (2002). Epidemiology of alcohol and other drug use among American college students. Journal of Studies on Alcohol and Drugs, 14, 23–39.

Oberle, E., Schonert-Reichl, K. A., & Zumbo, B. D. (2011). Life satisfaction in early adolescence: Personal, neighborhood, school, family, and peer influences. Journal of Youth and Adolescence, 40(7), 889–901.

Proctor, C. L., Linley, P. A., & Maltby, J. (2009). Youth life satisfaction: A review of the literature. Journal of Happiness Studies, 10(5), 583–630.

Rodgers, B., Korten, A. E., Jorm, A. F., Jacomb, P. A., Christensen, H., & Henderson, A. S. (2000). Non-linear relationships in associations of depression and anxiety with alcohol use. Psychological Medicine, 30(2), 421–432.

Schaap, M. M., Kunst, A. E., Leinsalu, M., Regidor, E., Espelt, A., Ekholm, O., et al. (2009). Female ever-smoking, education, emancipation and economic development in 19 European countries. Social Science and Medicine, 68(7), 1271–1278.

Simon, R. W., & Barrett, A. E. (2010). Nonmarital romantic relationships and mental health in early adulthood does the association differ for women and men? Journal of Health and Social Behavior, 51(2), 168–182.

Skogen, J. C., Harvey, S. B., Henderson, M., Stordal, E., & Mykletun, A. (2009). Anxiety and depression among abstainers and low-level alcohol consumers. The Nord-Trondelag Health Study. Addiction, 104(9), 1519–1529.

Steiger, J. H. (1990). Structural model evaluation and modification: An interval estimation approach. Multivariate Behavioral Research, 25(2), 173–180.

Swain, N. R., Gibb, S. J., Horwood, L., & Fergusson, D. M. (2012). Alcohol and cannabis abuse/dependence symptoms and life satisfaction in young adulthood. Drug and Alcohol Review, 31(3), 327–333.

Tartaglia, S. (2013). Different predictors of quality of life in urban environment. Social Indicators Research, 113, 1045–1053.

Tartaglia, S. (2014). Alcohol consumption among young adults in Italy: The interplay of individual and social factors. Drugs: Education, Prevention and Policy, 21(1), 65–71.

Tartaglia, S., Fedi, A., & Miglietta, A. (2017a). Family or friends: What counts more for drinking behaviour of young adults? Revista de Psicología Social, 32(1), 1–22.

Tartaglia, S., Miglietta, A., & Gattino, S. (2017b). Life satisfaction and cannabis use: A study on young adults. Journal of Happiness Studies, 18(3), 709–718.

Tartaglia, S., & Rollero, C. (2015). Gender stereotyping in newspaper advertisements: A cross-cultural study. Journal of Cross-Cultural Psychology, 46(8), 1103–1109. doi:10.1177/0022022115597068.

Træen, B., & Nordlund, S. (1993). Visiting public drinking places in Oslo: An application of the theory of planned behaviour. Addiction, 88(9), 1215–1224.

Tucker, L. R., & Lewis, C. (1973). A reliability coefficient for maximum likelihood factor analysis. Psychometrika, 38, 1–10.

Ventegodt, S. (1995). Liskvalitet I Danmark [quality of life in Denmark]. Copenhagen: Forskningscentrets Forlag.

Zhan, W., Shaboltas, A. V., Skochilov, R. V., Kozlov, A. P., Krasnoselskikh, T. V., & Abdala, N. (2012). Gender differences in the relationship between alcohol use and depressive symptoms in St. Petersburg, Russia. Journal of Addiction Research & Therapy, 3(2), 1–5.

Zullig, K. J., Valois, R. F., Huebner, E. S., Oeltmann, J. E., & Drane, J. W. (2001). Relationship between perceived life satisfaction and adolescents' substance abuse. Journal of Adolescent Health, 29(4), 279–288.
About this article
Cite this article
Tartaglia, S., Gattino, S. & Fedi, A. Life Satisfaction and Alcohol Consumption Among Young Adults at Social Gatherings. J Happiness Stud 19, 2023–2034 (2018). https://doi.org/10.1007/s10902-017-9907-5
Keywords
Life satisfaction

Alcohol consumption

Drinking motives

Young adults

Structural equation modelling