Abstract
While the measurement of subjective well-being and its usefulness as a policy objective is a matter of contention, a burgeoning field of happiness economics is emerging. This paper examines the relationship between the institutions of economic freedom and happiness as reported by respondents to the Generalized Social Survey (GSS) in the United States. GSS responses are matched via geocode to state of residence. This allows individual responses in the GSS to be matched to institutional characteristics of the state of residence. A novel contribution of this study is that analysis of the effect of economic freedom on reported happiness is conducted both at the individual level and using state averages. It is found that the level of economic freedom in US states has a positive effect on both individual reported happiness and state average happiness. Dynamic panel analysis is also conducted both as a robustness check and in an effort to control for endogeneity. This confirms the relationship as positive and is suggestive of a causal positive impact of economic freedom on average state happiness.
Access options
Buy single article
Instant access to the full article PDF.
USD 39.95
Price excludes VAT (USA)
Tax calculation will be finalised during checkout.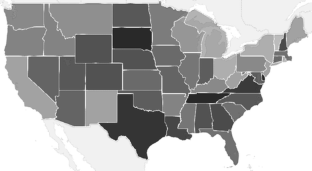 Notes
The Fraser Institute is headquartered in the Canadian city of Vancouver. It is a public policy think tank that is widely known for its affiliation with a libertarian viewpoint.

While only results for economic freedom measured accounting for government at the Federal, state, and local level are reported, results limiting measured economic freedom to the state and local level generated similar results and are therefore omitted for brevity. Tables of these results are available by request.

Kahneman and Deaton (2010) use an indicator type taking a value of zero for no children or one indicating the presence of children. Our measure is the number of children for which values are correlated with lower happiness.

These statistics are testing for properties that are necessary for the validity of the instruments.

A shortcoming of is that no Hansen, AR(1), or AR(2) test statistics are provided which allow the reader to assess the validity of the model and its assumptions.

Spruk and Kešeljevic (2015) uncover a positive relationship between economic freedom and happiness in standard specifications but the sign is reversed in their dynamic panel regressions.

Spruk and Kešeljević (2015) implemented the Arrellano-Bond procedure, often referred to as difference GMM, while this study uses the system GMM procedure of Arellano and Bover (1995) and Blundell and Bond (1998). System GMM is well known to have better statistical properties than difference GMM. Spruk and Kešeljević (2015) also do not include the necessary test statistics to confirm that the many assumptions required for dynamic panel estimation are indeed met. These include the Arrellano-Bond test for autoregressive error in AR(1) and AR(2) in addition to Sargen/Hansen test statistics for over identifying restrictions.

The economic freedom measure used by Spruk and Kešeljevic (2015) is not the Economic Freedom of the World index of the Fraser Institute. Rather they use the Index of Economic Freedom generated by the Heritage Foundation. This index produced by the Heritage makes some use subjective valuation in creation of the index while the indices created by the Fraser Institute are objectively data driven.

This switch in sign is possibly indicative of a spurious result being driven by a methodological short coming.
References
Alesina, A., Di Tella, R., & MacCulloch, R. (2004). Inequality and happiness: Are Europeans and Americans different? Journal of Public Economics, 88(9), 2009–2042.

Arellano, M., & Bover, O. (1995). Another look at the instrumental variable estimation of error-components models. Journal of Econometrics, 68(1), 29–51.

Belasen, A. R., & Hafer, R. W. (2012). Well-being and economic freedom: Evidence from the states. Intelligence, 40(3), 306–316.

Belasen, A. R., & Hafer, R. W. (2013). Do changes in economic freedom affect well-being. Journal of Regional Analysis and Policy, 43(1), 56–64.

Berggren, N., & Jordahl, H. (2006). Free to trust: Economic freedom and social capital. Kyklos, 59(2), 141–169.

Bernanke, B. (2010). The economics of happiness [Speech]. Retrieved from http://www.federalreserve.gov/newsevents/speech/bernanke20100508a.htm.

Bjørnskov, C. (2008). Social capital and happiness in the United States. Applied Research in Quality of Life, 3(1), 43–62.

Blundell, R., & Bond, S. (1998). Initial conditions and moment restrictions in dynamic panel data models. Journal of Econometrics, 87(1), 115–143.

Bueno, A., Ashby, N. J., & Fred McMahon with Deborah Martine. (2012). Economic freedom of North America 2012. Vancouver: Fraser Institute.

Carter, J. R. (2007). An empirical note on economic freedom and income inequality. Public Choice, 130(1–2), 163–177.

Compton, R. A., Giedeman, D. C., & Hoover, G. A. (2011). Panel evidence on economic freedom and growth in the United States. European Journal of Political Economy, 27(3), 423–435.

Compton, R. A., Giedeman, D. C., & Hoover, G. A. (2014). A distributional analysis of the benefits of economic freedom. European Journal of Political Economy, 33, 121–133.

Easton, S. T., & Walker, M. A. (1997). Income, growth, and economic freedom. The American Economic Review, 87(2), 328–332.

Frey, B. S., & Stutzer, A. (2000). Happiness, economy and institutions. The Economic Journal, 110(466), 918–938.

Gehring, K. (2013). Who benefits from economic freedom? Unraveling the effect of economic freedom on subjective well-being. World Development, 50, 74–90.

Graafland, J., & Compen, B. (2015). Economic freedom and life satisfaction: Mediation by income per capita and generalized trust. Journal of Happiness Studies, 16(3), 789–810.

Gropper, D. M., Lawson, R. A., & Thorne, J. T. (2011). Economic freedom and happiness. Cato Journal, 31(2), 237–255.

Gwartney, J., Lawson, R., & Block, W. (1996).  Economic freedom of the world. Annual Report, Fraser Institute.

Gwartney, J., Lawson, R., & Hall, J. (2015). Economic freedom of the world. Annual Report, Fraser Institute.

Helliwell, J. F. (2003). How's life? Combining individual and national variables to explain subjective well-being. Economic Modelling, 20(2), 331–360.

Howell, R. T., Chenot, D., Hill, G., & Howell, C. J. (2011). Momentary happiness: The role of psychological need satisfaction. Journal of Happiness Studies, 12(1), 1–15.

Inglehart, R., Foa, R., Peterson, C., & Welzel, C. (2008). Development, freedom, and rising happiness: A global perspective (1981–2007). Perspectives on Psychological Science, 3(4), 264–285.

Jackson, J., Carden, A., & Compton, R. A. (2015). Economic freedom and social capital. Applied Economics, 47(65), 5853–5867.

Kahneman, D., & Deaton, A. (2010). High income improves evaluation of life but not emotional well-being. Proceedings of the National Academy of Sciences, 107(38), 16489–16493.

Kahneman, D., Krueger, A. B., Schkade, D., Schwarz, N., & Stone, A. (2004). Toward national well-being accounts. American Economic Review, 94(2), 429–434.

Lelkes, O. (2006). Tasting freedom: Happiness, religion and economic transition. Journal of Economic Behavior & Organization, 59(2), 173–194.

Luhmann, M., Hofmann, W., Eid, M., & Lucas, R. E. (2012). Subjective well-being and adaptation to life events: A meta-analysis. Journal of Personality and Social Psychology, 102(3), 592.

Nikolaev, B. (2014). Economic freedom and quality of life: Evidence from the OECD's Your Better Life Index. Journal of Private Enterprise, 29(Fall 2014), 61–96.

Oishi, S., Kesebir, S., & Diener, E. (2011). Income inequality and happiness. Psychological Science, 22(9), 1095–1100.

Pesta, B. J., McDaniel, M. A., & Bertsch, S. (2010). Toward an index of well-being for the fifty US states. Intelligence, 38(1), 160–168.

Roodman, D. (2009). A note on the theme of too many instruments*. Oxford Bulletin of Economics and Statistics, 71(1), 135–158.

Ryan, R. M., & Deci, E. L. (2001). On happiness and human potentials: A review of research on hedonic and eudaimonic well-being. Annual Review of Psychology, 52(1), 141–166.

Spruk, R., & Kešeljević, A. (2015). Institutional origins of subjective well-being: Estimating the effects of economic freedom on national happiness. Journal of happiness studies, 1–54.

Veenhoven, R. (2000). Freedom and happiness: A comparative study in forty-four nations in the early 1990s. In E. Diener & E. Suh (Eds.),  Culture and subjective well-being (pp. 257–288). Cambridge: MIT Press.

Verme, P. (2009). Happiness, freedom and control. Journal of Economic Behavior & Organization, 71(2), 146–161.

Welsch, H. (2003). Freedom and rationality as predictors of cross-national happiness patterns: The role of income as a mediating variable. Journal of Happiness Studies, 4(3), 295–321.
Acknowledgments
This research was supported by monies received from North Dakota State University and the Charles Koch Foundation. Many thanks go to Elizabeth Jackson for introducing me to the scientific study of happiness.
About this article
Cite this article
Jackson, J. Free to Be Happy: Economic Freedom and Happiness in US States. J Happiness Stud 18, 1207–1229 (2017). https://doi.org/10.1007/s10902-016-9770-9
Published:

Issue Date:

DOI: https://doi.org/10.1007/s10902-016-9770-9
Keywords
Economic freedom

Happiness

Institutions

Well-being