Abstract
Through three studies, this study aims to investigate the relationship between subjective happiness and responsiveness to eating and to foods. In Study 1, 299 Japanese undergraduates completed the Japanese subjective happiness scale and self-report questionnaires for attitudes toward eating and food. Study 1 revealed that in daily life, people with higher happiness levels show a stronger tendency to feel pleasure by eating than those with lower happiness levels. In Study 2, 26 Japanese undergraduates performed impression assessments for foods when looking at pictures of them. In Study 3, 22 Japanese undergraduates performed the same assessments when looking at real foods and eating them using a comparison with the data from pictures of non-food items as a control condition. The results of the study indicate that people with higher happiness levels show a stronger emotional response (happy and glad) to food stimuli than those with lower happiness levels. Even images of food were effective. No such group differences were observed for appetitive responses. It was also shown that emotional responses to the pictures of non-food items' condition in the two groups did not differ. The present studies provided empirical evidence that subjective happiness has relevance to daily eating behavior and attitudes. Further studies should investigate the possibility that subjective happiness is related to a wide range of behavior and cognition in our daily life.
Access options
Buy single article
Instant access to the full article PDF.
USD 39.95
Price excludes VAT (USA)
Tax calculation will be finalised during checkout.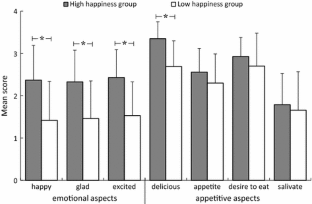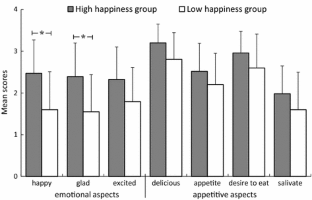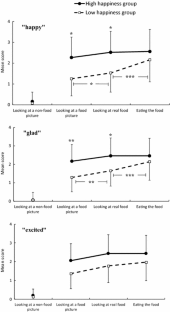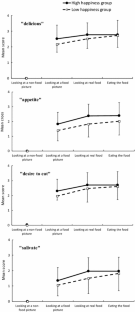 References
Agras, W. S., & Telch, C. F. (1998). The effects of caloric deprivation and negative affect on binge eating in obese binge-eating-disordered women. Behavior Therapy, 29, 491–503.

Basso, M. R., Schefft, B. K., Ris, M. D., & Dember, W. N. (1996). Mood and global-local visual processing. Journal of the International Neuropsychological Society, 2, 249–255.

Berridge, K. C. (2009). 'Liking' and 'wanting' food rewards: Brain substrates and roles in eating disorders. Physiology & Behavior, 97, 537–550.

Bongers, P., Jansen, A., Havermans, R., Roefs, A., & Nederkoorn, C. (2013). Happy eating: The underestimated role of overeating in a positive mood. Appetite, 67, 74–80.

Burger, K. S., Cornier, M. A., Ingebrigtsen, J., & Johnson, S. L. (2011). Assessing food appeal and desire to eat: the effects of portion size and energy density. The International Journal of Behavioral Nutrition and Physical Activity, 8, 101.

Burger, K. S., & Stice, E. (2011). Relation of dietary restraint scores to activation of reward-related brain regions in response to food intake, anticipated intake, and food pictures. NeuroImage, 55, 233–239.

Cheng, H., & Furnham, A. (2003). Personality, self-esteem, and demographic predictions of happiness and depression. Personality and Individual Differences, 34, 921–942.

Christensen, L., & Brooks, A. (2006). Changing food preference as a function of mood. The Journal of Psychology, 140, 293–306.

Csikszentmihalyi, M., & Wong, M. H. (1991). The situational and personal correlates of happiness: A cross-national comparison. In F. Strack, M. Agyle, & N. Schwarz (Eds.), Subjective wellbeing (pp. 193–212). Oxford: Pergamon Press.

Cyders, M. A., & Smith, G. T. (2008). Emotion-based dispositions to rash action: Positive and negative urgency. Psychological Bulletin, 134, 807–828.

Diener, E., & Chan, M. Y. (2011). Happy people live longer: Subjective well-being contributes to health and longevity. Applied Psychology: Health and Well-Being, 3, 1–43.

Diener, E., & Seligman, M. E. P. (2002). Very happy people. Psychological Science, 13, 81–84.

Diener, E., Tay, L., & Oishi, S. (2013). Rising income and the subjective well-being of nations. Journal of Personality and Social Psychology, 104, 267–276.

Edmans, A. (2012). The link between employee satisfaction and firm value, with implications for corporate social responsibility. The Academy of Management Perspectives, 26, 1–19.

Evers, C., Adriaanse, M. A., de Ridder, D. T. D., & de Witt Huberts, J. C. (2013). Good mood food: Positive emotion as a neglected trigger for food intake. Appetite, 68, 1–7.

Finlayson, G., & Dalton, M. (2012). Current progress in the assessment of 'liking' vs. 'wanting' food in human appetite. Comment on '"You Say it's Liking, I Say it's Wanting…". On the difficulty of disentangling food reward in man'. Appetite, 58, 373–378.

Fredrickson, B. L. (1998). What good are positive emotions? Review of General psychology, 2, 300–319.

Fredrickson, B. L. (2001). The role of positive emotions in positive psychology: The broaden-and-build theory of positive emotions. American Psychologist, 56, 218–226.

Gómez-Pinilla, F. (2008). Brain foods: The effects of nutrients on brain function. Nature Reviews Neuroscience, 9, 568–578.

Harter, J. K., Schmidt, F. L., Asplund, J. W., Killham, E. A., & Agrawal, S. (2010). Causal impact of employee work perceptions on the bottom line of organizations. Perspective on Psychological Science, 5, 378–389.

Havermans, R. C. (2012). How to tell where 'liking'ends and 'wanting'begins. Appetite, 58, 252–255.

Heatherton, T. E., & Baumeister, R. E. (1991). Binge eating as escape from self-awareness. Psychological Bulletin, 110, 86–108.

Jasinska, A. J., Yasuda, M., Burant, C. F., Gregor, N., Khatri, S., Sweet, M., & Falk, E. B. (2012). Impulsivity and inhibitory control deficits are associated with unhealthy eating in young adults. Appetite, 59, 738–747.

Kaplan, H. L., & Kaplan, H. S. (1957). The psychosomatic concept of obesity. Journal of Nervous and Mental Diseases, 125, 181–201.

Kringelbach, M. L., & Berridge, K. C. (2009). Towards a functional neuroanatomy of pleasure and happiness. Trends in Cognitive Sciences, 13(11), 479–487.

Lutter, M., & Nestler, E. J. (2009). Homeostatic and hedonic signals interact in the regulation of food intake. The Journal of Nutrition, 139, 629–632.

Lyubomirsky, S., King, L. A., & Diener, E. (2005). The benefits of frequent positive affect: Does happiness lead to success? Psychological Bulletin, 131, 803–855.

Lyubomirsky, S., & Lepper, H. S. (1999). A measure of subjective happiness: Preliminary reliability and construct validation. Social Indicators Research, 46, 137–155.

Macht, M. (1999). Characteristics of eating in anger, fear, sadness and joy. Appetite, 33, 129–139.

Macht, M. (2008). How emotions affect eating: a five-way model. Appetite, 50, 1–11.

Macht, M., Meininger, J., & Roth, J. (2005). The pleasures of eating: A qualitative analysis. Journal of Happiness Studies, 6, 137–160.

Macht, M., Roth, S., & Ellgring, H. (2002). Chocolate eating in healthy men during experimentally induced sadness and joy. Appetite, 39, 147–158.

McNamara, C., Hay, P. J., Katsikitis, M., & Chur-Hansen, A. (2008). Emotional responses to food, body dissatisfaction and other eating disorder features in children, adolescents and young adults. Appetite, 50, 102–109.

Mela, D. J. (2001). Determinants of food choice: Relationship with obesity and weight control. Obesity Research, 9, 249–255.

Mela, D. J. (2006). Eating for pleasure or just wanting to eat? Reconsidering sensory hedonic responses as a driver of obesity. Appetite, 47, 10–17.

Nolan, L. J., Halperin, L. B., & Geliebter, A. (2010). Emotional appetite questionnaire: Construct validity and relationship with BMI. Appetite, 54, 314–319.

Otake, K. (2015). Subjective happiness and autobiographical memory: Differences in the ratio of positive events and transmission as emotional expression. Personality and Individual Differences, 72, 171–176.

Patel, K. A., & Schlundt, D. G. (2001). Impact of moods and social context on eating behavior. Appetite, 36, 111–118.

Rousseta, S., Schlichb, P., Chatonniera, A., Barthomeufc, L., & Droit-Voletc, S. (2008). Is the desire to eat familiar and unfamiliar meat products influenced by the emotions expressed on eaters' faces? Appetite, 50, 110–119.

Shimai, S., Otake, K., Utsuki, N., Ikemi, A., & Lyubomirsky, S. (2004). Development of Japanese subjective happiness scale (SHS), and its examination of validity and reliability. Japanese Journal of Public Health, 51, 1–9.

Soussignan, R., Jiang, T., Riguad, D., Royet, J. P., & Schaal, B. (2009). Subliminal fear priming potentiates negative facial reactions to food pictures in women with anorexia nervosa. Psychological Medicine, 40, 503–514.

Stice, E., Burger, K., & Yokum, S. (2013). Caloric deprivation increases responsivity of attention and reward brain regions to intake, anticipated intake, and images of palatable foods. NeuroImage, 67, 322–330.

Svaldi, J., Tuschen-Caffier, B., Peyk, P., & Blechert, J. (2010). Information processing of food pictures in binge eating disorder. Appetite, 55, 685–694.

Telch, C. F. (1997). Skills training treatment for adaptive affect regulation in a woman with binge-eating disorder. International Journal of Eating Disorders, 22, 77–81.

Van Strien, T., & Ouwens, M. A. (2003). Counterregulation in female obese emotional eaters: Schachter, Goldman, and Gordon's (1968) test of psychosomatic theory revisited. Eating Behaviors, 3, 329–340.

Veenhoven, R. (2008). Healthy happiness: Effects of happiness on physical health and the consequences for preventive health care. Journal of Happiness Studies, 9, 449–469.

Westenhoefer, J., & Pudel, V. (1993). Pleasure from food: Importance for food choice and consequences of deliberate restriction. Appetite, 20, 246–249.

Wood, A. M., Maltby, J., Stewart, N., Linley, P. A., & Joseph, S. (2008). A social-cognitive model of trait and state levels of gratitude. Emotion, 8, 281–290.
Acknowledgments
We are grateful to Editors Antonella Delle Fave and Despina Moraitou as well as two anonymous reviewers for very helpful comments on this paper. This work was supported in part by JSPS KAKENHI Grant No. 15K04165. The experiment was conducted as a part of the project supported by the Ministry of Education, Culture, Sports, Science and Technology (MEXT), JAPAN, for the Strategic Research Foundation at Private Universities (2015–2019; Project No. S1511032) to the Center for Applied Psychological Science (CAPS), Kwansei Gakuin University.
About this article
Cite this article
Otake, K., Kato, K. Subjective Happiness and Emotional Responsiveness to Food Stimuli. J Happiness Stud 18, 691–708 (2017). https://doi.org/10.1007/s10902-016-9747-8
Published:

Issue Date:

DOI: https://doi.org/10.1007/s10902-016-9747-8
Keywords
Subjective happiness

Attitude toward food

Food-related stimuli

Palatability

Positive emotion