Abstract
In this paper I analyze the role of subjective well-being in unemployed and employed youth political participation. Research shows that life satisfaction increases participation in voting, but has no effect on protest activities when looking at the overall population. However, in the case of youth, life dissatisfaction fosters the potential for protest activities. Since unemployment is detrimental for the subjective well-being of individuals, especially when long-lasting, I ask whether the reduced subjective well-being of long-term unemployed youth, their life dissatisfaction, fosters their participation in two forms of voice-based participation—contacting and protest activities—that can be used to express their dissatisfaction. I find that life dissatisfaction fosters the participation of employed youth in contacting activities, but not that of unemployed youth. Quite on the contrary, for protest activities, it is life satisfaction that fosters participation of the unemployed youth.
Access options
Buy single article
Instant access to the full article PDF.
USD 39.95
Price excludes VAT (USA)
Tax calculation will be finalised during checkout.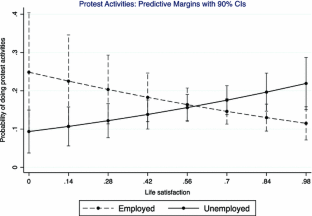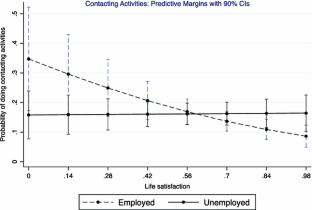 Notes
In the Swiss federal state, the term "canton" denotes the member states.

Claim making is defined as "the expression of a political opinion by verbal or physical action in the public space" (Giugni 2008: 302).

Running the same analyses as Frey and Stutzer (2000) while taking into account the Swiss multilingual division, indicators of cantonal and individual language, as well as controls for religion and income, Dorn et al. (2008) found that the effects of direct democracy institutions were no longer significant predictors of happiness.

Additional information about the sample design and the tests I conducted to merge the sub-samples of long-term unemployed youth can be found in my doctoral thesis (Lorenzini 2013).

For protest activities, I also tried to construct an index using participation in illegal and violent actions in addition to participation in public demonstration, but the Cronbach's alpha for this index was rather low (.385). Therefore, I decided to focus only on participation in public demonstration the most widespread protest activity among the three.

Appendix 2 presents the seven Models of the logistic regressions.

Appendix 3 presents the seven Models of the logistic regressions.
References
Almond, G. A., & Verba, S. (1963). The civic culture: Political attitudes and democracy in five nations. Princeton, NJ: Princeton University Press.

Banks, M. H., & Ullah, P. (1987). Political attitudes and voting among unemployed and employed youth. Journal of Adolescence, 10(2), 201–216.

Barnes, S. H., Farah, B. G., & Heunks, F. (1979). Personal Dissatisfaction. In S. H. Barnes & M. Kaase (Eds.), Political action: Mass participation in five western democracies (pp. 381–408). Beverly Hills, CA: Sage.

Bay, A.-H., & Blekesaune, M. (2002). Youth, unemployment and political marginalisation. International Journal of Social Welfare, 11(2), 132–139.

Boes, S., & Winkelmann, R. (2010). The effect of income on general life satisfaction and dissatisfaction. Social Indicators Research, 95(1), 111–128. doi:10.1007/s11205-009-9452-7.

Breakwell, G. M. (1986). Political and attributional responses of the young short-term unemployed. Political Psychology, 7(3), 575–586.

Burden, B., & Wichowsky, A. (2012). Economic hardship and voter turnout. Chicago: Paper presented at the MidWest Political Science Association.

Bynner, J., & Ashford, S. (1994). Politics and participation: Some antecedents of young people's attitudes to the political system and political activity. European Journal of Social Psychology, 24(2), 223–236. doi:10.1002/ejsp.2420240202.

Cameron, A. C., & Trivedi, P. K. (2009). Microeconometrics using stata. College Station, TX: Stata Press.

Chabanet, D. (2007). Chômage et exclusion sociale: l'échec européen. Politique europÈenne, 21(1), 157–187.

Chabanet, D. (2008). When the unemployed challenge the European Union: The European marches as a mode of externalization of protest. Mobilization, 13, 311–322.

Clark, A. W. (1985). The effects of unemployment on political attitude. Journal of Sociology, 21(1), 100–108.

Clark, A. E., & Oswald, A. J. (1994). Unhappiness and unemployment. The Economic Journal, 104(424), 648–659.

Conway, M. M. (2000). Political participation in the United States (3rd ed.). Washington, DC: CQ Press.

Dalton, R. J. (Ed.). (2006). Citizen politics: Public opinion and political parties in advanced industrial democracies (4th ed.). Washington, DC: CQ Press.

della Porta, D. (2008). Protest on unemployment: forms and opportunities. Mobilization, 13(3), 277–295.

Dolan, P., Peasgood, T., & White, M. (2008). Do we really know what makes us happy? A review of the economic literature on the factors associated with subjective well-being. Journal of Economic Psychology, 29(1), 94–122.

Dorn, D., Fischer, J., Kirchgässner, G., & Sousa-Poza, A. (2008). Direct democracy and life satisfaction revisited: New evidence for Switzerland. Journal of Happiness Studies, 9(2), 227–255. doi:10.1007/s10902-007-9050-9.

Ervasti, H., & Venetoklis, T. (2010). Unemployment and subjective well-being. Acta Sociologica, 53(2), 119–139. doi:10.1177/0001699310365624.

Faniel, J. (2004). Chômeurs en Belgique et en France: des mobilisations différentes. Revue internationale de politique comparÈe, 11(4), 493–506. doi:10.3917/ripc.114.0493.

Flavin, P., & Keane, M. (2012). Life satisfaction and political participation: Evidence from the United States. Journal of Happiness Studies, 1–16, doi:10.1007/s10902-011-9250-1.

Frey, B., & Stutzer, A. (2000). Happiness, economy and institutions. The Economic Journal, 110(466), 918–938. doi:10.1111/1468-0297.00570.

Frey, B., & Stutzer, A. (2010). Happiness and public choice. Public Choice, 144(3), 557–573. doi:10.1007/s11127-010-9681-y.

Gallie, D., Paugam, S., & Jacobs, S. (2003). Unemployment, poverty, and social isolation: Is there a vicious circle of social exclusion? European Societies, 5(1), 1–32. doi:10.1080/1461669032000057668.

Gaskell, G., & Smith, P. (1985). An investigation of youths' attributions for unemployment and their political attitudes. Journal of Economic Psychology, 6(1), 65–80. doi:10.1016/0167-4870(85)90006-6.

Giugni, M. (2008). Welfare states, political opportunities, and the mobilization of the unemployed: A cross-national analysis. Mobilization, 13, 297–310.

Hammer, T. (2000). Mental health and social exclusion among unemployed youth in Scandinavia. A comparative study. International Journal of Social Welfare, 9(1), 53–63. doi:10.1111/1468-2397.00108.

Jahoda, M., Lazarsfeld, P. F., & Zeisel, H. (2002 [1932]). Marienthal: The sociography of an unemployed community New Brunswick, USA: Transaction Publishers.

Kriesi, H. (2008). Political mobilisation, political participation and the power of the vote. West European Politics, 31(1), 147–168.

Kriesi, H., Koopmans, R., Duyvendak, J. W., & Giugni, M. G. (1995). New social movements in Western Europe. Minneapolis: University of Minnesota Press.

Leighley, J. E. (1995). Attitudes, opportunities and incentives: A field essay on political participation. Political Research Quarterly, 48(1), 181–209.

Lorenzini, J. (2013). Unemployment and citizenship: Social and political participation of unemployed youth in Geneva. Université de Genève.

Marsh, A. (1977). Protest and political consciousness (Vol. 49, Sage library of social research). Beverly Hills, CA: Sage Publications.

Maurer, S. (2001). Les chômeurs en action (décembre 1997–mars 1998): Mobilisation collective et ressources compensatoires (Logiques sociales). Paris: L'Harmattan.

Mood, C. (2010). Logistic regression: Why we cannot do what we think we can do, and what we can do about it. European Sociological Review, 26(1), 67–82. doi:10.1093/esr/jcp006.

Oesch, D., & Lipps, O. (2012). Does unemployment hurt less if there is more of it around? A panel analysis of life satisfaction in Germany and Switzerland. European Sociological Review (first published online). doi:10.1093/esr/jcs071.

Paugam, S. (2006). L'épreuve du chômage: une rupture cumulative des liens sociaux? Revue européenne des sciences sociales, XLIV–135.

Rosenstone, S. J. (1982). Economic adversity and voter turnout. American Journal of Political Science, 26(1), 25–46.

Rosenstone, S. J., & Hansen, J. M. (1993). Mobilization, participation, and democracy in America (new topics in politics). New York: Macmillan.

Schlozman, K. L., & Verba, S. (1979). Injury to insult: Unemployment, class, and political response. Cambridge: Harvard University Press.

Scott, W. J., & Acock, A. C. (1979). Socioeconomic status, unemployment experience, and political participation: A disentangling of main and interaction effects. Political Behavior, 1(4), 361–381.

Stutzer, A., & Lalive, R. (2004). The role of social work norms in job searching and subjective well-being. Journal of the European Economic Association, 2(4), 696–719. doi:10.1162/1542476041423331.

Tavits, M. (2008). Representation, corruption, and subjective well-being. Comparative Political Studies, 41(12), 1607–1630. doi:10.1177/0010414007308537.

Teorell, J., Torcal, M., & Montero, J. R. (2007). Political participation: Mapping the terrain. In J. W. van Deth, J. R. Montero, & A. Westholm (Eds.), Citizenship and involvement in European democracies: A comparative analysis (pp. 334–357). London: Routledge.

Thoits, P. A., & Hewitt, L. N. (2001). Volunteer work and well-being. Journal of Health and Social Behavior, 42(2), 115–131.

Veenhoven, R. (1988). The utility of happiness. Social Indicators Research, 20(4), 333–354. doi:10.1007/bf00302332.

Verba, S., Schlozman, K. L., & Brady, H. E. (1995). Voice and equality: Civic voluntarism in American politics. Cambridge, MA: Harvard University Press.

Weitz-Shapiro, R., & Winters, M. S. (2011). The link between voting and life satisfaction in Latin America. Latin American Politics and Society, 53(4), 101–126. doi:10.1111/j.1548-2456.2011.00135.x.

Whelan, C., & McGinnity, F. (2000). Unemployment and satisfaction: A European analysis. In D. Gallie & S. Paugam (Eds.), Welfare regimes and the experience of unemployment in Europe (Repr ed.). Oxford: Oxford University Press.

Winefield, A. H. (1997). Introduction to the psychological effects of youth unemployment: International perspectives. Journal of Adolescence, 20, 237–241.

Winkelmann, L., & Winkelmann, R. (1998). Why are the unemployed so unhappy? Evidence from panel data. Economica, 65(257), 1–15. doi:10.1111/1468-0335.00111.
Acknowledgments
This paper was written while I was visiting scholar at the Wissenschaftszentrum Berlin für Sozialforschung. I am grateful to Professor Heike Solga for her hospitality and to Marco Giugni, Dietlind Stolle, Christian Lahusen, Lucio Bacarro, Jonas Pontusson, and two anonymous reviewers for valuable comments. The academic stay at the Wissenschaftszentrum für Sozialforschung was funded by the Swiss National Fund under the doc.mobility program. Results presented in this paper have been obtained within the project "Youth, Unemployment, and Exclusion in Europe: A Multidimensional Approach to Understanding the Conditions and Prospects for Social and Political Integration of Young Unemployed" (YOUNEX). This project was funded by the European Commission under the 7th Framework Programme (grant agreement no. 216122).
Appendices
Appendix 1
See Table 5.
Appendix 2
See Table 6.
Appendix 3
See Table 7.
About this article
Cite this article
Lorenzini, J. Subjective Well-Being and Political Participation: A Comparison of Unemployed and Employed Youth. J Happiness Stud 16, 381–404 (2015). https://doi.org/10.1007/s10902-014-9514-7
Published:

Issue Date:

DOI: https://doi.org/10.1007/s10902-014-9514-7
Keywords
Youth

Unemployment

Life satisfaction

Political participation