Abstract
This article uses detailed longitudinal data from the Korean Labor and Income Panel Study for the period 1998–2008 to analyze the happiness impact of working hours reductions on workers and their families. The major contribution to the literature is the use of an exogenous reduction in working hours, due to the Korean Five-Day Working Reform, in a subjective well-being (SWB) model. The findings indicate that reductions did not have the expected positive effects on worker well-being. While satisfaction with working hours increased, reductions had no impact on job and life satisfaction. Thus, long working hours might not be as negatively related to worker well-being as predicted by theory. Moreover, positive SWB effects might be offset by rising work intensity.
Access options
Buy single article
Instant access to the full article PDF.
US$ 39.95
Tax calculation will be finalised during checkout.
Subscribe to journal
Immediate online access to all issues from 2019. Subscription will auto renew annually.
US$ 79
Tax calculation will be finalised during checkout.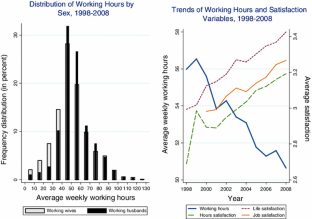 Notes
1.

E.g. Alesina et al. (2004), Booth and Van Ours (2008, 2009), Clark (1997, 2003), Clark and Oswald (1994), Di Tella et al. (2001), Dolan et al. (2008), Frey and Stutzer (2002), Luttmer (2005), Pradhan and Ravallion (2000), Winkelmann and Winkelmann (1998). In the Korean context, SWB measures have been used by Han et al. (2012), Kang (2010), Koo and Suh (2011); among others.

2.

Akerloff and Kranton's gender identity hypothesis opposes Becker's (1965) gender-neutrality hypothesis that predicts that labor division in the household does only depend on an individual's comparative advantage in executing different tasks.

3.

The retention rate was 88 % in the second year (1999), 77 % in the fifth year (2002), and 76 % in 2007.

4.

Kang (2010) shows that potential biases produced by sample attrition are negligible in KLIPS.

5.

Note that in the below analysis only very few men are in age cohorts exceeding 54 since cross-partner variables used in all models require information from both partners. Hence, couples' person-year observations are excluded from the analysis as soon as women's age is above 54 or the couple has no child in the household.

6.

This is in line with Jang et al. (2009) who show that Korean men suffer much more from depressive symptoms than their female counterparts when unemployed, early retired or out-of-labor-force.

7.

A more technical introduction of the different estimators is given in the longer working paper version which can be obtained from the author on request.

8.

Regressions of hours and job satisfaction include controls for job type (1 = wage; 0 = non-wage), as well as ten occupation dummies, and sixteen industry dummies.

9.

Note that the part-time (1–30 h) coefficient is higher than the 30–40 h coefficient. However, Wald tests do not indicate a significant difference using conventional significance levels.

10.

Moreover, while being marginally insignificant, both husbands and wives seem to be less satisfied with their own working hours when the partner works long overtime hours (60+ h).

11.

I also ran the estimations adding controls for the number of girls and boys aged 0–3, since this age group might be particularly time-consuming for parents. This however did not change the main findings. Results do also not change if five-year age cohorts are explicitly controlled for.

12.

I reestimated results in Table 6 using linear fixed effects and the FF-estimator in a robustness check. Results are reported in a longer working paper version which can be obtained from the author upon request. In general, results do not differ significantly.

13.

A more detailed description of the identification strategy is provided in the longer working paper version available from the author.

14.

Note that the findings on satisfaction with working hours are in line with results obtained for leisure satisfaction. When estimating the impact of working hours reductions on leisure satisfaction, I find robust positive significant effects. Results of leisure satisfaction are not displayed in the paper but are available from the author on request.

15.

As a robustness check, I reestimated models in Table 7 for all full-time wage-workers, including unmarried or married without children. The results from Table 7 are confirmed. The same is true when I estimate the effect of only the first year after the reduction, not of three years as done in Table 7. Thus, results are not driven by hedonic adaptation.

16.

See Table 8 in the Appendix.
References
Akerloff, G. A., & Kranton, R. E. (2000). Economics and identity. Quarterly Journal of Economics, 115, 715–753.

Alesina, A., Di Tella, R., & MacCulloch, R. (2004). Inequality and happiness: Are Europeans and Americans different? Journal of Public Economics, 88, 2009–2042.

Ashkenazy, P. (2004). Shorter work time, hours flexibility and labor intensification. Eastern Economic Journal, 30(4), 603–614.

Baetschmann, G., Staub, K. E., & Winkelmann, R. (2011). Consistent estimation of the fixed effects ordered logit model. The Institute for the Study of Labor (IZA), Bonn.

Bakker, A. B., & Demerouti, E. (2007). The job demands-resources model: State of the art. Journal of Managerial Psychology, 22(3), 309–328.

Bakker, A. B., van Emmerik, H., & Euwema, M. C. (2006). Crossover of burnout and engagement in work teams. Work and Occupations, 33, 464–489.

Becker, G. S. (1965). A theory of the allocation of time. Economic Journal, 75, 493–517.

Booth, A. L., & van Ours, J. C. (2008). Job satisfaction and family happiness: The part-time work puzzle. Economic Journal, 118, 77–99.

Booth, A. L., & van Ours, J. C. (2009). Hours of work and gender identity: Does part-time work make the family happier? Economica, 76, 176–196.

Brenner, M. D., Fairris, D., & Ruser, J. (2004). Flexible work practices and occupational safety and health: Exploring the relationship between cumulative trauma disorders and workplace transformation. Industrial Relations, 43(1), 242–266.

Chamberlain, G. (1980). Analysis of covariance with qualitative data. Review of Economic Studies, 47, 225–238.

Chung, W., & Das Gupta, M. (2007). The decline of son preference in South Korea: The roles of development and public policy. Population and Development Review, 33(4), 757–783.

Clark, A. E. (1997). Job satisfaction and gender: Why are women so happy at work? Labour Economics, 4, 341–372.

Clark, A. E. (2003). Unemployment and social norms: Psychological evidence from panel data. Journal of Labor Economics, 21, 323–351.

Clark, A. E., Diener, E., Georgellis, Y., & Lucas, R. E. (2008a). Lags and leads in life satisfaction: A test of the baseline hypothesis. The Economic Journal, 118(June), F222–F243.

Clark, A. E., Frijters, P., & Shields, M. A. (2008b). Relative income, happiness, and utility: An explanation for the easterlin paradox and other puzzles. Journal of Economic Literature, 46(1), 95–144.

Clark, A. E., & Oswald, A. J. (1994). Unhappiness and unemployment. Economic Journal, 104, 648–659.

Di Tella, R., MacCulloch, R., & Oswald, A. J. (2001). Preferences over inflation and unemployment: Evidence form surveys of happiness. The American Economic Review, 91(1), 335–341.

Dolan, P., Peasgood, T., & White, M. (2008). Do we really know what makes us happy? A review of the economic literature on the factors associated with subjective well-being. Journal of Economic Psychology, 29(1), 94–122.

Ferrer-i-Carbonell, A., & Frijters, P. (2004). How important is methodology for the estimates of the determinants of happiness? Economic Journal, 114, 641–659.

Frey, B. S., & Stutzer, A. (2002). What can economists learn from happiness research? Journal of Economic Literature, 40(2), 402–435.

Frijters, P., & Beatton, T. (2012). The mystery of the U-shaped relationship between happiness and age. Journal of Economic Behavior and Organization, 82(2–3), 525–542.

Frone, M. R., Russel, M., & Cooper, M. L. (1997). Relation of work–family conflict to health outcomes: A four-year longitudinal study of employed parents. Journal of Occupational and Organizational Psychology, 70(4), 325–335.

Geurts, S. A. E., Beckers, D. G. J., Taris, T. W., Kompier, M. A. J., & Smulders, P. G. W. (2009). Worktime demands and work-family interference: Does worktime control buffer the adverse effects of high demands? Journal of Business Ethics, 84, 229–241.

Golden, L., & Wiens-Tuers, B. (2006). To your happiness? Extra hours of labor supply and worker well-being. The Journal of Socio-Economics, 35, 382–397.

Goldsmith, A., Sedo, S., Darity, W., & Hamilton, D. (2004). The labor supply consequences of perceptions of employer discrimination during search and on-the-job: Integrating neoclassical theory and cognitive dissonance. Journal of Economic Psychology, 25(1), 15–39.

Gray, M., Qu, L., Stanton, D., & Weston, R. (2004). Long work hours and the wellbeing of fathers and their families. Australian Journal of Labour Economics, 7(2), 255–273.

Han, S., Kim, H., Lee, E.-S., & Lee, H.-S. (2012). The contextual and compositional association of social capital and subjective happiness: A multilevel analysis from Seoul, South Korea. Journal of Happiness Studies,. doi:10.1007/s10902-012-9375-x.

Jang, S.-N., Cho, S.-I., Chang, J., Boo, K., Shin, H.-G., Lee, H., et al. (2009). Employment status and depressive symptoms in Koreans: Results from a baseline survey of the Korean longitudinal study of aging. Journal of Gerontology: Social Sciences, 64B(5), 677–683.

Kang, S.-J. (2010). The analysis on the determinants of life satisfaction in Korea. Kyongjehak Yongu, 58(1), 5–36. (한국인의 생활만족도 결정요인 분석 in Korean).

Kim, S. T., Park, W. S., Ahn, J., Jeon, B.Y., & Jung, J. H. (2001). The socio-economic effects of reduction in working hours. Korean Labor Institute, Seoul.

Knabe, A., & Rätzel, S. (2010). Income, happiness, and the disutility of labor. Economics Letters, 107(1), 77–79.

Koo, J., & Suh, E. M. (2011). Happiness in Korea: Who is happy and when? Korean Journal of Social and Personality Psychology, 25, 143–166. (구재선, 서은국 (2011). 한국인, 누가 언제 행복한가? 한국심리학회지: 사회 및 성격, 25(2), 143–166).

Luttmer, E. F. P. (2005). Neighbors as negatives: Relative earnings and well-being. Quarterly Journal of Economics, 120(3), 963–1002.

Michel, J. S., Kotbra, L. M., Mitchelson, J. K., Clark, M. A., & Baltes, B. B. (2011). Antecedents of work–family conflict: A meta-analytic review. Journal of Organizational Behavior, 32, 689–725.

Neumark, D., & Postlewaite, A. (1998). Relative income concerns and the rise in married women' employment. Journal of Public Economics, 70, 157–183.

OECD. (2009). Education at a glance 2009: OECD indicators. Paris: OECD Publishing.

OECD. (2011). Society at a glance 2011: OECD social indicators. Paris: OECD Publishing.

OECD (2012). OECD statistics online (stats.oecd.org).

Okulicz-Kozaryn, A. (2011). Europeans work to live and Americans live to work (Who is Happy to Work More: Americans or Europeans?). Journal of Happiness Studies, 12, 225–243.

Pérez-Asenjo, E. (2011). If happiness is relative, against whom do we compare ourselves? Implications for labour supply. Journal of Population Economics, 24, 1411–1442.

Pouwels, B., Siegers, J., & Vlasblom, J. D. (2008). Income, working hours, and happiness. Economics Letters, 99, 72–74.

Pradhan, M., & Ravallion, M. (2000). Measuring poverty using qualitative perceptions of consumption adequacy. Review of Economics and Statistics, 82, 462–471.

Rothbard, N. P., & Edwards, J. R. (2003). Investment in work and family roles: A test of identity and utilitarian motives. Personnel Psychology, 56, 699–730.

Rudolf, R., & Cho, S.-Y. (2011). The gender-specific effect of working hours on family happiness in South Korea, Discussion Paper, 77. CRC-PEG.

Rudolf, R., & Kang, S.-J. (forthcoming). Lags and leads in life satisfaction: What changes under gender inequality? Feminist Economics.

Seong, J. M. (2005). Impact of the reduction in statutory working hours. KLI Monthly Labor Review, 4, 5.

Taris, T. W., Ybema, J. F., Beckers, D. G. J., Verheijden, M. W., Geurts, S. A. E., & Kompier, M. A. J. (2011). Investigating the associations among overtime work, health behaviors, and health: A longitudinal study among full-time employees. International Journal of Behavioral Medicine, 18, 352–360.

UNDP. (2004, 2009, 2010). Human development report.

Virtanen, M., Stansfeld, S. A., Fuhrer, R., Ferrie, J. E., & Kivimäki, M. (2012). Overtime work as a predictor of major depressive episode: A 5-year follow-up of the Whitehall II Study. PLoS ONE, 7(1), e30719. doi:10.1371/journal.pone.0030719.

World Economic Forum. (2010). The global gender gap report 2010.

Winkelmann, L., & Winkelmann, R. (1998). Why are the unemployed so unhappy? Evidence from panel data. Economica, 65, 1–15.

Yang, H. W. (2009). Analysis of the impact of the five-day working policy on leisure activities, leisure expenditure, and leisure satisfaction of Koreans (in Korean). Korean Journal for Policy Analysis and Evaluation, 19(3), 219–248.

Zelenski, J. M., Murphy, S. A., & Jenkins, D. A. (2008). The happy-productive worker thesis revisited. Journal of Happiness Studies, 9, 521–537.
Acknowledgments
This paper benefitted from helpful comments from and fruitful discussions with Sung-jin Kang, Stephan Klasen, Carola Gruen, Jan van Ours, Seo-Young Cho, Nick Powdthavee, Maximilian Riedl, Insill Yi, Jaeho Keum, Kyunghee Chung, Stephan Litschig, and participants of the conferences "New Directions in Welfare" in Paris in 2011, the "Singapore Economic Review Conference" in Singapore in 2011, and the AKES conference in Seoul in 2012.
Appendix
Appendix
See Table 8.
About this article
Cite this article
Rudolf, R. Work Shorter, Be Happier? Longitudinal Evidence from the Korean Five-Day Working Policy. J Happiness Stud 15, 1139–1163 (2014). https://doi.org/10.1007/s10902-013-9468-1
Keywords
Exogenous working hours changes

Happiness

Work-family conflict

Gender

Interdependent well-being