Abstract
Major economic crises tend to be followed by crises in subjective well-being. Following the financial and debt crises, politicians and social scientists have engaged in heated discussions of ways to alleviate such losses. In particular, should governments intervene more or less? This paper explores whether liberalizing economic institutions, a type of reform favoured by some economists, is likely to alleviate such loses. Estimating the effects of crises across European states 1975–2011 suggest that countries with relatively easy market regulations suffered smaller well-being losses.
Access options
Buy single article
Instant access to the full article PDF.
US$ 39.95
Tax calculation will be finalised during checkout.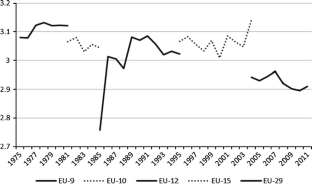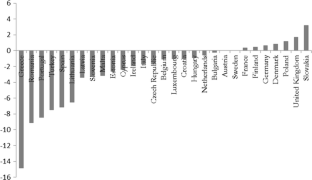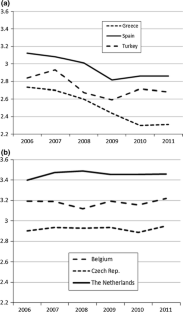 Notes
1.

Only very few would belong to a Marxist school advocating for total government control of the economy, just as very few would support a vulgar-libertarian anarchic approach to economic policy. However, in the introduction as in the rest of the paper, the juxtaposition of two markedly different schools of thought serves to highlight important points of disagreement in terms of both prescriptive solutions to crisis as well as descriptive explanations of the depth of their impacts.

2.

Although theoretically quite distinct in some ways, Hayekian and Austrian schools are often treated as similar to monetarist thinking in the tradition of Friedman (1962). Likewise, public choice theory is substantially different from the Austrian school even though it is often treated as one composite group critical of interventionist government. One of the very few to try to integrate these two distinct theoretical approaches is Pennington (2011), who terms the sum of information and incentive problems as "robust political economy". In general, the combination yields implications that are more sceptical towards active government policies than either separate tradition. It also bears mention that public choice insights have been adopted by some new Keynesians in attempts to synthesize the two traditions and explain how to achieve benevolent government interventions (e.g. Olson 1982).

3.

When using and interpreting the Fraser Institute index of regulations in particular, a note of caution may be necessary. While the authors behind the annual report certainly share a libertarian background and their interpretation of the index may be ideologically tinged, the index itself measures the quality as much as the absence of regulations. In addition, the subindices capturing quality aspects tend to correlate strongly with subindices capturing the quantity of regulations, suggesting that more regulatory activity on average tends to be associated with lower quality of either regulations or implementation and enforcement (e.g. Rode and Coll 2012).

4.

The index is constructed by placing all parties in government on a five-point scale (−1, −.5, 0, .5 and 1) and calculating the ideological position of coalition government as a weighted average of party placement, in which the weights are the relative seat shares in parliament.

5.

In addition, a set of tests not reported in the paper include the degree of political competition and democratic institutions (measured by the combined Freedom House (2012) civil liberties and political freedom indicators), and the Herfindahl–Hirschman index of the legislature; the two latter variables are based on information in Henisz (2010). I do not report these tests as they add no relevant information to the tests reported in the following.

6.

The four countries were Ireland, Luxembourg, the Netherlands and the United Kingdom. Growth in the Netherlands during the currency crisis was anaemic while the United Kingdom had experience crisis only 2 years earlier and may have avoided the crisis by exiting the European Exchange Rate Mechanism and floating its currency.

7.

Although one would strongly expect Italy to be adversely affected by the European currency crisis, it is worth noting that the crisis was contemporaneous with the "Mani Pulite" campaign against corruption. The campaign, although not perfectly successful, met with massive popular approval.

8.

Note that the Fraser Institute regulations index implicitly defines high-quality regulations as regulations that do not impose large economic costs on producers or consumers. The findings therefore cannot be simplistically interpreted as a matter of more or fewer regulations, but also reflect regulations of higher quality that are more market-conformable and less affected by special interests (cf. Coates et al. 2010).

9.

Note that since social trust is only observed intermittently and studies show it to be approximately time-invariant it is treated as a time-invariant factor here. It can therefore only be included in random effects estimates. The same pertains to the postcommunist dummy since we only observe countries after the transition.

10.

A comparison of the point estimate of crisis with and without an interaction is a simple first test of whether the interaction has economic or political significance. The point estimate without an interaction can be interpreted as an effect evaluated at the average level of the interacting variable while the point estimate with an interaction measures the effect evaluated at a value of zero of the interacting variable (Brambor et al. 2006). If the two point estimates of the crisis variable do not seem to differ, it is unlikely that the effect differs across the interacting variable, regardless of whether the interaction term appears significant. As such interaction terms per se have no meaningful interpretations, a similar point goes for the standard error of the estimate.

11.

One could imagine a large number of other factors that might affect the size and significance of wellbeing losses during crises. Table 2 only reports the most immediately intuitive. However, a set of additional tests suggested no clear differences when interacting with the alternative OECD product market regulation index, GDP per capita, measures of government ideology and legislative fractionalization, subjective confidence in national institutions, and openness revealed no clear differences. Likewise, the heterogeneity identified in Table 2 are robust to excluding single countries and outlier observations.

12.

Estimating the determinants of regulatory freedom in the current sample shows that social trust is a statistically significant and economically strong determinant. The strength of this correlation creates a situation in which trust is a sufficiently precise proxy for regulations in random effects estimates to create an apparently significant interaction effect between trust and recession.
References
Abouharb, M. R., & Cingranelli, D. L. (2009). IMF programs and human rights. Review of International Organizations, 4, 47–72.

Aghion, P., Algan, Y., Cahuc, P., & Shleifer, A. (2010). Regulation and distrust. Quarterly Journal of Economics, 25, 1015–1049.

Alchian, A. A. (1950). Uncertainty, evolution, and economic theory. Journal of Political Economy, 58, 211–221.

Baker, S. R., Bloom, N., & Davis, S. J. (2012). Has economic policy uncertainty hampered the recovery? In L. E. Ohanian, J. B. Taylor, & I. J. Wright (Eds.), Government policies and the delayed economic recovery (pp. 39–56). Stanford: Hoover Institution Press.

Barr, N. (2004). The economics of the welfare state. Stanford, CA: Stanford University Press.

Bergh, A., & Bjørnskov, C. (2011). Historical trust levels predict the current size of the welfare state. Kyklos, 64, 1–19.

Bjørnskov, C. (2012). Wellbeing and the size of government. Chapter 6 in Booth, P. (Ed.),… and the Pursuit of Happiness. London: Institute for Economic Affairs, pp. 162–180.

Bjørnskov, C., Dreher, A., & Fischer, J. A. V. (2008a). Cross-country determinants of life satisfaction: Exploring different determinants across groups in society. Social Choice and Welfare, 30, 119–173.

Bjørnskov, C., Dreher, A., & Fischer, J. A. V. (2010). Formal institutions and subjective wellbeing: Revisiting the cross-country evidence. European Journal of Political Economy, 26, 419–430.

Bjørnskov, C., Gupta, N. D., & Pedersen, P. J. (2008b). Analyzing trends in subjective well-being in 15 European countries, 1973–2002. Journal of Happiness Studies, 9, 317–330.

Bjørnskov, C., & Potrafke, N. (2011). Strikes, ideology and inequality: Is there any connection? Presented at the annual conference of the Southern Economic Association, Washington, DC, November 19–21.

Brambor, T., Clark, W. R., & Golder, M. (2006). Understanding interaction models: Improving empirical analysis. Political Analysis, 14, 63–82.

Buchanan, J. M. (1959). Positive economics, welfare economics, and political economy. Journal of Law and Economics, 2, 124–138.

Buchanan, J. M., & Tullock, G. (1962). The calculus of consent: Logical foundations of constitutional democracy. Ann Arbor: University of Michigan Press.

Coates, D., Heckelman, J. C., & Wilson, B. (2010). The political economy of investment: Sclerotic effects from interest groups. European Journal of Political Economy, 26, 208–221.

Dolan, P., Peasgood, T., & White, M. (2008). Do we really know what makes us happy? A review of the economic literature on the factors associated with subjective well-being. Journal of Economic Psychology, 29, 94–122.

Easterlin, R. (1995). Will raising the income of all increase the happiness of all? Journal of Economic Behavior & Organization, 27, 35–47.

Feldmann, H. (2009). The unemployment effects of labor regulation around the world. Journal of Comparative Economics, 37, 76–90.

Freedom House. (2012). Freedom in the World 2012. Washington, DC: Freedom House.

Frey, B. S., & Stutzer, A. (2000). Happiness, economy and institutions. The Economic Journal, 110, 918–938.

Friedman, M. (1962). Capitalism and freedom. Chicago, IL: University of Chicago Press.

Hayek, F. A. (1945). The use of knowledge in society. American Economic Review, 35, 519–530.

Hayek, F. A. (1960). The constitution of liberty. London: Routledge.

Helliwell, J. F. (2006). Well-being, social capital, and public sector; what's new? The Economic Journal, 116, C34–C45.

Helliwell, J. F., & Huang, H. (2008). How's your government? International evidence linking good government and well-being. British Journal of Political Science, 38, 595–619.

Helliwell, J. F., & Shun Wang, S. (2011). Trust and wellbeing. International Journal of Wellbeing, 1, 42–78.

Henisz, W. (2010). The Political Constraint Index (POLCON) Dataset. Available at http://www-management.wharton.upenn.edu/henisz/ (Accessed August, 2012).

Higgs, R. (1997). Regime uncertainty. Why the Great Depression lasted so long and why prosperity resumed after the war. Independent Review, 1, 561–590.

Higgs, R. (2012). Delusions of power: New explorations of the state, war, war, and economy. Oakland: The Independent Institute.

Heston, A., Summers, R., & Aten, B. (2012). Penn World Table Version 7.1. Center for International Comparisons of Production, Income and Prices at the University of Pennsylvania, Nov 2012.

Judson, R. A., & Owen, A. L. (1999). Estimating dynamic panel data models: A guide for macroeconomists. Economics Letters, 65, 9–15.

Keynes, J. M. (1936). The general theory of employment, interest, and money. London: MacMillan.

Krugman, P. (2012). End this depression now!. New York: WW Norton and Co.

Mueller, D. C. (2003). Public choice III. Cambridge: Cambridge University Press.

Munger, M. C. (2008). Economic choice, political decision, and the problem of limits. Public Choice, 137, 507–522.

Nyström, K. (2008). The institutions of economic freedom and entrepreneurship: Evidence from panel data. Public Choice, 136, 269–282.

Olson, M. (1982). The rise and decline of nations: Economic growth, stagflation, and social rigidities. New Haven: Yale University Press.

Pennington, M. (2011). Robust political economy. Cheltenham: Edward Elgar.

Przeworski, A. (1991). Democracy and the market: Political and economic reforms in Eastern Europe and Latin America. Cambridge, UK: Cambridge University Press.

Rode, M. (in press). Do good institutions make citizens happy, or do happy citizens build better institutions? Forthcoming in Journal of Happiness Studies.

Rode, M., & Coll, S. (2012). Economic freedom and growth: Which policies matter the most? Constitutional Political Economy, 23, 95–133.

Stevenson, B., & Wolfers, J. (2008). Economic growth and subjective well-being: Reassessing the Easterlin paradox. Brookings Papers on Economic Activity, 1, 1–87.

Stiglitz, J. (2012). The price of inequality: The avoidable causes and invisible costs of inequality. London: Allen Lane.

Uslaner, E. M. (2002). The moral foundations of trust. Cambridge: Cambridge University Press.

Veenhoven, R. (2000). The four qualities of life. Journal of Happiness Studies, 1, 1–39.
Acknowledgments
Rasmus Rødby Kristiansen provided excellent research assistance. I am grateful for helpful comments on an earlier version from Martin Rode and an anonymous referee.
Appendix
Appendix
See Table 4.
About this article
Cite this article
Bjørnskov, C. Do Economic Reforms Alleviate Subjective Well-Being Losses of Economic Crises?. J Happiness Stud 15, 163–182 (2014). https://doi.org/10.1007/s10902-013-9442-y
Keywords
Subjective well-being

Institutions

Crisis