Abstract
Positive psychological characteristics may be beneficial for physical health. However, prospective data on the effects of happiness on survival is scarce. In a population-based cohort study, the Arnhem Elderly Study, happiness was measured by two items, being: "I have many moments of happiness" and "I often laugh happily". In Cox proportional hazard models, happiness was analyzed as a predictor of 15 year all-cause mortality for 861 (85%) of 1,012 elderly subjects aged 65–85 years. Results showed that happiness was inversely associated with mortality (age- and sex-adjusted hazard ratio of 0.78 for happy subjects versus unhappy subjects; 95% confidence interval 0.64–0.95, P = 0.01 for trend), but that this relationship was no longer statistically significant after adjustment for physical activity and prevalent morbidity. Thus, happiness predicts for lower mortality, which may partly be mediated by more physical activity and lower morbidity.
This is a preview of subscription content, log in to check access.
Access options
Buy single article
Instant access to the full article PDF.
US$ 39.95
Price includes VAT for USA
Subscribe to journal
Immediate online access to all issues from 2019. Subscription will auto renew annually.
US$ 99
This is the net price. Taxes to be calculated in checkout.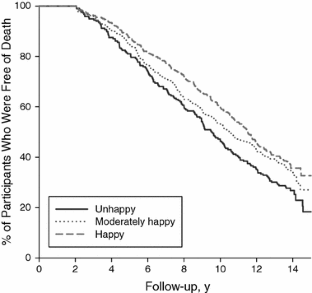 References
Anderson, D. L. (2001). Development of an instrument to measure pain in rheumatoid arthritis: Rheumatoid Arthritis Pain Scale (RAPS). Arthritis Care & Research, 45, 317–323.

Andersson, G. (1996). The benefits of optimism: A meta-analytic review of the life orientation test. Personality and Individual Differences, 21(5), 719–725.

Arroyo, S., Lesser, R. P., Gordon, B., Uematsu, S., Hart, J., & Schwerdt, P. (1993). Mirth, laughter and gelastic seizures. Brain, 116, 757–780.

Barefoot, J. C., Brummett, B. H., Helms, M. J., Mark, D. B., Siegler, I. C., & Williams, R. B. (2000). Depressive symptoms and survival of patients with coronary artery disease. Psychosomatic Medicine, 62, 790–795.

Baron, R. M., & Kenny, D. A. (1986). The moderator-mediator variable distinction in social psychological research: Conceptual, strategic and statistical considerations. Journal of Personality and Social Psychology, 51, 1173–1182.

Blair, S. N., Kohl, H. W., Paffenbarger, R. S., Clark, D. G., Cooper, K. H., & Gibbons, L. W. (1989). Physical fitness and all-cause mortality. A prospective study of healthy men and women. The Journal of the American Medical Association, 262(17), 2395–2401.

Bosma, A. (1988). De gezondheid van mensen in de derde levensfase; een onderzoek naar lichamelijke en psychische aspecten. Eindhoven: GGD.

Bowling, A. P., & Charlton, J. (1987). Risk factors for mortality after bereavement: A logistics regression analysis. Journal of the Royal College of General Practitioners, 37, 551–554.

Breslau, N., Peterson, E. L., Shultz, L. R., Chilcoat, H. D., & Andreski, P. (1998). Major depression and stages of smoking. Archives of General Psychiatry, 55(2), 161–166.

Deeg, D. J., & Van Zonneveld, R. (1989). Does happiness lengthen life? In R. Veenhoven (Ed.), How harmful is happiness? Consequences of enjoying life (pp. 29–43). Rotterdam: University Press Rotterdam.

de Jong-Gierveld, J. (1980). Het begrip eenzaamheid in theorie en praktijk. The Netherlands: Deventer.

Devins, G. M., Mann, J., Mandin, H., Paul, L. C., Hons, R. B., Burgess, E. D., et al. (1990). Psychosocial predictors of survival in end-stage renal disease. The Journal of nervous and mental disease, 178, 127–133.

Fisher, B. J. (1995). Successful aging, life satisfaction and generativity in later life. International Journal of Aging & Human Development, 41, 239–250.

Giltay, E. J., Geleijnse, J. M., Zitman, F. G., Hoekstra, T., & Schouten, E. G. (2004). Dispositional optimism and all-cause and cardiovascular mortality in a prospective cohort of elderly Dutch men and women. Archives of General Psychiatry, 61, 1126–1135.

Giltay, E. J., Kamphuis, M. H., Kalmijn, S., Zitman, F. G., & Kromhout, D. (2006a). Dispositional optimism and the risk of cardiovascular death. Archives of Internal Medicine, 166, 431–436.

Giltay, E. J., Zitman, F. G., & Kromhout, D. (2006b). Dispositional optimism and the risk of depressive symptoms during 15 years of follow-up: The zutphen elderly study. Journal of Affective Disorders, 91(1), 45–52.

Giltay, E. J., Geleijnse, J. M., Zitman, F. G., Buijsse, B., & Kromhout, D. (2007). Lifestyle and dietary correlates of dispositional optimism in men: The zuthpen elderly study. Journal of Psychosomatic Research, 63(5), 483–490.

Hermans, H. J. M., & Van de Tak-ven, J. C. M. (1973). Bestaat er een oorspronkelijke dimensie positief innerlijk welbevinden? Nederlands Tijdschrift voor de Psychologie, 27, 731–754.

Judd, C. M., & Kenny, D. A. (1981). Process analysis: Estimating mediation in treatment evaluations. Evaluation Review, 5, 602–619.

Kaplan, E. L., & Meier, P. (1985). Nonparametric estimation from incomplete observations. Journal of the American Statistical Association, 53, 457–481.

Kawamoto, R., & Doi, R. (2002). Self-reported functional ability predicts 3 year mobility in community-dwelling older persons. Geriatrics & Gerontology International, 2, 68–74.

Koivumaa-Honkanen, H., Honkanen, R., Viinamäki, K., Kaprio, J., & Koskenvuo, M. (2000). Self-reported life satisfaction and 20 year mortality in healthy Finnish adults. American Journal of Epidemiology, 152, 983–991.

Krolak-Salmon, P., Hénaff, M., Vighetto, A., Baucher, F., Bertrand, O., Mauguière, F., et al. (2006). Experiencing and detecting happiness in humans: The role of the supplementary motor area. Annals of Neurology, 59(1), 196–199.

Kubzansky, L. D., Sparrow, D., Vokonas, P., & Kawachi, I. (2001). Is the glass half empty or half full? A prospective study of optimism and coronary heart disease in the normative aging study. Psychosomatic Medicine, 63, 910–916.

Kubzansky, L. D., Wright, R. J., Cohen, S., Weiss, S., Rosner, B., & Sparroy, D. (2002). Breathing easy: A prospective study of optimism and pulmonary function in the normative aging study. Annals of Behavioral Medicine, 24(4), 345–353.

Linschoten, C. P., van Leemeijer, M., & van den Heuvel, W. J. A. (1988). Ouderen geholpen? Deelrapport in het kader van het onderzoek 'Samenwerking in de zorg voor ouderen'. Groningen: Vakgroep Gezondheidswetenschappen.

Linschoten, C. P., van Gerritsen, J. C., & Romijn, C. (1993). De schaal subjectief welzijn ouderen nader onderzocht. Tijdschrift Gerontologie en Geriatrie, 24, 57–65.

Lynch, J. W., Kaplan, G. A., Cohen, R. D., Tuomilehto, J., & Salonen, J. T. (1996). Do cardiovascular risk factors explain the relation between socioeconomic status, risk of all-cause mortality, cardiovascular mortality, and acute myocardial infarction. American Journal of Epidemiology, 144, 934–942.

Matthwes, C. E., Jurj, A. L., Shu, X., Li, H., Gong, Y. Q. L., Yu-Tang, G., et al. (2007). Influence of exercise, walking, cycling and overall nonexercise physical activity on mortality in Chinese women. American Journal of Epidemiology, 165, 1343–1350.

Menec, V. H. (2003). The relation between everyday activities and successful aging: A 6 year longitudinal study. Journal of Gerontology, 58b, 74–82.

Milligan, R. A. K., Burke, V., Beilin, L. J., Richards, J., Dunbar, D., Spencer, M., et al. (1997). Health-related behaviours and psycho-social characteristics of 18-year-old Australians. Social Science and Medicine, 45(10), 1549–1562.

Mossey, J. M. & Shapiro, E. (1982). Self-rated health: A predictor of mortality among the elderly. American Journal of Public Health, 72, 800–808.

Ostir, G. V., Markides, K. S., Black, S. A., & Goodwin, J. S. (2000). Emotional well-being predicts subsequent functional independence and survival. Journal of American Geriatrics Society, 48(5), 590–592.

Paffenbarger, R. S., Kampert, J. B., Lee, I., Hyde, R. T., Leung, R. W., & Wing, A. L. (1994). Changes in physical activity and other lifeway patterns influencing longevity. Medicine and Science in Sports and Exercise, 26(7), 857–865.

Palmore, E. B. (1969). Physical, mental, and social factors in predicting longevity. Gerontologist, 9, 103–108.

Pitkala, K. H., Laakkonen, M. L., Strandberg, T. E., & Tilvis, R. S. (2004). Positive life orientation as a predictor of 10 year outcome in an aged population. Journal of Clinical Epidemiology, 57, 409–414.

Pressman, S. D., & Cohen, S. (2005). Does positive affect influence health? Psychological Bulletin, 131(6), 925–971.

Sanders, C. J. E. M. (1977). Het gewone en het bijzondere van de homoseksuele leefsituatie. Deventer: Van Loghum Slaterus.

Scheier, M. F., Matthews, K. A., Owens, J. F., & Magovern, G. J. (1989). Dispositional optimism and recovery from coronary artery bypass surgery: The beneficial effects on physical and psychological well-being. Journal of Personality and Social Psychology, 57(6), 1024–1040.

Schnor, P., Kristensen, T. S., Prescott, E., & Scharling, H. (2005). Stress and life dissatisfaction are inversely associated with jogging and other types of physical activity in leisure time—The Copenhagen City Hearth Study. Scandinavian Journal of Medicine & Science In Sports, 15, 107–112.

Skevington, S. M. (1986). Psychological aspects of pain in rheumatoid arthritis: A review. Social Science & Medicine, 23(6), 567–595.

Stones, M. J., Dornan, B., & Kozma, A. (1989). The prediction of mortality in elderly institution residents. Journal of Gerontology, 44, 72–79.

Tempelman, C. J. J. (1987). Welbevinden bij ouderen: konstruktie van een meetinstrument (Well-being in the elderly: Development of the scale subjective wellbeing older persons). Dissertation, University of Groningen, Groningen, The Netherlands.

Von Roenn, J. H., Cleeland, C. S., Gonin, R., Hatfield, A. K., & Pandya, K. J. (1993). Physician attitudes and practice in cancer pain management: A survey from the eastern cooperative oncology group. Annals of Internal Medicine, 199, 121–126.

Veenhoven, R. (1984). Conditions of happiness. Dordrecht: Kluwer Academic.

Veenhoven, R. (2006). Healthy happiness, effects of happiness on physical health and the consequences for preventive health care. Journal of Happiness Studies, 9, 449–469.

Voorrips, L. E., Ravelli, A. C., Dongelmans, P. C., Deurenberg, P., & Van Staveren, W. A. (1991). A physical activity questionnaire for the elderly. Medicine & Science in Sports & Exercise, 23, 974–979.

Wimmers, M. F. G. H., & van der Bom, J. A. (1971). Ouderdomsbeleving. Evaluatie van eigen leven en levensomstandigheden door oudere mensen. Nijmegen: Ger. Centrum.

Yancik, R., Wesley, M. N., Ries, L. A. G., Havlik, R. J., Long, S., Edwards, B. K., et al. (1998). Comorbidity and age as predictors of risk for early mortality of male and female colon carcinoma patients, a population-based study. American Cancer Society, 82(11), 2123–2134.

Zeppetella, G., O'Doherty, C. A., & Collins, S. (2000). Prevalence and characteristics of breakthrough pain in cancer patients admitted to a hospice. Journal of Pain and Symptom Management, 20(2), 87–92.

Zuckerman, D. M., Kasl, S. V., & Ostfeld, A. M. (1984). Psychosocial predictors of mortality among the elderly poor. American Journal of Epidemiology, 119(3), 410–423.
Acknowledgments
This study was part of the research program Lifestyle and Health in the Elderly supported by the Dutch Ministry of Health, Welfare, and Sport (The Hague, The Netherlands).
About this article
Cite this article
Koopmans, T.A., Geleijnse, J.M., Zitman, F.G. et al. Effects of Happiness on All-Cause Mortality During 15 Years of Follow-Up: The Arnhem Elderly Study. J Happiness Stud 11, 113–124 (2010). https://doi.org/10.1007/s10902-008-9127-0
Received:

Accepted:

Published:

Issue Date:
Keywords
Happiness

Longevity

Elderly subjects

Cohort study

Physical activity

Illnesses