Abstract
Objectives Adults who engage in altruistic social interest behaviors experience better mental health and have lower mortality rates than non-altruistic adults. The present study investigated the relationship between altruism and health and well-being in teens, and demographic and lifestyle variables. Methods A cross-sectional survey was implemented with a national sample of teens recruited through the Presbyterian Church (U.S.A.). Measures included the PedsQL, the Ryff Psychological Well-Being Scale, and a new self-report scale of Altruism (subscales: Receiving/ Providing Emotional Support, Family Helping Behavior, General Helping Behavior, and Helping Orientation). Results Data were collected from 457 teens (M age = 15.6, sd 1.2). Psychometric analyses revealed that a five-factor model fit the altruism data well. Multivariate regression revealed no association between providing emotional support and psychosocial health. There were, however, many associations between altruism and well-being, and differential associations by gender. Family helping was the most salient aspect of altruism for males, showing associations with positive social relations, purpose in life, and self-acceptance. For females, General Helping Behavior was associated with positive social relations, and Helping Orientation was associated with better purpose in life. Family Helping was associated with better physical health in females, but not for males. The only correlates of altruism were higher age, more physical activity, and engaging in positive religious coping. Conclusions Altruism is positively associated with health for females and with well-being for both males and females. Different gender-specific interventions to guide teens in doing more altruistic activities may have to be designed to capitalize on these different associations.
Access options
Buy single article
Instant access to the full article PDF.
USD 39.95
Price excludes VAT (USA)
Tax calculation will be finalised during checkout.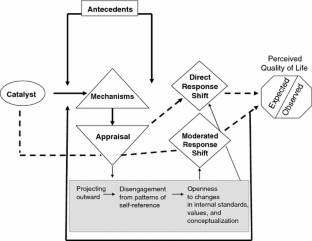 Notes
The present sample had slightly more females than males (56% female). Data from the entire sample 52.4% are female and no data are available on the gender distribution of all confirmands. A study of confirmands from 1995 showed that 60% of respondents were female. Thus, the gender composition in the present sample is closer to the population than it was a decade ago.
Abbreviations
M:

Mean

sd:

Standard deviation

PC(USA):

Presbyterian Church (U.S.A.)

CFI:

Confirmatory fit index

RMSEA:

Root mean square error approximation
References
Benson, P. L. (1997). All kids are our kids: What communities must to do to raise caring and responsible children and adolescents. San Francisco: Jossey-Bass.

Benson, P. L., Clary, E. G., & Scales, P. C. (2007). Altruism and health: Is there a link during adolescence? In S. G. Post (Ed.), Altruism & health (pp. 97–115). New York: Oxford.

Brown, S. L., Nesse, R. M., Vinokur, A. D., & Smith, D. M. (2003). Providing social support may be more beneficial than receiving it: Results from a prospective study of mortality. Psychological Science, 14, 320–327.

Eccles, J. S., & Barber, B. L. (1999). Student council, volunteering, basketball, or marching band: What kind of extracurricular involvement matters? Journal of Adolescent Research, 14, 10–43.

Erikson, E. (1963). Childhood and society. New York: Norton.

Eyler, J. (2002). Linking service and learning – linking students and communities. Journal of Social Issues, 58, 517–534.

Greendale, G. A., Reboussin, B. A., Hogan, P., Barnabei, V. M., Shumaker, S., Johnson, S., et al. (1998). Symptom relief and side effects of postmenopausal hormones: Results from the postmenopausal estrogen/progestin interventions trial. Obstetrics and Gynecology, 92, 982–988.

Harris, K. M., Florey, F., Tabor, J., Bearman, P. S., Jones, J., & Udry, J. R. (2003). The national longitudinal study of adolescent health: Research design. Ref Type: Internet Communication.

Koenig, H. G. (2007). Altruistic love and physical health. In S. G. Post (Ed.), Altruism & health (pp. 422–441). New York: Oxford.

Li, Y., & Ferraro, K. F. (2005). Volunteering and depression in later life: Social benefit or selection processes? Journal of Health and Social Behavior, 46, 68–84.

Li, Y., & Rapkin, B. (2006). HIV/AIDS patients' quality of life appraisal depends on their personal meaning of quality of life and frame of reference. Quality of Life Research, A-36 [Abstract].

Luoh, M. C., & Herzog, A. R. (2002). Individual consequences of volunteer and paid work in old age: Health and mortality. Journal of Health and Social Behavior, 43, 490–509.

McClellan, W. M., Stanwyck, D. J., & Anson, C. A. (1993). Social support and subsequent mortality among patients with end-stage renal disease. Journal of the American Society of Nephrology, 4, 1028–1034.

Midlarsky, E., & Kahana, E. (1994). Altruism in later life. Newbury Park, CA: Sage Publications. Ref Type: Serial (Book, Monograph).

Moen, P., Dempster-McClain, D., & Williams, R. M. (1992). Successful aging: A life-course perspective on women's multiple roles and health. American Journal of Sociology, 97, 1612–1638.

Morrow-Howell, N., Hinterlong, J., Rozario, P. A., & Tang, F. (2003). Effects of volunteering on the well-being of older adults. The Journals of Gerontology, Series B, Psychological Sciences and Social Sciences, 58, S137–S145.

Murphey, D. A., Lamonda, K. H., Carney, J. K., & Duncan, P. (2004). Relationships of a brief measure of youth assets to health-promoting and risk behaviors. Journal of Adolescent Health, 34, 184–191.

Musick, M. A., & Wilson, J. (2003). Volunteering and depression: The role of psychological and social resources in different age groups. Social Science and Medicine, 56, 259–269.

Oman, D., & Thoresen, E. M. K. (1999). Volunteerism and mortality among the community-dwelling elderly. Journal of Health Psychology, 4, 301–316.

Pargament, K. I., Smith, B. W., Koenig, H. G., & Perez, L. (1998). Patterns of positive and negative religious coping with major life stressors. Journal of Scientific Study of Religion, 37, 710–724.

Post, S. G. (2007). Altruism and health: Perspectives from empirical research. New York: Oxford.

Post, S. G., & Neimark, J. (2007). Why good things happen to good people. New York: Random House.

Rapkin, B. D., & Schwartz, C. E. (2004). Toward a theoretical model of quality-of-life appraisal: Implications of findings from studies of response shift. Health and Quality of Life Outcomes, 2, 14.

Rowe, J. W., & Kahn, R. L. (1998). Successful aging. New York: Pantheon Books.

Rushton, J. P., Chrisjohn, R. D., & Fekken, G. C. (1981). The altruistic personality and the self-report altruism scale. Personality and Individual Differences, 2, 293–302.

Ryff, C. D. (1989). Happiness is everything, or is it? Explorations on the meaning of psychological well-being. Journal of Personality and Social Psychology, 57, 1069–1081.

Schwartz, C., Meisenhelder, J. B., Ma, Y., & Reed, G. (2003). Altruistic social interest behaviors are associated with better mental health. Psychosomatic Medicine, 65, 778–785.

Schwartz, C. E., & Sendor, M. (1999). Helping others helps oneself: Response shift effects in peer support. Social Science & Medicine, 48, 1563–1575.

Schwartz, C. E., & Sprangers, M. A. (1999). Methodological approaches for assessing response shift in longitudinal health-related quality-of-life research. Social Science & Medicine, 48, 1531–1548.

Sprangers, M. A., & Schwartz, C. E. (1999). Integrating response shift into health-related quality of life research: A theoretical model. Social Science & Medicine, 48, 1507–1515.

StataCorp. (2003). Stata Statistical Software: Release 8. College Station, TX, StataCorp LP. Ref Type: Generic.

Switzer, G. E., Simmons, R. G., Dew, M. A., Regalski, J. M., & Wang, C. (1995). The effects of a school-based helper program on adolescent self-image, attitudes, and behavior. Journal of Early Adolescence, 15, 429–455.

Thoits, P. A., & Hewitt, L. N. (2001). Volunteer work and well-being. Journal of Health and Social Behavior, 42, 115–131.

Uggen, C., & Jenikula, J. (1999). Volunteerism and arrest in the transition to adulthood. Social Forces, 78, 331–362.

Van, W. M. (2000). Differential benefits of volunteering across the life course. The Journals of Gerontology, Series B, Psychological Sciences and Social Sciences, 55, S308–S318.

Van Duyn, M. A., McCrae, T., Wingrove, B. K., Henderson, K. M., Boyd, J. K., Kagawa -Singer, M., et al. (2007). Adapting evidence-based strategies to increase physical activity among African Americans, Hispanics, Hmong, and Native Hawaiians: A social marketing approach. Preventing Chronic Disease, 4, A102.

Varni, J. W. (1998). PedsQL Pediatric Quality of Life Inventory, Version 4.0 Short Form (SF15), Teen Report (ages 13–18). Ref Type: Unpublished Work.

Varni, J. W., Burwinkle, T. M., Seid, M., & Skarr, D. (2003). The PedsQL 4.0 as a pediatric population health measure: Feasibility, reliability, and validity. Ambulatory Pediatrics, 3, 329–341.

Wilson, J., & Musick, M. A. (1997). Work and volunteering: The long arm of the job. Social Forces, 76, 251–272.

Wink, P., & Dillon, M. (2007). Do generative adolescents become healthy older adults? In S. G. Post (Ed.), Altruism & health (pp. 43–55). New York: Oxford.

Wu, H. C. (2007). Predicting subjective quality of life in workers with severe psychiatric disabilities. Community Mental Health Journal. doi:10.1007/s10597-007-9118-3.
Acknowledgements
Funding for this work was provided to Dr. Schwartz by the Institute for Research on Unlimited Love. The authors would like to thank Elizabeth Midlarsky, Ph.D., and J. Philippe Rushton, Ph.D., for helpful discussions in early stages of this project and for their permission to adapt items from their altruism scales for the present work. The authors are grateful for helpful suggestions and comments from anonymous reviewers of this work.
About this article
Cite this article
Schwartz, C.E., Keyl, P.M., Marcum, J.P. et al. Helping Others Shows Differential Benefits on Health and Well-being for Male and Female Teens. J Happiness Stud 10, 431–448 (2009). https://doi.org/10.1007/s10902-008-9098-1
Received:

Accepted:

Published:

Issue Date:

DOI: https://doi.org/10.1007/s10902-008-9098-1
Keywords
Altruism

Well-being

Health-related quality of life

Gender

Adolescents