Abstract
To the human race, Happiness is surely the most coveted of emotions, yet the science behind it is almost as elusive as how to attain and maintain it. An attempt to understand the basis of happiness and its components, in addition to other positive experiences, including mirth and laughter, is a formidable task. Happiness is a separate entity and is not the absence or the opposite of sadness. It deserves its own field of study. It is impermeable to money and transient pleasurable overshoots. This paper is an open invitation to explore the domain of Happiness, review its neuroanatomical and psychosocial constructs and live in its blissful unawareness.
Access options
Buy single article
Instant access to the full article PDF.
USD 39.95
Price excludes VAT (USA)
Tax calculation will be finalised during checkout.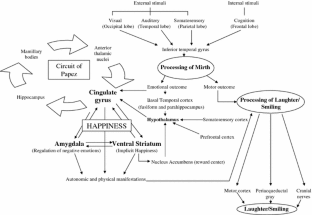 References
Alain (1868–1951): Emile Auguste Chartier (Alain). Propos sur le bonheur. 1928.

Arroyo, S., Lesser, R., Gordon, B., Uematsu, S., Hart, J., Schwerdt, P., Andreasson, K., & Fisher, R. (1993). Mirth, laughter, and gelastic seizures. Brain, 116, 757–780.

Barak, Y. (2006). The immune system and happiness. Autoimmunity Reviews, 5(8), 523–527.

Bentall, R. P. (1992). A proposal to classify happiness as a psychiatric disorder. Journal of Medical Ethics, 18(2), 94–98.

Bianchi-Demicheli, F., & Stephani, O. (2007). Toward an understanding of the cerebral substrates of woman's orgasm. Neuropsychologia, 45(12), 2645–2659.

Brickman, P., Codes, D., & Janoff-Bulman, R. (1978). Lottery winners and accident victims: Is happiness relative? Journal of Personality and Social Psychology, 36, 917–927.

Burgdorf, J., & Panksepp, J. (2006). The neurobiology of positive emotions. Neuroscience and Biobehavioral Reviews, 30(2), 173–187.

Buss, D. M. (2000). The evolution of happiness. The American Psychologist, 55(1), 15–23.

Csikszentmihalyi, M. (1999). If we are so rich, why aren't we happy? The American Psychologist, 54(10), 821–827.

Damasio, A., Grabowski, T., Bechara, A., Damasio, H., Ponto, L., Parvizi, J., & Hichwa, R. (2000). Subcortical and cortical brain activity during the feeling of self-generated emotions. Nature Neuroscience, 3(10), 1049–1056.

Davidson, R. J., & Irwin, W. (1999). The functional neuroanatomy of emotion and affective style. Trends in Cognitive Sciences, 3(1), 11–21.

Debiec, J. (2007) From affiliative behaviors to romantic feelings: A role of nanopeptides. FEBS Letters, 581(14), 2580–2586.

Decety, J., & Lamm, C. (2006). Human empathy through the lens of social neuroscience. The Scientific World Journal, 6, 1146–1163.

Devereux, P. G., & Ginsburg, G. P. (2001). Sociality effects on the production of laughter. The Journal of General Psychology, 128(2), 227–240.

Diener, E. (2000). Subjective well-being: The science of happiness and a proposal for a National index. American Psychologist, 55(1), 34–43.

Diener, E., Horwitz, J., & Emmons, R. (1985). Happiness of the very wealthy. Social Indicators Research, (16), 263–274.

Diener, E., & Suh E. (1997). Measuring quality of life; economic, social and subjective indicators. Social Indicators Research, 40(1–2), 189–216.

Eimer, M., & Holmes, A. (2007). Event-related brain potential correlates of emotional face processing. Neuropsychologia, 45(1), 15–31.

Ekman, P. (1999). Basic emotions. In T. Dalgleish & T. S. Power (Eds.), The handbook of cognition and emotion (pp. 45–60). Sussex, U.K.: John Wiley & Sons, Ltd.

Esch, T., & Stefano, G. B. (2004). The neurobiology of pleasure, reward processes, addiction and their health implications. Neuro Endocrinology Letters, 25(4), 235–251.

George, M. S., Ketter, T. A., Parekh, P. I., Horwitz, B., Herscovitch, P., & Post, R. (1995). brain activity during transient sadness and happiness in health women. The American Journal of Psychiatry, 152, 341–351.

Gervais, M., & Wilson, D. S. (2005). The evolution and functions of laughter and humor: a synthetic approach. The Quarterly Review of Biology, 80(4), 395–430.

Habel, U., Klein, M., Kellermann, T., Shah, N. J., & Schneider, F. (2005). Same or different? Neural correlates of happy and sad mood in healthy males. Neuroimage, 26(1), 206–214.

Hamer, D. H. (1996). The heritability of happiness. Nature Genetics, 14, 125–126.

Inglehart, R. (1990). Cultural shift in advanced industrial societies. US: Princeton University Press.

Kelley, A. E., & Berridge, K. C. (2002). The neuroscience of natural rewards: Relevance to addictive drugs. Journal of Neuroscience, 22, 3306–3311.

Kelley, A. E., Will, M. J., Steininger, T. L., Zhang, M., & Haber, S. N. (2003). Restricted daily consumption of highly palatable food (chocolate ensure) alters striatal enkephalin gene expression. The European Journal of Neuroscience, 18, 2592–2598.

Keltner, D., & Bonanno, G. (1997). A study of laughter and dissociation: distinct correlates of laughter and smiling during bereavement. Journal of Personality and Social Psychology, 73(4), 687–702.

Knutson, B., Adams, C. M., Fong, G. W., & Hommer, D. (2001). Anticipation of increasing monetary reward selectively recruits nucleus accumbens. The Journal of Neuroscience, 21, 1–5.

Komisaruk, B. R., & Whipple, B. (2005). Functional MRI of the brain during orgasm in women. Annual Review of Sex Research, 16, 62–86.

Lane, R., Reiman, E., Ahern, G., Schwartz, G., & Davidson, R. (1997). Neuroanatomical correlates of happiness, sadness and disgust. The American Journal of Psychiatry, 154(7), 926–933.

Locke, J. (1689). An essay concerning human understanding, Vol. 1, MDCXC, based on 2nd edition, Books 1 and 2.

Lykken, D., & Tellegen, A. (1996). Happiness is a stochastic phenomenon. Psychological Science, 7(3), 186–189.

McMahon, D. M. (2004). From the happiness of virtue to the virtue of happiness:400 B.C-A.D 1780, Daedalus, Spring 2004, pp. 5–17.

Murphy, F. C., Nimmo-Smith, I., & Lawrence, A. D. (2003). Functional neuroanatomy of emotions: A meta-analysis. Cognitive, Affective and Behavioral Neuroscience, 3(3), 207–233.

Nestler, E. J., & Carlezon, W. A. (2006). The mesolimbic dopamine reward circuit in depression. Biological Psychiatry, 59, 1151–1159.

Panksepp, J., & Burgdorf, J. (2003). Related articles, "Laughing" rats and the evolutionary antecedents of human joy? Physiology and Behavior, 79(3), 533–547.

Papez, J. W. (1995). A proposed mechanism of emotion. 1937. The Journal of Neuropsychiatry and Clinical Neurosciences, 7(1), 103–112.

Paradiso, S., Robinson, R., Andreasen, N., Downhill, J., Davidson, R., Kirchner, P., Watkins, G. L., Ponto, L., & Hichwa, R. (1997). Emotional activation of limbic circuitry in elderly normal subjects in a PET study. The American Journal of Psychiatry, 154(3), 384–389.

Parvizi, J., Anderson, S., Martin, C., Damasio, H., & Damasio, A. (2001). Pathological laughter and crying. A link to the cerebellum. Brain, 124, 1708–1719.

Pecina, S., Smith, K. S., & Berridge, K. C. (2006). Neuroscientist. Hedonic Spots in the Brain, 12(6), 500–511.

Poeck, K. (1969). Pathophysiology of emotional disorders associated with brain damage. In P. J. Vinken & G. W. Bruyn (Eds.), Handbook of clinical neurology (Vol. 1, pp. 343–367). Amsterdam: Elsevier.

Post, S. G. (2005). Altruism, happiness, and health: It's good to be good. International Journal of behavioral Medicine, 12(2), 66–77.

Prohovnik, I., Skudlarski, P., Fullbright, R., Gore, J., & Wexler, B. (2004). Functional MRI changes before and after onset of reported emotions. Neuroimaging, 132, 239–250.

Provine, R. R. & Fischer, K. R. (1989). Laughing, smiling, and talking: Relation to sleeping and social context in humans. Ethology, 83, 295–305.

Ramachandran, V. S. (1998). The neurology and evolution of humor, laughter, and smiling: The false alarm theory. Medical Hypotheses, 51, 351–354.

Rolls, E. T. (2000). The orbitofrontal cortex and reward. Cerebral Cortex, 10(3), 284–294.

Satow, T., Usui, K., Matsuhashi, M., Yamamoto, J., Begum, T., Shibasaki, H., Ikeda, A., Mikuni, N., Miyamoto, S., & Hashimoto, N. (2003). Mirth and laughter arising from human temporal cortex. Journal of Neurology, Neurosurgery and Psychiatry, 74, 1003–1007.

Shammi, P., & Stuss, D. T. (1999). Humour appreciation: A role of the right frontal lobe. Brain, 122, 657–666.

Stefan, H., Schulze-Bonhage, A., Pauli, E., Platsch, G., Quiske, A., Buchfelder, M., & Romstock, J. (2004). Ictal pleasant sensations: Cerebral localization and lateralization. Epilepsia, 45(1), 35–40.

Strongman, K. T. (1996). The psychology of emotion, in theories of emotions in perspective (4th ed.,). Chichester: John Wiley and Sons.

Surraka, V., & Hietane, J. K. (1998). Facial and emotional reactions to Duchenne and Non-Duchenne smiles. International Journal of Psychophysiology, 29(1), 23–33.

Veenhoven, R. (1993) Happiness in nations. Roterdam: Erasmus University.

Vernet-Maury, E., Alaoui-Ismaili, O., Dittmar, A., Delhomme, G., & Chanel, J. (1999). Basic emotions induced by odorants: A new approach based on autonomic pattern results. Journal of the Autonomic Nervous System, 75(2–3), 176–183.

Wierzbicka, A. (2004). Happiness in cross-linguistic and cross-cultural perspective. Daedalus, Spring 2004, 34–43.

Wild, B., Rodden, F., Grodd, W., & Ruch, W. (2003). Neural correlates of laughter and humour. Brain, 126, 2121–2138.
Acknowledgements
This paper is written in fond memories of conversations with Dr. Joseph H. Saleh on winding roads, nature walks, and The Fading Poetry of Old Lebanese Houses. Thank you. The authors would also like to acknowledge Dr. Barry Fogel for his precious time and comments while reviewing the article.
About this article
Cite this article
Chemali, Z.N., Chahine, L.M. & Naassan, G. On Happiness: A Minimalist Perspective on a Complex Neural Circuitry and its Psychosocial Constructs. J Happiness Stud 9, 489–501 (2008). https://doi.org/10.1007/s10902-007-9085-y
Received:

Accepted:

Published:

Issue Date:

DOI: https://doi.org/10.1007/s10902-007-9085-y
Keywords
Happiness

Emotion

Mirth

Humor

Laughter