Abstract
The 2007 financial crisis profoundly affected most American metropolitan areas. Over the past 10 years, Columbus, Ohio, has experienced a housing downturn, recovery, and subsequent increases. This allows to investigate the response of housing market in different periods of the recession. Ordinary and geographically-weighted regression (GWR) models were developed to examine global and local built-environment effects on home-price appreciations for the three periods while controlling for other physical and socioeconomic variables. The results found that home buyers showed an unchanged preference for residential privacy and amenity and avoided those features that might attract negative external effects from a period to another. The home-price appreciation rates showed different spatial patterns across the study region in the three periods. Nevertheless, the results suggested that suburban areas, particularly those in northern Columbus, better resisted, recovered from, and adapted to the recession. In the wake of the recession, a smaller house was preferred by home buyers. GWR models also provided some interesting findings. In the downturn, accessibility to a park or library helped sustain home prices in the northwest. Bus stop density had a positive effect in eastern Columbus in the recovery, most likely due to the high fuel price at that time. Neighborhoods with a higher income better retained their home value in the downturn, especially those in southern Columbus. Finally, this study found that the recession hit harder on minority neighborhoods in all three periods. This finding suggests that housing policies should focus on these neighborhoods with other social support.
Access options
Buy single article
Instant access to the full article PDF.
USD 39.95
Price includes VAT (USA)
Tax calculation will be finalised during checkout.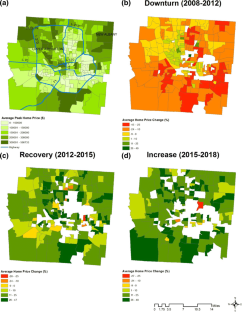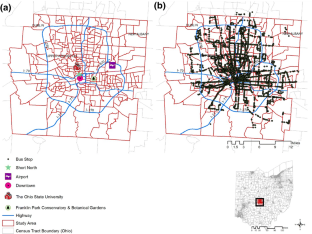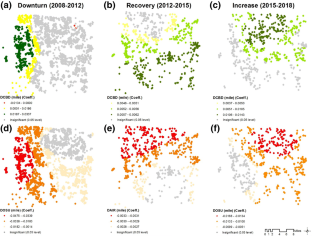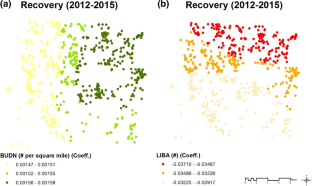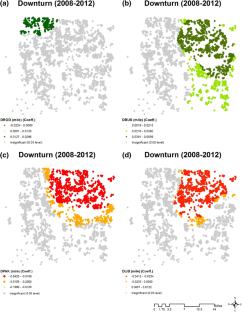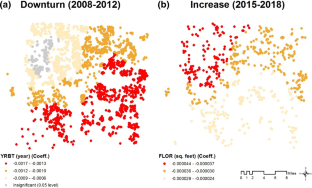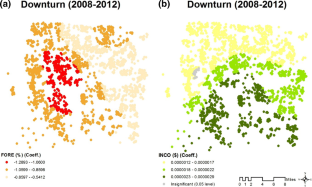 References
Ahlfeldt, G. M., & Wendland, N. (2009). Looming stations: Valuing transport innovations in historical context. Economics Letters, 105(1), 97–99.

Ainuddin, S., & Routray, J. K. (2012). Community resilience framework for an earthquake prone area in Baluchistan. International Journal of Disaster Risk Reduction, 2, 25–36.

Allen, R. (2011). The relationship between residential foreclosures, race, ethnicity, and nativity status. Journal of Planning Education and Research, 31(2), 125–142.

Baum-Snow, N., & Kahn, M. E. (2000). The effects of new public projects to expand urban rail transit. Journal of Public Economics, 77(2), 241–263.

Bowes, D. R., & Ihlanfeldt, K. R. (2001). Identifying the impacts of rail transit stations on residential property values. Journal of Urban Economics, 50(1), 1–25.

Bureau of Labor Statistics Labor Force Statistics from the Current Population Survey.

Cardozo, O. D., García-Palomares, J. C., & Gutiérrez, J. (2012). Application of geographically weighted regression to the direct forecasting of transit ridership at station-level. Applied Geography, 34, 548–558. https://doi.org/10.1016/j.apgeog.2012.01.005.

Chatman, D. G., Tulach, N. K., & Kim, K. (2012). Evaluating the economic impacts of light rail by measuring home appreciation: A first look at New Jersey's River Line. Urban studies, 49(3), 467–487.

Crump, J., Newman, K., Belsky, E. S., Ashton, P., Kaplan, D. H., Hammel, D. J., et al. (2008). Cities destroyed (again) for cash: Forum on the US foreclosure crisis. Urban Geography, 29(8), 745–784.

Dodson, J., & Sipe, N. (2008). Planned household risk: Mortgage and oil vulnerability in Australian cities. Australian Planner, 45(1), 38–47.

Dong, H. (2015). Were home prices in new urbanist neighborhoods more resilient in the recent housing downturn? Journal of Planning Education and Research, 35(1), 5–18.

Dong, H., & Hansz, J. A. (2016). The Geography of the Recent Housing Crisis: The Role of Urban Form. Housing Policy Debate, 26(1), 150–171.

Dziauddin, M. F., Powe, N., & Alvanides, S. (2015). Estimating the effects of light rail transit (LRT) system on residential property values using geographically weighted regression (GWR). Applied Spatial Analysis and Policy, 8(1), 1–25.

Ewing, R. (1997). Is Los Angeles-style sprawl desirable? Journal of the American planning association, 63(1), 107–126.

Farber, S., & Páez, A. (2007). A systematic investigation of cross-validation in GWR model estimation: Empirical analysis and Monte Carlo simulations. Journal of Geographical Systems, 9(4), 371–396.

Fotheringham, A. S., Brunsdon, C., & Charlton, M. (2002). Geographically Weighted Regression: The Analysis of Spatially Varying Relationships. Wiley.

Fotheringham, S., Crespo, R., & Yao, J. (2015). Geographical and temporal weighted regression (GTWR). Geographical Analysis, 47(4), 431–452.

FRED Economic Data. (2018). Economic research.

Freeman, A. M. (1979). Hedonic prices, property values and measuring environmental benefits: A survey of the issues. The Scandinavian Journal of Economics, 81(2), 154–173. https://doi.org/10.2307/3439957.

Gibbons, S., & Machin, S. (2005). Valuing rail access using transport innovations. Journal of urban Economics, 57(1), 148–169.

Gollini, I., Lu, B., Charlton, M., Brunsdon, C., & Harris, P. (2013). GWmodel: An R package for exploring spatial heterogeneity using geographically weighted models. arXiv preprint. arXiv:1306.0413.

Hyra, D. S., Squires, G. D., Renner, R. N., & Kirk, D. S. (2013). Metropolitan segregation and the subprime lending crisis. Housing Policy Debate, 23(1), 177–198.

Immergluck, D. (2008). From the subprime to the exotic: Excessive mortgage market risk and foreclosures. Journal of the American Planning Association, 74(1), 59–76.

Immergluck, D. (2010). The accumulation of lender-owned homes during the US mortgage crisis: Examining metropolitan REO inventories. Housing Policy Debate, 20(4), 619–645.

Kilpatrick, J., Throupe, R., Carruthers, J., & Krause, A. (2007). The impact of transit corridors on residential property values. Journal of Real Estate Research, 29(3), 303–320.

Kim, J., & Cho, G.-H. (2016). Unending foreclosure crisis: Uneven housing tenure trajectories of post-REO properties. Applied Geography, 70, 49–58.

Lancaster, K. J. (1966). A new approach to consumer theory. Journal of Political Economy, 74(2), 132–157.

Leung, Y., Mei, C.-L., & Zhang, W.-X. (2000). Testing for spatial autocorrelation among the residuals of the geographically weighted regression. Environment and Planning A: Economy and Space, 32(5), 871–890. https://doi.org/10.1068/a32117.

Li, Y. (2011). Geography of opportunity and residential mortgage foreclosure: A spatial analysis of a U.S. housing market. Journal of Urban & Regional Analysis, 3(2), 195–213.

Li, Y., & Walter, R. (2013). Single-family housing market segmentation, post-foreclosure resale duration, and neighborhood attributes. Housing Policy Debate, 23(4), 643–665.

Mason, R. L., Gunst, R. F., & Hess, J. L. (1989). Statistical design and analysis of experiments: With applications to engineering and science. Wiley.

Morrow-Jones, H. A., Irwin, E. G., & Roe, B. (2004). Consumer preference for neotraditional neighborhood characteristics. Housing Policy Debate, 15(1), 171–202.

Mou, Y., He, Q., & Zhou, B. (2017). Detecting the spatially non-stationary relationships between housing price and its determinants in China: Guide for housing market sustainability. Sustainability, 9(10), 1826.

Mulley, C. (2014). Accessibility and residential land value uplift: Identifying spatial variations in the accessibility impacts of a bus transitway. Urban Studies, 51(8), 1707–1724. https://doi.org/10.1177/0042098013499082.

NaKajiMa, M. (2013). The diverse impacts of the great recession. Business Review Q, 2, 2013.

Neter, J., Wasserman, W., & Kutner, M. H. (1989). Applied linear regression models. Irwin.

Plaut, P. O., & Boarnet, M. G. (2003). New Urbanism and the value of neighborhood design. Journal of Architectural and Planning Research, 20(3), 254–265.

Reid, C. K. (2010). Shuttered subdivisions: REOs and the challenges of neighborhood stabilization in suburban cities. REO Vacant Properties: Strategies for Neighborhood Stabilization, The Federal Reserve Banks of Boston and Cleveland and the Federal Reserve Board.

Rosen, S. (1974). Hedonic prices and implicit markets: Product differentiation in pure competition. Journal of Political Economy, 82(1), 34–55.

Sharifi, A. (2016). A critical review of selected tools for assessing community resilience. Ecological Indicators, 69, 629–647. https://doi.org/10.1016/j.ecolind.2016.05.023.

Song, Y., & Knaap, G.-J. (2003). New urbanism and housing values: A disaggregate assessment. Journal of Urban Economics, 54(2), 218–238.

Song, Y., & Quercia, R. G. (2008). How are neighbourhood design features valued across different neighbourhood types? Journal of Housing and the Built Environment, 23(4), 297–316.

Stoyle, J., Pierro, D., & Zuppa, M. (2008). Engineering resilience solutions from earthquake engineering to extreme events 1997–2007: A decade of earthquake engineering and disaster reslience. U. a. Buffalo. https://ubir.buffalo.edu/xmlui/handle/10477/25298.

Tobler, W. R. (1970). A computer movie simulating urban growth in the Detroit region. Economic geography, 46(sup1), 234–240.

UNISDR. (2009). Disaster risk reduction in the United Nations. https://www.preventionweb.net/files/9866_DisasterRiskReductionintheUnitedNat.pdf.

Wang, C.-H., & Chen, N. (2017). A geographically weighted regression approach to investigating the spatially varied built-environment effects on community opportunity. Journal of Transport Geography, 62, 136–147. https://doi.org/10.1016/j.jtrangeo.2017.05.011.

Wheeler, D. C., & Páez, A. (2010). Geographically weighted regression. In M. Fischer & A. Getis (Eds.), Handbook of applied spatial analysis Berlin and. Heidelberg: Springer.

Wheeler, D. C., & Tiefelsdorf, M. (2005). Multicollinearity and correlation among local regression coefficients in geographically weighted regression. Journal of Geographical Systems, 7(2), 161–187. https://doi.org/10.1007/s10109-005-0155-6.

Xiao, Y., & Webster, C. (2017). Urban morphology and housing market. Springer.

Yu, D., Wei, Y. D., & Wu, C. (2007). Modeling spatial dimensions of housing prices in Milwaukee, WI. Environment and Planning B: Planning and Design, 34(6), 1085–1102.
Funding
This research was supported by the 2018 summer research grant awarded by the Gazarian Real Estate Center at California State University, Fresno.
Additional information
Publisher's Note
Springer Nature remains neutral with regard to jurisdictional claims in published maps and institutional affiliations.
About this article
Cite this article
Wang, CH., Chen, N. A geographically weighted regression approach to investigating local built-environment effects on home prices in the housing downturn, recovery, and subsequent increases. J Hous and the Built Environ 35, 1283–1302 (2020). https://doi.org/10.1007/s10901-020-09742-8
Received:

Accepted:

Published:

Issue Date:
Keywords
Housing recession

Hedonic pricing theory

Built environment

GWR

Spatial statistics