Abstract
The transformation of Chilean cities has followed a similar morphological pattern of change as observed in European and North American cities. From individuals to communities, social interactions have been decreasing following the individualistic single-family housing model. Evaluating these changes provides a unique opportunity to study the impact of urban form, especially in intermediate cities in southern Chile in which there is very little evidence of these processes. Assessing neighborhood vitality, as it is triggered by components of urban form, can help contribute recommendations for more sustainable future planning and the improvement of current environments. This study investigates the effects of urban form on neighborhood vitality in five neighborhoods in the city of Valdivia, Chile. Quantitative and qualitative methods are used to explore the morphological elements that influence human activity, to determine how various spatial elements impact vitality levels. Results show that certain neighborhoods have a greater degree of morphological adaptability to generate a diversity of uses. Further, four conditions are associated to increased human interaction in neighborhoods, including land use mix, block size, plot sizes and adaptability. Finally, our results are used to propose recommendations to guide the urban design of neighborhoods towards a more sustainable path.
Access options
Buy single article
Instant access to the full article PDF.
US$ 39.95
Tax calculation will be finalised during checkout.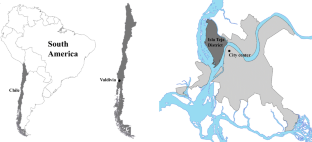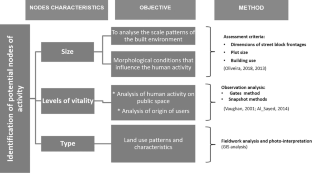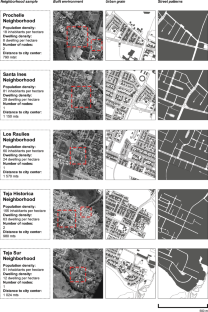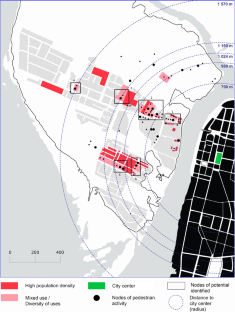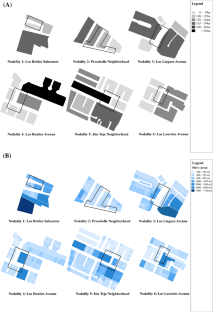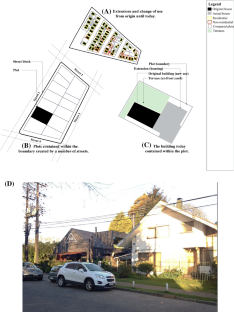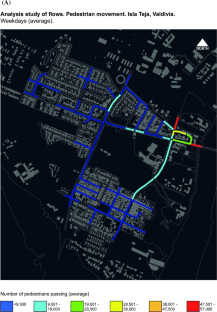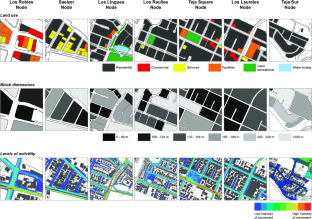 References
Al_Sayed, K., Turner, A., Hillier, B., Lida, S., & Penn, A. (2014). Space syntax methodology. 4th Edn. (B, Firenze).

Alawadi, K. (2018). A return to the old landscape? Balancing physical planning ideals and cultural constraints in Dubai's residential neighborhoods. Journal of Housing and the Built Environment, 34, 1–29.

Alexander, C. (1977). A pattern language: Towns, buildings, construction. New York: Oxford University Press.

Boarnet, M. G., Joh, K., Siembab, W., Fulton, W., & Nguyen, M. T. (2011). Retrofitting the suburbs to increase walking: Evidence from a land use-travel study. Urban Studies, 48, 129–159.

Bolay, J. C., & Rabinovich, A. (2004). Intermediate cities in Latin America risk and opportunities of coherent urban development. Cities, 21(5), 407–421.

Borsdorf, A., & Hidalgo, R. (2010). From polarization to fragmentation. Recent changes in Latin American urbanization. In P. V. Lindert & O. Verkoren (Eds.), Decentralized development in Latin America: Experiences in local governance and local development (pp. 23–34). Dordrecht: Springer.

Borsdorf, A., Marchant, C., & Sánchez, R. (2012). Changes in urbanization processes. Intermediate cities in the Chilean urban system. In D. Rivera (Ed.), Chile: Environmental, political and social issues (pp. 159–173). New York: Nova Publishers.

Can, I., & Heath, T. (2016). Between spaces and social interaction: A morphological analysis of Izmir using space syntax. Journal of Housing and the Built Environment, 31(1), 31–49.

Cannigia, G., & Maffei, G. L. (2001). Architectural composition and building typology, interpreting basic building. Firenze: Alinea.

Chhetri, P., Stimson, R. J., & Western, J. (2006). Modelling the factors of neighborhood attractiveness reflected in residential location decision choices. Studies in Regional Science, 36, 393–417.

Dave, S. (2011). Neighbourhood density and social sustainability in cities of developing countries. Sustainable Development, 19(3), 189–205.

Dempsey, N., Bramley, G., Power, S., & Brown, C. (2011). The social dimension of sustainable development: Defining urban social sustainability. Sustainable Development, 19(5), 289–300.

Ellin, N. (2006). Integral urbanism. New York: Routledge.

Elsheshtawy, Y. (2015). Observing the public realm: William Whyte´s the social life of small urban spaces. Built Environment, 41(3), 399–411.

Espinoza, D., & Zumelzu, A. (2016). The evolution of Valdivia after the earthquake of 1960: Approaches, scalar factors and determinants. Revista Urbano, 19(33), 14–29.

Evans, G. W. (2003). The built environment and mental health. Journal of Urban Health, 80(1), 536–555.

Ewing, R., & Cervero, R. (2010). Travel and the built environment. Journal of the American Planning Association, 76, 265–294.

Filion, P., & Hammond, K. (2003). Neighborhood land use and performance: The evolution of neighborhood morphology over the 20th century. Environment and Planning B: Planning and Design, 30(2), 271–296.

Franchi-Arzola, I., Martin-Vide, J., & Henríquez, C. (2018). Sustainability assessment in development planning in sub-national territories: Regional development strategies in Chile. Sustainability, 10(5), 1398.

Frey, H. (1999). Designing the city: Towards a more sustainable urban form. London: Spon Press.

Gehl, J. (2011). Life between buildings: Using public spaces. London: The John Hopkins University Press.

Grigonis, V. (2013). World cities and urban form: Fragmented, polycentric, sustainable? Urban Design International, 18(2), 182–183.

Gruebner, O., Khan, M., Lautenbach, S., Müller, D., Krämer, A., Lakes, T., et al. (2012). Mental health in the slums of Dhaka—A geoepidemiological study. BMC Public Health, 12(177), 1–14.

Guarda, G. (2001). Nueva Historia de Valdivia. Santiago: Ediciones Pontificia Universidad Católica de Chile.

Guevara, T. (2015). Abordajes teóricos sobre las transformaciones sociales, económicas y territoriales en las ciudades latinoamericanas contemporáneas. Eure, 21(124), 5–24.

Hemani, S., Das, A. K., & Chowdhury, A. (2017). Influence of urban form on social sustainability: A case of Guwahati, Assam. Urban Design International, 22(2), 168–194.

Hillier, B., & Hanson, J. (1984). The social logic of space. Cambridge: Cambridge University Press.

Hosni, J., & Zumelzu, A. (2019). Assessing nodality in neighborhoods in transformation: A concept of sustainable urban form. The case study of Rahue Bajo, Osorno, Chile. Sustainable Development, 27(2), 214–226.

IDB. (2015). Valdivia capital sostenible: plan de acción. ICES, Emerging Sustainable Cities Action Plan: Valdivia, Chile, Report in. www.iadb.org. https://www.iadb.org/es/ciudades/planesdeaccion. Accessed 8 Jan 2019.

Ingram, G., & Carroll, A. (1981). The spatial structure of Latin American cities. Journal of Urban Economics, 9(2), 257–273.

Jacobs, A. B. (1993). Great streets. Cambridge: MIT Press.

Jacobs, J. (1961). The death and life of great American Cities. New York: Vintage Books.

Kim, Y. L. (2018). Seoul´s Wi-Fi hotspots: Wi-Fi access points as an indicator of urban vitality. Computers, Environment and Urban Systems, 72, 13–24.

Krier, L. (1984). Urban components. Architectural Design, 54(7), 43–49.

Kropf, K. (2014). Ambiguity in the definition of built form. Urban Morphology, 18(1), 41–57.

Landry, B. (2016). Race, gender and class: Theory and methods of analysis. Routledge: New York.

López-Morales, E. (2015). Gentrification in the global south. City, 19(4), 564–573.

Lynch, K. (1981). Good city form. Massachusetts: MIT Press.

Maas, P. R. (1984). Towards a theory of urban vitality. Vancouver: University of British Columbia.

Maitland, B. (1984). Towards a minimal theory of urban structure. In D. Gosling & B. Maitland (Eds.), Concepts of urban design (pp. 4–7). London: Academy Editions.

March, A., Rijal, Y., Wilkinson, S., & Ozgur, E. F. (2012). Measuring building adaptability and street vitality. Planning Practice and Research, 27(5), 531–552.

Maturana, F., & Rojas, A. (2015). Ciudades intermedias en Chile: Territorios olvidados. Santiago de Chile: RIL Editores.

Medved, P. (2016). The essence of neighbourhood community centres (NCCs) in European sustainable neighbourhoods. Urban Design International, 22(2), 150–167.

Méndez, M. L., & Otero, G. (2018). Neighbourhood conflicts, socio-spatial inequalities, and residential stigmatisation in Santiago, Chile. Cities, 74, 75–82.

Montgomery, J. (1998). Making a city: Urbanity, vitality and urban design. Journal of Urban Design, 3, 93–116.

Mortland, K., Wing, S., Diez, A., & Poole, C. (2002). Neighborhood characteristics associated with the location of food stores and food services places. American Journal of Preventive Medicine, 22, 23–29.

Moulay, A., Ujang, N., & Said, I. (2017). Legibility of neighborhood parks as a predicator for enhanced social interaction towards social sustainability. Cities, 61, 58–64.

Mouratidis, K. (2018). Built environment and social well-being: How does urban form affect social life and personal relationships? Cities, 74, 7–20.

Oliveira, V. (2013). Morpho: A methodology for assessing urban form. Urban Morphology, 17(1), 21–33.

Oliveira, V. (2016). Urban morphology: An introduction to the study of the physical form of cities. Dordrecht: Springer.

Oliveira, V. (2018). Teaching urban morphology. Dordrecht: Springer.

Oreskovic, N., Roth, P., Charles, S., Tsigarid, D., Shepherd, K., Kerrie, N., et al. (2014). Attributes of form in the built environment that influence perceived walkability. Journal of Architectural and Planning Research, 31(3), 2018–2232.

Robinson, J., & Roy, A. (2015). Global Urbanism and the Nature of Urban Theory. International Journal of Urban and Regional Research, 40(1), 181–186.

Rodriguez, L., Zumelzu, A., & Andersen, K. (2018). Versatility in the urban morphology of a bohemian neighborhood in the city of Valdivia, Chile. Revista, 180, 41(2), 78–85.

Salinas, E., & Pérez, L. (2011). Procesos urbanos recientes en el Área Metropolitana de Concepción: Transformaciones morfológicas y tipologías de ocupación. Revista de Geografía Norte Grande, 49, 79–97.

Sampson, R. (2012). Great American City: Chicago and the enduring neighborhood effect. Chicago: The University of Chicago Press.

Sampson, R. J., Morenoff, J. D., & Gannon-Rowley, T. (2002). Assessing "neighborhood effects": Social processes and new directions in research. Annual Review of Sociology, 28, 443–478.

Sevtsuk, A., Kalvo, R., & Ekmekci, O. (2016). Pedestrian accessibility in grid layouts: The role of block, plot and street dimensions. Urban Morphology, 20(2), 89–106.

Sharifi, A. (2019). Resilient urban form: A macro scale analysis. Cities, 85(1), 1–14.

Siksna, A. (1997). The effects of block size and form in American and Australian cities. Urban Morphology, 1(1), 19–33.

Simmel, G. (2005). The metropolis and mental life: The sociology of George Simmel. In J. Lin & C. Mele (Eds.), The Urban Sociology Reader (pp. 23–31). London: Routledge.

Singh, R. (2016). Factors affecting walkability in neighborhoods. Procedia Social and Behavioral Sciences, 216, 643–654.

Sung, H., & Lee, S. (2015). Residential built environment and walking activity: Empirical evidence of Jane Jacob´s urban vitality. Transportation Research Part D Transport and Environment, 41, 318–329.

Talen, E. (1999). Sense of community and neighborhood form: An assessment of the social doctrine of new urbanism. Urban Studies, 36(8), 1361–1379.

Talen, E. (2008). Design for diversity: Exploring socially mixed neighborhoods. London: Architectural Press.

Talen, E. (2011). Sprawl retrofit: sustainable urban form in unsustainable places. Environment and Planning B: Planning and Design, 38(6), 952–978.

Talen, E., & Ellis, C. (2002). Beyond relativism. Reclaiming the search for good city form. Journal of Planning Education and Research, 22(2), 36–49.

Tarbatt, J. (2012). The plot: Designing diversity in the built environment: A manual for architects and urban designers. London: RIBA Publishing.

UN HABITAT. (2016). Urbanization and development: Emerging futures. World Cities Report 2016. UN HABITAT.

Van den Berg, P., Sharmeen, N., & Weijs-Perrée, M. (2017). On the subjective quality of social interactions: Influence of neighborhood walkability, social cohesion and mobility choices. Transportation Research Part A, 106, 309–319.

Vaughan, L. (2001). Space syntax observation manual. London: University College of London.

Wirth, L. (1938). Urbanism as a way of life. American Journal of Sociology, 44(1), 1–24.

Wu, J., Ta, N., Song, Y., Lin, J., & Chaj, Y. (2018). Urban form breeds neighbourhood vibrancy: A case study using GPS-based activity in suburban Beijing. Cities, 74, 100–108.

Zainol, R., Wood, L. C., Wang, C., & Nellis, S. (2017). GIS-Aided accessibility assessment for community park planning: Youth-friendly neighborhood parks in Subang Jaya, Malaysia. Journal of Architecture and Planning Research, 34(3), 216–227.

Zarin, S., Niroomand, M., & Heidari, A. (2015). Physical and social aspects of vitality case study: Traditional street and modern street in Tehran. Procedia Social and Behavioral Sciences, 170(27), 659–668.

Zeng, C., Song, Y., He, Q., & Shen, F. (2018). Spatially explicit assessment on urban vitality: Case studies in Chicago and Wuhan. Sustainable Cities and Society, 40, 296–306.

Zhou, J. (2012). Urban vitality in Dutch and Chinese new towns. Delft: Delft University of Technology.

Zumelzu, A. (2016). Urban form and sustainability: Past, present and challenges. A revision. AUS, 20(2), 77–85.

Zumelzu, A. (2019). Urban renewal. In A. Orum (Ed.), The Wiley-Blackwell encyclopedia of urban and regional studies (pp. 1–9). New York: Wiley Blackwell.

Zumelzu, A., & Doevendans, K. (2016). Modularity and sustainability: Eindhoven as an example of pragmatic sustainable design. Urban Design International, 21(1), 93–110.
Acknowledgements
Our thanks to CONICYT for funding this research under the Project FONDECYT Number "11160096", and to Universidad Austral de Chile.
Additional information
Publisher's Note
Springer Nature remains neutral with regard to jurisdictional claims in published maps and institutional affiliations.
About this article
Cite this article
Zumelzu, A., Barrientos-Trinanes, M. Analysis of the effects of urban form on neighborhood vitality: five cases in Valdivia, Southern Chile. J Hous and the Built Environ 34, 897–925 (2019). https://doi.org/10.1007/s10901-019-09694-8
Received:

Accepted:

Published:

Issue Date:
Keywords
Chile

Latin America

Neighborhoods

Neighborhood vitality

Urban form