Abstract
The study examines the attachment to city through housing typologies in an urban context, taking the case of post-socialist Tirana, which was facing the issue of urban identity. The approach of examining attachment to city through housing typology was used because housing is observed to be the predominant morphological stock of the urban fabric, which impacted a quasi-metamorphosis in Tirana's identity and also because home was found to be the scale of place whose significance was highest from the attachment point of view. The methodology used in the study included sampling, surveying and data processing through SPSS. The sampling of housing typologies was conducted based on their architectural features that had evolved in pre-socialist, socialist and post-socialist periods, within a zone of Tirana called the "Middle Ring". The questionnaire was administered to 225 inhabitants, namely, 25 dwellers per each of nine housing typologies, while the outputs were processed using SPSS software. Overall, the results showed that most of the interviewed inhabitants were attached to city through their dwellings. Most of the dwellers of seven typologies felt attached to city on different levels, whereas those of two typologies mostly felt unattached; thus, attachment to city is dependent on housing typologies. Predominantly, good location and architectural values of dwellings and slightly less a sense of belonging to a self-described nobility of Tirana were given as reasons for attachment to city. Overall the predictors that influenced the place attachment were found to be dwelling quality and comfort, duration, home ownership and age.
Access options
Buy single article
Instant access to the full article PDF.
USD 39.95
Price excludes VAT (USA)
Tax calculation will be finalised during checkout.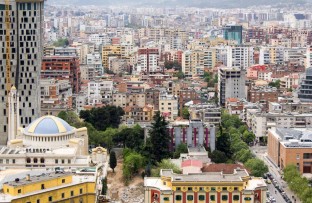 References
Abitz, J. (2006). Post-socialist city development in Tirana. Dissertation, Roskilde University.

Aliaj, B., Lulo, K., & Myftiu, G. (2003). Tirana: The challenge of urban development. Tirana: Cetis.

Altman, I., & Low, S. (1992). Place attachment: A conceptual inquiry. In I. Altman & S. Low (Eds.), Place attachment (pp. 1–12). New York: Plenum Press.

Anton, C. E., & Lawrence, C. (2014). Home is where the heart is: The effect of place of residence on place attachment and community participation. Journal of Environmental Psychology,40, 451–461.

Beckley, T. M. (2003). The relative importance of sociocultural and ecological factors in attachment to place. In: L. E. Kruger (Ed.), Understanding community–forest relations, pp. 105–126. General technical report PNW-GTR-566, U.S. https://www.fs.fed.us/pnw/pubs/pnw_gtr566.pdf.

BIRN. (2015). Tirana municipality profile. Retrieved April 16, 2019 from http://zgjedhje2015.reporter.al/profili-i-bashkise-tirane/.

Bleta, I. (2010). Influences of political regime shifts on the urban scene of a capital city case study: Tirana. Dissertation, METU University.

Brown, B., Perkins, D. D., & Brown, G. (2003). Place attachment in a revitalizing neighborhood: Individual and block levels of analysis. Journal of Environmental Psychology,23, 259–271.

Bushati, V. (2012). Villas of Tirana: First half of 20th century. Tirana: Polis Press.

Casakin, H., Hernández, & B., Ruiz, C. (2015). Place attachment and place identity in Israeli cities: The influence of city size. Cities, 42, 224–230.

Case, D. (1996). Contributions of journeys away to the definition of home: An empirical study of a dialectical process. Journal of Environmental Psychology,16, 1–15.

Cuba, L., & Hummon, D. M. (1993). A place to call home: Identification with dwelling, community, and region. The Sociological Quarterly,34, 111–131.

Davenport, M. A., & Anderson, D. H. (2005). Getting from sense of place to place-based management: An interpretive investigation of place meanings and perceptions of landscape change. Society and Natural Resources,18, 625–641.

Devine-Wright, P. (2009). Rethinking NIMBYism: The role of place attachment and place identity in explaining place-protective action. Journal of Community & Applied Social Psychology,19, 426–441.

Félonneau, M. L. (2004). Love and loathing of the city: Urbanophilia and urbanophobia, topological identity and perceived incivilities. Journal of Environmental Psychology,24, 43–52.

Fishwick, L., & Vining, J. (1992). Toward a phenomenology of recreation place. Journal of Environmental Psychology,12, 57–63.

Foland, A., & Lewicka, M. (2007). Psi-map: Psychological method for psycho-cartographic research. Paper presented at the poster presented at the Xth European congress of psychology, Prague.

Galster, G. (2001). On the nature of neighbourhood. Urban Studies,38, 2111–2124.

Hernández, B., Hidalgo, M. C., Salazar-Laplace, M. E., & Hess, S. (2007). Place attachment and place identity in natives and non-natives. Journal of Environmental Psychology, 27, 310–319.

Hidalgo, M. C., & Hernandez, B. (2001). Place attachment: Conceptual and empirical questions. Journal of Environmental Psychology,21, 273–281.

Hunter, A. (1978). Persistence of local sentiments in mass society. In D. Street (Ed.), Handbook of contemporary urban life (pp. 133–162). San Francisco: Jossey-Bass.

INSTAT. (2013). Population and housing census 2011-Tirana. Retrieved April 16, 2019 from http://www.instat.gov.al/media/3069/11__tirane.pdf.

Jakupi, E. (2015). The legacy of socialist architecture in Albania: Case study-prefabricated concrete buildings in Tirana. Dissertation, Epoka University.

Kasarda, J. D., & Janowitz, M. (1974). Community attachment in mass society. American Sociological Review,39, 328–339.

Lalli, M. (1992). Urban-related identity: Theory, measurement, and empirical findings. Journal of Environmental Psychology, 12(4), 285–303.

Lewicka, M. (2010). What makes neighborhood different from home and city? Effects of place scale on place attachment. Journal of Environmental Psychology,30, 35–51.

Lewicka, M. (2011). Place attachment: How far have we come in the last 40 years? Journal of Environmental Psychology,31, 207–230.

Manahasa, E. (2017). Place attachment as a tool in examining place identity: A multilayered evaluation through housing in Tirana. PhD dissertation, Istanbul Technical University.

Manahasa, E., & Özsoy, A. (2017). Place attachment in a Tirana neighborhood: The influence of the "Rebirth of the City" project. AZITU Journal of the Faculty of Architecture,14, 57–70. https://doi.org/10.5505/itujfa.2017.31932.

Marcus, C. C. (2006). House as a mirror of self: Exploring the deeper meaning of home. Lake Worth- Florida: Nicolas-Hays.

McHugh, K. E., & Mings, R. C. (1996). The circle of migration: Attachment to place in aging. Annals of the Association of American Geographers,86, 530–550.

Mesch, G. S., & Manor, O. (1998). Social ties, environmental perception, and local attachment. Environment and Behavior,30, 504–519.

Milligan, M. J. (1998). Interactional past and potential: The social construction of place attachment. Symbolic Interaction,21, 1–33.

Misja, V., & Misja, A. (2004). Observation on the dwellings in Albania: A comparative analysis. Tirana: Akademia e Shkencave e Shqipërisë, Instituti i Ekonomisë.

Moore, J. (2000). Placing home in context. Journal of Environmental Psychology,20, 207–217.

Nase, I., & Ocakçi, M. (2010). Urban pattern dichotomy in tirana: socio-spatial impact of liberalism. European Planning Studies,18, 1837–1861.

Norberg-Schulz, C. (1980). Genius loci: Towards a phenomenology of architecture. New-York: Rizzoli.

Onea, D. (2012). Spatial and social dimension in urban community: A case study on the community in the center of the Bucharest City. Cinq Continents,2, 34–50.

Orbán, A. (2005). Formal and informal cooperation in Hungarian condominiums. Review of Sociology,11, 105–125.

Pojani, D. (2010). Tirana-City profile. Cities,27, 483–495.

Pojani, D., & Baar, K. (2016). Multi-family housing management in post-socialist countries: The Albanian experience. Journal of Housing and the Built Environment,31, 743–760. https://doi.org/10.1007/s10901-016-9498-1.

Pojani, D., & Buka, M. (2015). From camaraderie to detachment: The effect of built environment transformations on neighbourhood relations in a post-socialist context. Cities,49, 66–75. https://doi.org/10.1016/j.cities.2015.07.007.

Porteous, J. D. (1976). Home: The territorial core. Geographical Review,66, 383–390.

Rama, E., & Sala, A. (2009). Edi Rama and Anri Sala conversation at tate modern. Architecture and art: Crossover and collaboration. Retrieved December 15, 2015 from https://vimeo.com/8254763.

Relph, E. (1976). Place and placelessness. London: Pion.

Scannell, L., & Gifford, R. (2010). Defining place attachment: A tripartite organizing framework. Journal of Environmental Psychology,30, 1–10.

Špačková, P., & Ouředníček, M. (2012). Spinning the web: New social contacts of Prague's suburbanites. Cities,29, 341–349.

Stokols, D., & Shumaker, S. A. (1981). People in places: A transactional view of settings. Cognition, Social Behaviour, and the Environment,38, 149–171.

Taylor, R. B., Gottfredson, S. D., & Brower, S. (1985). Attachment to place: Discriminant validity and impacts of disorder and diversity. American Journal of Community Psychology,13, 525–542.

Temelová, J., & Slezáková, A. (2014). The changing environment and neighbourhood satisfaction in socialist high-rise panel housing estates: The time-comparative perceptions of elderly residents in Prague. Cities,37, 82–91.

Triantis, L. (2008). Urban change and the production of space: The case of urban renewal in Tirana (2000–2008). Paper presented at workshop "Bringing the city together", Tirana

Tuan, Y. F. (1974). Topophilia: A study of environmental perception, attitudes, and values. London: Prentice-Hall.

Tuan, Y. F. (1975). Place: An experiential perspective. Geographical Review,65, 151–165.

Tuan, Y. F. (1977). Space and place: The perspective of experience. Minneapolis: University of Minnesota Press.

Williams, D. R., Patterson, M. E., Roggenbuck, J. W., & Watson, A. E. (1992). Beyond the commodity metaphor: Examining emotional and symbolic attachment to place. Leisure Sciences,14, 29–46. https://doi.org/10.1080/01490409209513155.
Acknowledgements
The authors acknowledge that no financial support was received from any institution.
Additional information
Publisher's Note
Springer Nature remains neutral with regard to jurisdictional claims in published maps and institutional affiliations.
About this article
Cite this article
Manahasa, E., Özsoy, A. Place attachment to a larger through a smaller scale: attachment to city through housing typologies in Tirana. J Hous and the Built Environ 35, 265–286 (2020). https://doi.org/10.1007/s10901-019-09679-7
Received:

Accepted:

Published:

Issue Date:

DOI: https://doi.org/10.1007/s10901-019-09679-7
Keywords
Place attachment

Scale of places

Housing typologies

City

Tirana