Abstract
In America, the average house size has increased from 1660 to 2596 ft2 from 1973 to 2013 with home prices rising to more than nine times the average price in 1970. Additionally, the increase in urban sprawl and city dwelling has caused a 50% increase in the negative environmental impact of housing since the 1950s. Given these concerns, many people have reevaluated their needs and desires leading to the tiny house movement. Therefore, the purposes of this study were to examine tiny house dwellers' motivations and understanding whether they are correlated to tiny house satisfaction. The Tiny House Community Survey was an online survey to assesses tiny house residents' motivations for living tiny through seven diverse items (e.g., simpler life, sustainability, cost, etc.). Overall tiny house satisfaction was also measured by asking if the respondent was satisfied with his or her tiny house, captured on a five-point scale. Descriptive and multivariate analyses within SPSS 22.0 compared the motivations of tiny house dwellers according to a variety of socio-demographic and structural factors (e.g., gender, location, house size). Decreased costs, a simplified lifestyle, and increased freedom were salient motivations for more than half of the surveyed population. In examining the association between motivations and housing satisfaction, a simplified lifestyle was the only motivation held by respondents with significant relationship. Increased knowledge regarding tiny homes and their impact could help overcome some of the challenges faced by the tiny house community such as lack of awareness, legality concerns, and financing opportunities.
Access options
Buy single article
Instant access to the full article PDF.
US$ 39.95
Tax calculation will be finalised during checkout.
Subscribe to journal
Immediate online access to all issues from 2019. Subscription will auto renew annually.
US$ 79
Tax calculation will be finalised during checkout.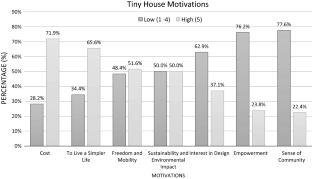 References
Beam, J. P. (2015, August). Tiny house, big rewards? University of Texas. https://repositories.lib.utexas.edu/handle/2152/32474. Accessed 10 Oct 2016.

Conley, M., McBride, K., & McIlhoney, S. (2015, October). Tiny house communities: The next big thing? Student Publications. http://cupola.gettysburg.edu/student_scholarship/391. Accessed 10 Oct 2016.

Hu, F. (2013). Homeownership and subjective wellbeing in urban China: Does owning a house make you happier? Social Indicators Research, 110(3), 951–971.

Huang, Z., Du, X., & Yu, X. (2015). Home ownership and residential satisfaction: Evidence from Hangzhou, China. Habitat International, 49, 74–83. https://doi.org/10.1016/j.habitatint.2015.05.008.

Levy-Leboyer, C. (1993). The need for space and residential satisfaction. Architecture & Behaviour, 9(4), 475–490.

Lu, M. (1999). Determinants of residential satisfaction: Ordered logit vs. regression models. Growth and Change, 30(2), 264–287. https://doi.org/10.1111/0017-4815.00113.

Mingoya, C. (2015, June). Building together. Tiny house villages for the homeless: A comparative case study. Massachusetts Institute of Technology. https://dusp.mit.edu/sites/dusp.mit.edu/files/attachments/news/mingoya_2015.pdf. Accessed 10 Oct 2016.

Murphy, M. (2014). Tiny houses as appropriate technology. Communities, 165(Winter), 54–59.

Mutter, A. (2013). Growing tiny houses: Motivations and opportunities for expansion through niche markets. Lund University. http://lup.lub.lu.se/luur/download?func=downloadFile&recordOId=4196241&fileOId=4196242. Accessed 10 Oct 2016.

Peck, C., & Kay Stewart, K. (1985). Satisfaction with housing and quality of life. Home Economics Research Journal, 13(4), 363–372. https://doi.org/10.1177/1077727X8501300403.

Pekkonen, M., & Haverinen-Shaughnessy, U. (2015). Housing satisfaction in Finland with regard to area, dwelling type and tenure status. Central European Journal of Public Health, 23(4), 314–320.

Pflaumer, D. H. (2015, May). Tiny house handbook. Ball State University. http://cardinalscholar.bsu.edu/handle/123456789/199621. Accessed 10 Oct 2016.

Rérat, P. (2012). Housing, the compact city and sustainable development: Some insights from recent urban trends in Switzerland. International Journal of Housing Policy, 12(2), 115–136. https://doi.org/10.1080/14616718.2012.681570.

Sirgy, M. J., Grzeskowiak, S., & Su, C. (2005). Explaining housing preference and choice: The role of self-congruity and functional congruity. Journal of Housing and the Built Environment, 20(4), 329–347. https://doi.org/10.1007/s10901-005-9020-7.

Swope, C. (2006). Giving shelter: Housing the homeless in restored San Francisco hotels. Preservation, 58(2), 12–13.

Wilson, A., & Boehland, J. (2005). Small is beautiful: U.S. house size, resource use, and the environment. Journal of Industrial Ecology, 9(1/2), 277–287. https://doi.org/10.1162/1088198054084680.

US Census Bureau MCD. (2013). Characteristics of New Housing. http://census.gov/construction/chars/pdf/medavgsqft.pdf. Accessed 10 Oct 2016.
Funding
Funding was received by the South Carolina Honors College.
About this article
Cite this article
Boeckermann, L.M., Kaczynski, A.T. & King, S.B. Dreaming big and living small: examining motivations and satisfaction in tiny house living. J Hous and the Built Environ 34, 61–71 (2019). https://doi.org/10.1007/s10901-018-9616-3
Received:

Accepted:

Published:

Issue Date:
Keywords
Built environment

Environment

Housing

Housing satisfaction

Motivation

Sustainability

Tiny house

Tiny house community