Abstract
The continuous evolution, proliferation and resilience of informal housing in cities of developing countries defy all attempts by their formal planning processes to marginalise and relegate them to the periphery. In most instances, their rapid and uncontrolled growth has overwhelmed city planning authorities. More importantly, strategies for financing these informal housing units present complex networks of sources not clearly discussed in the housing literature. Using two informal communities—Ayigya-Zongo and Dakodwom—in Kumasi, Ghana, this paper explores the nature and characteristics of these non-conventional housing financing strategies. The study reveals an evolving and enduring non-conventional informal housing financing system effective for providing convenient and affordable housing for the urban poor; but this system is continuously sidelined by the conventional urban planning and housing financing systems. We argue against these attitudes of formal institutions towards these non-conventional housing financing strategies, and submit that these strategies are the gradual, incremental, and collective responses of residents in informal communities to a hostile formal urban planning and housing environment. Hence the dynamics of these non-conventional housing financing schemes point to a complex and fluid network of informal housing financial sources and structures, which are co-evolving with the processes of informal urbanisation and social learning among residents in informal settlements.
Access options
Buy single article
Instant access to the full article PDF.
USD 39.95
Price excludes VAT (USA)
Tax calculation will be finalised during checkout.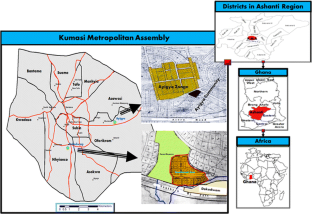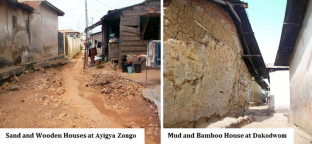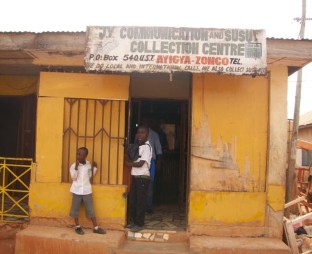 Notes
Interview with an official at KMA, June 2013.

Has been explained as a Hausa word meaning 'traveller's camp' or 'stop-over' and was used by British Colonial Officials to refer to areas where Muslims lived (see Williamson 2013).

The communities' representatives at the Kumasi Metropolitan Assembly—the highest legislative, deliberative and executive body in the city.

Wooden and metal structures built for petty-trading in informal communities in urban Ghana. They are usually temporal but could also be permanent when they have been placed on foundation made of cement, sand and stone. They can also be used as residential units.

As pointed out by one of the reviewers, remittances is official in terms of its contribution to the GDP—13 % in 2003, see (Mazzucato et al. 2008)—but it could still be treated as an unconventional housing financing source.
References
Amanor, K. S. (2010). Family values, land sales and agricultural commodification in South-Eastern Ghana. Africa, 80(01), 104–125.

Amoako, C., & Cobbinah, P. (2011). Slum Improvement in the Kumasi Metropolis, Ghana: A review of approaches and results. Journal of Sustainable Development in Africa, 13(8), 150–170.

Amoako, C., & Korboe, D. (2011). Historical development, population growth and present structure of Kumasi. In K. K. Adarkwa (Ed.), Future of the Tree: Towards growth and development of Kumasi (pp. 35–54). KNUST, Kumasi: University Printing Press.

Amole, B., Korboe, D., & Tipple, G. (1993). The family house in West Africa: A forgotten resource for policy makers? Third World Planning Review, 15(4), 355–372.

Asare, E., & Whitehead, C. (2006). Formal mortgage markets in Ghana: Nature and implications. RICS Research Paper Series, 6(13), 1–30.

Asian Coalition for Housing Rights. (2007). Housing by People in Asia. no. 17. Bangkok: ACHR.

Asiedu, M. O. (2007). An assessment of mortgage financing in Ghana. An MBA thesis submitted to the University of Lincoln.

Bank of Ghana (2007). The housing industry in Ghana: Prospects and challenges. Retrieved from Accra.

Boamah, N. (2009). Secondary mortgage market (SMM): Is it right for financing housing in Ghana? Journal of Science and Technology (Ghana), 29(1), 17–27.

Boamah, N. (2011). Housing finance in Ghana: Can community mortgage cooperatives provide a panacea? Ghana Journal of Development Studies, 7(1), 1–20.

Boamah, N. (2014). Housing policy in Ghana: The feasible paths. Ghana Journal of Development Studies, 11(1), 1–18.

CAHF. (2013). Housing finance in Africa: A review of some of Africa's housing finance markets 2013 yearbook. South Africa: Centre for Affordable Housing Finance in Africa.

Cobbinah, P., & Amoako, C. (2012). Urban sprawl and the loss of peri-urban land in Kumasi, Ghana. International Journal of Social and Human Sciences, 6, 388–397.

Davis, M. (2004). Planet of slums. London: Verso.

Dovey, K., & King, R. (2011). Forms of informality: Morphology and visibility of informal settlements. Built Environment, 37(1), 11–29.

Ghana Statistical Service (GSS). (2014). 2010 Population and housing census—District analytical report—Kumasi metropolitan. Accra: Ghana Statistical Service.

Gilbert, A. (1999). A home is for ever? Residential mobility and homeownership in self-help settlements. Environment and Planning A, 31, 1073–1091.

Grant, R. (2006). Out of place? Global citizens in local places: A study of informal settlements in the Korle Lagoon environs in Accra, Ghana. Urban Forum, 17(1), 1–24.

Grant, R., & Yankson, P. (2003). City profile: Accra. Cities, 3(1), 17–29.

Habitat for Humanity International (2014). Step by step: Supporting incremental building through microfinance. Retrieved from http://www.habitat.org/sites/default/files/2014_shelter_rpt_final.pdf.

Humphries, B. (2008). Social work research for social justice. New York: Palgrave Macmillan.

Jennervik, A. (2006). Improving slum conditions through innovative financing. Shaping the change. Paper presented at the TS 27—Upgrading Informal Settlements: Access to Human Rights and Finance Congress, Munich, Germany.

Karley, N. K. (2002). Alternative options to mortgages in Ghana. Housing Finance International, 17(2), 26.

Konadu-Agyemang, K. (2001). The political economy of housing and urban development in Africa: Ghana's experience from colonial times to 1998. Westport: Praeger Publishers.

Korboe, D. (1992). Family-houses in Ghanaian cities: To be or not to be? Urban Studies, 29(7), 1159–1171.

Korboe, D. (1993). The low-income housing system in Kumasi: An empirical examination of two neighbourhoods. Unpublished Ph.D. dissertation, University of Newcastle upon Tyne.

Kumasi Metropolitan Assembly (KMA). (2009). Medium-term Development Plan. Kumasi: KMA.

Malcom, J., & Braimah, F. (2004). Feasibility study for the application of Community-Led Infrastructure Finance Facility (CLIFF) operations in Ghana. Retrieved from Ghana. Ghana: Homeless International.

Malpezzi, S., Tipple, A. G., & Willis, K. G. (1990). Costs and benefits of rent control: A case study in Kumasi. Ghana: World Bank Publications.

Mazzucato, V., Van Den Boom, B., & Nsowah-Nuamah, N. N. (2008). Remittances in Ghana: Origin, destination and issues of measurement. International Migration, 46(1), 103–122.

McFarlane, C. (2011a). The city as assemblage: Dwelling and urban space. Environment and Planning D: Society and Space, 29, 649–671.

McFarlane, C. (2011b). Assemblage and critical urbanism. City: Analysis of Urban Trends, Culture, Theory, Policy, Action, 15(2), 204–224. doi:10.1080/13604813.2011.568715.

McFarlane, C. (2011c). Learning the City: Knowledge and translocal assemblage. West Sussex, UK: Wiley.

Ministry of Water Resources Works and Housing. (2009). Draft Housing Policy. Accra: MWRWH.

Owusu-Ansah, J. K., & O'Connor, K. B. (2009). Housing demand in the urban fringe around Kumasi, Ghana. Journal of Housing and the Built Environment, 25(1), 1–17.

Payne, G. (2002). Lowering the ladder: Regulatory frameworks for sustainable development. In D. Westendorff & D. Eade (Eds.), Development and cities. Essay from development in practice (pp. 248–262). Oxford: Oxfam Professional.

Perlman, J. E. (2004). Marginality: From Myth to reality in Favelas of Rio de Janeiro. In A. Roy & N. Alsayyad (Eds.), Urban informality transnational perspectives from the Middle East, Latin America and South Asia (pp. 1969–2002). New York: Lexington Books.

Roy, A. (2005). Urban informality: Toward an Epistemology of planning. Journal of the American Planning Association, 71(2), 147–158.

Roy, A. (2011). Slumdog cities rethinking subaltern urbanism. International Journal of Urban and Regional Research, 35(2), 223–238.

Satterthwaite, D., Huq, S., Reid, H., Pelling, M., & Romero Lankao, P. (2007). Adapting to Climate Change in Urban Areas: The possibilities and constraints in low- and middle- income nations. London: IIED.

Songsore, J. (2010). The urban transition in Ghana: Urbanization, national development and poverty reduction. London: International Institute for Environment and Development.

The Center on Housing Rights and Evictions (COHRE). (2004). A precarious future: The informal settlement of agbogbloshie. Accra: COHRE.

Tipple, A. G., & Korboe, D. (1998). Housing policy in Ghana: Towards a supply-oriented future. Habitat International, 22(3), 245–257.

Tipple, A. G., Korboe, D., & Garrod, G. (1997). A comparison of original owners and inheritors in housing supply and extension in Kumasi, Ghana. Environment and Planning B: Planning and Design, 24(6), 889–902.

Tipple, A. G., Korboe, D., Willis, K., & Garrod, G. (1998). Who is building what in urban Ghana?: Housing supply in three towns. Cities, 15(6), 399–416.

Tomlinson, R. M. (2007). A literature review of housing finance development in sub-saharan Africa. Retrieved from http://www.housingfinanceafrica.org/document/a-literature-review-of-housing-finance-development-in-sub-saharan-africa.

UN-Habitat. (2003). The challenge of slums: Global report on human settlements. Nairobi: UN-Habitat.

UN-Habitat. (2005). Financing urban shelter: Global report on human settlements. Nairobi: United Nations Human Settlement Programme (UN-Habitat).

UN-Habitat. (2008). SUF Local Finance Facilities: What they are, why they are important, and how they work. Nairobi: UN-Habitat.

UN-Habitat. (2011). Housing finance: Ways to help the poor pay for housing. Nairobi: UN-Habitat.

Walley, S. (2010). Housing finance in Africa: Are we post crisis yet? Paper presented at the African Union for Housing Finance Annual Conference, Botswana. http://www.auhf.co.za/wordpress/assets/AUHF2010_Walley_WB.pdf.

Warnock, V. C., & Warnock, F. E. (2008). Markets and housing finance. Journal of Housing Economics, 17(3), 239–251.

Watson, V. (2009). The planned city sweeps the poor away…': Urban planning and 21st century urbanisation. Progress in Planning, 72, 151–193.

Williamson, E. A. (2013). Understanding the Zongo: Processes of Socio_Spatial Marginalisation in Ghana. (Master's), MIT. (2013 AGA KHAN Travel Grant Report).

Willis, K. G., Malpezzi, S. J., & Tipple, A. G. (1990). An econometric and cultural analysis of rent control in Kumasi, Ghana. Urban Studies, 27(2), 241–258.

World Bank. (2008). Approaches to urban slums. A multimedia sourcebook on adaptive and proactive strategies. Washington, DC: World Bank.

Yeboah, M. A. (2010). Urban poverty, livelihood, and gender: Perceptions and experiences of porters in Accra, Ghana. Africa Today, 56(3), 42–60.
About this article
Cite this article
Amoako, C., Frimpong Boamah, E. Build as you earn and learn: informal urbanism and incremental housing financing in Kumasi, Ghana. J Hous and the Built Environ 32, 429–448 (2017). https://doi.org/10.1007/s10901-016-9519-0
Received:

Accepted:

Published:

Issue Date:

DOI: https://doi.org/10.1007/s10901-016-9519-0
Keywords