Abstract
Energy costs have been rising as well as rents, both in the Netherlands and elsewhere, leading to situations commonly described as 'housing poverty' and 'fuel or energy poverty'. A dwelling may be unaffordable on at least two counts: rents or energy costs that are 'too high' in relation to income (excluding cases of 'too low' income). This paper measures comprehensively for the first time housing affordability of tenants in the Netherlands with respect to rent and fuel in order to gain insight in the ways this ongoing budgetary commitment can be calculated. Starting point is the expenditure-to-income ratio, which is usually used in the Netherlands to represent the affordability of housing consumption. For 2012 its components—incomes, rents and fuel costs—are separated out. The absence of a socially acceptable benchmark for 'affordable' versus 'unaffordable' housing and the fact that lower-income households pay relatively more on rent and energy than those with a higher income (Engel's Law) call for an alternative method to measure affordability. The residual income approach is shown to be useful in identifying households with housing and energy affordability problems, once social norms have been established for the relationship between income, rent and energy expenses. It is concluded that even energy expenses by themselves can push households over the affordability threshold, in the situation where rents are considered as affordable.
Access options
Buy single article
Instant access to the full article PDF.
USD 39.95
Price excludes VAT (USA)
Tax calculation will be finalised during checkout.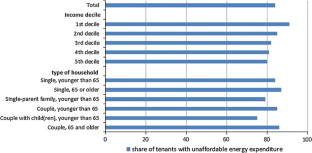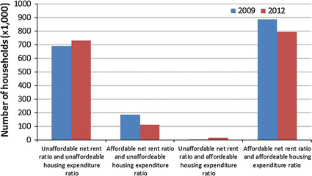 References
Blijie, B. (2010). Woonuitgaven huurders en kopers. Den Haag: Ministerie van Binnenlandse Zaken en Koninkrijksrelaties.

Blijie, B., Groenemeijer, L., Gopal, K., van Hulle, R. (2013) Wonen in ongewone tijden. De resultaten van het Woononderzoek Nederland 2012, Den Haag, Ministerie van Binnenlandse Zaken en Koninkrijksrelaties.

Boardman, B. (1991). Fuel poverty: From cold homes to affordable warmth. London: Belhaven Press.

Bradshaw, J. (Ed.) (1993). Budget standards for the United Kingdom, Aldershot, Avebury.

Bradshaw, J., & Mayhew, E. (2010a). The measurement of extreme poverty, second draft final report. York: The University of York, Social Policy Research Unit.

Bradshaw, J., & Mayhew, E. (2010b). Understanding extreme poverty in the European Union. European Journal of Homelessness, 4(December), 172–186.

DECC. (2011). Annual report on fuel poverty statistics 2011. London: Department of Energy and Climate Change, London.

Freeman, A., Kiddle, C., & Whitehead, C. (2000). Defining affordability. In S. Monk & C. Whitehead (Eds.), Restructuring housing systems: From social to affordable housing? (pp. 100–105). York: Joseph Rowntree Foundation.

Fusco, A., Guio, A. C., & Marlier, E. (2010). Income poverty and material deprivation in European coun-tries. Luxembourg: Eurostat/European Commission.

Haffner, M. E. A., & Boumeester, H. J. F. M. (2010). The affordability of housing in the Netherlands: An increasing income gap between owning and renting? Housing Studies, 25(6), 799–820.

Haffner, M., Boumeester, H. (2014). Is renting unaffordable in the Netherlands? International Journal of Housing Policy, 14(2), 117–140.

Haffner, M., Boumeester, H., Dol, K., Goetgeluk, R., Neuteboom, P., Lamain, M. M. V. C., et al. (2008). Woonuitgaven 2002–2006 in beeld. Delft: Onderzoeksinstituut OTB.

Hancock, K. E. (1993). Can pay? Won't pay?' or economic principles of 'affordability. Urban Studies, 30(1), 127–145.

Heylen, K., & Haffner, M. (2012). The effect of housing expenses and subsidies on income distribution in Flanders and the Netherlands. Housing Studies, 27(8), 1142–1161.

Heylen, K., & Haffner, M. (2013). A ratio or budget benchmark for comparing housing affordability across countries. Journal of Housing and the Built Environment, 28(3), 547–565.

Hulchanski, D. J. (1995). The concept of housing affordability: Six contemporary uses of the housing expenditure-to-income ratio. Housing Studies, 10(4), 471–492.

Kromhout, S. (2013). Woonlasten van huurders. Amsterdam, Rigo: Huur- en energielasten in de gereguleerde huursector.

Liddel, C., Morris, C., McKenzie, S. K. P., & Rae, G. (2012). Measuring and monitoring fuel poverty in the UK: National and regional perspectives. Energy Policy, 49, 27–32.

Maclennan, D., & Williams, R. (Eds.). (1990). Affordable housing in Britain and the United States. York: Joseph Rowntree Foundation.

McConnell, E. D. (2012). House poor in Los Angeles: Examining patterns of housing-induced poverty by race, nativity, and legal status. Housing Policy Debate, 22(4), 605–631.

Ministerie van B. Z. K. (2011) Wijziging wet op de huurtoeslag en besluit op de huurtoelsag, Kamerstuk 17-6, Den Haag.

Moore, R. (2012). Definitions of fuel poverty: Implications for policy. Energy Policy, 49, 19–26.

Nibud, (2011). Budget handboek 2011. Nibud: Utrecht.

Priemus, H., & Elsinga, M. (2007). Housing allowances in the Netherlands: The struggle for budgetary controllability. In P. A. Kemp (Ed.), Housing allowances in comparative perspective (pp. 193–214). Bristol: The Policy Press.

Rijkswaterstaat (2013). Energiearmoede dreigt voor steeds meer huishoudens, Ministerie van Infrastructuur en Milieu: Rijkswaterstraat (http://www.rwsleefomgeving.nl/onderwerpen/lokaal_klimaatbeleid/nieuws/content/energiearmoede/; last accessed 20 August 2013).

Ritakallio, V.-M. (2003). The importance of housing costs in cross-national comparisons of welfare (state) outcomes. International Social Security Review, 56(2), 81–101.

SHCS (2002). Scottish house condition survey 2002. Reference from Liddell et al. (2012).

Soede, A., & Vrooman, C. (2008). Beyond the breadline. A poverty threshold based on a generalised budget approach. The Hague: The Netherlands Institute for Social Research SCP.

Stone, M. (1998). Shelter poverty. In W. Van Vliet (Ed.), The encyclopaedia of housing (pp. 534–535). Thousand Oaks/London: Sage.

Stone, M. E. (2006). What is housing affordability? The Case for the Residual Income Approach, Housing Policy Debate, 17(1), 151–184.

Thalmann, P. (1999). Identifying households which need housing assistance. Urban Studies, 36(11), 1933–1947.

Thalmann, P. (2003). 'House poor' or simply 'poor'? Journal of Housing Economics, 12, 291–317.

Tunstall, R., Bevan, M., Bradshaw, J., Croucher, K., Duffy, S., Hunter, C., et al. (2013). The links between housing and poverty: An evidence review. York: Joseph Rowntree Foundation.

Van den Brakel, M., Moonen L. (2012). Huurtoeslag: wie krijgt hoeveel?. Sociaaleconomische trends (1e kwartaal), 9–19.

Weevers, B., E. Martens, S. Kromhout, E. Cozijnsen and J. Scheele-Goedhart (2012). Woonlastenbeleid Metropoolregio. Een onderzoek naar noodzaak en mogelijkheden, Arnhem, BuildDesk Benelux B.V.
Acknowledgments
We would like to thank Gust Mariën for making the calculations and two referees and the Editors for their helpful comments on this paper. An earlier version of this contribution was presented at the RC43 conference of the International Sociological Association that took place in Amsterdam from 10–12 July, 2013.
Appendix
Appendix
About this article
Cite this article
Haffner, M., Boumeester, H. Housing affordability in the Netherlands: the impact of rent and energy costs. J Hous and the Built Environ 30, 293–312 (2015). https://doi.org/10.1007/s10901-014-9409-2
Received:

Accepted:

Published:

Issue Date:

DOI: https://doi.org/10.1007/s10901-014-9409-2
Keywords
Affordability

Budgets

Energy costs

Expenditure-to-income ratio

Residual income

Renting

The Netherlands