Abstract
The post-communist privatisation of state flats to sitting tenants has transformed Romania into a nation of homeowners; yet its popularity appears perplexing given the poor quality of the stock and disappointing, given flat-owners' subsequent lack of action regarding home improvement. Conversely, self-builders' proactive agency moved them up the housing ladder. While this striking contrast draws attention to various structural conditions, which have constrained the former and enabled the latter, it also raises intriguing questions on residents' meanings of home. By interrogating 48 homeowners' narratives, this paper sustains the multilayered and multi-scalar meanings of home, which intertwine the socio-cultural territory of family and nation; the physical frame of one room or several dwellings; the emotional domain of object-memories; and the ontological realm epitomised by something as minimal as 'my bed'. Findings demonstrate that flat-owners and self-builders do not significantly differ in their meanings of home but detached houses rather than flats facilitate more fully their appropriation.
Access options
Buy single article
Instant access to the full article PDF.
US$ 39.95
Tax calculation will be finalised during checkout.
Subscribe to journal
Immediate online access to all issues from 2019. Subscription will auto renew annually.
US$ 79
Tax calculation will be finalised during checkout.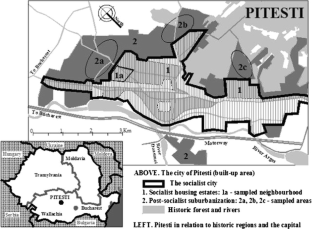 Notes
1.

37 % of the total housing stock and 72 % of urban dwellings.

2.

Conversely, participants did not use metaphors to convey meanings of home. Most popular Romanian home' metaphors are variations of 'No place is like home' and 'The seven years from home' (in terms of home-acquired learning).
References
Andrusz, G., Harloe, M., & Szelenyi, I. (Eds.). (1996). Cities after socialism: Urban and regional change and conflict in post-socialist societies. Oxford: Blackwell.

Attwood, L. (2012). Privatisation of housing in post-Soviet Russia: A new understanding of home? Europe-Asia Studies, 64(5), 903–928.

Benedek, J. (2006). Urban policy and urbanisation in the transition Romania. Romanian Review of Regional Studies, 2(1), 51–64.

Bhaskar, R. (1998). The possibility of naturalism: Philosophical critique of the contemporary human sciences. London: Routledge.

Blunt, A., & Dowling, R. (2006). Home. Abington: Routledge.

BNR. (2007). Evoluţia riscurilor populaţiei din perspectiva stabilităţii financiare. In BNR (Ed.) Analize, Bucharest: Romanian National Bank.

Chelcea, L. (2003). Domestic groups and the socialist state: Housing nationalization and restitution in Romania. Comparative Studies in Society and History, 45(4), 714–740.

Chen, C. (2007). The prospects for liberal nationalism in post-Leninist states. University Park, PA: Pennsylvania State University Press.

Cieraad, I. (2006). At home: An anthropology of domestic space. Syracuse: Syracuse University Press.

Clapham, D. (2005). The meaning of housing: A pathway approach. Bristol: The Policy Press.

Clapham, D., Hegedus, J., Kindrea, K., Tosics, I., & Kay, H. (Eds.). (1996). Housing privatization in Eastern Europe'. London: Greenwood Press.

Dawidson, K. K. (2004). Conflicts of interest in the restitution and privatisation of housing since the fall of socialism: The case of Central Timisoara city—a problem of democracy? Europe-Asia Studies, 56(1), 119–141.

Douglas, M. (1991). The idea of a home: A kind of space. Social Research, 58(1), 287–307.

Easthope, H. (2004). A place called home. Housing, Theory and Society, 21(3), 128–138.

EC. (2011). Key figures on Europe. Luxembourg: EC, Publications Office of the EU.

Fearn, J. (2004). Too poor to move, too poor to stay: A report on housing in the Czech Republic, Hungary and Serbia. Budapest: OSI.

Fox, L. (2007). Conceptualising home: Theories, laws and policies. Portland: Hart Publishers.

Gurney, C. M. (1997). "Half of me was satisfied": Making sense of home through episodic ethnographies. Women's Studies International Forum, 20(3), 373–386.

Hirt, S. A. (2012). Iron curtains: Gates, suburbs and privatization of space in the post-socialist city. Pondicherry: Wiley-Blackwell.

Howard, M. M. (2003). The weakness of civil society in post-communist Europe. Cambridge: Cambridge University Press.

Imrie, R. (2004). Housing quality, disability and domesticity. Housing Studies, 19(5), 685–690.

Ionescu, G. (1971). Arhitectura populara in Romania. Bucuresti: Editura Meridiane.

Kemeny, J. (1981). The myth of home ownership: Private versus public choices in housing tenure. London: Routledge.

Klis, M., & Karsten, L. (2009). Commuting partners, dual residences and the meaning of home. Journal of Environmental Psychology, 29(2), 235–245.

Kornai, J. (1992). The socialist system: The political economy of communism. Oxford: Oxford University Press.

Kurst-Swanger, K., & Petcosky, J. L. (2003). Violence in the home: Multidisciplinary perspectives. Oxford: Oxford University Press.

Lowe, S., & Tsenkova, S. (2003). Housing change in East and Central Europe: Integration or fragmentation? Aldershot: Ashgate.

Mallett, S. (2004). Understanding home: A critical review of the literature. The Sociological Review, 52(1), 62–89.

Mandic, S., & Clapham, D. (1996). The meaning of home ownership in the transition from socialism: The example of Slovenia. Urban Studies, 33(1), 83–98.

Marcus, C. C. (2006). House as a mirror of self: Exploring the deeper meaning of home. Berkeley: Nicholas-Hays.

McIntyre, N., Williams, D., & McHugh, K. (Eds.). (2006). Multiple dwelling and tourism: Negotiating place, home and identity. Wallingford: CABI Pub.

Moore, J. (2000). Placing home in context. Journal of Environmental Psychology, 20(27), 207–217.

NIS. (2012). Census of population and dwellings 2002. Query public system RPL 1992 and 2002 In National Institute of Statistics Romania, Population and Households Census. Bucharest: NIS.

Pascariu, S., & Stanescu, M. (2003). Management improvement and quality standard challenges: Local government and housing in Romania. In M. Lux (Ed.), Housing policy: An end or a new beginning? (pp. 245–291). Budapest: OSI.

Pennartz, P. J. J. (1986). Atmosphere at home: A qualitative approach. Journal of Environmental Psychology, 6(2), 135–153.

Richards, L. (1990). Nobody's home: Dreams and realities in a new suburb paperback. Oxford: Oxford University Press.

Ronald, R. (2008). The ideology of home ownership: Homeowner societies and the role of housing. Basingstoke: Palgrave Macmillan.

Ronnas, P. (1984). Urbanization in Romania: A geography of economic and social change since independence. Stockholm: Stockholm School of Economics.

Rose, G. (2003). Family photographs and domestic spacings: A case study. Transactions of the Institute of British Geographers, 28(1), 5–18.

Saunders, P. (1989). The meaning of 'home' in contemporary English culture. Housing Studies, 4(3), 177–192.

Sillince, J. (1990). Housing policies in Eastern Europe and Soviet Union. London: Routledge.

Smith, S. G. (1994). The essential qualities of a home. Journal of Environmental Psychology, 14, 31–46.

Smith, S. J. (2008). Owner-occupation: At home with a hybrid of money and materials. Environment and Planning A, 40, 520–535.

Soaita, A. M. (2010). Unregulated housing privatism: A comparative analysis of the nature and extent of housing problems and resident responses in two forms of Romanian urban housing. Ph.D. Thesis. London: King's College London.

Soaita, A. M. (2012). Strategies for in situ home improvement in Romanian large housing estates. Housing Studies, 27(7), 1008–1030.

Soaita, A. M. (2013). Romanian suburban housing: Home improvement through owner-building. Urban Studies, 50(10), 2084–2101.

Soaita, A. M. (2014). Overcrowding and 'under-occupancy' in Romania: A case study of housing inequality. Environment and Planning A, 46(1), 203–221.

Somerville, P. (1992). Homelessness and the meaning of home: Rooflessness or rootlessness? International Journal of Urban and Regional Research, 16(4), 1992.

Stan, L. (2006). The roof over our heads: Property restitution in Romania. Journal of Communist Studies and Transition Politics, 22(2), 180–205.

Tsenkova, S. (2009). Housing policy reforms in Post-Socialist Europe: Lost in transition. Heidelberg: Physica-Verlag.

Zerillis, F. (2006). Sentiments and/as property rights: Restitution and conflict in postsocialist Romania. In M. Svasek (Ed.), Postsocialism: Politics and emotions in Central and Eastern Europe (pp. 74–94). New York: Berghahn Books.
Acknowledgments
I am grateful to the two anonymous referees for their thoughtful comments and to Mr. Mike Birch who as always patiently proofread my manuscript.
About this article
Cite this article
Soaita, A.M. The meaning of home in Romania: views from urban owner–occupiers. J Hous and the Built Environ 30, 69–85 (2015). https://doi.org/10.1007/s10901-014-9396-3
Received:

Accepted:

Published:

Issue Date:
Keywords
Communist housing

Eastern Europe

Homeownership

Housing privatisation

Meanings of home

Romania