Abstract
Despite ambitious goals to eliminate hepatitis C virus (HCV) in the United States by 2030, the majority of those infected are not aware of their diagnosis, and only a small minority have been cured. A lack of knowledge regarding risk factors and treatment may contribute to low cure rates. We aimed to evaluate HCV knowledge and the association of risk factor knowledge with HCV incidence. In fall 2017, a survey regarding HCV knowledge was disseminated through social media, web link, and in person throughout the state of Virginia. The survey was completed by 613 individuals. Residents of high-incidence counties identified fewer risk factors (5.6 vs 6.1 of 9, p = 0.04), a difference that remained significant when controlling for education and age (p = 0.03). Fewer participants in the high-incidence group recognized snorting drugs to be a risk factor (25% vs 36%, p = 0.01). Only 38% of all respondents correctly identified HCV to be curable. Knowledge of HCV risk factors is lower in high incidence regions. These results identify a critical knowledge gap in the general population at a time of ongoing HCV transmission. Public health interventions must target these gaps in high-incidence regions as part of comprehensive disease prevention programs.
This is a preview of subscription content, log in to check access.
Access options
Buy single article
Instant access to the full article PDF.
US$ 39.95
Price includes VAT for USA
Subscribe to journal
Immediate online access to all issues from 2019. Subscription will auto renew annually.
US$ 99
This is the net price. Taxes to be calculated in checkout.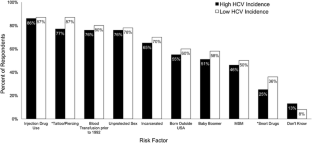 References
1.

Aaron, S., McMahon, J. M., Milano, D., Torres, L., Clatts, M., Tortu, S., et al. (2008). Intranasal transmission of hepatitis C virus: Virological and clinical evidence. Clinical Infectious Diseases, 47(7), 931–934. https://doi.org/10.1086/591699.

2.

Alam-Mehrjerdi, Z., Moradi, A., Xu, F., Zarghami, M., Salehi-Fadardi, J., & Dolan, K. (2016). Willingness to receive treatment for hepatitis C among injecting drug users on methadone program: Implications for education and treatment. Addiction & Health, 8(2), 90–97.

3.

Chen, E. Y., North, C. S., Fatunde, O., Bernstein, I., Salari, S., Day, B., & Jain, M. K. (2013). Knowledge and attitudes about hepatitis C virus (HCV) infection and its treatment in HCV mono-infected and HCV/HIV co-infected adults. Journal of Viral Hepatitis, 20(10), 708–714. https://doi.org/10.1111/jvh.12095.

4.

Denniston, M. M., Klevens, R. M., McQuillan, G. M., & Jiles, R. B. (2012). Awareness of infection, knowledge of hepatitis C, and medical follow-up among individuals testing positive for hepatitis C: National Health and Nutrition Examination Survey 2001–2008. Hepatology (Baltimore. Md.), 55(6), 1652–1661. https://doi.org/10.1002/hep.25556.

5.

Lea, T., Hopwood, M., & Aggleton, P. (2016). Hepatitis C knowledge among gay and other homosexually active men in Australia. Drug and Alcohol Review, 35(4), 477–483. https://doi.org/10.1111/dar.12333.

6.

Lubega, S., Agbim, U., Surjadi, M., Mahoney, M., & Khalili, M. (2013). Formal hepatitis C education enhances HCV care coordination, expedites HCV treatment and improves antiviral response. Liver International, 33(7), 999–1007. https://doi.org/10.1111/liv.12150.

7.

Mah, A., Hull, M. W., DeBeck, K., Milloy, M. J., Dobrer, S., Nosova, E., et al. (2017). Knowledge of hepatitis C and treatment willingness amongst people who inject drugs in an era of direct acting antivirals. The International Journal on Drug Policy, 47, 137–143.

8.

Mehta, S. H., Genberg, B. L., Astemborski, J., Kavasery, R., Kirk, G. D., Vlahov, D., et al. (2008). Limited uptake of hepatitis C treatment among injection drug users. Journal of Community Health, 33(3), 126–133. https://doi.org/10.1007/s10900-007-9083-3.

9.

Norton, B. L., Voils, C. I., Timberlake, S. H., Hecker, E. J., Goswami, N. D., Huffman, K. M., et al. (2014). Community-based HCV screening: Knowledge and attitudes in a high risk urban population. BMC Infectious Diseases. https://doi.org/10.1186/1471-2334-14-74.

10.

Pieper, B., & Sickon, K. (2017). Hepatitis C virus: Patients' risk factors and knowledge in an urban clinic providing wound care. Wounds: A Compendium of Clinical Research and Practice, 30(3), 62–67.

11.

Proeschold-Bell, R. J., Blouin, R., Reif, S., Amana, A., Rowland, B. J., Lombard, F., et al. (2010). Hepatitis C transmission, prevention, and treatment knowledge among patients with HIV. Southern Medical Journal, 103(7), 635–641. https://doi.org/10.1097/SMJ.0b013e3181e1dde1.

12.

Stephens, D. B., Young, A. M., & Havens, J. R. (2017). Healthcare contact and treatment uptake following hepatitis C virus screening and counseling among rural appalachian people who use drugs. The International Journal on Drug Policy, 47, 86–94.

13.

Surjadi, M., Torruellas, C., Ayala, C., Yee, H. F., Jr, & Khalili, M. (2011). Formal patient education improves patient knowledge of hepatitis C in vulnerable populations. Digestive Diseases and Sciences, 56(1), 213–219. https://doi.org/10.1007/s10620-010-1455-3.

14.

Suryaprasad, A. G., White, J. Z., Xu, F., Eichler, B. A., Hamilton, J., Patel, A., et al. (2014). Emerging epidemic of hepatitis C virus infections among young nonurban persons who inject drugs in the United States, 2006–2012. Clinical Infectious Diseases, 59(10), 1411–1419. https://doi.org/10.1093/cid/ciu643.

15.

Treloar, C., Hull, P., Dore, G. J., & Grebely, J. (2012). Knowledge and barriers associated with assessment and treatment for hepatitis C virus infection among people who inject drugs. Drug and Alcohol Review, 31(7), 918–924. https://doi.org/10.1111/j.1465-3362.2012.00468.x.

16.

Vermunt, J., Fraser, M., Herbison, P., Wiles, A., Schlup, M., & Schultz, M. (2015). Prevalence and knowledge of hepatitis C in a middle-aged population, Dunedin, New Zealand. World Journal of Gastroenterology, 21(35), 10224–10233. https://doi.org/10.3748/wjg.v21.i35.10224.

17.

Virginia Department of Health. (2016). Communicable disease data. http://www.vdh.virginia.gov/data/communicable-diseases/. Accessed Mar 2018.

18.

Virginia Department of Health. (2016). Virginia hepatitis C epidemiologic report 2016. http://www.vdh.virginia.gov/content/uploads/sites/10/2016/06/Virginia-Hepatitis-C-Epidemiologic-Profile-2016.pdf. Accessed Mar 2018.

19.

Zeremski, M., Dimova, R. B., Zavala, R., Kritz, S., Lin, M., Smith, B. D., et al. (2014). Hepatitis C virus-related knowledge and willingness to receive treatment among patients on methadone maintenance. Journal of Addiction Medicine, 8(4), 249–257. https://doi.org/10.1097/ADM.0000000000000041.

20.

Zibbell, J. E., Iqbal, K., Patel, R. C., Suryaprasad, A., Sanders, K. J., Moore-Moravian, L., et al. (2015). Increases in hepatitis C virus infection related to injection drug use among persons aged. MMWR. Morbidity and Mortality Weekly Report, 64(17), 453–458.
Funding
This work was support by the National Institute of Allergy and Infectious Diseases [Grant Number T32 AI007046-41].
Ethics declarations
Conflict of interest
The authors have no conflicts of interest to disclose.
About this article
Cite this article
Knick, T., Sherbuk, J.E. & Dillingham, R. Knowledge of Hepatitis C Risk Factors is Lower in High Incidence Regions. J Community Health 44, 12–15 (2019). https://doi.org/10.1007/s10900-018-0545-6
Keywords
Hepatitis C

Substance abuse

Knowledge

Risk factors

Intranasal transmission

Public health