Abstract
This study assessed neighborhood-level association between jail incarceration and premature mortality and estimated the number of potentially avertable premature deaths associated with jail incarceration in NYC. The study outcome was premature mortality rate and the main predictor of interest was jail incarceration rate. Variables associated with premature mortality in bivariate analysis were considered for inclusion in the multivariable ordinary least squares model and in the multivariable linear mixed effects model accounting for spatial correlation. Numbers of potentially avertable premature deaths were calculated by substituting the citywide incarceration rate for the neighborhoods with incarceration rates higher than the citywide rate in the final regression model. There were large disparities in both jail incarceration and premature mortality rates. Incarceration was strongly associated with premature mortality. The number of potentially avertable premature deaths associated with jail incarceration from 2011 to 2015 was approximately 6000, representing 10% of all predicted premature deaths in NYC. This study indicates that incarceration is closely correlated with premature mortality rates, which may contribute to health inequities among low-income NYC neighborhoods with predominantly black and Latino residents.
This is a preview of subscription content, log in to check access.
Access options
Buy single article
Instant access to the full article PDF.
US$ 39.95
Price includes VAT for USA
Subscribe to journal
Immediate online access to all issues from 2019. Subscription will auto renew annually.
US$ 99
This is the net price. Taxes to be calculated in checkout.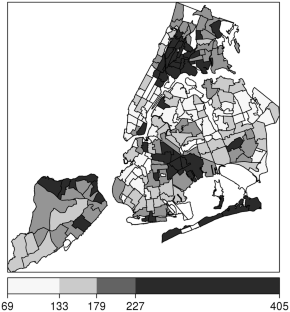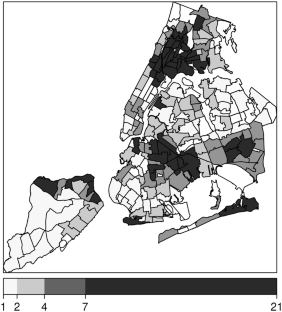 References
1.

Bureau of Justice Statistics. Key statistic: Incarceration rate. https://www.bjs.gov/index.cfm?ty=kfdetail&iid=493. Accessed December 20, 2017.

2.

Organisation for Economic Co-operation and Development. Society at a glance 2016—a spotlight on youth: How does the United States compare? 2016. https://www.oecd.org/unitedstates/sag2016-usa.pdf. Accessed January 29, 2018.

3.

Austin, J. B., Eisen, L.-B., Cullen, J., Frank, J., & Fellow, L. How many Americans are unnecessarily incarcerated? Brennan Center for Justice New York; 2016.

4.

Massoglia, M. (2008). Incarceration as exposure: The prison, infectious disease, and other stress-related illnesses. Journal of Health and Social Behavior, 49(1), 56–71.

5.

Fazel, S., & Danesh, J. (2002). Serious mental disorder in 23000 prisoners: A systematic review of 62 surveys. Lancet, 359(9306), 545–550.

6.

James, D. J., & Glaze, L. E. Mental health problems of prison and jail inmates. Washington, DC: Bureau of Justice Statistics 2006. Report No.: NCJ 213600.

7.

Binswanger, I. A., Stern, M. F., Deyo, R. A., et al. (2007). Release from prison—a high risk of death for former inmates. New England Journal of Medicine 356, 157–165

8.

Lee, H., Wildeman, C., Wang, E. A., Matusko, N., & Jackson, J. S. (2014). A heavy burden: The cardiovascular health consequences of having a family member incarcerated. American Journal of Public Health, 104(3), 421–427.

9.

Cooper, H. L., Clark, C. D., Barham, T., Embry, V., Caruso, B., & Comfort, M. (2014). He was the story of my drug use life: A longitudinal qualitative study of the impact of partner incarceration on substance misuse patterns among African American women. Substance Use & Misuse, 49(1–2), 176–188.

10.

Wildeman, C., Schnittker, J., & Turney, K. (2012). Despair by association? The mental health of mothers with children by recently incarcerated fathers. American Sociological Review, 77(2), 216–243.

11.

Wildeman, C., Lee, H., & Comfort, M. (2013). A new vulnerable population? The health of female partners of men recently released from prison. Womens Health Issues, 23(6), e335–e340.

12.

Turney, K. (2014). Stress proliferation across generations? Examining the relationship between parental incarceration and childhood health. Journal of Health and Social Behavior, 55(3), 302–319.

13.

Lee, H., Porter, L. C., & Comfort, M. (2014). Consequences of family member incarceration: Impacts on civic participation and perceptions of the legitimacy and fairness of government. The Annals of the American Academy of Political and Social Science, 651(1), 44–73.

14.

Wildeman, C., Andersen, S. H., Lee, H., & Karlson, K. B. (2014). Parental incarceration and child mortality in denmark. American Journal of Public Health, 104(3), 428–433.

15.

Bobo, L. D., & Thompson, V. (2006). Unfair by design: The war on drugs, race, and the legitimacy of the criminal justice system. Social Research, 73(2), 445–472.

16.

Hatzenbuehler, M. L., Keyes, K., Hamilton, A., Uddin, M., & Galea, S. (2015). The collateral damage of mass incarceration: Risk of psychiatric morbidity among nonincarcerated residents of high-incarceration neighborhoods. American Journal of Public Health, 105(1), 138–143.

17.

Thomas, J. C., & Sampson, L. A. (2005). High rates of incarceration as a social force associated with community rates of sexually transmitted infection. Journal of Infectious Diseases, 191(S1), S55–S60.

18.

New York City Department of Health and Mental Hygiene. New York City neighborhood health atlas. 2018. http://nyc-csg-web.csc.nycnet/site/doh/health/neighborhood-health/nyc-neighborhood-health-atlas.page. Accessed January 26, 2018.

19.

Tsao, T.-Y., Konty, K. J., Van Wye, G., et al. (2016). Estimating potential reductions in premature mortality in New York City from raising the minimum wage to $15. American Journal of Public Health, 106(6), 1036–1041.

20.

Tung, E. L., Boyd, K., Lindau, S. T., & Peek, M. E. (2018). Neighborhood crime and access to health-enabling resources in Chicago. Preventive Medicine Reports, 9, 153–156.

21.

Chandola, T. (2001). The fear of crime and area differences in health. Health Place, 7(2), 105–116.

22.

Richardson, A. S., Troxel, W. M., Ghosh-Dastidar, M., et al. (2017). Pathways through which higher neighborhood crime is longitudinally associated with greater body mass index. International Journal of Behavioral Nutrition and Physical Activity, 14(1), 155.

23.

Wildeman, C., & Wang, E. A. (2017). Mass incarceration, public health, and widening inequality in the USA. Lancet, 389(10077), 1464–1474.

24.

Massoglia, M., Pare, P.-P., Schnittker, J., & Gagnon, A. (2014). The relationship between incarceration and premature adult mortality: Gender specific evidence. Social Science Research, 46, 142–154.

25.

Golembeski, C., & Fullilove, R. (2005). Criminal (in) justice in the city and its associated health consequences. American Journal of Public Health, 95(10), 1701–1706.

26.

Arditti, J. A., Lambert-Shute, J., & Joest, K. (2003). Saturday morning at the jail: Implications of incarceration for families and children. Family Relations, 52(3), 195–204.

27.

New York City Office of the Mayor. Mayor de blasio announces city jail population is below 9000 for the first time in 35 years. 2017. http://www1.nyc.gov/office-of-the-mayor/news/778-17/mayor-de-blasio-city-jail-population-below-9-000-the-first-time-35-years. Accessed February 8, 2018.

28.

Massoglia, M. (2008). Incarceration, health, and racial disparities in health. Law & Society Review, 42(2), 275–306.

29.

Chauhan, P., Tomascak, S., Cuevas, C., Hood, Q. O., & Lu, O. Trends in arrests for misdemeanor charges in New York City, 1993–2016. New York: New York. 2018. http://misdemeanorjustice.org/wp-content/uploads/2018/01/2018_01_24_MJP.Charges.FINAL_.pdf. Accessed May 9, 2018.

30.

Tefft, N., & Kageleiry, A. (2014). State-level unemployment and the utilization of preventive medical services. Health Services Research, 49(1), 186–205.

31.

Pager, D., & Shepherd, H. (2008). The sociology of discrimination: Racial discrimination in employment, housing, credit, and consumer markets. Annual Review of Sociology, 34, 181–209.

32.

Lukies, J., Graffam, J., & Shinkfield, A. J. (2011). The effect of organizational context variables on employer attitudes toward employability of ex-offenders. International Journal of Offender Therapy and Comparative Criminology, 55(3), 460–475.

33.

Kulkarni, S. P., Baldwin, S., Lightstone, A. S., Gelberg, L., & Diamant, A. L. (2010). Is incarceration a contributor to health disparities? Access to care of formerly incarcerated adults. Journal of Community Health, 35(3), 268–274.

34.

New York City Department of Correction. NYC Department of Correction at a glance: New York City Department of Correction 1st quarter fiscal year 2012, July-September. 2011. http://www.nyc.gov/html/doc/downloads/pdf/doc_at_a_glance.pdf. Accessed April 24, 2018.

35.

Chae, D. H., Clouston, S., Martz, C. D., et al. (2018). Area racism and birth outcomes among Blacks in the United States. Social Science and Medicine, 199, 49–55.

36.

Geronimus, A. T. (2001). Understanding and eliminating racial inequalities in women's health in the United States: The role of the weathering conceptual framework. Journal of the American Medical Women's Association (1972). 56(4), 133–136.
Acknowledgements
The authors acknowledge Andy Martens, Alex Foard, Mariana Veras, Sungwoo Lim, Hannah Gould, Charon Gwynn, Patrick Germain, Oxiris Barbot, and James Hadler for reviewing previous drafts of this article.
Funding
Funding was provided by Robert Wood Johnson Foundation (Grant No. Data Across Sectors for Health).
Ethics declarations
Conflict of interest
The authors do not have any competing interests to declare.
Additional information
Publisher's Note
Springer Nature remains neutral with regard to jurisdictional claims in published maps and institutional affiliations.
About this article
Cite this article
Reilly, K.H., Johns, E., Noyan, N. et al. Potentially Avertable Premature Deaths Associated with Jail Incarceration in New York City. J Community Health 44, 881–887 (2019). https://doi.org/10.1007/s10900-018-00611-8
Keywords
Spatial analysis

Avoidable deaths

Inequalities

Neighborhood/place

Public health