Abstract
Wearing a helmet when bicycling prevents traumatic brain injury in the event of a crash. Most cyclists nationwide use helmets when riding. However, the growth of free-floating bike sharing systems, which offer short-term access to bicycles but not helmets, may erode helmet-wearing norms among cyclists. We counted cyclists over several hours at four locations in Seattle, WA. We categorized each rider according to whether he or she was wearing a helmet and to whether or not he or she was riding a bike share bike. Whereas 91% of riders of private bikes wore helmets, only 20% of bike share riders wore helmets. Moreover, in locations where a greater proportion of riders were on bikes hare bikes, fewer riders of private bicycles wore helmets (r = − 0.96, p = 0.04). The impact of bike sharing programs on helmet wearing norms among private bike riders warrants further exploration.
Access options
Buy single article
Instant access to the full article PDF.
USD 39.95
Price excludes VAT (USA)
Tax calculation will be finalised during checkout.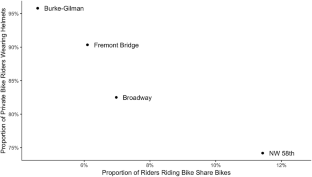 References
Thompson, D. C., Rivara, F. P., & Thompson, R. S. (1996). Effectiveness of bicycle safety helmets in preventing head injuries: A case-control study. Jama, 276(24), 1968–1973.

Huybers, S., Fenerty, L., Kureshi, N., Thibault-Halman, G., LeBlanc, J. C., Clarke, D. B., & Walling, S. (2017). Long-term effects of education and legislation enforcement on all-age bicycle helmet use: A longitudinal study. Journal of Community Health, 42(1), 83–89.

Fishman, E. (2016). Bikeshare: A review of recent literature. Transport Reviews, 36(1), 92–113.

Basch, C. H., Ethan, D., Rajan, S., Samayoa-Kozlowsky, S., & Basch, C. E. (2014). Helmet use among users of the Citi Bike bicycle-sharing program: A pilot study in New York City. Journal of Community Health, 39(3), 503–507.

Zanotto, M., & Winters, M. L. (2017). Helmet use among personal bicycle riders and bike share users in Vancouver, BC. American Journal of Preventive Medicine, 53(4), 465–472.

Kraemer, J. D., Roffenbender, J. S., & Anderko, L. (2012). Helmet wearing among users of a public bicycle-sharing program in the District of Columbia and comparable riders on personal bicycles. American Journal of Public Health, 102(8), e23–e25.

Friedman, S. M., Adamson, M., Cleiman, P., Arenovich, T., Oleksak, K., Mohabir, I. M., … Reiter, K. (2016). Helmet-wearing practices and barriers in Toronto bike-share users: A case-control study. Canadian Journal of Emergency Medicine, 18(1), 28–36.

Graves, J. M., Pless, B., Moore, L., Nathens, A. B., Hunte, G., & Rivara, F. P. (2014). Public bicycle share programs and head injuries. American Journal of Public Health, 104(8), e106–e111.

Cowling, K. (2014). Net effects of bicycle share programs on bike safety. American Journal of Public Health, 104(11), E6.

Hirsch, J. A., Winters, M., Stehlin, J., Hosford, K., & Mooney, S. J. (n.d.). Roadmap for free-floating bikeshare research and practice (Under Review).

Mooney, S. J., Hosford, K., Howe, B., Yan, A., Winters, M., Bassok, A., & Hirsch, J. A. (2019). Freedom from the station: Spatial equity in access to dockless bike share. Journal of Transport Geography, 74(1), 91–96.

Joshi, M. S., Beckett, K., & Macfarlane, A. (1994). Cycle helmet wearing in teenagers—Do health beliefs influence behaviour? Archives of Disease in Childhood, 71(6), 536.

Zavareh, M. F., Hezaveh, A. M., & Nordfj\a ern, T. (2018). Intention to use bicycle helmet as explained by the health belief model, comparative optimism and risk perception in an Iranian sample. Transportation Research Part F: Traffic Psychology and Behaviour, 54, 248–263.

Kett, P., Rivara, F., Gomez, A., Kirk, A. P., & Yantsides, C. (2016). The effect of an all-ages bicycle helmet law on bicycle-related trauma. Journal of Community Health, 41(6), 1160–1166.

City of Seattle. (2018). Free floating bike share pilot evaluation report. City of Seattle: Seattle, WA. Retrieved August 16, 2018, from https://www.seattle.gov/Documents/Departments/SDOT/BikeProgram/2017BikeShareEvaluationReport.pdf.

Wolfe, E. S., Arabian, S. S., Salzler, M. J., Bugaev, N., & Rabinovici, R. (2016). Bicyclist safety behaviors in an urban northeastern, United States city: An observational study. Journal of Trauma Nursing, 23(3), 119–124.
Acknowledgements
We thank Smita Stepanova-Pednekar, Kelsie Clebowski, and the participants in the INSIGHT high school summer intern program at the Harborview Injury Prevention & Research Center. Fred Rivara, Monica Vavilala, Jana Hirsch, and Tony Gomez provided comments on a version of this work.
Funding
This work was supported by a grant from the Eunice Kennedy Shiver National Institute for Child Health and Human Development (T32HD057822) and a research grant from the Better Bike Share Partnership.
Ethics declarations
Conflict of interest
The authors have no conflicts of interest to declare.
Additional information
Publisher's Note
Springer Nature remains neutral with regard to jurisdictional claims in published maps and institutional affiliations.
About this article
Cite this article
Mooney, S.J., Lee, B. & O'Connor, A.W. Free-Floating Bikeshare and Helmet Use in Seattle, WA. J Community Health 44, 577–579 (2019). https://doi.org/10.1007/s10900-018-00599-1
Published:

Issue Date:

DOI: https://doi.org/10.1007/s10900-018-00599-1
Keywords
Helmet

Injury prevention

Bicycling

Free-floating bike share