Abstract
In response to a growing number of permissive urban animal agriculture ordinances across the nation, this research reviews the spatial and temporal attributes of urban poultry ordinances across 100 municipalities in Colorado. More poultry ordinances have been passed or modified in Colorado in the last 5 years than in the previous hundred. Comparing regulations to commercial operations and animal shelter surrenders, we find that permissive ordinances cluster near major urban areas even where they are in close proximity to large commercial operations. Most ordinances inadequately address both human and animal health and welfare concerns. Provisions governing animal slaughter and routine veterinary care are rare, presenting a concern for monitoring and intervening in public health crises. In addition, shelters anticipate higher poultry intakes, particularly as unwanted birds are turned loose to become strays.
This is a preview of subscription content, log in to check access.
Access options
Buy single article
Instant access to the full article PDF.
US$ 39.95
Price includes VAT for USA
Subscribe to journal
Immediate online access to all issues from 2019. Subscription will auto renew annually.
US$ 99
This is the net price. Taxes to be calculated in checkout.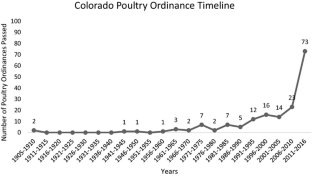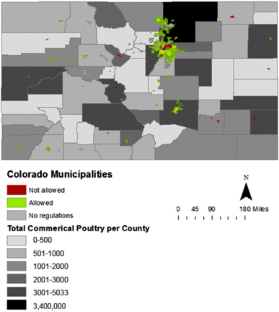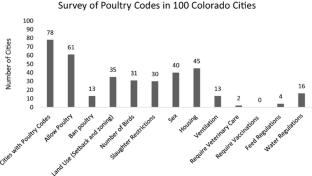 Notes
1.

Cities: Alamosa, Arvada, Aurora, Avon, Basalt, Bayfield, Bennett, Boulder, Bow Mar, Brighton, Broomfield, Buena Vista, Burlington, Carbondale, Castle Pines, Castle Rock, Centennial, Cherry Hills Village, Commerce City, Cortez, Craig, Crested Butte, Cripple Creek, Dacono, Del Norte, Denver, Dillon, Durango, Eaton, Edgewater, Englewood, Estes Park, Estes Valley, Evans, Federal Heights, Firestone, Florence, Fort Collins, Fort Lupton, Fort Morgan, Fowler, Foxfield, Fraser, Georgetown, Gilcrest, Glenwood Springs, Golden Greeley, Greenwood Village, Gypsum, Hudson, Idaho Springs, Johnstown, La Junta, La Plata County, Lafayette, Lamar, Larimer County, Leadville, Lochbuie, Lone Tree, Longmont, Louisville, Lyons, Manitou Springs, Mead, Milliken, Minturn, Monument, Mountain View, Nederland, New Castle, Oak Creek, Pagosa Springs, Palisade, Parker, Platteville, Pueblo, Rifle, Rocky Ford, Salida, San Luis, Severance, Sheridan, Silt, Silverthorne, Snowmass Village, Steamboat Springs, Sterling, Superior, Thornton, Timnath, Weld County, Westminster, Wheat Ridge, Windsor, Woodland Park, Wray.
References
1.

Abdelwhab, E. M., & Hafez, H. M. (2011). An overview of the epidemic of highly pathogenic H5N1 avian influenza virus in Egypt: epidemiology and control challenges. Epidemiology and Infection, 139(5), 647–657.

2.

Aleccia, J. (2013, July 7) "Backyard chickens dumped at shelters when hipsters can't cope, critics say." NBC News. http://www.nbcnews.com/health/backyard-chickens-dumped-shelters-when-hipsters-cant-cope-critics-say-6C10533508.

3.

American Humane Certified—Humane Heartland. (2017). Science-based Standards. Retrieved November 29, 2017, from http://www.humaneheartland.org/our-standards

4.

Blecha, J. (2015). Regulating backyard slaughter: Strategies and gaps in municipal livestock ordinances. Journal of Agriculture, Food Systems and Community Development, 6(1), 33–48.

5.

Blecha, J., & Leitner, H. (2014). Reimagining the food system, the economy, and urban life: new urban chicken-keepers in US cities. Urban Geographer, 35(8), 86–108.

6.

Bouvier, J. (2012). Illegal fowl: A survey of municipal laws relating to backyard poultry and a model ordinance for regulating city chickens. 42 Environmental Law Reporter 10888.

7.

Brinkley, C., & Vitiello, D. (2014). From farm to nuisance: Animal agriculture and the rise of planning regulation. Journal of Planning History, 13(2), 113–135.

8.

Brinson, D. L. (2015, May 20). The National Poultry Improvement Plan. Chicken Whisperer Magazine. Retrieved November 29, 2017, from http://www.chickenwhisperermagazine.com/articles/national-poultry-improvement-plan

9.

Butler, W. H. (2012). Welcoming animals back to the city: Navigating the tensions of urban livestock through municipal ordinances. Journal of Agriculture, Food Systems, and Community Development, 2(2), 193–215.

10.

California Department of Food and Agriculture. (2017). Exotic newcastle disease. Retrieved November 29, 2017, from https://www.cdfa.ca.gov/ahfss/Animal_Health/Newcastle_Disease_Info.html.

11.

Centers for Disease Control and Prevention (US). (2014). CDC features—risk of human Salmonella infections from live baby poultry. Retrieved July 1, 2014, from http://www.cdc.gov/features/.

12.

Certified Humane. (2017). Our standards. Retrieved November 29, 2017, from http://certifiedhumane.org/how-we-work/our-standards/.

13.

Colorado Department of Agriculture. (2017). Pet animal care facilities act (PACFA) program. Retrieved November 29, 2017, from https://www.colorado.gov/pacific/aginspection/pacfa.

14.

Elkhoraibi, C., Blatchford, R. A., Pitesky, M. E., & Mench, J. A. (2014). Backyard chickens in the United States: A survey of flock owners. Poultry Science, 93(11), 2920–2931.

15.

FDA. (2017). Egg safety final rule. Retrieved November 29, 2017, from https://www.fda.gov/Food/GuidanceRegulation/GuidanceDocumentsRegulatoryInformation/Eggs/ucm170615.htm.

16.

Global Animal Partnership. (2017). The Global Animal Partnership 5-Step Animal Welfare Program. Retrieved November 29, 2017, from https://globalanimalpartnership.org/5-step-animal-welfare-rating-program/.

17.

Greenacre, C. B., & Morishita, T. Y. (Eds.). (2014). Backyard poultry medicine and surgery: A guide for veterinary practitioners. Ames: Wiley.

18.

Hirsch, V. (2003). Detailed discussions of legal protections of the domestic chicken in the United States and Europe. Animal Legal and Historical Center, Michigan State University. Retrieved November 29, 2017, from https://www.animallaw.info/article/detailed-discussion-legal-protections-domestic-chicken-united-states-and-europe.

19.

Lawson, L. J. (2005). City bountiful: A century of community gardening in America. Berkeley: University of California Press.

20.

Marmulak, T., Tell, L. A., Gehring, R., Baynes, R. E., Vickroy, T. W., & Riviere, J. E. (2015). Egg residue considerations during the treatment of backyard poultry. Journal of the American Veterinary Medical Association, 247(12), 1388–1395.

21.

McClintock, N., Pallana, E., & Wooten, H. (2013). Urban livestock ownership, management, and regulation in the United States: An Exploratory Survey and Research Agenda. Land Use Policy, 38, 426–440.

22.

Meat Safety. (2017). Inspection: Overview. Meatsafety.org and Poultrysafety.org. Retrieved November 29, 2017, from http://www.meatsafety.org/ht/d/sp/i/26606/pid/26606.

23.

Mench, J. A. (2008). Farm animal welfare in the USA: Farming practices, research, education, regulation, and assurance programs. Applied Animal Behaviour Science, 113, 298–312.

24.

Municode. (2017). Retrieved August 07, 2017, from https://www.municode.com/

25.

NCC. (2017). National chicken council animal welfare guidelines and audit checklist for broilers. Washington, DC: National Chicken Council. Retrieved November 29, 2017, fromhttp://www.nationalchickencouncil.org/wp-content/uploads/2017/07/NCC-Welfare-Guidelines-Broilers.pdf.

26.

Nolen, R. (2003). Emergency declared: exotic Newcastle disease found in commercial poultry farms—Avma.org.

27.

NTF. (2016). National Turkey Federation Animal Care Guidelines. National Turkey Federation. Retrieved November 29, 2017, from http://www.eatturkey.com/sites/default/files/FINAL%20Animal%20Care%20Guidelines.pdf.

28.

Pollock, C. (2016). Backyard poultry in clinical avian practice. Journal of Avian Medicine and Surgery, 30(4), 392–404.

29.

Pollock, S. L., Stephen, C., Skuridina, N., & Kosatsky, T. (2012) Raising chickens in city backyards: the public health role. Journal of Community Health, 37, 734–742.

30.

Ritzman, T. K. (2015). The rise of the backyard chicken in companion veterinary medicine. Advances in Small Animal Medicine and Surgery, 28(7), 1–3.

31.

Roberts, V. (2014). Common presentations and diseases of backyard chickens. Companion Animal, 19(1), 46–49.

32.

Roberts, V. (2017). What are the regulations and pitfalls for treating backyard chickens? Companion Animal, 22(7), 416–423.

33.

Rollin, B. E. (2014). An ethicist's commentary on backyard chickens. The Canadian veterinary journal = La revue veterinaire canadienne, 55(2), 114–115.

34.

Salkin, P. (2011). Feeding the locavores, one chicken at a time: Regulating backyard chickens. Zoning and Planning Law Report, 34(3), 1

35.

Tobin, M. R., Goldshear, J. L., Price, L. B., Graham, J. P., & Leibler, J. H. (2015). A framework to reduce infectious disease risk from urban poultry in the United States. Public Health Reports, 130(4), 380–391.

36.

UEP. (2017). United egg producers animal husbandry guidelines for U.S. egg laying flocks. United Egg Producers. Retrieved November 29, 2017, from http://uepcertified.com/wp-content/uploads/2015/08/2017-UEP-Animal-Welfare-Guidelines-1.pdf.

37.

UEP Certified. (2017). United Egg Producers. Retrieved November 29, 2017, from http://uepcertified.com/.

38.

USDA. (2013). USDA-Animal and Plant Health Inspection Service-Veterinary Services. Fort Collins, CO: Urban chicken ownership in four US cities.

39.

USDA-FSIS. (2011). Shell eggs from farm to table. Retrieved November 29, 2017, from https://www.fsis.usda.gov/wps/wcm/connect/5235aa20-fee1-4e5b-86f5-8d6e09f351b6/Shell_Eggs_from_Farm_to_Table.pdf?MOD=AJPERES.

40.

Voigt, K. A. (2011). Pigs in the backyard or the barnyard: Removing zoning impediments to urban agriculture. Boston College Environmental Affairs Law Review, 38(2), 537–566. http://lawdigitalcommons.bc.edu/ealr/vol38/iss2/14.

41.

WHO. (2010). Situation updates – avian influenza. World Health Organization. Retrieved November 20, 2010, from http://www.who.int/csr/disease/avian_influenza/updates/en/index.html.
Ethics declarations
Conflict of interest
The authors declare that they have no conflict of interest.
About this article
Cite this article
Brinkley, C., Kingsley, J.S. & Mench, J. A Method for Guarding Animal Welfare and Public Health: Tracking the Rise of Backyard Poultry Ordinances. J Community Health 43, 639–646 (2018). https://doi.org/10.1007/s10900-017-0462-0
Keywords
Public health

One health

Animal welfare

Animal shelters

Regulations

Zoonotic disease

Urban planning