Abstract
While CHW interventions improve health outcomes, evidence identifying specific domains of CHW-delivered support resulting in positive outcomes is limited. Our goals were to identify domains of CHW-delivered support that assist families with adhering to recommended pediatric care; and, to identify predictors of successful completion of an enriched medical home intervention (EMHI) using trained CHWs making home visits to provide health education and support positive health behaviors. We performed a prospective descriptive study of 88 families participating in a protocol-based EMHI. Completers (N = 46) finished the program with mutual agreement that the family can independently adhere to recommended clinical care. Non-completers (N = 42) were lost to follow-up or dropped out of the program before reaching this milestone. Using Grounded Theory, two trained coders evaluated CHW tasks recorded in an electronic database and classified these tasks across 17 domains. We assessed predictors of EMHI completion using logistic regression. The 88 EMHI participants were primarily <24 months of age (80 %), Hispanic (56 %), and Medicaid enrollees (67 %). Hispanic families (OR = 2.76, p = 0.04) and those with self-reported program goals to 'facilitate family's creation of a system to keep track of child's medical information' (OR = 3.11, p = 0.02) or a 'newborn-specific goal' (OR = 3.21, p = 0.04), such as feeding and safety tips, were more likely to complete the EMHI compared to their counterparts. The most consistent CHW tasks were supporting medical appointments, medication maintenance, and providing health education. CHW interventions designed to improve health behavior outcomes of 'at-risk' families, including Medicaid enrollees, may benefit from support in goal-setting and strategies to systematically manage their child's medical care.
Access options
Buy single article
Instant access to the full article PDF.
US$ 39.95
Tax calculation will be finalised during checkout.
Subscribe to journal
Immediate online access to all issues from 2019. Subscription will auto renew annually.
US$ 79
Tax calculation will be finalised during checkout.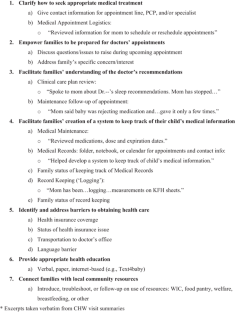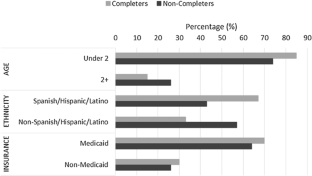 References
1.

AAP Agenda for Children: Medical Home. (2015). American Academy of Pediatrics. Retrieved from https://www.aap.org/en-us/about-the-aap/aap-facts/AAP-Agenda-for-Children-Strategic-Plan/pages/AAP-Agenda-for-Children-Strategic-Plan-Medical-Home.aspx.

2.

American Academy of Pediatrics. (2002). The medical home. Pediatrics, 110(1), 184–186.

3.

Bergman, D. A., Plsek, P.E., & Saunders, M. (2006). A high-performing system for well-child care: a vision for the future. Commonwealth Fund.

4.

Bonevski, B., Randell, M., Paul, C., Chapman, K., Twyman, L., Bryant, J., … Hughes, C. (2014). Reaching the hard-to-reach: A systematic review of strategies for improving health and medical research with socially disadvantaged groups. BMC Medical Research Methodology, 14, 42. doi:10.1186/1471-2288-14-42.

5.

Britton, C. V., & American Academy of Pediatrics Committee on Pediatric Workforce. (2004). Ensuring culturally effective pediatric care: Implications for education and health policy. Pediatrics, 114(6), 1677–1685. doi:10.1542/peds.2004-2091.

6.

Burton, O. M. (2003). American Academy of Pediatrics Community Access to Child Health (CATCH) Program: a model for supporting community pediatricians. Pediatrics, 112(3), 735–737.

7.

Chapman, J., Siegel, E., & Cross, A. (1990). Home visitors and child health: Analysis of selected programs. Pediatrics, 85(6), 1059–1068.

8.

Community Health Workers. (2015). American Public Health Association. Retrieved from https://www.apha.org/apha-communities/member-sections/community-health-workers.

9.

Enhancing Cultural Competence in Pediatric Medical Homes. (2016). Retrieved from https://medicalhomeinfo.aap.org/about/Pages/January-2016.aspx.

10.

Evans, W., Nielsen, P. E., Szekely, D. R., Bihm, J. W., Murray, E. A., Snider, J., & Abroms, L. C. (2015). Doseresponse effects of the text4baby mobile health program: randomized controlled trial. Journal of Medical Internet Research: mHealth and uHealth, 3(1), e12. doi:10.2196/mhealth.3909.

11.

Giunta, D., Briatore, A., Baum, A., Luna, D., Waisman, G., & de Quiros, F. G. B. (2013). Factors associated with nonattendance at clinical medicine scheduled outpatient appointments in a university general hospital. Patient Preference and Adherence, 7, 1163–1170. doi:10.2147/PPA.S51841.

12.

Harris, P. A., Taylor, R., Thielke, R., Payne, J., Gonzalez, N., & Conde, J. G. (2009). Research electronic data capture (REDCap)—A metadata-driven methodology and workflow process for providing translational research informatics support. Journal of Biomedical Informatics, 42(2), 377–381. doi:10.1016/j.jbi.2008.08.010.

13.

Hruschka, D. J., Schwartz, D., St. John, D. C., Picone-Decaro, E., Jenkins, R. A., & Carey, J. W. (2004). Reliability in coding open-ended data: Lessons learned from HIV behavioral research. Field Methods, 16(3), 307–331. doi:10.1177/1525822X04266540.

14.

Jacobs, E., Chen, A. H., Karliner, L. S., Agger-Gupta, N., & Mutha, S. (2006). The need for more research on language barriers in health care: a proposed research agenda. The Milbank Quarterly, 84(1), 111–133. doi:10.1111/j.1468-0009.2006.00440.x.

15.

Justvig, S., Ladowski, K., Wong, A. T., Huang, J., Benz-Scott, L., & Pati, S. (2014 & 2015). Understanding the role of community health workers in an enriched medical home. Paper presented at the North American Primary Care Research Group Annual Meeting, New York, NY. Poster presentation for Pediatric Academic Societies Annual Meeting. San Diego, CA.

16.

Kier, C., Romard, L., Ladowski, K., & Pati, S. (2014)._Addressing the needs of asthma patients and their families through collaboration with community health care workers. Paper presented at the Association of Asthma Educators Annual Conference, San Antonio, TX.

17.

Kilo, C. M., & Wasson, J. H. (2010). Practice redesign and the patient-centered medical home: history, promises, and challenges. Health Affairs (Project Hope), 29(5), 773–778. doi:10.1377/hlthaff.2010.0012.

18.

Krieger, J., Takaro, T. K., Song, L., Beaudet, N., & Edwards, K. (2009). A randomized controlled trial of asthma self-management support comparing clinic-based nurses and in-home community health workers: The Seattle-King County Healthy Homes II Project. Archives of Pediatrics and Adolescent Medicine, 163(2), 141–149. doi:10.1001/archpediatrics.2008.532.

19.

Lehmann, U., & Sanders, D. (2007). Community health workers: What do we know about them? The state of the evidence on programmes, activities, costs and impact on health outcomes of using community health workers. Retrieved from http://www.who.int/hrh/documents/community_health_workers.pdf.

20.

Lombard, M., Snyder-Duch, J., & Bracken, C. C. (2010). Practical Resources for Assessing and Reporting Intercoder Reliability in Content Analysis Research Projects. Intercoder Reliability. Retrieved from http://matthewlombard.com/reliability/.

21.

Montez, K. (2015). Promoting Specialized Care within a Medical Home: A Community Based Multidisciplinary Weight Management Program. Paper presented at the AAP Experience National Conference & Exhibition, San Francisco. Abstract retrieved from https://aap.confex.com/aap/2015/webprogram/Paper31192.html.

22.

Pati, S. (2015). Keeping Families Healthy: An integrated approach to improving population health. Paper presented at the HealthFirst 2015 Fall Provider Symposium entitled "Innovations and Best Practices in Value Based Care: Meeting the Complex Needs of Patients, their Families and Communities", New York, NY.

23.

Pati, S., Guevara, J., Zhang, G., Bhatt, S. K., Kavanagh, J., Gerdes, M., … Forrest, C. B. (2013). A family psychosocial risk questionnaire for use in pediatric practice. Maternal and Child Health Journal, 17(10), 1990–2006. doi:10.1007/s10995-012-1208-3.

24.

Pati, S., Ladowski, K. L., Wong, A. T., Huang, J., & Yang, J. (2015). An enriched medical home intervention using community health workers improves adherence to immunization schedules. Vaccine, 33(46), 6257–6263. doi:10.1016/j.vaccine.2015.09.070.

25.

PediaLink. (2014). EQIPP: Medical home. American Academy of Pediatrics. Retrieved from https://eqipp.aap.org.

26.

Samuels, R. C., Ward, V. L., Melvin, P., Macht-Greenberg, M., Wenren, L. M., Yi, J., … Cox, J. E. (2015). Missed appointments: Factors contributing to high no-show rates in an urban pediatrics primary care clinic. Clinical Pediatrics, 54(10), 976–982. doi:10.1177/0009922815570613.

27.

Shah, M. K., Kieffer, E. C., Choi, H., Schumann, C., & Heisler, M. (2015). Mediators and moderators of the effectiveness of a community health worker intervention that improved dietary outcomes in pregnant Latino women. Health Education & Behavior: The Official Publication of the Society for Public Health Education, 42(5), 593–603. doi:10.1177/1090198114568307.

28.

Standard Occupational Classification. (2010). 21-1094 Community Health Workers. Bureau of Labor Statistics: Department of Labor.

29.

Strengthening the Performance of Community Health Workers in Primary Health Care. Report of a WHO Study Group. (1989). World Health Organ Tech Rep Ser, 780, 1–46.

30.

Tanski, S., Garfunkel, L. C., Duncan, P. M., & Weitzman, M. (2010). Performing preventive services: A Bright Futures Handbook: Elk Grove: AAP Books.

31.

Tschudy, M. M., Platt, R. E., & Serwint, J. R. (2013). Extending the medical home into the community: A newborn home visitation program for pediatric residents. Academic Pediatrics, 13(5), 443–450. doi:10.1016/j.acap.2013.04.009.

32.

U.S. Department of Health and Human Services. Health Resources and Services Administration. (2015). Promoting maternal and child health through health text messaging: An evaluation of the text4baby program—Summary of key findings. Rockville, Maryland: U.S. Department of Health and Human Services. http://www.hrsa.gov/healthit/txt4tots/text4babysummary.pdf.

33.

United States QuickFacts. (2015). U.S. Department of Commerce. Retrieved from http://www.census.gov/quickfacts/.
Ethics declarations
Conflict of Interest
The authors declare that they have no conflict of interest.
About this article
Cite this article
Justvig, S.P., Li, J., Caravella, G. et al. Improving Adherence to Care Recommendations Using a Community Health Worker (CHW) Intervention with the Pediatric Medical Home. J Community Health 42, 444–452 (2017). https://doi.org/10.1007/s10900-016-0275-6
Keywords
Child Health

Community health worker

Outcome evaluation

Health promotion

Training health professionals