Abstract
The Scale to Assess the Therapeutic Relationship in Community Mental Health Care (STAR) is a frequently-administered tool for measuring therapeutic relationships between clinicians and patients. This manuscript tested the STAR's psychometric properties within a community health worker (CHW)-led intervention study involving pregnant and postpartum women. Women (n = 141) enrolled in the study completed the 12-item participant STAR survey (STAR-P) at two time points over the course of pregnancy and at two time points after delivery. The factor structure of the STAR-P proved to be unstable with this population. However, a revised 9-item STAR-P revealed a two-factor model of positive and negative interactions, and demonstrated strong internal consistency at postpartum time points. The revised STAR-P shows strong psychometric properties, and is suitable for use to evaluate the relationship developed between CHWs and pregnant and postpartum women in an intervention program.
Access options
Buy single article
Instant access to the full article PDF.
USD 39.95
Price includes VAT (USA)
Tax calculation will be finalised during checkout.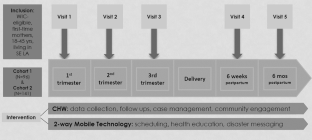 References
1.

Braun, R., Catalani, C., Wimbush, J., & Israelski, D. (2013). Community health workers and mobile technology: A systematic review of the literature. PloS One, 8(6), e65772. doi:10.1371/journal.pone.0065772.

2.

Cohen, S., & Wills, T. A. (1985). Stress, social support, and the buffering hypothesis. Psychological Bulletin, 98(2), 310.

3.

Collins, N. L., Dunkel-Schetter, C., Lobel, M., & Scrimshaw, S. C. (1993). Social support in pregnancy: Psychosocial correlates of birth outcomes and postpartum depression. Journal of Personality and Social Psychology, 65(6), 1243.

4.

Comrey, A. L., & Lee, H. B. (2013). A first course in factor analysis. Psychology Press.

5.

Dunkel-Schetter, C., Sagrestano, L. M., Feldman, P. A., & Killingsworth, C. (1996). Social support and pregnancy. In Handbook of social support and the family (pp. 375–412). Springer US.

6.

Feldman, P. J., Dunkel-Schetter, C., Sandman, C. A., & Wadhwa, P. D. (2000). Maternal social support predicts birth weight and fetal growth in human pregnancy. Psychosomatic Medicine, 62(5), 715–725.

7.

Gairing, S. K., Jäger, M., Ketteler, D., Rössler, W., & Theodoridou, A. (2011). Evaluation of the German version of the STAR scale. Psychiatrische Praxis, 38(4), 178–184.

8.

Kvrgic, S., Beck, E.-M., Cavelti, M., Kossowsky, J., Stieglitz, R.-D., & Vauth, R. (2012). Focusing on the adult attachment style in schizophrenia in community mental health centres: Validation of the Psychosis Attachment Measure (PAM) in a German-speaking sample. International Journal of Social Psychiatry, 58(4), 362–373.

9.

Lichtveld, M. Y., & Arosemena, F. A. (2014). Resilience in the Aftermath of the Gulf of Mexico Oil Spill: An Academic-Community Partnership to Improve Health Education, Social Support, Access to Care, and Disaster Preparedness. Paper presented at the International Oil Spill Conference Proceedings.

10.

Loos, S., Kilian, R., Becker, T., Janssen, B., Freyberger, H., Spiessl, H., et al. (2015). Psychometric properties of the German version of the scale to assess the therapeutic relationship in community mental health care (D-STAR). European Journal of Psychological Assessment, 28(4), 255–261.

11.

Mcguire-Snieckus, R., McCABE, R., Catty, J., Hansson, L., & Priebe, S. (2007). A new scale to assess the therapeutic relationship in community mental health care: STAR. Psychological Medicine, 37(01), 85–95.

12.

Nemcek, M. A., & Sabatier, R. (2003). State of evaluation: community health workers. Public Health Nursing, 20(4), 260–270.

13.

Norbeck, J. S., & Anderson, N. J. (1989). Psychosocial predictors of pregnancy outcomes in low-income black, Hispanic, and white women. Nursing Research, 38(4), 204–209.

14.

Norris, S. L., Chowdhury, F. M., Van Le, K., Horsley, T., Brownstein, J. N., Zhang, X., & Satterfield, D. W. (2006). Effectiveness of community health workers in the care of persons with diabetes. Diabetic Medicine, 23(5), 544–556.

15.

Nunnally, J. C., Bernstein, I. H., & Berge, J. M. T. (1967). Psychometric theory (Vol. 226). New York: McGraw-Hill.

16.

O'hara, M. W., & Swain, A. M. (1996). Rates and risk of postpartum depression-a meta-analysis. International Review of Psychiatry, 8(1), 37–54.

17.

Park, S. G., Derman, M., Dixon, L. B., Brown, C. H., Klingaman, E. A., Fang, L. J., et al. (2014). Factors associated with shared decision-making preferences among veterans with serious mental illness. Psychiatric Services, 65(12), 1409–1413.

18.

Roman, L. A., Gardiner, J. C., Lindsay, J. K., Moore, J. S., Luo, Z., Baer, L. J., & Fitzgerald, H. E. (2009). Alleviating perinatal depressive symptoms and stress: A nurse-community health worker randomized trial. Archives of Women's Mental Health, 12(6), 379–391.

19.

Roman, L. A., Raffo, J. E., & Meghea, C. I. (2012). Maternal perceptions of help from home visits by Nurse-Community Health Worker Teams. American Journal of Public Health, 102(4), 643–645.

20.

Rugkåsa, J., Molodynski, A., Yeeles, K., Vazquez Montes, M., Visser, C., & Burns, T. (2015). Community treatment orders: Clinical and social outcomes, and a subgroup analysis from the OCTET RCT. Acta Psychiatrica Scandinavica, 131(5), 321–329.

21.

Scheppers, E., Van Dongen, E., Dekker, J., Geertzen, J., & Dekker, J. (2006). Potential barriers to the use of health services among ethnic minorities: A review. Family Practice, 23(3), 325–348.

22.

Slusser, W. (2007). Breastfeeding and maternal and infant health outcomes in developed countries. AAP Grand Rounds, 18(2), 15–16.

23.

Spielberger, C. D., & Gorsuch, R. L. (1983). State-trait anxiety inventory for adults: Manual, instrument, and scoring guide. Menlo Park: Mind Garden, Incorporated.

24.

Suhr, D. D. (2005). Principal component analysis vs. exploratory factor analysis. Paper presented at the SUGI 30 Proceedings. http://www2.sas.com/proceedings/sugi30/203-30.pdf.

25.

Theodoridou, A., Schlatter, F., Ajdacic, V., Rössler, W., & Jäger, M. (2012). Therapeutic relationship in the context of perceived coercion in a psychiatric population. Psychiatry Research, 200(2), 939–944.

26.

Truxillo, C. (2008). Multivariate statistical methods: Practical research applications. Cary, NC: SAS Institute Inc.

27.

Viswanathan, M., Kraschnewski, J. L., Nishikawa, B., Morgan, L. C., Honeycutt, A. A., Thieda, P., & Jonas, D. E. (2010). Outcomes and costs of community health worker interventions: A systematic review. Medical Care, 48(9), 792–808.

28.

Watson, D., Clark, L. A., & Tellegen, A. (1988). Development and validation of brief measures of positive and negative affect: The PANAS scales. Journal of Personality and Social Psychology, 54, 1063–1070. doi:10.1037/0022-3514.54.6.1063.

29.

Whitley, E. M., Everhart, R. M., & Wright, R. A. (2006). Measuring return on investment of outreach by community health workers. Journal of Health Care for the Poor and Underserved, 17(1), 6–15.

30.

Wittorf, A., Jakobi, U. E., Bannert, K. K., Bechdolf, A., Müller, B. W., Sartory, G., & Herrlich, J. (2010). Does the cognitive dispute of psychotic symptoms do harm to the therapeutic alliance? The Journal of Nervous and Mental Disease, 198(7), 478–485.

31.

Women, Infants and Children: WIC Eligibility Requirements. (2015). Retrieved April 29, 2015, from http://www.fns.usda.gov/wic/wic-eligibility-requirements
Acknowledgments
This research was supported by the National Institutes of Health under Grant Number 5U19ES020677. The authors thanks to the CHWs Starleen Maharaj-Lewis, Christine Dennis, Onita Harris, Courtney Schultheis, Patricia Davis, and Kimisha Sawyer for their commitment to the study subjects and aiding in data collection. Special thanks to Farah Arosemena and Dr. Hannah Covert, for their guidance and expertise during the design and implementation of the study.
Funding
This study was funded by the National Institutes of Health (5U19ES020677).
Ethics declarations
Conflict of interest
The authors declare that they have no conflict of interest.
About this article
Cite this article
Lichtveld, M.Y., Shankar, A., Mundorf, C. et al. Measuring the Developing Therapeutic Relationship Between Pregnant Women and Community Health Workers Over the Course of the Pregnancy in a Study Intervention. J Community Health 41, 1167–1176 (2016). https://doi.org/10.1007/s10900-016-0198-2
Keywords
STAR

Community health worker

Pregnancy

Psychometric scale adaptation

Exploratory factor analysis