Abstract
We evaluated whether delivering educational presentations on human papillomavirus (HPV) to American Indian mothers affected HPV vaccination rates in their adolescent daughters. In March–April 2012, we recruited Hopi mothers or female guardians with daughters aged 9–12 years for a cluster-randomized intervention study on the Hopi Reservation. Participants attended mother-daughter dinners featuring educational presentations for mothers on either HPV (intervention) or juvenile diabetes (control) and completed baseline surveys. Eleven months later, we surveyed mothers on their daughters' HPV vaccine uptake. We also reviewed aggregated immunization reports from the Indian Health Service to assess community-level HPV vaccination coverage from 2007 to 2013. Ninety-seven mother-daughter dyads participated; nine mothers reported that their daughters completed the three-dose HPV vaccination series before recruitment. Among the remaining mothers, 63 % completed the follow-up survey. Adjusting for household income, the proportion of daughters completing vaccination within 11 months post-intervention was similar in the intervention and control groups (32 vs. 28 %, adjusted RR = 1.2, 95 % confidence interval (CI) 0.6–2.3). Among unvaccinated daughters, those whose mothers received HPV education were more likely to initiate vaccination (50 vs. 27 %, adjusted RR = 2.6, 95 % CI 1.4–4.9) and complete three doses (adjusted RR = 4.0, 95 % CI 1.2–13.1) than girls whose mothers received diabetes education. Community-level data showed that 80 % of girls aged 13–17 years and 20 % of girls aged 11–12 completed the vaccination series by 2013. HPV vaccine uptake in Hopi girls aged 13–17 years is significantly higher than the U.S. national average. Brief educational presentations on HPV delivered to American Indian mothers might increase HPV vaccination rates in daughters aged 9–12 years.
This is a preview of subscription content,
to check access.
Access this article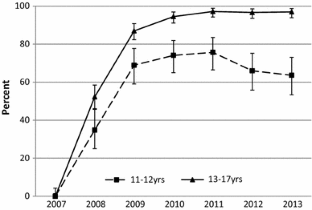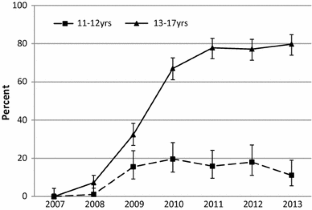 Similar content being viewed by others
References
Forman, D., de Martel, C., Lacey, C. J., Soerjomataram, I., Lortet-Tieulent, J., Bruni, L., et al. (2012). Global burden of human papillomavirus and related diseases. Vaccine, 30(Suppl 5), F12–F23.

Gissmann, L., Wolnik, L., Ikenberg, H., Koldovsky, U., Schnurch, H. G., & zur Hausen, H. (1983). Human papillomavirus types 6 and 11 DNA sequences in genital and laryngeal papillomas and in some cervical cancers. Proceedings of the National Academy of Sciences of the United States of America, 80(2), 560–563.

Markowitz, L. E., Dunne, E. F., Saraiya, M., Chesson, H. W., Curtis, C. R., Gee, J., et al. (2014). Human papillomavirus vaccination: Recommendations of the Advisory Committee on Immunization Practices (ACIP). MMWR Recommendations and Reports, 63(RR-05), 1–30.

Munoz, N., Bosch, F. X., Castellsague, X., Diaz, M., De Sanjose, S., Hammouda, D., et al. (2004). Against which human papillomavirus types shall we vaccinate and screen? The international perspective. International Journal of Cancer, 111(2), 278–285.

Bryan, J. T. (2007). Developing an HPV vaccine to prevent cervical cancer and genital warts. Vaccine, 25(16), 3001–3006.

Stokley, S., Jeyarajah, J., Yankey, D., Cano, M., Gee, J., Roark, J., et al. (2014). Human papillomavirus vaccination coverage among adolescents, 2007–2013, and postlicensure vaccine safety monitoring, 2006–2014—United States. MMWR Morbidity and Mortality Weekly Report, 63(29), 620–624.

Elam-Evans, L. D., Yankey, D., Jeyarajah, J., Singleton, J. A., Curtis, R. C., MacNeil, J., et al. (2014). National, regional, state, and selected local area vaccination coverage among adolescents aged 13–17 years—United States, 2013. MMWR Morbidity and Mortality Weekly Report, 63(29), 625–633.

Watson, M., Benard, V., Thomas, C., Brayboy, A., Paisano, R., & Becker, T. (2014). Cervical cancer incidence and mortality among American Indian and Alaska Native women, 1999–2009. American Journal of Public Health, 104(Suppl 3), S415–S422.

Dempsey, A. F., Abraham, L. M., Dalton, V., & Ruffin, M. (2009). Understanding the reasons why mothers do or do not have their adolescent daughters vaccinated against human papillomavirus. Annals of Epidemiology, 19(8), 531–538.

Mosavel, M., & Thomas, T. (2009). Daughter-initiated health advice to mothers: Perceptions of African–American and Latina daughters. Health Education Research, 24(5), 799–810.

Mosavel, M. (2009). The feasibility of mothers accepting health advice from their adolescent daughters. Journal of Health Care for the Poor and Underserved, 20(1), 42–49.

Evans, D., Clark, N. M., Levison, M. J., Levin, B., & Mellins, R. B. (2001). Can children teach their parents about asthma? Health Education and Behavior, 28(4), 500–511.

Fazekas, K. I., Brewer, N. T., & Smith, J. S. (2008). HPV vaccine acceptability in a rural Southern area. Journal of Womens Health (Larchmt), 17(4), 539–548.

Marlow, L. A., Waller, J., & Wardle, J. (2007). Trust and experience as predictors of HPV vaccine acceptance. Human Vaccines, 3(5), 171–175.

Cohen, K. (1998). Native American medicine. Alternative Therapies in Health and Medicine, 4(6), 45–57.

Reid, R., & Rhoades, E. R. (2000). Cultural considerations in providing care to American Indians. In E. R. Rhoades (Ed.), American Indian Health: Innovations in health care, promotion and policy (pp. 418–425). Baltimore: Johns Hopkins University Press.

Walhart, T. (2012). Parents, adolescents, children and the human papillomavirus vaccine: A review. International Nursing Review, 59(3), 305–311.

Jim, C. C., Lee, J. W., Groom, A. V., Espey, D. K., Saraiya, M., Holve, S., et al. (2012). Human papillomavirus vaccination practices among providers in Indian health service, tribal and urban Indian healthcare facilities. Journal of Womens Health (Larchmt), 21(4), 372–378.

Cassidy, B., Braxter, B., Charron-Prochownik, D., & Schlenk, E. A. (2014). A quality improvement initiative to increase HPV vaccine rates using an educational and reminder strategy with parents of preteen girls. Journal of Pediatric Health Care, 28(2), 155–164.

Dempsey, A. F., Zimet, G. D., Davis, R. L., & Koutsky, L. (2006). Factors that are associated with parental acceptance of human papillomavirus vaccines: A randomized intervention study of written information about HPV. Pediatrics, 117(5), 1486–1493.

Kennedy, A., Sapsis, K. F., Stokley, S., Curtis, C. R., & Gust, D. (2011). Parental attitudes toward human papillomavirus vaccination: Evaluation of an educational intervention, 2008. Journal of Health Communication, 16(3), 300–313.

Basu, P., & Mittal, S. (2011). Acceptability of human papillomavirus vaccine among the urban, affluent and educated parents of young girls residing in Kolkata Eastern India. Journal of Obstetrices and Gynaecology Research, 37(5), 393–401.

Chan, S. S., Cheung, T. H., Lo, W. K., & Chung, T. K. (2007). Women's attitudes on human papillomavirus vaccination to their daughters. Journal of Adolescent Health, 41(2), 204–207.

Davis, K., Dickman, E. D., Ferris, D., & Dias, J. K. (2004). Human papillomavirus vaccine acceptability among parents of 10- to 15-year-old adolescents. Journal of Lower Genital Tract Disease, 8(3), 188–194.

Kepka, D., Coronado, G. D., Rodriguez, H. P., & Thompson, B. (2011). Evaluation of a radionovela to promote HPV vaccine awareness and knowledge among Hispanic parents. Journal of Community Health, 36(6), 957–965.

Spleen, A. M., Kluhsman, B. C., Clark, A. D., Dignan, M. B., Lengerich, E. J., & Force, A. H. C. T. (2012). An increase in HPV-related knowledge and vaccination intent among parental and non-parental caregivers of adolescent girls, age 9–17 years in Appalachian Pennsylvania. Journal of Cancer Educ, 27(2), 312–319.
Acknowledgments
The National Cancer Institute had no involvement in the study design; collection, analysis and interpretation of data; in the writing of the report; or in the decision to submit the article for publication. We are grateful to the Hopi and Tewa women who participated in this project, and to the Hopi Tribal Council and Lorencita Joshweseoma for their support. We thank Phyllis Winans at the Hopi Health Care Center for her assistance in extracting the community-level HPV vaccination data; we thank Carey Onsae at the Hopi Health Care Center for her assistance leading the health activity for daughters attending the dinners; we thank our local project coordinators, Olivia Dennis and Lorene Vicente, for their coordination efforts; and we thank our community advisors, Carrie Watahomagie, Lisa Lomavaya, and Marilyn Fredericks, for their input and advice. For editing the final manuscript, we also thank Raymond Harris.
Ethics declarations
Funding
This research was performed under the auspices of the Collaborative to Improve Native Cancer Outcomes, a P50 program project sponsored by the National Cancer Institute (Grant No. 1P50CA148110).
Conflict of interest
The authors declare that they have no conflict of interest.
Additional information
For the Collaborative to Improve Native Cancer Outcomes (CINCO).
The members of the Collaborative to Improve Native Cancer Outcomes includes D. Buchwald, D.R. Flum, E.M. Garroutte, A.A. Gonzales, J.A. Henderson, P. Nez Henderson, D.L. Patrick, S.P. Tu, and R.L. Winer.
About this article
Cite this article
Winer, R.L., Gonzales, A.A., Noonan, C.J. et al. A Cluster-Randomized Trial to Evaluate a Mother–Daughter Dyadic Educational Intervention for Increasing HPV Vaccination Coverage in American Indian Girls. J Community Health 41, 274–281 (2016). https://doi.org/10.1007/s10900-015-0093-2
Published:

Issue Date:

DOI: https://doi.org/10.1007/s10900-015-0093-2
Keywords