Abstract
Pediculosis is a frequent public health problem. The pattern and prevalence of Pediculosis is dependent on many socio-demographic and economic factors. It is common in schoolchildren especially primary level; it may affect their learning performance. This study aimed to determine the prevalence of head louse among primary students, in Fayoum and Bagor districts, and explore the predisposing factors of head louse infestation in both public and private schools. The study was a cross-sectional descriptive study, conducted in two governorates: Fayoum and Minofiya governorates which represent upper and lower Egypt respectively during the academic year of 2012–2013. The students were selected from different grades with a total of 10,935 students. The prevalence of head lice in the study group was 16.7 %. The incidence was higher in public schools 20.7 % than private schools 9.04 % and in girls 25.8 % more than boys, especially covered hair girls 6.2 %. There was a socio-demographic influence of louse infestation on residence, presence of water supply, number of house rooms, and number of family member. It is concluded that head lice are a common childhood problem related to poor hygiene and socioeconomic status. There is a need for collaboration effort between family, school, community, and media, to create an environment that establishes healthy behaviors and health promotion.
Access options
Buy single article
Instant access to the full article PDF.
USD 39.95
Price excludes VAT (USA)
Tax calculation will be finalised during checkout.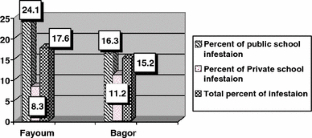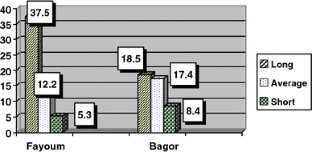 References
Leung, A., Fong, J., & Pinto-Rojas, A. (2005). Pediculosis capitis. Journal of Pediatric Health Care, 19(6), 369–373.

Shayeghi, M., Paksa, A., Salim, A. Y., Sanei, D. A., Ahmadi, A., Eshaghi, M., et al. (2010). Epidemiology of head lice infestation in primary school pupils, in Khajeh City, east Azerbaijan province. Iranian Journal of Arthropod-Borne Diseases, 4(1), 42–46.

Rupes, V., Vlckova, J., & Mazanek, L. (2006). Pediatric head lice: Taxonomy, incidence, resistance, delousing. Epidemiologie, Mikrobiologie, Imunologie, 55, 112–119.

Guenther, L., & Cunna, B. (2010). Pediculus humanus capitis: an update. Acta Dermatovenerol Alp Panonica Adriat, 17, 147.

Meinking, T. L. (2004). Clinical update on resistance and treatment of pediculosis capitis. American Journal of Managed Care, 10(9), S264–S268.

Nutanson, I., Steen, C. J., Schwartz, R. A., & Janniger, C. K. (2008). Pediculus humanus capitis: an update. Acta Dermatovenerol Alp Panonica Adriat, 17(4), 147–159.

Ibarra, J. (2003). Lice Anoplura. In R. Lane & R. Crosskey (Eds.), Medical insects and arachnids (pp. 517–528). London: Chapman and Hall.

Shakkoury, W., & Abu-Wandy, E. (1999). Prevalence of skin disorders among male schoolchildren in Amman, Jordan. Eastern Mediterranean Health Journal, 5(5), 955–959.

Pearlman, D. L. (2004). A simple treatment for head lice: Dry-on, suffocation-based pediculicide. Pediatrics, 114(3), e275–e279.

Chosidow, O., Giraudeau, B., & Cottrell, J. (2010). Oral ivermectin versus malathion lotion for difficult-to-treat head lice. New England Journal of Medicine, 362(10), 896–905.

Dolianitis, C., & Sinclair, R. (2002). Optimal treatment of head lice: is a no-nit policy justified? Clinics in Dermatology, 20, 94–96.

Kamyabi, M., & Nakhaei, M. (2005). A survey on the prevalence of pediculosis capitis in afghan immigrants in Kerman, 1998. Daneshvar No.35 Oct–Nov, 2005. (10), 41-46.

Amr, Z., & Nusier, M. (2000). Pediculosis capitis in northern Jordan. International Journal of Dermatology, 39(12), 919–921.

Burkhart, C. G., & Burkhart, C. N. (2006). Safety and efficacy of pediculicides for head lice. Expert Opinion on Drug Safety, 5(1), 169–179.

Flinders, D. C., & De Schweinitz, P. (2004). Pediculosis and scabies. American Family Physician, 69(341–8), 349–350.

Nada, E., El-Nadi, N., & Abu-El Dahab, S. (2006). Epidemiological studies on Pediculosis capitis in Sohag Governorate. Egyptian Dermatology Online Journal, 2(1), 9.

Yamamah, G. A., Emam, H. M., Abdelhamid, M. F., Elsaie, M. L., Shehata, H., Faried, T., et al. (2012). Epidemiologic study of dermatologic disorders among children in South Sinai, Egypt. International Journal of Dermatology, 51(10), 1180–1185.

El-Shafie, O., & El-Shazly, H. (2000). Head lice among primary school children in Minofiya and the effect of different protocols of treatment. Egypt Journal of Medical Sciences, 21(2), 331–340.

Gulgun, M., Balci, E., Karaoglu, A., Babacan, O., & Turker, T. (2013). Pediculosis Capitis: Prevalence and its associated factors in primary school children living in rural and urban areas in Kayseri, Turkey. Central European Journal of Public Health, 21(2), 104–108.

Inanir, I., Sahin, M. T., Gunduz, K., Turel, A., & Ozurkcan, S. (2002). Prevalence of skin conditions in primary-school children in Turkey: Differences based on socioeconomic factors. Pediatric dermatology, 19(4), 307–311.

El- Bashir, Z. M., & Fouad, M. A. (2002). A preliminary pilot survey on head lice, Pediculosis in Sharkia governorate, and treatment of head lice with natural plant extracts. Journal of the Egyptian Society of Parasitology, 32(3), 725–736.

Lesshafft, H., Baier, A., Guerra, H., Terashima, A., & Feldmeier, H. (2013). Prevalence and risk factors associated with Pediculosis capitis in an impoverished urban community in lima, Peru. Journal of Global Infectious Disease, 5(4), 138–143.

Ahmed, A. M., Afifi, A. A., Malik, E. M., & Adam, I. (2010). Intestinal protozoa and intestinal helminthic infections among schoolchildren in Central Sudan. Asian Pac J Trop Med., 3(4), 292–293.

Watcharawit, R., & Mayura, S. (2012). Epidemiology of Pediculosis capitis among school children in the Eastern area of Bangkok, Thailand. Asian Pacific Journal of Tropical Biomedicine, 2(11), 901–904.
About this article
Cite this article
Abd El Raheem, T.A., El Sherbiny, N.A., Elgameel, A. et al. Epidemiological Comparative Study of Pediculosis Capitis Among Primary School Children in Fayoum and Minofiya Governorates, Egypt. J Community Health 40, 222–226 (2015). https://doi.org/10.1007/s10900-014-9920-0
Published:

Issue Date:

DOI: https://doi.org/10.1007/s10900-014-9920-0
Keywords
School students

Pediculosis

Prevalence

Epidemiology