Abstract
In the aftermath of Hurricane Sandy the North Shore LIJ Health System (NS-LIJ HS) organized and launched its first mobile health unit (MHU) operation to some of New York's hardest hit communities including Queens County and Long Island, NY. This document describes the initiation, operational strategies, outcomes and challenges of the NS-LIJ HS community relief effort using a MHU. The operation was divided into four phases: (1) community needs assessment, (2) MHU preparation, (3) staff recruitment and (4) program evaluation and feedback. From November 16th through March 21st, 2013 the Health System launched the MHU over 64 days serving 1,160 individuals with an age range of 3 months to 91 years. Vaccination requests were the most commonly encountered issue, and the most common complaint was upper respiratory illness. The MHU is an effective resource for delivering healthcare to displaced individuals in the aftermath of natural disaster. Future directions include the provision of psychosocial services, evaluating strategies for timely retreat of the unit and methods for effective transitions of care.
Access options
Buy single article
Instant access to the full article PDF.
US$ 39.95
Tax calculation will be finalised during checkout.
Subscribe to journal
Immediate online access to all issues from 2019. Subscription will auto renew annually.
US$ 79
Tax calculation will be finalised during checkout.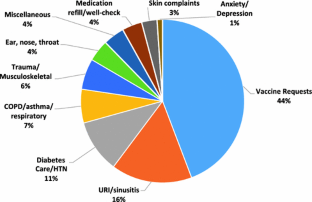 References
1.

Daiski, I. (2005). The health bus: Healthcare for marginalized populations. Policy Politics Nursing Practice, 6(1), 30–38.

2.

Simsek, Z., Koruk, I., & Doni, N. Y. (2012). An operational study on implementation of mobile primary healthcare services for seasonal migratory farmworkers, Turkey. Maternal and Child Health Journal, 16(9), 1906–1912.

3.

Luque, J. S., & Castañeda, H. (2013). Delivery of mobile clinic services to migrant and seasonal farmworkers: A review of practice models for community-academic partnerships. Journal of Community Health, 38(2), 397–407.

4.

Wray, N. P., Weiss, T. W., Christian, C. E., Menke, T., Ashton, C. M., & Hollingsworth, J. C. (1999). The health status of veterans using mobile clinics in rural areas. Journal of Health Care for the Poor and Underserved, 10(3), 338–348.

5.

Higgins, S. J., Walls, E. A., Fisher, A. G., Smith, D. C., & Humphries, T. J. (1991). The establishment and validation of the mobile immunization team concept at a clinic level. Military Medicine, 156(2), 53–55.

6.

Suhayda, L., Riley, M. A., Roth, L., McDonough, K., Sparico, A., & Clement, L. (1997). Cancer screening in the community: Taking the show on the road. Cancer Practice, 5(2), 105–110.

7.

Swaddiwudhipong, W., Chaovakiratipong, C., Nguntra, P., Tatip, Y., & Boonmak, C. (1999). A mobile unit: An effective service for cervical cancer screening among rural Thai women. International Journal of Epidemiology, 28(1), 35–39.

8.

Rodriguez, K. L., Appelt, C. J., Young, A. J., et al. (2007). African American veterans' experiences with mobile geriatric care. Journal of Health Care for the Poor and Underserved, 18(1), 44–53.

9.

Oboler, S. K., Blieden, M. A., Carter, S. A., et al. (1983). A mobile internal medicine clinic. Archives of Internal Medicine, 143(1), 97–99.

10.

Krol, D. M., Redlener, M., Shapiro, A., & Wajnberg, A. (2007). A mobile medical care approach targeting underserved populations in post-Hurricane Katrina Mississippi. Journal of Health Care for the Poor and Underserved, 18(2), 331–340.

11.

International Committee of the Red Cross. (2006, May). Mobile health units: Methodological approach. Retrieved from www.icrc.org/eng/assets/files/other/icrc_002_0886.pdf.

12.

Chan, E. Y., & Kim, J. J. (2010). Remote mobile health service utilization post 2005 Kashmir-Pakistan earthquake. European Journal of Emergency Medicine: Official journal of the European Society for Emergency Medicine, 17(3), 158–163.

13.

Taylor, M. M., Stokes, W. S., Bajuscak, R., et al. (2007). Mobilizing mobile medical units for hurricane relief: The United States Public Health Service and Broward County Health Department response to Hurricane Wilma, Broward County, Florida. Journal of Public Health Management and Practice, 13(5), 447–452.

14.

Brito, Arturo. (2011). Continuing mobile care for Katrina's children. Pediatrics, 128(Supplement 1), S34–S36.

15.

National Climatic Data Center. (2012, October). Summary information on post-tropical cyclone Sandy. Retrieved from www.ncdc.noaa.gov/news/summary-information-post-tropical-cyclone-sandy.

16.

The New York Times N.Y./Region. (2012, October 29). Assessing the damage from Hurricane Sandy. New York (NY): New York Times. Retrieved from http://www.nytimes.com/interactive/2012/10/30/nyregion/hurricane-sandys-aftermath.html.

17.

Long Island Power Authority. (2012, November 29). Long Island Power Authority Update on Hurricane Sandy. Retrieved from http://www.lipower.org/newscenter/pr/2012/111912-update.html.

18.

U.S. Census Bureau. (2013, Jun 27). Fact sheet: Nassau County, NY, 2012 Population Estimate. Retrieved from http://quickfacts.census.gov/qfd/states/36/36059.html.

19.

U.S. Census Bureau. (2013, June 27). Fact sheet: Queens County, NY, 2012 Population Estimate. Retrieved from http://quickfacts.census.gov/qfd/states/36/36081.html.

20.

U.S. Census Bureau. (2005). Fact sheet: Harrison County, Mississippi, 2005 American Community Survey Total Population. Washington DC: U.S. Census Bureau, 2005. Retrieved from http://factfinder2.census.gov/faces/tableservices/jsf/pages/productview.xhtml?pid=ACS_05_EST_B01003&prodType=table.

21.

Center for Disease Control. (2007, March). CDC's disaster planning goal: Protect vulnerable older adults. Retrieved from http://www.cdc.gov/aging/pdf/disaster_planning_goal.pdf.

22.

Neria, Y., Nandi, A., & Galea, S. (2008). Post-traumatic stress disorder following disasters: A systematic review. Psychological Medicine, 38(4), 467–480.

23.

Sastry, N., & Gregory, J. (2013). The effect of Hurricane Katrina on the prevalence of health impairments and disability among adults in New Orleans: Differences by age, sex and race. Social Science and Medicine, 80, 121–129.

24.

Fussell, E., Sastry, N., & VanLandingham, M. (2010). Race, socioeconomic status, and return migration to New Orleans after Hurricane Katrina. Population and Environment, 31(1–3), 20–42.

25.

Zissimopoulos, J., & Karoly, L. A. (2010). Employment and self-employment in the wake of Hurricane Katrina. Demography, 47(2), 345–367.

26.

Neria, Y., & Shultz, J. M. (2012). Mental health effects of Hurricane Sandy: Characteristics, potential aftermath and response. JAMA, 308(24), 2571–2572.
Acknowledgments
We would like to acknowledge Anita Rice, David Saunders and Meghan McDonald for their support and assistance with this manuscript.
Conflict of interest
None.
About this article
Cite this article
Lien, C., Raimo, J., Abramowitz, J. et al. Community Healthcare Delivery Post-Hurricane Sandy: Lessons from a Mobile Health Unit. J Community Health 39, 599–605 (2014). https://doi.org/10.1007/s10900-013-9805-7
Keywords
Mobile health unit

Healthcare and natural disaster

Displaced populations

Healthcare delivery and outreach