Abstract
Energy drink usage is common and contains caffeine or other stimulants. We evaluated demographics, prevalence, reasons and adverse effects with consuming energy beverages. Cross-sectional study of a convenience sample of patients recruited from two San Diego Emergency Departments from January to December 2009. One-thousand-two-hundred-ninety-eight subjects participated of which 52.6% were male. Ethnicity: Caucasian 48.3%, African American 17%, Hispanic 18%, Other 16.7%. Age ranges: 18–29 years (38.4%), 30–54 years (49.6%) and greater than 55 years (12%). Reasons for use: 57% to "increase energy", 9.5% for studying/work projects, 2.4% while prolonged driving, improve sports performance 2%, with ethanol 6.3%, "other" reasons 22.1%. Adverse reactions reported by 33.5% (429) patients. Two-hundred-eighty report feeling "shaky/jittery", insomnia 136, palpitations 150, gastrointestinal upset 82, headache 68, chest pain 39, and seizures in 6. Eighty-five patients reported co-ingestion with illicit "stimulants" including cocaine and methamphetamine. We identified one-third of patients reported at least one adverse effect. Whilst most were not severe, a small number were serious e.g., seizures. In addition, some report purposely ingesting with illicit drugs.
Access options
Buy single article
Instant access to the full article PDF.
USD 39.95
Price includes VAT (USA)
Tax calculation will be finalised during checkout.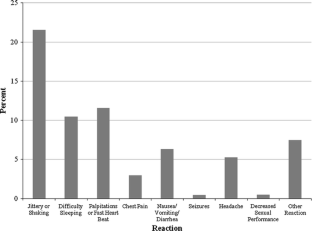 References
1.

Heckman, M. A., Sherry, K., & Gonzalez de Mejia, E. (2010). Energy drinks: An assessment of their market size, consumer demographics, ingredient profile, functionality, and regulations in the United States. Comprehensive Reviews in Food Science and Food Safety, 9, 303–317.

2.

Boyle, M., & Castillo, V. D. (2006). Monster on the loose. Fortune, 154, 116–122.

3.

Higgins, J. P., Tuttle, T. D., & Higgins, C. L. (2010). Energy beverages: Content and safety. Mayo Clinic Proceedings, 85, 1033–1041.

4.

Clauson, K. A., Shields, K. M., McQueen, C. E., et al. (2008). Safety issues associated with commercially available energy drinks. Journal of the American Pharmacists Association, 48, e55–e63.

5.

http://www.fda.gov/NewsEvents/Newsroom/PressAnnouncements/ucm234109.htm. Accessed January 20, 2012.

6.

Malinauskas, B. M., Aeby, V. G., Overton, R. F., et al. (2007). A survey of energy drink consumption patterns among college students. Nutrition Journal, 6, 1–7.

7.

Oteri, A., Salvo, F., Caputi, A. P., et al. (2007). Intake of energy drinks in association with alcoholic beverages in cohort students of the school of medicine of the University of Medicine. Alcoholism, Clinical and Experimental Research, 10, 1677–1680.

8.

Iyadurai, S. J. P., & Chung, S. S. (2007). New onset seizures in adults: possible association with consumption of popular energy drinks. Epilepsy Behavior, 10, 504–508.

9.

Babu, K. M., Zuckerman, M. D., Cherkes, J. K., et al. (2011). First-onset seizure after use of 5-hour energy. Pediatric Emergency Care, 27, 539–540.

10.

Terlizzi, R., Rocchi, C., Serra, M., et al. (2008). Reversible postural tachycardia syndrome due to inadvertent overuse of Red Bull. Clinical Atomic Research, 18, 221–222.

12.

Alford, C., Cox, H., & Wescott, R. (2001). The effects of red bull energy drink on human performance and mood. Amino Acids, 21, 139–150.

13.

Warburton, D. M., Bersellini, E., & Sweeney, E. (2001). An evaluation of a caffeinated taurine drink on mood, memory and information processing in healthy volunteers without caffeine abstinence. Psychopharmacology, 158, 322–328.

14.

Scholey, A. B., & Kennedy, D. O. (2004). Cognitive and physiological effects of an "energy drink": An evaluation of the whole drink and of glucose, caffeine and herbal flavouring fractions. Psychopharmacology, 176, 320–330.

15.

Reissig, C. J., Strain, E. C., & Griffiths, R. R. (2009). Caffeinated energy drinks—A growing problem. Drug and Alcohol Dependence, 99, 1–10.

16.

Berger, A. J., & Alford, K. (2009). Cardiac arrest in a young man following excess consumption of caffeinated "energy drinks". Medical Journal of Australia, 190, 41–43.

17.

Cannon, M. E., Cooke, C. T., & McCarthy, J. S. (2011). Caffeine-induced cardiac arrhythmia: an unrecognised danger of healthfood products. Medical Journal of Australia, 174, 520–521.

18.

Artin, B., Singh, M., Richeh, C., et al. (2010). Caffeine-related atrial fibrillation. American Journal of Therapeutics, 17, e169–e171.

19.

Kaplan, G. B., Greenblatt, D. J., Ehrenberg, B. L., et al. (1997). Dose dependent pharmacokinetics and psychomotor effects of caffeine in humans. Journal of Clinical Pharmacology, 37, 693–703.

20.

Victor, B. S., Lubetsky, M., & Greden, J. F. (1981). Somatic manifestations of caffeinism. Journal of Clinical Psychiatry, 42, 185–188.

21.

http://articles.nydailynews.com/2011-02-15/entertainment/28616081_1_energy-drinks-caffeine-report. Accessed January 20, 2012.

22.

Arria, A. M., & O'Brien, M. C. (2011). The "high" risk of energy drinks. JAMA, 305, 600–601.

23.

Weldy, D. L. (2010). Risks of alcoholic energy drinks for youth. The Journal of the American Board of Family Medicine, 23, 555–558.

24.

Committee on Nutrition and the Council on Sports Medicine and Fitness. (2011). Sports drinks and energy drinks for children and adolescents: Are they appropriate? Journal of Pediatrics, 127, 1182–1189.

25.

Miller, K. E. (2008). Energy drinks, race, and problem behaviors among college students. Journal of Adolescent Health, 43, 490–497.

26.

Velazquez, C. E., Poulos, N. S., & Latimer, L. A., et al. (2011). Associations between energy drink consumption and alcohol use behaviors among college students. Drug and Alcohol Dependence, 2011 December 2 [Epub ahead of print].

27.

Ferreira, S. E., de Mello, M. T., Pompeia, S., et al. (2006). Effects of energy drink ingestion on alcohol intoxication. Alcoholism, Clinical and Experimental Research, 30, 598–605.

28.

Marczinski, C. A., & Fillmore, M. T. (2006). Clubgoers and their trendy cocktails: implications of mixing caffeine into alcohol on information processing and subjective reports of intoxication. Experimental and Clinical Psychopharmacology, 14, 450.s–458.s.
About this article
Cite this article
Nordt, S.P., Vilke, G.M., Clark, R.F. et al. Energy Drink Use and Adverse Effects Among Emergency Department Patients. J Community Health 37, 976–981 (2012). https://doi.org/10.1007/s10900-012-9549-9
Keywords
Energy drink

Energy beverage

Sports drink

Caffeine

Guarana