Abstract
Mounting evidence suggests that youth in sub-Saharan Africa (SSA) find themselves increasingly drawn to gambling related activities; an issue, that if left unchecked, can lead to adverse consequences including financial difficulties, crime and mental health problems. To better understand the psychosocial mechanisms underlying problem gambling, there is a pressing need to conduct more research on gambling related disorders amongst this vulnerable stratum of society. Against this background, the present review explores gambling patterns, attitudes and behaviors among youth in SSA—in a manner aligning with the Preferred Reporting Items for Systematic Reviews and Meta-Analyses guidelines. We systematically searched 8 databases including PubMed, Science Direct, Scopus, ProQuest, Wiley Online, Google Scholar, PsycINFO and PsycARTICLES for published research articles up until July 2019. A total of 1624 articles were screened, of which, only 13 studies met inclusion criteria. All of these studies were cross-sectional in nature and the quality of each study was evaluated using the Newcastle–Ottawa Scale. Studies varied considerably ranging from neuropsychological and personality trait assessment to application of item response theory. Due to this study heterogeneity we could not conduct a meta-analysis. The results presented here suggest that the existing body of evidence pertaining to patterns of gambling-related harm among youth in SSA is weak. This study highlights the need for additional good quality studies focusing on gambling related behaviors and prevalence levels among the continent's youth. Additionally, the findings reported herein emphasise the need for implementing social policies alongside effective public health interventions to tackle gambling addiction.
Access options
Buy single article
Instant access to the full article PDF.
US$ 39.95
Tax calculation will be finalised during checkout.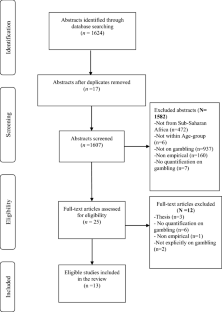 References
Abdi, T. A., Ruiter, R. A., & Adal, T. A. (2015). Personal, social and environmental risk factors of problematic gambling among high school adolescents in Addis Ababa Ethiopia. Journal of Gambling Studies, 31(1), 59–72.

Adebisi, T. A., Alabi, O., Arisukwu, O., & Asamu, F. (2020). Gambling in Transition: Assessing Youth Narratives of Gambling in Nigeria. Journal of Gambling Studies. [Online ahead of print]

Agoucha, C. M., Duru, C. B., Nwefoh, E. C., Amadi, K. U., Olose, E. O., Igwe, M. N., & Ndukuba, A. C. (2019). Determinants of gambling among male students in secondary schools in Imo State Nigeria. Journal of Substance Use, 24(2), 199–205.

Akanle, O., & Fageyinbo, K. T. (2019). European football clubs and football betting among the youths in Nigeria. Soccer and Society, 20(1), 1–20.

Ayandele, O., Popoola, O., & Obosi, A. C. (2020). Influence of demographic and psychological factors on attitudes toward sport betting among young adults in Southwest Nigeria. Journal of Gambling Studies, 36, 343–354.

Barnes, G. M., Welte, J. W., Hoffman, J. H., & Tidwell, M. C. O. (2009). Gambling, alcohol, and other substance use among youth in the United States. Journal of Studies on Alcohol and Drugs, 70(1), 134–142.

British Broadcasing Cooperation Africa Eye (2019) Gamblers like me: The darkside of sports betting. https:www.bbc.co.uk/programmes/p07p578x

Bunn, C., Mtema, O., Songo, J., & Udedi, M. (2020). The growth of sports betting in Malawi: corporate strategies, publicspace and public health. Public Health, 184, 95–101.

Calado, F., Alexandre, J., & Griffiths, M. D. (2017). Prevalence of adolescent problem gambling: A systematic review of recent research. Journal of Gambling Studies, 33(2), 397–424. https://doi.org/10.1007/s10899-016-9627-5.

Chu, K. M., Jayaraman, S., Kyamanywa, P., & Ntakiyiruta, G. (2014). Building research capacity in Africa: Equity and global health collaborations. PLoS Medicine, 11(3), e1001612.

Dellis, A., Spurrett, D., Hofmeyr, A., Sharp, C., & Ross, D. (2013). Gambling participation and problem gambling severity among rural and peri-urban poor South African adults in KwaZulu-Natal. Journal of Gambling Studies, 29(3), 417–433. https://doi.org/10.1007/s10899-012-9324-y.

Derevensky, J. L., St-Pierre, R. A., Temcheff, C. E., & Gupta, R. (2014). Teacher awareness and attitudes regarding adolescent risky behaviours: Is adolescent gambling perceived to be a problem? Journal of Gambling Studies, 30(2), 435–451. https://doi.org/10.1007/s10899-013-9363-z.

Dowling, N. A., Merkouris, S. S., Greenwood, C. J., Oldenhof, E., Toumbourou, J. W., & Youssef, G. J. (2017). Early risk and protective factors for problem gambling: A systematic review and meta-analysis of longitudinal studies. Clinical Psychology Review, 51, 109–124. https://doi.org/10.1016/j.cpr.2016.10.008.

Estévez, A., Jauregui, P., Lopez-Gonzalez, H., Macia, L., López, N., Zamora, L., et al. (2020). Exploring the Predictive Value of Gambling Motives, Cognitive Distortions, and Materialism on Problem Gambling Severity in Adolescents and Young Adults. Journal of Gambling Studies. [Online ahead of print]

Floros, G. D. (2018). Gambling disorder in adolescents: Prevalence, new developments, and treatment challenges. Adolescent Health Medicine and Therapeutics, 9, 43–51. https://doi.org/10.2147/AHMT.S135423.

Fong, T. W. (2005). The biopsychosocial consequences of pathological gambling. Psychiatry (Edgmont), 2(3), 22–30.

Glozah, F. N., Tolchard, B., & Pevalin, D. J. (2019). Participation and attitudes towards gambling in Ghanaian youth: An exploratory analysis of risk and protective factors. International Journal of Adolescent Medicine and Health. https://doi.org/10.1515/ijamh-2018-0175.

Gordon, R., & Reith, G. (2019). Gambling as social practice: A complementary approach for reducing harm? Harm Reduction Journal, 16(1), 64. https://doi.org/10.1186/s12954-019-0342-2.

Gupta, R., & Derevensky, J. L. (2000). Adolescents with gambling problems: From research to treatment. Journal of Gambling Studies, 16(2–3), 315–342. https://doi.org/10.1023/a:1009493200768.

Hayk, A., & Sailer, U. (2020). Cosmopolitan encounters provoke a change in habits: How Chinese slot machines affect rural life in Ghana. Geoforum, 111, 39–47.

Hing, N., Russell, A., Tolchard, B., & Nower, L. (2016a). Risk factors for gambling problems: An analysis by gender. Journal of Gambling Studies, 32(2), 511–534. https://doi.org/10.1007/s10899-015-9548-8.

Hing, N., Russell, A. M., & Gainsbury, S. M. (2016b). Unpacking the public stigma of problem gambling: The process of stigma creation and predictors of social distancing. Journal of Behavioral Addictions, 5(3), 448–456. https://doi.org/10.1556/2006.5.2016.057.

Jenkins, R., Baingana, F., Belkin, G., Borowitz, M., Daly, A., Francis, P., & Mayeya, J. (2010). Mental health and the development agenda in Sub-Saharan Africa. Psychiatric Services (Washington, D. C.), 61(3), 229–234.

Kiwujja, V., & Mugisha, J. F. (2019). Sexual risk associated with gambling among the youth in Rubaga division Kampala. The International Journal of Health Planning and Management, 34(4), 1456–1468. https://doi.org/10.1002/hpm.2804.

Messerlian, C., Derevensky, J., & Gupta, R. (2005). Youth gambling problems: A public health perspective. Health Promotion International, 20(1), 69–79. https://doi.org/10.1093/heapro/dah509.

Moher, D., Liberati, A., Tetzlaff, J., Altman, D. G., & Group, P. (2009). Preferred reporting items for systematic reviews and meta-analyses: The PRISMA statement. BMJ, 339, b2535. https://doi.org/10.1136/bmj.b2535.

Molinaro, S., Benedetti, E., Scalese, M., Bastiani, L., Fortunato, L., Cerrai, S., & Fotiou, A. (2018). Prevalence of youth gambling and potential influence of substance use and other risk factors throughout 33 European countries: First results from the 2015 ESPAD study. Addiction, 113(10), 1862–1873.

Muchimba, M., Burton, M., Yeatman, S., Chilungo, A., Haberstick, B. C., Young, S. E., & McQueen, M. B. (2013). Behavioral disinhibition and sexual risk behavior among adolescents and young adults in Malawi. PLoS ONE, 8(9), e73574.

Ngongalah, L., Niba, R., Wepngong, E., Musisi, J., Ngwayu, C. and Mumah, S. (2019). Tackling the research capacity challenge in Africa: An overview of African-led approaches to strengthen research capacity. [Preprint] Available: https://doi.org/10.1101/518498.

Odame, S.K., Quarshie, E. N., Oti-Boadim ., Andoh-Arthurm J., Asant., K.O. (2020) Adolescent problem gambling in rural Ghana: Prevalance and gender differentiation. Journal of Gambling Studies [Online ahead of print].

Peltzer, K., & Pengpid, S. (2014). Correlates of physical fighting among university students in 25 low and middle income and emerging economy countries. Mediterranean Journal of Social Sciences, 5(27P2), 916–923.

Rule, S. P., Da Silva, T , Sibanyoni, C. (2000). The Social Impact of Gambling in South Africa.

Sapthiang, S., Van Gordon, W., Shonin, E., & Griffiths, M. D. (2020). Adolescent problem gambling requires community-level health promotion approaches. Addiction Research and Therapy, 28(2), 91–94.

Sharp, C., Dellis, A., Hofmeyr, A., Kincaid, H., & Ross, D. (2015). First evidence of comorbidity of problem gambling and other psychiatric problems in a representative urban sample of South Africa. Journal of Gambling Studies, 31(3), 679–694. https://doi.org/10.1007/s10899-014-9469-y.

Spring, B., Moller, A. C., & Coons, M. J. (2012). Multiple health behaviours: Overview and implications. Journal of Public Health (Oxf), 34(Suppl 1), i3-10. https://doi.org/10.1093/pubmed/fdr111.

Ssewanyana, D., & Bitanihirwe, B. (2018). Problem gambling among young people in Sub-Saharan Africa. Frontiers in Public Health, 6, 23. https://doi.org/10.3389/fpubh.2018.00023.

Ssewanyana, D., Abubakar, A., Newton, C. R. J. C., Otiende, M., Mochamah, G., Nyundo, C., et al. (2020). Clustering of health risk behaviors among adolescents in Kilifi, Kenya, a rural Sub-Saharan African setting. PLoS One, 15(11):e0242186.

Stinchfield, R. (2010). A critical review of adolescent problem gambling assessment instruments. Int J Adolesc Med Health, 22(1), 77–93.

Surujlal, J., & Akinwale, Y. (2017). Socio-economic analysis of choice of gambling type among South African university students: An ordered logit model. International Information Institute (Tokyo). Information, 20(10A), 7159–7170.

Tagoe, V. N. K., Sendork, J. A., & Asante, K. O. (2018). Gambling among youth in contemporary Ghana: Understanding, initiation, and perceived benefits. Africa Today, 64(3), 52–68.

Temitope, B. E., Oyekola, A., & Mary, B. A. (2019). Personality traits and financial strain as determinants of gambling behaviour among youth in Nigeria: A case study of youths in Oyo state and Ekiti state. American International Journal of Social Science, 4(1), 1–8.

The National and Lotteries Regulatory Board (2016) https://www.ura.go.ug/Resources/webuploads/GNRART/The%20Lotteries%20and%20Gaming%20Act%202016.pdf

Ucheagwu, V., Okoli, P., & Ugokwe-Ossai, R. (2019). Some neuropsychological profiles and personality traits of undergraduate regular online football gamblers (a New Online Gambling Game) in Nigeria. Journal of Gambling Studies, 35(1), 171–180. https://doi.org/10.1007/s10899-018-9812-9.

Uwiduhaye, M. A., Niyonsenga, J., Muhayisa, A., Mutabaruka, J. (2020) Gambling, family dysfunction and psychologival disorders: A cross-sectional study. Journal of Gambling Studies. [Online ahead of print].

Volberg, R. A., Gupta, R., Griffiths, M. D., Olason, D. T., & Delfabbro, P. (2010). An international perspective on youth gambling prevalence studies. Int J Adolesc Med Health, 22(1), 3–38.

Wardle, H., Reith, G., Langham, E., & Rogers, R. D. (2019). Gambling and public health: We need policy action to prevent harm. BMJ, 365, 1807. https://doi.org/10.1136/bmj.l1807.

Wells, G. A., Shea, B., O'Connell, D, et al. (2008). The Newcastle-Ottawa Scale (NOS) for assessing the quality of nonrandomised studies in meta-analyses.
Ethics declarations
Conflict of interest
The authors declare that they have no conflict of interest.
Ethical Approval
This article does not contain any studies with human participants or animals performed by any of the authors.
Additional information
Publisher's Note
Springer Nature remains neutral with regard to jurisdictional claims in published maps and institutional affiliations.
About this article
Cite this article
Bitanihirwe, B.K., Ssewanyana, D. Gambling Patterns and Problem Gambling Among Youth in Sub-Saharan Africa: A Systematic Review. J Gambl Stud 37, 723–745 (2021). https://doi.org/10.1007/s10899-021-10001-w
Accepted:

Published:

Issue Date:
Keywords
Gambling

Gambling addiction

Interventions

Mental health

Youth

Sub-saharan africa