Abstract
Gambling has an inherent structural monetary component, and financial motive is one of the main motivations for gambling. Despite this, and contrary to other addictive behaviours that involve money such as compulsive buying, gambling has never been studied from a materialism perspective. The objective of the present study was to explore the links between materialism and gambling disorder (GD) and whether this relationship is mediated by financial motives for gambling. We compared 65 pathological gamblers (PGs) seeking treatment to 65 matched non-problem gamblers. The data collection included socio-demographics, gambling characteristics, the Materialism Values Scale, the Gambling Motives Questionnaire—Financial, and the Rosenberg Self-Esteem Scale. The statistical analysis included linear mixed models and Structural Equation Modelling. The level of materialism was significantly higher for the PGs, except for the Centrality dimension. Only one mediated effect was significant, and it concerned an indirect path from Happiness through financial motives. Moreover, Happiness explained most of the variance of the probability of becoming a PG. Contrary to compulsive buying, the PGs seemed to display materialism in a more experiential way that was centred on what possessions can induce secondarily rather than on the possessions themselves. The belief that material possessions are essential to achieving happiness may encourage the PG to gamble, thus contributing to both the development and maintenance of GD. We provided evidence that materialism is a key concept in the comprehension of GD and should be further considered when adapting care strategies.
Access options
Buy single article
Instant access to the full article PDF.
USD 39.95
Price excludes VAT (USA)
Tax calculation will be finalised during checkout.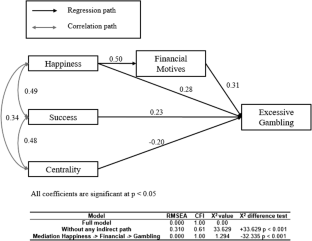 References
American Psychiatric Association. (2013). Diagnostic and statistical manual of mental health disorders: DSM-5 (5th ed.). Washington, DC: American Psychiatric Publishing.

Auerbach, R. P., McWhinnie, C. M., Goldfinger, M., Abela, J. R., Zhu, X., & Yao, S. (2010). The cost of materialism in a collectivistic culture: predicting risky behavior engagement in Chinese adolescents. Journal of Clinical Child and Adolescent Psychology, 39(1), 117–127. https://doi.org/10.1080/15374410903401179.

Belk, R. W. (1984). Three scales to measure constructs related to materialism: Reliability, validity, and relationships to measures of happiness. Advances in Consumer Research, 11, 291–297.

Bryant, F. B., & Satorra, A. (2012). Principles and practice of scaled difference chi square testing. Structural Equation Modeling: A Multidisciplinary Journal, 19(3), 372–398. https://doi.org/10.1080/10705511.2012.687671.

Chang, J. H., & Zhang, H. (2008). Analyzing online game players: From materialism and motivation to attitude. Cyberpsychology & Behavior: The Impact of the Internet, Multimedia and Virtual Reality on Behavior and Society, 11(6), 711–714. https://doi.org/10.1089/cpb.2007.0147.

Claes, L., Muller, A., & Luyckx, K. (2016). Compulsive buying and hoarding as identity substitutes: The role of materialistic value endorsement and depression. Comprehensive Psychiatry, 68, 65–71. https://doi.org/10.1016/j.comppsych.2016.04.005.

Costes, J. M., Eroukmanoff, V., Richard, J. B., & Tovar, M. L. (2015). Les jeux d'argent et de hasard en France en 2014. http://www.economie.gouv.fr/files/files/directions_services/observatoire-des-jeux/Note_6.pdf. Accessed Avril.

Costes, J. M., Pousset, M., Eroukmanoff, V., Le Nezet, O., Richard, J. B., Guignard, R., et al. (2011). Les niveaux et pratiques des jeux de hasard et d'argent en 2010. Tendances, 77, 1–8.

Dechant, K. (2014). Show me the money: Incorporating financial motives into the gambling motives questionnaire. Journal of Gambling Studies, 30(4), 949–965. https://doi.org/10.1007/s10899-013-9386-5.

Devos, G., Challet-Bouju, G., Burnay, J., Maurage, P., Grall-Bronnec, M., & Billieux, J. (2017). Adaptation and validation of the Gambling Motives Questionnaire-Financial (GMQ-F) in a sample of French-speaking gamblers. International Gambling Studies, 17(1), 87–101. https://doi.org/10.1080/14459795.2016.1264080.

Dittmar, H. (2005a). Compulsive buying—A growing concern? An examination of gender, age, and endorsement of materialistic values as predictors. British Journal of Psychology, 96, 467–491. https://doi.org/10.1348/000712605X53533.

Dittmar, H. (2005b). A new look at "Compulsive Buying": Self-discrepancies and materialistic values as predictors of compulsive buying tendency. Journal of Social and Clinical Psychology, 24(6), 832–859. https://doi.org/10.1521/jscp.2005.24.6.832.

Dunn, E. W., Gilbert, D. T., & Wilson, T. D. (2011). If money doesn't make you happy, then you probably aren't spending it right. Journal of Consumer Psychology, 21(2), 115–125. https://doi.org/10.1016/j.jcps.2011.02.002.

Ferris, J., & Wynne, H. (2001). L'indice canadien du jeu excessif: Rapport final (pp. 1–72). Centre canadien de lutte contre l'alcoolisme et les toxicomanies.

Grall-Bronnec, M., Sauvaget, A., Boutin, C., Bulteau, S., Jimenez-Murcia, S., Fernandez-Aranda, F., et al. (2017). Excessive trading, a gambling disorder in its own right? A case study on a French disordered gamblers cohort. Addictive Behaviors, 64, 340–348. https://doi.org/10.1016/j.addbeh.2015.12.006.

Guillou-Landreat, M., Guilleux, A., Sauvaget, A., Brisson, L., Leboucher, J., Remaud, M., et al. (2016). Factors associated with suicidal risk among a French cohort of problem gamblers seeking treatment. Psychiatry Research, 240, 11–18. https://doi.org/10.1016/j.psychres.2016.04.008.

Holm, S. (1979). A simple sequentially rejective multiple test procedure. Scandinavian Journal of Statistics, 6(2), 65–70.

Ladouceur, R. (2004). Gambling: The hidden addiction. Canadian Journal of Psychiatry, 49(8), 501–503. https://doi.org/10.1177/070674370404900801.

Lee, Y. K., Chang, C. T., Lin, Y., & Cheng, Z. H. (2014). The dark side of smartphone usage: Psychological traits, compulsive behavior and technostress. Computers in Human Behavior, 31, 373–383. https://doi.org/10.1016/j.chb.2013.10.047.

Liang, Y., Liu, L., Tan, X., Huang, Z., Dang, J., & Zheng, W. (2016). The effect of self-esteem on corrupt intention: The mediating role of materialism. Frontiers in Psychology, 7, 1063. https://doi.org/10.3389/fpsyg.2016.01063.

Malatest, R. A. L. (2014). The 2014 British Columbia problem gambling prevalence study. Report prepared for the Gambling Policy and Enforcement Branch. Ministry of Finance.

McGrath, D. S., & Thege, B. K. (2017). The categorical stability of gambling motives among community-recruited gamblers: A longitudinal assessment. Journal of Gambling Studies, 34, 21–38. https://doi.org/10.1007/s10899-017-9687-1.

Mick, D. G. (1996). Are studies of dark side variables confounded by socially desirable responding? The case of materialism. Journal of Consumer Research, 23(2), 106–119. https://doi.org/10.1086/209470.

Ministry of Health. (2012). Problem gambling in New Zealand. Preliminary findings from the New Zealand Health Survey (July 2011 to March 2012). https://www.health.govt.nz/system/files/documents/publications/problem-gambling-preliminary-findings.pdf.

Otero-Lopez, J. M., et al. (2011). Materialism, life-satisfaction and addictive buying: Examining the causal relationships. Personality and Individual Differences, 50(6), 772–776. https://doi.org/10.1016/j.paid.2010.12.027.

Otero-Lopez, J. M., & Villardefrancos, E. (2013). Five-factor model personality traits, materialism, and excessive buying: A mediational analysis. Personality and Individual Differences, 54(6), 767–772. https://doi.org/10.1016/j.paid.2012.12.013.

R Development Core Team. (2011). R: A language and environment for statistical computing. Vienna: R Foundation for Statistical Computing.

Raykov, T., & Marcoulides, G. A. (2006). A first course in structural equation modeling. Mahwah, NJ: Lawrence Erlbaum Associates.

Richins, M. L. (2004). The Material Values Scale: Measurement properties and development of a short form. Journal of Consumer Research, 31(1), 209–219. https://doi.org/10.1086/383436.

Richins, M. L., & Dawson, S. (1992). A consumer values orientation for materialism and its measurement: Scale development and validation. Journal of Consumer Research, 19(3), 303–316. https://doi.org/10.1086/209304.

Roberts, J. A., & Pirog, S. F., 3rd. (2013). A preliminary investigation of materialism and impulsiveness as predictors of technological addictions among young adults. Journal of Behavioral Addictions, 2(1), 56–62. https://doi.org/10.1556/JBA.1.2012.011.

Romild, U., Volberg, R., & Abbott, M. (2014). The Swedish Longitudinal Gambling Study (Swelogs): Design and methods of the epidemiological (EP-) track. International Journal of Methods in Psychiatric Research, 23(3), 372–386. https://doi.org/10.1002/mpr.1449.

Rose, P. (2007). Mediators of the association between narcissism and compulsive buying: the roles of materialism and impulse control. Psychology of Addictive Behaviors: Journal of the Society of Psychologists in Addictive Behaviors, 21(4), 576–581. https://doi.org/10.1037/0893-164X.21.4.576.

Rosenberg, M. (1965). Society and the adolescent self-image (Vol. 36). Princeton: Princeton University Press.

Rosseel, Y. (2012). lavaan: An R package for structural equation modeling. Journal of Statistical Software, 48(2), 1–36. https://doi.org/10.18637/jss.v048.i02.

Schermelleh-Engel, K., Moosbrugger, H., & Müller, H. (2003). Evaluating the fit of structural equation models: Tests of significance and descriptive goodness-of-fit measures. Methods of Psychological Research, 8(2), 23–74.

Sirgy, M. J. (1998). Materialism and quality of life. Social Indicators Research, 43(3), 227–260. https://doi.org/10.1023/a:1006820429653.

Social Research Centre. (2013). Gambling prevalence in South Australia (2012). Report prepared for the Office for Problem Gambling. Department for Communities and Social Inclusion.

Stewart, S. H., & Zack, M. (2008). Development and psychometric evaluation of a three-dimensional Gambling Motives Questionnaire. Addiction, 103(7), 1110–1117. https://doi.org/10.1111/j.1360-0443.2008.02235.x.

Vallieres, E. F., & Vallerand, R. J. (1990). Traduction et validation canadienne-française de l'échelle d'estime de soi de Rosenberg. International Journal of Psychology, 25(2), 305–316. https://doi.org/10.1080/00207599008247865.

Villardefrancos, E., & Otero-Lopez, J. M. (2016). Compulsive buying in university students: Its prevalence and relationships with materialism, psychological distress symptoms, and subjective well-being. Comprehensive Psychiatry, 65, 128–135. https://doi.org/10.1016/j.comppsych.2015.11.007.

Wardle, H., Moody, A., Spence, S., Orford, J., Volberg, R., Jotangia, D., et al. (2011). British Gambling Prevalence Survey 2010 (pp. 1–189). NatCen—National Centre for Social Research Gambling Commission.

Wulfert, E., Franco, C., Williams, K., Roland, B., & Maxson, J. H. (2008). The role of money in the excitement of gambling. Psychology of Addictive Behaviors, 22(3), 380–390. https://doi.org/10.1037/0893-164X.22.3.380.
Ethics declarations
Conflict of interest
The authors report no financial or other relationship relevant to the subject of this article. MGB, JL, EE, GCB declare that the Addictology and Psychiatry Department has received funding directly from the University Hospital of Nantes and gambling industry operators (FDJ and PMU). Scientific independence towards gambling industry operators is warranted. There were no constraints on publishing. AV, HM, MP declare that they have no conflicts of interest.
Ethics
The study was conducted in accordance with Good Clinical Practice Guidelines and the Declaration of Helsinki, with approval from the local ethics committee. Written informed consent was collected from all participants.
About this article
Cite this article
Eyzop, E., Vanier, A., Leboucher, J. et al. Materialism, Financial Motives and Gambling: Examination of an Unexplored Relationship. J Gambl Stud 35, 861–873 (2019). https://doi.org/10.1007/s10899-018-9807-6
Published:

Issue Date:

DOI: https://doi.org/10.1007/s10899-018-9807-6
Keywords