Abstract
Over 100 million people are estimated to take part in the NCAA Men's Basketball Tournament Championship bracket contests. However, relatively little is known about consumer behavior in skill-based gaming situations (e.g., sports betting). In two studies, we investigated the overestimation phenomenon in the "March Madness" context. In Study 1 (N = 81), we found that individuals who were allowed to make their own predictions were significantly more optimistic about their performance than individuals who did not make their own selections. In Study 2 (N = 197), all subjects participated in a mock competitive bracket pool. In line with the illusion of control theory, results showed that higher self-ratings of probability of winning significantly increased maximum willingness to wager but did not improve actual performance. Lastly, perceptions of high probability of winning significantly contributed to consumers' enjoyment and willingness to participate in a bracket pool in the future.
Access options
Buy single article
Instant access to the full article PDF.
USD 39.95
Price includes VAT (USA)
Tax calculation will be finalised during checkout.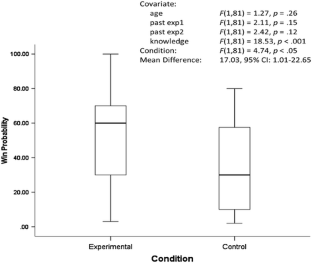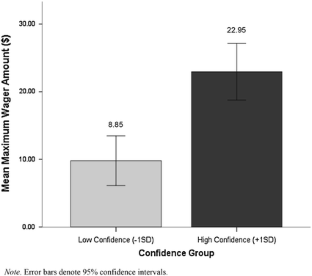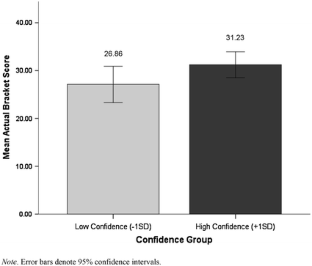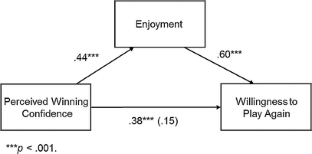 References
Allcock, C. (1987). An analysis of a successful racing system. In M. Walker (Ed.), Faces of gambling (pp. 181–187). Sydney: National Association for Gambling Studies.

Andersson, P., Edman, J., & Ekman, M. (2005). Predicting the World Cup 2002 in soccer: Performance and confidence of experts and non-experts. International Journal of Forecasting, 21(3), 565–576.

Ayeroff, F., & Abelson, R. P. (1976). ESP and ESB: Belief in personal success at mental telepathy. Journal of Personality and Social Psychology, 34(2), 240.

Burger, J. M., & Cooper, H. M. (1979). The desirability of control. Motivation and Emotion, 3(4), 381–393.

Cantinotti, M., Ladouceur, R., & Jacques, C. (2004). Sports betting: Can gamblers beat randomness? Psychology of Addictive Behaviors, 18(2), 143.

Chau, A. W., & Phillips, J. G. (1995). Effects of perceived control upon wagering and attributions in computer blackjack. The Journal of General Psychology, 122(3), 253–269.

Cowley, E. (2013). Forgetting the anxiety: Gambler's reactions to outcome uncertainty. Journal of Business Research, 66(9), 1591–1597.

Crupi, A. (2011, March 1). March Madness still one of the biggest sports franchises. Ad Week. Retrieved from http://www.adweek.com/news/television/march-madness-still-one-biggest-sports-franchises-1258890

d'Astous, A., & Gaspero, M. D. (2013). Explaining the performance of online sports bettors. International Gambling Studies, 13(3), 371–387.

deCharms, R. (1968). Personal causation. New York: Academic Press.

Dunn, D. S., & Wilson, T. D. (1990). When the stakes are high: A limit to the illusion-of-control effect. Social Cognition, 8(3), 305–323.

Dykstra, S. P., & Dollinger, S. J. (1990). Model competence, depression, and the illusion of control. Bulletin of the Psychonomic Society, 28(3), 235–238.

Elliot, A. J., & Harackiewicz, J. M. (1994). Goal setting, achievement orientation, and intrinsic motivation: A mediational analysis. Journal of Personality and Social Psychology, 66(5), 968–980.

Forrest, D., & Simmons, R. (2002). Outcome uncertainty and attendance demand in sport: The case of English soccer. Journal of the Royal Statistical Society: Series D (The Statistician), 51(2), 229–241.

Garbarino, E. C., & Edell, J. A. (1997). Cognitive effort, affect, and choice. Journal of Consumer Research, 24(2), 147–158.

Griffiths, M. (1995). Towards a risk factor model of fruit machine addiction: A brief note. Journal of Gambling Studies, 11(3), 343–346.

Gupta, R., & Derevensky, J. L. (1998). Adolescent gambling behavior: A prevalence study and examination of the correlates associated with problem gambling. Journal of Gambling Studies, 14(4), 319–345.

Hodgins, D. C., & Makarchuk, K. (2003). Trusting problem gamblers: Reliability and validity of self-reported gambling behavior. Psychology of Addictive Behaviors, 17(3), 244–248.

Jessop, A. (2014, January 17). The business of the bracket: How Vegas and businesses capitalize on March Madness. Forbes. Retrieved from http://www.forbes.com/sites/aliciajessop/2013/03/20/the-business-of-the-bracket-how-vegas-and-businesses-capitalize-on-march-madness/

Kahneman, D., & Tversky, A. (1973). On the psychology of prediction. Psychological Review, 80(4), 237.

Kelley, H. H. (1971). Attribution in social interaction. Morristown, NJ: General Learning Press.

Kwak, D. H., Lee, J. S., & Mahan, J. E, I. I. I. (2013). Ad-evoked illusory judgments in fantasy sports participation: Effects of customization level and expert information. Journal of Sport Management, 27(5), 393–406.

Kwak, D. H., Lim, C. H., Lee, W. Y., & Mahan, J, I. I. I. (2010). How confident are you to win your fantasy league: Exploring the antecedents and consequences of winning expectancy. Journal of Sport Management, 24(4), 416–433.

Ladouceur, R. (2004). Perceptions among pathological and nonpathological gamblers. Addictive Behaviors, 29(3), 555–565.

Ladouceur, R., Giroux, I., & Jacques, C. (1998). Winning on the horses: How much strategy and knowledge are needed? The Journal of Psychology, 132(2), 133–142.

Ladouceur, R., & Sévigny, S. (2005). Structural characteristics of video lotteries: Effects of a stopping device on illusion of control and gambling persistence. Journal of Gambling Studies, 21(2), 117–131.

Lam, D. (2007). An exploratory study of gambling motivations and their impact on the purchase frequencies of various gambling products. Psychology & Marketing, 24(9), 815–827.

Langer, E. J. (1975). The illusion of control. Journal of Personality and Social Psychology, 32(2), 311.

Lin, C. H., Hung, H. H., & Li, Y. H. (2012). How confidence and uncertainty affect consumers' enjoyment of gambling. Social Behavior and Personality: An International Journal, 40(3), 425–432.

Linn, A. (2013, March 21). Going for a perfect NCAA bracket? You're more likely to win Powerball. NBC News. Retrieved from http://www.nbcnews.com/business/careers/going-perfect-ncaa-bracket-youre-more-likely-win-powerball-f1C8981570

Mandel, N., & Nowlis, S. M. (2008). The effect of making a prediction about the outcome of a consumption experience on the enjoyment of that experience. Journal of Consumer Research, 35(1), 9–20.

Matute, H., & Blanco, F. (2014). Reducing the illusion of control when an action is followed by an undesired outcome. Psychonomic Bulletin & Review, 21, 1087–1093.

McCarthy, M. (2012, March 27). March Madness betting now tops Super Bowl. USA Today. Retrieved from http://content.usatoday.com/communities/gameon/post/2012/03/march-madness-betting-bigger-than-super-bowl-ncaa-las-vegas-nevada-ncaa-mens-final-four/1#.U5XB-vldV8E

McCrea, S. M., & Hirt, E. R. (2009). Match Madness: Probability matching in prediction of the NCAA Basketball Tournament. Journal of Applied Social Psychology, 39(12), 2809–2839.

Moore, S. M., & Ohtsuka, K. (1999). Beliefs about control over gambling among young people, and their relation to problem gambling. Psychology of Addictive Behaviors, 13(4), 339.

Neighbors, C., Lostutter, T. W., Cronce, J. M., & Larimer, M. E. (2002). Exploring college student gambling motivation. Journal of Gambling Studies, 18(4), 361–370.

Norton, M., Mochon, D., & Ariely, D. (2011). The 'IKEA effect': When labor leads to love. Harvard Business School Marketing Unit working paper, (11-091).

Nower, L., & Blaszczynski, A. (2010). Gambling motivations, money-limiting strategies, and precommitment preferences of problem versus non-problem gamblers. Journal of Gambling Studies, 26(3), 361–372.

Orgaz, C., Estévez, A., & Matute, H. (2013). Pathological gamblers are more vulnerable to the illusion of control in a standard associative learning task. Frontiers in Psychology, 4, 1–7.

Perugini, M., & Bagozzi, R. P. (2001). The role of desires and anticipated emotions in goal-directed behaviours: Broadening and deepening the theory of planned behaviour. British Journal of Social Psychology, 40(1), 79–98.

Preacher, K. J., & Hayes, A. F. (2004). SPSS and SAS procedures for estimating indirect effects in simple mediation models. Behavior Research Methods, Instruments, & Computers, 36(4), 717–731.

Presson, P. K., & Benassi, V. A. (1996). Illusion of control: A meta-analytic review. Journal of Social Behavior & Personality, 11(3), 493–510.

Puca, R. M., & Schmalt, H. D. (1999). Task enjoyment: A mediator between achievement motives and performance. Motivation and Emotion, 23(1), 15–29.

Rogers, P. (1998). The cognitive psychology of lottery gambling: A theoretical review. Journal of Gambling Studies, 14(2), 111–134.

Sierra, J. J., & Hyman, M. R. (2009). In search of value: A model of wagering intentions. The Journal of Marketing Theory and Practice, 17(3), 235–250.

Thompson, S. C., Armstrong, W., & Thomas, C. (1998). Illusions of control, underestimations, and accuracy: A control heuristic explanation. Psychological Bulletin, 123(2), 143–161.
Acknowledgments
This research was funded by the Office of Research at the University of Michigan. The author would like to thank Joon Sung Lee, for his help with data collection and coding.
About this article
Cite this article
Kwak, D.H. The Overestimation Phenomenon in a Skill-Based Gaming Context: The Case of March Madness Pools. J Gambl Stud 32, 107–123 (2016). https://doi.org/10.1007/s10899-015-9520-7
Keywords
Uncertainty

Skill-based gaming

Illusion of control

Enjoyment

Risk-taking