Abstract
Social scientists, governments, and the casino industry have all emphasized the need for casino patrons to "gamble responsibly." Strategies for responsible gambling include self-imposed time limits and loss limits on gambling. Such strategies help prevent people from losing more than they can afford and may help prevent excessive gambling behavior. Yet, loss limits also make it more likely that casino patrons leave when they are losing. Oddly, the literature makes no mention of "win limits" as a potential approach to responsible gambling. A win limit would be similar to a loss limit, except the gambler would leave the casino upon reaching a pre-set level of winnings. We anticipate that a self-imposed win limit will reduce the gambler's average loss and, by default, also reduce the casino's profit. We test the effect of a self-imposed win limit by running slot machine simulations in which the treatment group of players has self-imposed and self-enforced win and loss limits, while the control group has a self-imposed loss limit or no limit. We find that the results conform to our expectations: the win limit results in improved player performance and reduced casino profits. Additional research is needed, however, to determine whether win limits could be a useful component of a responsible gambling strategy.
Access options
Buy single article
Instant access to the full article PDF.
USD 39.95
Price includes VAT (USA)
Tax calculation will be finalised during checkout.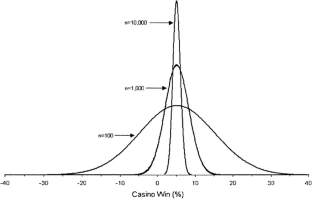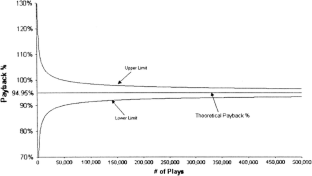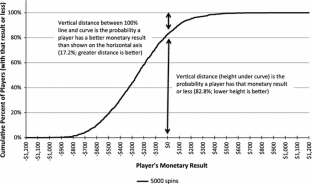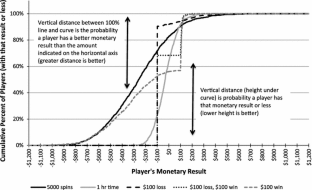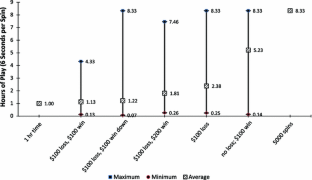 Notes
1.

The terminology used to describe gambling problems has changed over time. The current term is "disordered gambling" (Petry et al. 2013). A detailed description of the disorder and how different terms relate to severity is beyond the scope of this paper.

2.

The casino industry prefers to use the term "gaming." We tend to use the terms gambling and gaming interchangeably.

3.

The AGA is the US commercial casino industry's lobbying organization. It spends a significant amount of money lobbying politicians (Walker and Calcagno 2013).

4.

5.

6.

Research in this area is called "prospect theory," and goes back to Kahneman and Tversky (1979).

7.

One potential problem with studies of online gamblers is that it cannot be known whether gamblers simply move to other websites to continue gambling.

8.

For an accessible discussion of the statistics relevant for analyzing casino games, see Hannum and Cabot (2005).

9.

It should be noted that the typical casino player who brings $100 to the casino may end up betting much more than $100 over the course of an evening. This is because as the player wins, the winnings are often put at risk in subsequent bets. In our earlier example of a casino visit, it is possible that over the course of an evening, the patron could have bet thousands of dollars, even though he ended up losing only $500 to the casino.

10.

That is, the casino profits strictly from the casino games. If labor or other operating costs are exorbitant and more than offset the casino's profits from the games themselves, then the overall casino operation could be unprofitable. Obviously, some casinos have not been successful, despite the statistics of their business.

11.

We recognize that the figure shows percentages on the horizontal axis. However, the reader can simply imagine the horizontal axis being shown in a monetary scale; the fundamental point here does not depend on the scale for the horizontal axis.

12.

Of course, the typical gambler probably does not make uniform bets. However, we hold this variable constant to isolate the effect of betting limits on outcomes.

13.

The extent to which gamblers adhere to pre-commitments on gambling under different betting limits is an interesting topic, which could be addressed in an experimental study. However, it is beyond the scope of this paper.

14.

However, as suggested by Fig. 2, only when the player makes thousands of spins will their probability distribution collapse tightly around the expected value of −5 %.

15.

This issue is addressed in the next section.

16.

The minimum result in scenario 3 is −$100 because the player can lose at most $1 per play. The maximum result can be over $100 even with the $100 win limit because the player can win $20, $45, or $160 on a single spin. Therefore, the minimum number of plays (78) for simulation 4 occurs because a person won a jackpot and that pushed his total winnings over $100.

17.

There is a very small probability that a player will break-even.

18.

In our simulations, E[W] = − 30t, since the expected value of each $1 spin is −5 %, and we assume there are 600 spins per hour. For the discussion here, we leave E[W] in general terms. If E[W] is −30t and casino patrons know that the house edge is 5 %, then we would expect their VH must be at least $30 per hour; otherwise, they would not sit down to gamble.

19.

We ranked each of the "strategies" (i.e., simulations) based on VT given different values of VH. The full results are omitted for brevity, but they are available from the authors upon request.

20.

Some economists argue that addicts still benefit from the consumption of the addictive good. This controversial argument is based on the theory of rational addiction (Becker and Murphy 1988), which suggests that past consumption reinforces future consumption.

21.

The paper by Thaler and Johnson (1990) examines how people behave differently when playing with "house money". One potentially interesting area of study would be the time frame over which house money transforms into "own money" in one's mental accounting.
References
Adams, P. J., Raeburn, J., & Silva, K. D. (2009). A question of balance: Prioritizing public health responses to harm from gambling. Addiction, 104(5), 688–691.

American Gaming Association. (2008). Responsible gaming statutes and regulations (3rd ed.). Washington, DC: Author.

Auer, M., & Griffiths, M. D. (2013). Voluntary limit setting and player choice in most intense online gamblers: An empirical study of gambling behavior. Journal of Gambling Studies, 29, 647–660. doi:10.1007/s10899-012-9332-y.

Becker, G. S., & Murphy, K. M. (1988). A theory of rational addiction. Journal of Political Economy, 96(4), 675–700.

Blaszczynski, A., Gainsbury, S., & Karlov, L. (2013). Blue Gum gaming machine: An evaluation of responsible gambling features. Journal of Gambling Studies. Advance online publication. doi:10.1007/s10899-013-9378-5.

Blaszczynski, A., Ladouceur, R., & Shaffer, H. J. (2004). A science-based framework for responsible gambling: The Reno model. Journal of Gambling Studies, 20, 301–317. doi:10.1023/B:JOGS.0000040281.49444.

Broda, A., LaPlante, D. A., Nelson, S. E., LaBrie, R. A., Bosworth, L. B., & Shaffer, H. J. (2008). Virtual harm reduction efforts for internet gambling: Effects of deposit limits on actual internet sports gambling behavior. Harm Reduction Journal, 5, 27–36. doi:10.1186/1477-7517-5-27.

Cantinotti, M., & Ladouceur, R. (2008). Harm reduction and electronic gambling machines: Does this pair make a happy couple or is divorce foreseen? Journal of Gambling Studies, 24, 39–54. doi:10.1007/s10899-007-9072-6.

Corporate Research Associates. (2006). Video lottery program changes Nova Scotia: Impact analysis. Retrieved from http://www.gamingns.ca/images/uploads/VLTimpactanalysisreport.pdf.

Currie, S. R., Hodgins, D. C., Wang, J., el-Guebaly, N., & Wynne, H. (2008). In pursuit of empirically based responsible gambling limits. International Gambling Studies, 8, 207–227. doi:10.1080/14459790802172265.

Derevensky, J. L., Gupta, R., Dickson, L., & Deguire, A.-E. (2004). Prevention efforts toward reducing gambling problems. In J. L. Derevensky & R. Gupta (Eds.), Gambling problems in youth (pp. 211–230). New York, NY: Springer.

Friedman, M., & Savage, L. J. (1948). The utility analysis of choices involving risk. Journal of Political Economy, 56(4), 279–304.

Griffiths, M. D., Wood, R. T. A., & Parke, J. (2009). Social responsibility tools in online gambling: A survey of attitudes and behavior among Internet gamblers. CyberPsychology & Behavior, 12, 413–421. doi:10.1089/cpb.2009.0062

Hannum, R. C., & Cabot, A. N. (2005). Practical casino math (2nd ed.). Las Vegas, NV: Trace Publications.

Kahneman, D., & Tversky, A. (1979). Prospect theory: An analysis of decision under risk. Econometrica, 47(2), 263–291.

Korn, D. A., & Shaffer, H. J. (1999). Gambling and the health of the public: Adopting a public health perspective. Journal of Gambling Studies, 15, 289–365. doi:10.1023/A:1023005115932.

Ladouceur, R., Blaszczynski, A., & Lalande, D. R. (2012). Pre-commitment in gambling: A review of the empirical evidence. International Gambling Studies, 12, 215–230. doi:10.1080/14459795.2012.658078.

Ladouceur, R., & Sévigny, S. (2009). Electronic gambling machines: Influence of a clock, a cash display, and a precommitment on gambling time. Journal of Gambling Issues, 23, 23–41. doi:10.4309/jgi.2009.23.2.

Lalande, D. R., & Ladouceur, R. (2011). Can cybernetics inspire gambling research? A limit-based conceptualization. International Gambling Studies, 11, 237–252. doi:10.1080/14459795.2011.598540.

Lund, I. (2009). Gambling behavior and the prevalence of gambling problems in adult EGM gamblers when EGMs are banned. A natural experiment. Journal of Gambling Studies, 25, 215–225. doi:10.1007/s10899-009-9127-y.

Maremont, M., & Berzon, A. (2013, October 11). How often do gamblers really win? New data provides some answers on the real odds for gambling, Wall Street Journal (online, wsj.com).

Moore, S. M., Thomas, A. C., Kyrios, M., & Bates, G. (2012). The self-regulation of gambling. Journal of Gambling Studies, 28, 405–420. doi:10.1007/s10899-011-9265-x.

Nelson, S. E., LaPlante, D. A., Peller, A. J., Schumann, A., LaBrie, R. A., & Shaffer, H. J. (2008). Real limits in the virtual world: Self-limiting behavior of internet gamblers. Journal of Gambling Studies, 24, 463–477. doi:10.1007/s10899-008-9106-8.

Orford, J., Wardle, H., & Griffiths, M. (2013). What proportion of gambling is problem gambling? Estimates from the 2010 British Gambling Prevalence Survey. International Gambling Studies, 13, 4–18. doi:10.1080/14459795.2012.689001.

Petry, N. M., Blanco, C., Auriacombe, M., Borges, G., Bucholz, K., Crowley, T. J., et al. (2013). An overview of an rationale for changes proposed for pathological gambling in DSM-5. Journal of Gambling Studies. Advance online publication. doi:10.1007/s10899-013-9370-0.

Responsible Gambling Trust. (2013). Corporate social responsibility. Retrieved from: http://www.responsiblegamblingtrust.org.uk/corporatesocialresponsibility.html.

Schneider, M. E. (2004). The everything casino gambling book: Feel confident, have fun, and win big! (2nd ed.). Avon, MA: Adams Media.

Schottler Consutling. (2010). Major findings and implications: Player tracking and pre-commitment trial: A program and outcome evaluation of the PlaySmart precommitment system. Retrieved from http://www.treasury.sa.gov.au/data/assets/pdf_file/0016/2158/PlaySmart.pdf.

Shaffer, H., Martin, R., Kleschinsky, J., & Neporent, L. (2012). Change your gambling, change your life. San Francisco, CA: Jossey-Bass.

St-Pierre, R. A., Walker, D. M., Derevensky, J., & Gupta, R. (in press). How availability and accessibility of gambling venues influence problem gambling: A review of the literature. Gaming Law Review and Economics, 18(1) (Forthcoming).

Thaler, R. H., & Johnson, E. J. (1990). Gambling with the house money and trying to break even: The effects of prior outcomes on risky choice. Management Science, 36(6), 643–660.

Walker, D. M., & Calcagno, P. T. (2013). Casinos and political corruption in the United States: A Granger causality analysis. Applied Economics, 45, 4781–4795. doi:10.1080/00036846.2013.804171.

Williams, R. J., West, B. L., & Simpson, R. I. (2007). Prevention of problem gambling: A comprehensive review of the evidence. Guelph, ON: Ontario Problem Gambling Research Centre.

Wohl, M. J. A., Gainsbury, S., Stewart, M. J., & Sztainert, T. (2013). Facilitating responsible gambling: The relative effectiveness of education-based animation and monetary limit setting pop-up messages among electronic gaming machine players. Journal of Gambling Studies, 29, 703–717. doi:10.1007/s10899-012-9340-y.

Wood, R. T. A., Shorter, G. W., & Griffiths, M. D. (2014). Rating the suitability of responsible gambling features for specific game types: A resource for optimizing responsible gambling strategy. International Journal of Mental Health and Addiction, 12, 94–112. doi:10.1007/s11469-013-9473-y.
Acknowledgments
We are grateful to Jeffrey Derevensky, Ph.D. for helpful comments and suggestions.
About this article
Cite this article
Walker, D.M., Litvin, S.W., Sobel, R.S. et al. Setting Win Limits: An Alternative Approach to "Responsible Gambling"?. J Gambl Stud 31, 965–986 (2015). https://doi.org/10.1007/s10899-014-9453-6
Keywords
Responsible gambling

Loss limits

Win limits

Mental accounting