Abstract
Homelessness and problem gambling are two public health concerns in the UK that are rarely considered concurrently, and little is known about the extent of gambling involvement and problematic gambling in the homeless. We recruited 456 individuals attending homelessness services in London, UK. All participants completed a screen for gambling involvement, and where gambling involvement was endorsed, the Problem Gambling Severity Index (PGSI) was administered. The PGSI risk categories were compared against data from the 2010 British Gambling Prevalence Survey (BGPS). PGSI problem gambling was indicated in 11.6 % of the homeless population, compared to 0.7 % in the BGPS. Of participants endorsing any PGSI symptoms, a higher proportion of homeless participants were problem gamblers relative to the low and moderate risk groups, compared to the BGPS data. These results confirm that the homeless constitute a vulnerable population for problem gambling, and that diagnostic tools for gambling involvement should be integrated into homelessness services in the UK.
Access options
Buy single article
Instant access to the full article PDF.
US$ 39.95
Tax calculation will be finalised during checkout.
Subscribe to journal
Immediate online access to all issues from 2019. Subscription will auto renew annually.
US$ 79
Tax calculation will be finalised during checkout.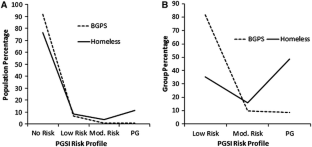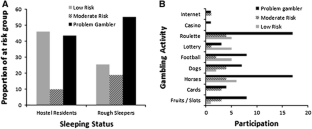 References
American Psychiatric Association. (1994). Diagnostic and statistical manual of mental disorders (4th ed.). Washington, DC: American Psychiatric Association.

American Psychiatric Association. (2013). Diagnostic and statistical manual of mental disorders (5th ed.). Arlington, VA: American Psychiatric Publishing.

Bondolfi, G., Osiek, C., & Ferrero, F. (2008). Prevalence estimates of pathological gambling in Switzerland. Acta Psychiatrica Scandinavica, 117, 236–239.

Cox, B., Yu, N., Afiffi, T., & Ladouceur, R. A. (2005). National survey of gambling problems in Canada. Canadian Journal of Psychiatry, 50, 213–217.

Crane, M., Byrne, K., Fu, R., Lipmann, B., Mirabelli, F., Rota-Bartelink, A., et al. (2005). The causes of homelessness in later life: Findings from a 3-nation study. Journal of Gerontology Social Sciences, 60B(3), S152–S159.

Currie, S. R., Casey, D. M., & Hodgins, D. C. (2010). Improving the psychometric properties of the problem gambling severity index. Report submitted to the Interprovincial Problem Gambling Research Consortium. Retrieved from http://www.ccgr.ca/wp-content/uploads/2013/03/Improving-the-Psychometric-Properties-of-the-Problem-Gambling-Severity-Index.pdf.

Ferris, J., & Wynne, H. (2001). The Canadian Problem Gambling Index user manual. Report to the Canadian inter-provincial task force on problem gambling. Canada: The Canadian Centre on Substance Abuse.

Holdsworth, L., & Tiyce, M. (2012). Exploring the hidden nature of gambling problems among people who are homeless. Australian Social Work, 65(4), 474–489.

Homelessness Statistics. Department for Communities and Local Government. Retrieved Aug 7th, 2013 from https://www.gov.uk/government/organisations/department-for-communities-and-local-government/series/homelessness-statistics.

Lepage, C., Ladouceur, R., & Jacques, C. (2000). Prevalence of problem gambling among community service users. Community Mental Health Journal, 36(6), 597–601.

Lesieur, H., & Blume, S. (1987). The South oaks gambling screen (SOGS): A new instrument for the identification of pathological gamblers. American Journal of Psychiatry, 144, 1184–1188.

Nower, L., Eyrich-Garg, K. M., Pollio, D. E., & North, C. S. (2014). Problem gambling and homelessness: Results from an epidemiologic study. Journal of Gambling Studies, 1–13.

Petry, N. M., Stinson, F. S., & Grant, B. F. (2005). Comorbidity of DSM-IV pathological gambling and other psychiatric disorders: Results from the national epidemiologic survey on alcohol and related conditions. Journal of Clinical Psychiatry, 66(5), 564–574.

Sadler, M. A. (2000). Escaping poverty: Risk-taking and endogenous inequality in a model of equilibrium growth. Review of Economic Dynamics, 3(4), 704–725.

Scott, J. (1993). Homelessness and mental illness. The British Journal of Psychiatry, 162(3), 314–324.

Shaffer, H. J., Freed, C. R., & Healea, D. (2002). Gambling disorders among homeless persons with substance use disorders seeking treatment at a community centre. Psychiatric Services, 53(9), 1112–1117.

Shaffer, H. J., Hall, M. N., & Vander Bilt, J. (1999). Estimating the prevalence of disordered gambling behaviour in the United States and Canada: A research synthesis. American Journal of Public Health, 89(9), 1369–1376.

Shaffer, H. J., LaBrie, R., Scanlan, K. M., et al. (1994). Pathological gambling among adolescents: Massachusetts gambling screen (MAGS). Journal of Gambling Studies, 10, 339–362.

Street to Home Annual Report, 1st April 2011–31st March 2012. (2012). Retrieved Aug 7th, 2013, from http://www.broadwaylondon.org/CHAIN/Reports/S2H_201112.pdf.

Sumerlin, J. R. (1995). Adaptation to homelessness: Self-actualization, loneliness, and depression in street homeless men. Psychological Reports, 77(1), 295–314.

van Laere, I. R., de Wit, M. A., & Klazinga, N. S. (2009). Pathways into homelessness: Recently homeless adults problems and service use before and after becoming homeless in Amsterdam. BMC Public Health, 9, 3.

Wardle, H., Moody, A., Spence, S., Orford, J., Volberg, R., Jotangia, D., et al. (2010). British Gambling Prevalence Survey 2010. London (UK): National Centre for Social Research.

Welte, J., Barnes, G., Wieczorek, W., Tidewell, M., & Parker, J. (2001). Alcohol and gambling pathology among US adults: Prevalence, demographics patterns and comorbidity. Journal of Studies on Alcohol, 62, 706–712.

Wincup, E., Buckland, G., & Bayliss, R. (2003). Youth homelessness and substance use: Report to the drugs and alcohol research unit. London: Home Office.
Conflict of interest
The authors declare that there is no conflict of interest in this study.
About this article
Cite this article
Sharman, S., Dreyer, J., Aitken, M. et al. Rates of Problematic Gambling in a British Homeless Sample: A Preliminary Study. J Gambl Stud 31, 525–532 (2015). https://doi.org/10.1007/s10899-014-9444-7
Keywords
Problem gambling

Homelessness

Prevalence

UK

London