Abstract
In a sample of normal volunteers, response perseveration (RP) on a computerised gambling task, the card perseveration task, was examined under two conditions: No pause (Standard task) and a 5-s pause (Pause task) following feedback from previous bet. Behavioural outcomes comprised number of cards played (and cash won/lost) and latency of response. Individual differences in these outcomes were conceptualised in terms of the reinforcement sensitivity theory of personality. Results showed that, on the Standard task only, sub-scales of the Carver and White (J Pers Social Psychol 67:319–333, 1994) Behavioural Approach System scale positively correlated with number of cards played and amount of money lost (indicative of impaired RP), but these associations were abolished with the imposition of a 5-s pause between feedback and the opportunity to make the next bet—this pause also had an overall main effect of improving RP and reducing losses. As related research shows that such a pause normalises the RP deficit seen in pathological gamblers, these findings hold potentially valuable implications for informing practice in the prevention and treatment of pathological gambling, and point to the role played by individual differences in approach motivation.
This is a preview of subscription content, log in to check access.
Access options
Buy single article
Instant access to the full article PDF.
US$ 39.95
Price includes VAT for USA
Subscribe to journal
Immediate online access to all issues from 2019. Subscription will auto renew annually.
US$ 99
This is the net price. Taxes to be calculated in checkout.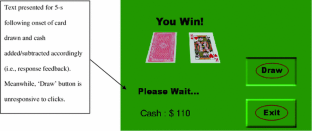 References
American Psychiatric Association. (1994). Diagnostic and statistical manual of mental disorders (4th ed.). Washington, DC: American Psychiatric Press.

Campbell-Sills, L., Liverant, G. I., & Brown, T. A. (2004). Psychometric evaluation of the behavioral inhibition/behavioral activation scales in a large sample of outpatients with anxiety and mood disorders. Psychological Assessment, 16, 244–254.

Carver, C. S., & White, T. (1994). Behavioural inhibition, behavioural activation, and affective responses to impending reward and punishment: The BIS/BAS scales. Journal of Personality and Social Psychology, 67, 319–333.

Corr, P. J. (2008). Reinforcement sensitivity theory (RST): Introduction. In P. J. Corr (Ed.), The reinforcement sensitivity theory of personality (pp. 1–43). Cambridge: Cambridge University Press.

Corr, P. J., & McNaughton, N. (2012). Neuroscience and approach/avoidance personality traits: A two stage (valuation–motivation) approach. Neuroscience and Biobehavioral Reviews, 36, 2339–2354.

Gambling Act. (2005). London: The Stationary Office. http://www.legislation.gov.uk/ukpga/2005/19/contents.

Goudriaan, A. E., Oosterlaan, J., de Beurs, E., & van den Brink, W. (2005). Decision making in pathological gambling: A comparison between pathological gamblers, alcohol dependents, persons with Tourette syndrome and normal controls. Cognitive Brain Research, 23, 137–151.

Lesieur, H. R., & Blume, S. B. (1987). The South Oaks Gambling Screen (SOGS): A new instrument for the identification of pathological gamblers. American Journal of Psychiatry, 144, 1184–1188.

McCormick, R. A. (1993). Disinhibition and negative affectivity in substance abusers with and without a gambling problem. Addictive Behaviours, 18, 331–336.

McNaughton, N., & Corr, P. J. (2009). Central theories of motivation and emotion. In G. G. Berntson & J. T. Cacioppo (Eds.), Handbook of neuroscience for the behavioural sciences (pp. 710–730). London: Wiley.

Newman, J. P., & Lorenz, A. (2003). Response modulation and emotion processing: Implications for psychopathy and other dysregulatory psychopathology. In R. J. Davidson, K. Scherer, & H. H. Goldsmith (Eds.), Handbook of affective sciences (pp. 1043–1067). Oxford: Oxford University Press.

Newman, J. P., Patterson, C. M., & Kosson, D. S. (1987). Response perseveration in psychopaths. Journal of Abnormal Psychology, 96, 145–148.

Newman, J. P., & Wallace, J. F. (1993). Diverse pathways to deficient self-regulation: Implications for disinhibitory psychopathology in children. Clinical Psychology Review, 13, 699–720.

Patterson, C. M., Kosson, D. S., & Newman, J. P. (1987). Reaction to punishment, reflectivity, and passive avoidance learning in extraverts. Journal of Personality and Social Psychology, 52, 565–567.

Stinchfield, R. (2002). Reliability, validity, and classification accuracy of the South Oaks Gambling Screen (SOGS). Addictive Behaviors, 27, 1–19.

Thompson, S., & Corr, P. J. (2013). A feedback-response pause normalises response perseveration deficits in pathological gamblers. International Journal of Mental Health and Addiction, advance online publication. doi:10.1007/s11469-013-9440-7.

Vitaro, F., Arseneault, L., & Tremblay, R. E. (1999). Impulsivity predicts problem gambling in low SES adolescent males. Addiction, 94, 565–575.

Wardle, H., Moody, A., Spence, S., Orford, J., Volberg, R., Jotangia, D., et al. (2011). British gambling prevalence survey 2010. London: The Stationary Office.
About this article
Cite this article
Corr, P.J., Thompson, S.J. Pause for Thought: Response Perseveration and Personality in Gambling. J Gambl Stud 30, 889–900 (2014). https://doi.org/10.1007/s10899-013-9395-4
Keywords
Response perseveration

Pause

Personality

Behavioural Approach System

Gambling

Internet

Reinforcement sensitivity theory