Abstract
Social responsibility in gambling has become a major issue for the gaming industry. The possibility for online gamblers to set voluntary time and money limits are a social responsibility practice that is now widespread among online gaming operators. The main issue concerns whether the voluntary setting of such limits has any positive impact on subsequent gambling behaviour and whether such measures are of help to problem gamblers. In this paper, this issue is examined through data collected from a representative random sample of 100,000 players who gambled on the win2day gambling website. When opening an account at the win2day site, there is a mandatory requirement for all players to set time and cash-in limits (that cannot exceed 800 € per week). During a 3-month period, all voluntary time and/or money limit setting behaviour by a subsample of online gamblers (n = 5,000) within this mandatory framework was tracked and recorded for subsequent data analysis. From the 5,000 gamblers, the 10 % most intense players (as measured by theoretical loss) were further investigated. Voluntary spending limits had the highest significant effect on subsequent monetary spending among casino and lottery gamblers. Monetary spending among poker players significantly decreased after setting a voluntary time limit. The highest significant decrease in playing duration was among poker players after setting a voluntary playing duration limit. The results of the study demonstrated that voluntary limit setting had a specific and significant effect on the studied gamblers. Therefore, voluntary limits appear to show an appropriate effect in the desired target group (i.e., the most gaming intense players).
Access options
Buy single article
Instant access to the full article PDF.
US$ 39.95
Tax calculation will be finalised during checkout.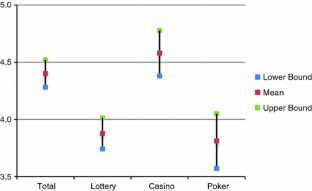 References
Auer, M., & Griffiths, M. D. (2012). Theoretical loss and gambling intensity: A simulation study. Gaming Law Review and Economics, 16, 269–273.

Bernhard, B. J., Lucas, A. F., & Jang, D. (2006). Responsible gaming device research report. Paradise: University of Nevada, Las Vegas International Gaming Institute.

Broda, A., LaPlante, D. A., Nelson, S. E., LaBrie, R. A., Bosworth, L. B., & Shaffer, H. J. (2008). Virtual harm reduction efforts for internet gambling: Effects of deposit limits on actual internet sports gambling behaviour. Harm Reduction Journal, 5, 27.

Currie, S. R., Hodgins, D. C., Wang, J., el-Guebaly, N., & Wynne, H. (2008a). In pursuit of empirically based responsible gambling limits. International Gambling Studies, 8, 207–227.

Currie, S. R., Hodgins, D. C., Wang, J., el-Guebaly, N., Wynne, H., & Miller, N. V. (2008b). Replication of low-risk gambling limits using Canadian provincial gambling prevalence data. Journal of Gambling Studies, 24, 321–335.

Currie, S. R., Hodgins, D. C., Casey, D. M., el-Guebaly, N., Smith, G. J., Williams, R. J., et al. (2011). Examining the predictive validity of low-risk gambling limits with longitudinal data. Addiction, 107, 400–406.

DiClemente, C. C., Prochaska, J. O., Fairhurst, S. K., Velicer, W. F., Velasquez, M. M., & Rossi, J. S. (1991). The process of smoking cessation: An analysis of precontemplation, contemplation, and preparation stages of change. Journal of Consulting and Clinical Psychology, 59, 295–304.

Focal Research Consultants. (2007). Assessment of the behavioural impact of the responsible gaming device (RGD) features: Analysis of Nova Scotia player-card data. The Windsor trial. Report prepared for the Nova Scotia Gaming Corporation.

Griffiths, M. D., & Auer, M. (2011). Approaches to understanding online versus offline gaming impacts. Casino and Gaming International, 7(3), 45–48.

Griffiths, M. D., & Wood, R. T. A. (2008). Responsible gaming and best practice: How can academics help? Casino and Gaming International, 4(1), 107–112.

Griffiths, M. D., Wood, R. T. A., Parke, J., & Parke, A. (2007). Gaming research and best practice: Gaming industry, social responsibility and academia. Casino and Gaming International, 3(3), 97–103.

Griffiths, M. D., Wood, R. T. A., & Parke, J. (2009). Social responsibility tools in online gambling: A survey of attitudes and behaviour among internet gamblers. CyberPsychology and Behavior, 12, 413–421.

International Gaming Research Unit. (2007). The global online gambling report: An exploratory investigation into the attitudes and behaviours of internet casino and poker players. UK: eCOGRA (e-Commerce and Online Gaming Regulation and Assurance).

Meyer, G., Hayer, T., & Griffiths, M. D. (2009). Problem gaming in Europe: Challenges, prevention, and interventions. New York: Springer.

Monaghan, S. M., & Blaszczynski, A. (2010). Electronic gaming machine warning messages: Information versus self-evaluation. Journal of Psychology: Interdisciplinary and Applied, 144, 83–96.

Parke, J., & Griffiths, M. D. (2006). The psychology of the fruit machine: The role of structural characteristics (revisited). International Journal of Mental Health and Addiction, 4, 151–179.

Parke, J., & Griffiths, M. D. (2007). The role of structural characteristics in gambling. In G. Smith, D. Hodgins, & R. Williams (Eds.), Research and measurement issues in gambling studies (pp. 211–243). New York: Elsevier.

Parke, A., & Griffiths, M. D. (2012). Beyond illusion of control: An interpretative phenomenological analysis of gambling in the context of information technology. Addiction Research and Theory, 20, 250–260.

Prochaska, J. O. P., & Prochaska, J. M. (1991). Why don't people change? Why don't continents move? Journal of Pyschotherapy Integration, 9, 83–102.

Smeaton, M., & Griffiths, M. D. (2004). Internet gambling and social responsibility: An exploratory study. CyberPsychology and Behavior, 7, 49–57.

Wood, R. T. A., & Griffiths, M. D. (2010). Social responsibility in online gambling: Voluntary limit setting. World Online Gambling Law Report, 9(11), 10–11.
About this article
Cite this article
Auer, M., Griffiths, M.D. Voluntary Limit Setting and Player Choice in Most Intense Online Gamblers: An Empirical Study of Gambling Behaviour. J Gambl Stud 29, 647–660 (2013). https://doi.org/10.1007/s10899-012-9332-y
Keywords
Online gambling

Responsible gambling

Social responsibility in gambling

Limit setting

Online lotteries

Online poker

Online casinos