Abstract
Traffic police faces the problem of enforcing speed limits under restricted budget. Implementing high Enforcement Thresholds (ET) will ease the workload on the police but will also intensify the problem of speeding. We model this as a game between the police, which wish that drivers obey the speed limits and the drivers who wish to speed without getting caught. For the police we construct a multi-stage strategy in which at each stage the ET is randomized between low and high values. This confuses the drivers who now need to consider the worst case of low ET. We establish analytically and by simulations that this strategy gradually reduces the ET until it converges to the desired speed limit without increasing the workload along the process. Importantly, this method works even if the strategy is known to the drivers. We study the effect of several factors on the convergence rate of the process. Interestingly, we find that increasing the frequency of randomization is more effective in expediting the process than raising the average amount of fines.
This is a preview of subscription content,
to check access.
Access this article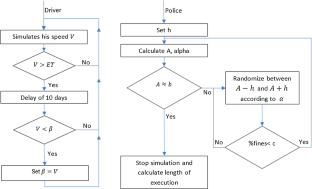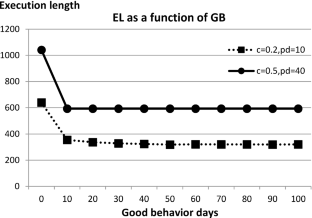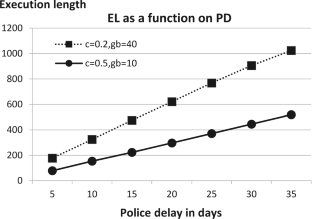 Notes
The police may wish to avoid sanctions when the speed is too close to the speed limit. In this case b refers to the minimal value that the police consider for implementation.

Later we show that for "reasonable" (i.e. not too large) h,  the process is bounded from below by b.
References
Alpcan, T.: A framework for optimization under limited information. J. Glob. Optim. 55, 681–706 (2013)

Aarts, L., van Schagen, I.: Driving speed and the risk of road crashes: a review. Accid. Anal. Prev. 38, 215224 (2006)

De Pauw, E., Daniels, S., Brijs, T., Hermans, E., Wets, G.: An evaluation of the traffic safety effect of fixed speed cameras. Saf. Sci. 62, 168174 (2014)

Dreyfuss, M., Sher, M.: Policies to reduce road accidents using enforcement cameras (2017). http://homedir.jct.ac.il/dreyfuss/myresearch/Papers/Policiestoreduceroadaccidentsusingenforcementcameras.pdf, Working paper

Elvik, R.: Speed limits, enforcement, and health consequences. Annu. Rev. Public Health 33, 22538 (2012)

Elvik, R.: A re-parameterisation of the power model of the relationship between the speed of traffic and the number of accidents and accident victims. Accid. Anal. Prev. 50, 854860 (2013)

Elvik, R.: Speed enforcement in Norway: testing a game-theoretic model of the interaction between drivers and the police. Accid. Anal. Prev. 84, 128133 (2015)

ETSC (European Transport Safety Council).: Police enforcement strategies to reduce traffic casualties in Europe, Brussels (May 1999)

Foulds, L.R., Duarte, D.C.S., do Nascimento, H.A.D., Longo, H.J., Hall, B.R.: Turning restriction design in traffic networks with a budget constraint. J. Glob. Optim. 60, 351–371 (2014)

Giat, Y.: The effects of output growth on preventive investment policy. Am. J. Oper. Res. 3(06), 474 (2013)

Giat, Y., Hackman, S.T., Subramanian, A.: Investment under uncertainty, heterogeneous beliefs, and agency conflicts. Rev. Financ. Stud. 23(4), 1360–1404 (2009)

Liu, J., Martinez, L., Ruan, D., Rodriguez, R., Calzada, A.: Optimization algorithm for learning consistent belief rule-base from examples. J. Glob. Optim. 51, 255–270 (2011)

Nowik, I., Zamir, S.: The game for the speed of convergence in repeated games with incomplete information. Int. J. Game Theory 31, 203–222 (2002)

Wang, L., An, L., Pi, J., Fei, M., Pardalos, P.M.: A divers human learning optimization algorithm. J. Glob. Optim. 67, 283–323 (2017)

Wijers, P.J.: Automated enforcement, get it right, make it safe. In: 16th Road Safety on Four Continents Conference, pp. 15–17. Beijing, China (2013)

WHO (World Health Organization).: Road traffic injuries. Fact sheet N358 (May 2016)
About this article
Cite this article
Dreyfuss, M., Nowik, I. A puzzled driver is a better driver: enforcing speed limits using a randomization strategy. J Glob Optim 76, 645–660 (2020). https://doi.org/10.1007/s10898-018-0700-8
Received:

Accepted:

Published:

Issue Date:

DOI: https://doi.org/10.1007/s10898-018-0700-8
Keywords