Abstract
Variant interpretation is a complex process, and classification may vary between sources. This study aimed to determine the practice of cancer genetic counselors regarding discrepancies in variant interpretation and to identify concerns when counseling these discrepancies. An electronic survey was sent to genetic counselors in the NSGC Cancer Special Interest Group. The vast majority of counselors (93%) had seen a variant interpretation discrepancy in practice. A large majority (96%) of respondents indicated that they conducted their own research on reported variants. Most respondents cited variant databases as the most common resource utilized in researching variants. Approximately 33% of counselors spent 45 min or more of extra time researching a discrepancy compared to researching a variant with a single classification. When asked how they approached counseling sessions involving variant interpretation discrepancies, the free responses emphasized that counselors considered family history, clinical information, and psychosocial concerns, showing that genetic counselors tailored the session to each individual. Discrepancies in variant interpretation are an ongoing concern for clinical cancer genetic counselors, as demonstrated by the fact that counselors desired further resources to aid in addressing these discrepancies, including a centralized database (89%), guidelines from a major organization (88%), continuing education about the issue (74%), and functional studies (58%). Additionally, most respondents reported that the ideal database would be owned by a non-profit organization (59%) and obtain information directly from laboratories (91%). This investigation was the first to address these discrepancies from a clinical point of view. The study demonstrates that discrepancies in variant interpretation are a concern for clinical cancer genetic counselors and outlines the need for additional support.
This is a preview of subscription content, log in to check access.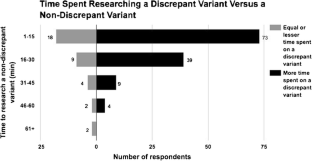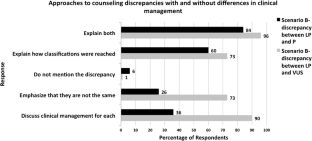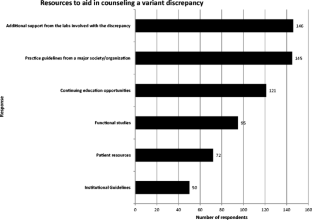 References
ACMG Board of Directors. (2017). Laboratory and clinical genomic data sharing is crucial to improving genetic health care: A position statement of the American College of Medical Genetics and Genomics. Genetics in Medicine, 19(7), 721–722. https://doi.org/10.1038/gim.2016.196.

Amendola, L., Dorschner, M. O., Robertson, P. D., Salama, J. S., Hart, R., Shirts, B. H., …, Jarvik, G. P. (2015). Actionable exomic incidental findings in 6503 participants: Challenges of variant classification. Genome Research, 25: 305–315. https://doi.org/10.1101/gr.183483.114.

American Medical Association. (2013, June 12). Proceedings of the 2013 Annual Meeting of the House of Delegates. Resolution 519 − Genome Analysis and Variant Identification. Retrieved September 7, 2017, from https://www.ama-assn.org/sites/default/files/media-browser/public/hod/a13-reference-committee-reports_0.pdf

Balmaña, J., Digiovanni, L., Gaddam, P., Walsh, M. F., Joseph, V., Stadler, Z. K., …, Domchek, S. M. (2016). Conflicting interpretation of genetic variants and cancer risk by commercial laboratories as assessed by the prospective registry of multiplex testing. Journal of Clinical Oncology, 34(34), 4071–4078. https://doi.org/10.1200/jco.2016.68.4316.

Harrison, S. M., Dolinsky, J. S., Johnson, A. E., Pesaran, T., Azzariti, D. R., Bale, S., …, Rehm, H. L. (2017). Clinical laboratories collaborate to resolve differences in variant interpretations submitted to ClinVar. Genetics in Medicine. https://doi.org/10.1038/gim.2017.14.

Imyanitov, E. N., Togo, A. V., & Hanson, K. P. (2004). Searching for cancer-associated gene polymorphisms: Promises and obstacles. Cancer Letters, 204(1), 3–14. https://doi.org/10.1016/j.canlet.2003.09.026.

Lincoln, S. E., Kobayashi, Y., Anderson, M. J., Yang, S., Desmond, A. J., Mills, M. A., …, Ellisen, L. W. (2015). A systematic comparison of traditional and multigene panel testing for hereditary breast and ovarian cancer genes in more than 1000 patients. The Journal of Molecular Diagnostics, 17(5), 533–544. doi:https://doi.org/10.1016/j.jmoldx.2015.04.009.

Maxwell, K., Hart, S., Vijai, J., Schrader, K., Slavin, T., Thomas, T., …, Nathanson, K. (2016). Evaluation of ACMG-guideline-based variant classification of cancer susceptibility and non-cancer-associated genes in families affected by breast cancer. The American Journal of Human Genetics, 98(5), 801–817. https://doi.org/10.1016/j.ajhg.2016.02.024.

National Society of Genetic Counselors. Clinical Data Sharing. (2015). Retrieved September 07, 2017, from http://www.nsgc.org/p/bl/et/blogaid=330

Qualtrics software, Version May 2016 of Qualtrics. Copyright © 2015Qualtrics. Qualtrics and all other Qualtrics product or service names are registered trademarks or trademarks of Qualtrics, Provo, UT, USA. http://www.qualtrics.com

Richards, S., Aziz, N., Bale, S., Bick, D., Das, S., Gastier-Foster, J., …, Rehm, H. L. (2015). Standards and guidelines for the interpretation of sequence variants: A joint consensus recommendation of the American College of Medical Genetics and Genomics and the Association for Molecular Pathology. Genetics in Medicine, 17(5), 405–423. https://doi.org/10.1038/gim.2015.30.

Savage, N. (2017). Getting data sharing right to help fulfill the promise of cancer genomics. Cell, 168(4), 551–554. https://doi.org/10.1016/j.cell.2017.01.003.

Simpson, K. J., & Smith, J. A. (2017). Knocking down the obstacles to functional genomics data sharing. Scientific Data, 4, 170019. https://doi.org/10.1038/sdata.2017.19.

Starita, L. M., Ahituv, N., Dunham, M. J., Kitzman, J. O., Roth, F. P., Seelig, G., …, Fowler, D. (2017). Variant interpretation: Functional assays to the rescue. The American Journal of Human Genetics, 101(3), 315–325. https://doi.org/10.1016/j.ajhg.2017.07.014.

StataCorp. (2015). Stata statistical software: Release 14. College Station: StataCorp LP.

Yang, S., Lincoln, S. E., Kobayashi, Y., Nykamp, K., Nussbaum, R. L., & Topper, S. (2017). Sources of discordance among germ-line variant classifications in ClinVar. Genetics in Medicine. https://doi.org/10.1038/gim.2017.60.
Acknowledgements
This research was performed in partial fulfillment of the requirements for the MS degree from The University of Texas MD Anderson Cancer Center UTHealth Graduate School of Biomedical Sciences; The University of Texas Health Science Center at Houston, Texas 77030.
Ethics declarations
All research protocols met the requirements of the University of Texas Health Committee for the Protection of Human Subjects, and this study was assigned approval number HSC-MS-16-0436.
Conflicts of Interest
Ellen Zirkelbach, Syed Hashmi, Aarti Ramdaney, Leslie Dunnington, Myla Ashfaq, and Elizabeth K. Nugent declare no conflicts of interest. Kate Wilson is employed by Quest Diagnostics.
Human Studies and Informed Consent
No human studies were carried out by the authors for this article.
Animal Studies
No animal studies were carried out by the authors for this article.
Ethics
All procedures followed were in accordance with the ethical standards of the responsible committee on human experimentation (institutional and national) and with the Helsinki Declaration of 1975, as revised in 2000 (5). Informed consent was obtained from all patients for being included in the study.
Electronic supplementary material
About this article
Cite this article
Zirkelbach, E., Hashmi, S., Ramdaney, A. et al. Managing Variant Interpretation Discrepancies in Hereditary Cancer: Clinical Practice, Concerns, and Desired Resources. J Genet Counsel 27, 761–769 (2018). https://doi.org/10.1007/s10897-017-0184-6
Received:

Accepted:

Published:

Issue Date:
Keywords
Variant

Discrepancy

Cancer

Concerns

Resources

Clinic

Database

Functional studies

Interpretation