Abstract
This study explored the characteristics of child-to-parent violence (CPV) in Spain based on the narrations of adolescents who perpetrate this kind of violence, their parents, and the professionals who work in this area. A qualitative design was used. Focus groups were asked about the risk factors associated with CPV, such as exposure to family violence, discipline, and psychological characteristics of the adolescents. Interviews were videotaped, transcribed, and reviewed independently by each investigator to identify and group distinct comments into categories with specific themes. Results suggest that CPV is mainly linked to exposure to marital conflict and family violence, permissive discipline, emotional disengagement in the father-child relationship, and symptoms of emotional stress and substance consumption in the children. Lastly, acts of CPV seem to be an attempt by the children to gain power in the context of family relations in which the parents display their incapacity to establish control. As several family and personal characteristics appear to be involved in CPV, it is recommended that family and individual approaches be considered for treatment.
Access options
Buy single article
Instant access to the full article PDF.
USD 39.95
Price includes VAT (USA)
Tax calculation will be finalised during checkout.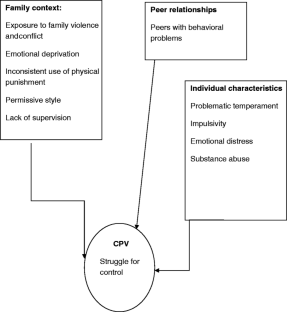 References
Agnew, R., & Huguley, S. (1989). Adolescent violence toward parents. Journal of Marriage and Family, 51(3), 699–711. doi:10.2307/352169.

Anderson, C. A., Berkowitz, L., Donnerstein, E., Huesmann, L. R., Johnson, J., Linz, D., et al. (2003). The influence of media violence on youth. Psychological Science in the Public Interest, 4, 81–110.

Boxer, P., Gullan, R. L., & Mahoney, A. (2009). Adolescents' physical aggression toward parents in a clinic-referred sample. Journal of Clinical Child & Adolescent Psychology, 38(1), 106–116. doi:10.1080/15374410802575396.

Brezina, T. (1999). Teenage violence toward parents as an adaptation to family strain: evidence from a national survey of male adolescents. Youth & Society, 30(4), 416–444. doi:10.1177/0044118X99030004002.

Browne, K. D., & Hamilton, C. E. (1998). Physical violence between young adults and their parents: associations with a history of child maltreatment. Journal of Family Violence, 13(1), 59–79.

Calvete, E. (2008). Justification of violence and grandiosity schemas as predictors of antisocial behavior in adolescents. Journal of Abnormal Child Psychology, 36, 1083–1095. doi:10.1007/s10802-008-9229-5.

Calvete, E., & Orue, I. (2011). The impact of violence exposure on aggressive behavior through social information processing in adolescents. American Journal of Orthopsychiatry, 81, 38–50.

Calvete, E., Orue, I., & Sampedro, R. (2011). Violencia filio-parental en la adolescencia: características ambientales y personales [Child to parent violence in adolescence: environmental and individual characteristics]. Infancia y Aprendizaje, 34, 349–363.

Calvete, E., Orue, I., & Gamez-Guadix, M. (2013). Child-to-parent violence: emotional and behavioral predictors. Journal of Interpersonal Violence, 28(4), 754–771.

Calvete, E., Gamez-Guadix, M., & Orue, I. (2014). Características familiares asociadas a las agresiones ejercidas por adolescentes contra sus progenitores [Family characteristics associated with child-to-parent aggressions in adolescents]. Anales de Psicología, 30(3), 1039–1049. doi:10.6018/analesps.30.3.166291.

Coogan, D. (2012). Child-to-parent violence: challenging perspectives on family violence. Child Care in Practice, 17(4), 347–358.

Cottrell, B. (2001). Parent abuse: the abuse of parents by their teenage children. The family Violence Prevention. Unit Health: Canada. Retrieved from http://www.phac-aspc.gc.ca/ncfv-cnivf/pdfs/fv-2003parentabuse_e.pdf.

Cottrell, B., & Monk, P. (2004). Adolescent-to-parent abuse: a qualitative overview of common themes. Journal of Family Issues, 25(8), 1072–1095. doi:10.1177/0192513X03261330.

Etxebarria, I., Apodaca, P., Fuentes, M. J., López, F., & Ortiz, M. J. (2009). La crianza y la educacón de los hijos en la sociedad actual¿Lo estamos haciendo bien? Revista de Psicoloía Social, 24, 81–96.

Evans, E. D., & Warren-Sohlberg, L. (1988). A pattern analysis of adolescent abusive behavior toward parents. Journal of Adolescent Research, 3(2), 201–216. doi:10.1177/074355488832007.

Fassnacht, C., & Woods, D. (2005). Transana v2.0x [Computer software]. Available from http://www.transana.org/.

García, F., & Gracia, E. (2009). Is always authoritative the optimum parenting style? Evidence from Spanish families. Adolescence, 44, 101–131.

Ghanizadeh, A., & Jafari, P. (2010). Risk factors of abuse of parents by their ADHD children. European Child and Adolescent Psychiatry, 19, 75–81. doi:10.1007/s00787-009-0067-y.

Harbin, H. T., & Madden, D. J. (1979). Battered parents: a new syndrome. The American Journal of Psychiatry, 136, 1288–1291.

Howard, J., & Rottem, N. (2008). It all starts at home: Male adolescent violence to mothers. St Kilda: Inner South Community Health Service.

Howard, K. A. S., Budge, S. L., & McKay, K. M. (2010). Youth exposed to violence: the role of protective factors. Journal of Community Psychology, 38(1), 63–79. doi:10.1002/jcop.20352.

Huesmann, L. R., & Eron, L. D. (Eds.). (1986). Television and the aggressive child: A cross-national comparison. Hillsdale: Erlbaum.

Ibabe, I., & Jaureguizar, J. (2009). Adolescent violence against parents. Is it a consequence of gender inequality? European Journal of Psychology Applied to Legal Context, 1, 3–24.

Infocoponline (2009). Aumentan los casos de violencia de hijos a padres, según el informe anual de la fiscalía. Retrieved from http://www.infocop.es/view_article.asp?id=2579&cat=39.

Kennair, N., & Mellor, D. (2007). Parent abuse: a review. Child Psychiatry and Human Development, 38, 203–219. doi:10.1007/s10578-007-0061-x.

Kennedy, T. D., Edmonds, W. A., Dann, K. T. J., & Burnett, K. F. (2010). The clinical and adaptive features of young offenders with histories of child-parent violence. Journal of Family Violence, 25, 509–520. doi:10.1007/s10896-010-9312-x.

Krueger, R., & Casey, M. (2000). Focus groups: A practical guide for applied research (3rd ed.). Newbury Park: Sage.

Lochman, J. E., Boxmeyer, C. L., Powell, N. P., Barry, T. D., & Pardini, D. A. (2003). Anger control training for aggressive youths. In J. R. Weisz & A. E. Kazdin (Eds.), Evidence-based psychotherapies for children and adolescents (pp. 227–242). New York: Guilford Press.

Micucci, J. A. (1995). Adolescents who assault their parents: a family systems approach to treatment. Psychotherapy: Theory, Research, Practice, Training, 32, 154–161. doi:10.1037/0033-3204.32.1.154.

Morgan, D. L. (1997). Focus groups as qualitative research. Thousand Oaks: Sage.

Nock, M. K., & Kazdin, A. E. (2002). Parent-directed physical aggression by clinic-referred youths. Journal of Clinical Child and Adolescent Psychology, 31, 193–205.

Pagani, L. S., Tremblay, R. E., Nagin, D., Zoccolillo, M., Vitaro, F., & McDuff, P. (2004). Risk factor models for adolescent verbal and physical aggression toward mothers. International Journal of Behavioral Development, 28, 528–537.

Pagani, L., Tremblay, R. E., Nagin, D., Zoccolillo, M., Vitaro, F., & McDuff, P. (2009). Risk factor models for adolescent verbal and physical aggression toward fathers. Journal of Family Violence, 24, 173–182.

Paterson, R., Luntz, H., Perlesz, A., & Cotton, S. (2002). Adolescent violence towards parents: maintaining family connections when the going gets tough. Australian and New Zealand Journal of Family Therapy, 23, 90–100.

Paulson, M. J., Coombs, R. H., & Landsverk, J. (1990). Youth who physically assault their parents. Journal of Family Violence, 5, 121–133. doi:10.1007/BF00978515.

Shim, S., Serido, J., & y Barber, B. L. (2011). A consumer way of thinking: linking consumer socialization and consumption motivation perspectives to adolescent development. Journal of Research on Adolescence, 21(1), 290–299. doi:10.1111/j.1532-7795.2010.00730.x.

Tew, J., & Nixon, J. (2010). Parent abuse: opening up a discussion of a complex instance of family power relations. Social Policy and Society, 9, 579–589.

Ulman, A., & Straus, M. A. (2003). Violence by children against mothers in relation to violence between parents and corporal punishment by parents. Journal of Comparative Family Studies, 34, 41–60.

Walsh, J. A., & Krienert, J. L. (2009). A decade of child-initiated family violence: comparative analysis of child—parent violence and parricide examining offender, victim, and event characteristics in a national sample of reported incidents, 1995–2005. Journal of Interpersonal Violence, 24, 1450–1477. doi:10.1177/0886260508323661.

Wells, M. G. (1987). Adolescent violence against parents: an assessment. Family Therapy, 14, 125–133.

Wilson, J. (1996). Physical abuse of parents by adolescent children. In D. M. Busby (Ed.), The impact of violence on the family: Treatment approaches for therapists and other professionals (pp. 101–122). Needham Heights: Allyn & Bacon.
Acknowledgements
This research was supported by a grant from the Gobierno Vasco, Departamento de Educación, Universidades e Investigación, PI2011-45, and from Bizkailab, Reference 5736.
About this article
Cite this article
Calvete, E., Orue, I., Bertino, L. et al. Child-to-Parent Violence in Adolescents: The Perspectives of the Parents, Children, and Professionals in a Sample of Spanish Focus Group Participants. J Fam Viol 29, 343–352 (2014). https://doi.org/10.1007/s10896-014-9578-5
Keywords
Child-to-parent violence

Discipline

Exposure to violence

Focus group

Adolescents