Abstract
Literature suggests that early patterns of aggressive behavior in both girls and boys are predictive of later violent behavior, including violence that takes place within family contexts. Utilizing the Concordia Longitudinal Risk Project, a study of individuals recruited as children in the 1970s from inner-city schools in Montreal, this study examined different pathways whereby aggressive behavioral styles in childhood may place individuals at risk for continuing patterns of violence towards children and spouses. Childhood aggression directly predicted self-reported violence towards spouse for both sexes, with indirect routes through lowered educational attainment and marital separation. Aggression in childhood was also found to predict parents' self-reports of using violence with their children. For mothers, educational attainment and current absence of the biological father from the child's home also played important roles in predicting violent behavior towards offspring. These findings provide evidence of both continuity of aggressive behavior and indirect risk paths to family violence, via lower educational attainment and parental absence. In both men and women, childhood aggression may be an identifiable precursor of family violence and child abuse.
Access options
Buy single article
Instant access to the full article PDF.
USD 39.95
Price excludes VAT (USA)
Tax calculation will be finalised during checkout.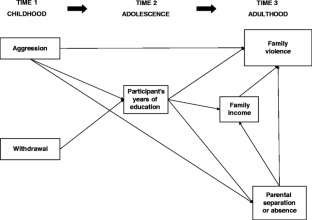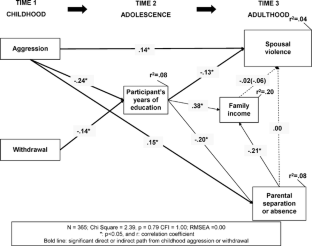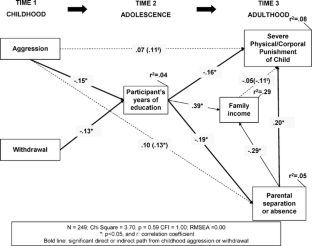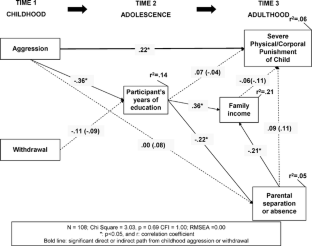 References
Andrews, J. A., Foster, S. L., Capaldi, D., & Hops, H. (2000). Adolescent and family predictors of physical aggression, communication and satisfaction in young adult couples: A prospective analysis. Journal of Consulting and Clinical Psychology, 68, 195–208.

Archer, J. (2002). Sex differences in physically aggressive acts between heterosexual partners: A meta-analytic review. Aggression and Violent Behavior, 7, 313–351.

Bardone, A. M., Moffitt, T. E., Caspi, A., Dickson, N., & Silva, P. (1996). Adult mental health and social outcomes of adolescent girls with depression and conduct disorder. Development and Psychopathology, 8, 811–829.

Benenson, J. F., Sinclair, N., & Dolenszky, E. (2006). Aggressive responses to provocation: Females predict more hostile reactions in compatible dyadic relationships. Social Development, 15, 65–81.

Berger, L. M. (2004). Income, family structure, and maltreatment risk. Child and Youth Services Review, 26, 725–748.

Brody, G. H., McBride-Murry, V., Kim, S., & Brown, A. C. (2002). Longitudinal pathways to competence and psychological adjustment among African–American children living in rural single-parent households. Child Development, 73(5), 1505–1516.

Broidy, L. M., Nagin, D. S., Tremblay, R. E., Bates, J. E., Brame, B., Dodge, K. A., et al. (2003). Developmental trajectories of childhood disruptive behaviors and adolescent delinquency: A six-site, cross-national study. Developmental Psychology, 39(2), 222–245.

Brook, J. S., & Newcomb, M. D. (1995). Childhood aggression and unconventionality: Impact on later academic achievement, drug use, and workforce involvement. Journal of Genetic Psychology, 156, 393–410.

Cairns, R. B., Cairns, B. D., & Neckerman, H. J. (1989). Early school dropout: Configuration and determinants. Child Development, 60, 1436–1452.

Capaldi, D. M., & Clark, S. (1998). Prospective family predictors of aggression toward female partners for at-risk young men. Developmental Psychology, 34, 1175–1188.

Capaldi, D. M., Shortt, J. W., & Crosby, L. (2003). Physical and psychological aggression in at-risk young couples: Stability and change in young adulthood. Merrill-Palmer Quarterly, 49, 1–27.

Campbell, A. (2006). Sex differences in direct aggression: What are the psychological mediators? Aggression and Violent Behavior, 11, 237–264.

Caspi, A., Bem, D. J., & Elder, G. H. (1989). Continuities and consequences of interactional styles across the life course. Journal of Personality, 57(2), 375–406.

Caspi, A., & Elder, G. H. (1988). Emergent family patterns: The intergenerational construction of problem behavior and relations. In R. Hinde, & J. Stevenson-Hinde (Eds.) Relationships within families: Mutual influences (pp. 218–240). Oxford, UK: Clarendon Press.

Caspi, A., Elder, G. H., & Bem, D. J. (1987). Moving against the world: Life-course patterns of explosive children. Developmental Psychology, 23(2), 308–313.

Coie, J. K., & Dodge, K.,A. (1998). Aggression and antisocial behavior. In W. Damon (Editor in Chief) and N. Eisenberg (Vol. Ed.), Handbook of child psychology (5th ed.. Vol. 3). Social, emotional, and personality development. NY: Wiley.

Dobash, R. P., Dobash, R. E., Wilson, M., & Daly, M. (1992). The myth of sexual symmetry in marital violence. Social Problems, 39, 71–91.

Ehrensaft, M. K., Moffitt, T. E., & Caspi, A. (2004). Clinically abusive relationships in an unselected birth cohort: Men's and women's participation and developmental antecedents. Journal of Abnormal Psychology, 113(2), 250–271.

Galbaud Du Fort, G., Boothroyd, L. J., Bland, R. C., Newman, S. C., & Kakuma, R. (2002). Spouse similarity for antisocial behaviour in the general population. Psychological Medicine, 32, 1407–1416.

Gerard, J. M., & Buehler, C. (2004). Cumulative environmental risk and youth problem behavior. Journal of Marriage and Family, 66, 702–720.

Giles-Sims, J., Straus, M. A., & Sugarman, D. B. (1995). Child, maternal land family characteristics associated with spanking. Family Relations, 44(2), 170–176.

Hess, N. H., & Hagen, E. H. (2006). Sex differences in indirect aggression psychological evidence from young adults. Evolution and Human Behavior, 27, 231–245.

Huesmann, L. R., Eron, L. D., & Dubow, E. R. (2002). Childhood predictors of adult criminality: Are all risk factors reflected in childhood aggressive behavior? Criminal Behavior & Mental Health, 12, 185–208.

Huesmann, L. R., Eron, L. D., & Yarmel, P. W. (1987). Intellectual functioning and aggression. Journal of Personality and Social Psychology, 52, 232–240.

McGowan, R. J., & Johnson, D. L. (1984). The mother–child relationship and other antecedents of childhood intelligence: A causal analysis. Child Development, 55, 810–820.

McLanahan, S. S. (1999). Father absence and the welfare of children. In E. M. Hetherington (Ed.) Coping with divorce, single parenting, and remarriage: A risk and resiliency perspective (pp. 117–145). Mahwah, NJ, US: Erlbaum.

Moskowitz, D. S., & Schwartzman, A. E. (1989). Painting group portraits: Studying life outcomes for aggressive and withdrawn children. Journal of Personality, 57(4), 723–745.

Owens, L., Shute, R., & Slee, P. (2000). "Guess what I heard!": Indirect aggression among teenage girls in Australia. Aggressive Behavior, 26, 67–83.

Pekarik, E. G., Prinz, R. J., Liebert, D. E., Weintraub, S., & Neale, J. M. (1976). The Pupil Evaluation Inventory: A sociometric technique for assessing children's social behavior. Journal of Abnormal Child Psychology, 4, 83–97.

Putallaz, M., & Bierman, K. L. (Eds.) (2004). Aggression, antisocial behavior, and violence among girls: A developmental perspective. Vol. 1: Duke Series in Child Development and Public Policy (K.A. Dodge & M. Putallaz, Series Editors). NY: Guilford Press.

Ronka, A., & Pulkkinen, L. (1995). Accumulation of problems in social functioning in young adulthood: A developmental approach. Journal of Personality and Social Psychology, 69, 381–391.

Scarr, S., & McCartney, K. (1983). How people make their own environments: A theory of genotype left-arrow environment effects. Child Development, 54(2), 424–435.

Schwartzman, A. E., Ledingham, J., & Serbin, L. A. (1985). Identification of children at risk for adult schizophrenia: A longitudinal study. International Journal of Applied Psychology, 34, 363–380.

Serbin, L., & Karp, J. (2003). Intergenerational studies of parenting and the transfer of risk from parent to child. Current Directions in Psychological Science, 12(4), 138–142.

Serbin, L. A., Cooperman, J. M., Peters, P. L., Lehoux, P. M., Stack, D. M., & Schwartzman, A. E. (1998). Intergenerational transfer of psychosocial risk in women with childhood histories of aggression, withdrawal, or aggression and withdrawal. Developmental Psychology, 34(6), 1246-1262.

Serbin, L. A., Peters, P. L., McAffer, V. J., & Schwartzman, A. E. (1991). Childhood aggression and withdrawal as predictors of adolescent pregnancy, early parenthood, and environmental risk to the next generation. Canadian Journal of Behavioral Science, 23(3), 318-331.

Serbin, L. A., Temcheff, C. E., Cooperman, J., Stack, D. M., Ledingham, J., & Schwartzman, A. (2007). Predicting family poverty and other threats to parenting from childhood aggression and social withdrawal: A 30-year longitudinal study. Manuscript submitted for publication.

Straus, M. A. (1979). Measuring intrafamily conflict and violence: The Conflict Tactic (CT) Scales. Journal of Marriage and the Family, 41, 75–88.

Straus, M. A. (1995). Manual for the conflict tactics scales. Durham, NH: Family Research Laboratory, University of New Hampshire.

Straus, M. A., & Hamby, S. L. (1997). Measuring physical and psychological maltreatment of children with the Conflict Tactics Scale. In G. Kaufman Kantor, & J. L. Jasinski (Eds.) Out of the darkness: Contemporary perspectives of family violence. Thousand Oaks: Sage.

Underwood, M. K., Scott, B. L., Galperin, M. B., Bjornstad, G. J., & Sexton, A. M. (2004). Observational study of the social exclusion under varied conditions: Gender and developmental differences. Child Development, 75, 1538–1555.

Verlaan, P., & Déry, M. (Eds.) (2006). Les Conduites Antisociales des Filles: Comprendre pour Mieux Agir. Québec: Presses de l'Université du Québec.

Vest, J. R., Catlin, T. K., Chen, J. J., & Brownson, R. C. (2002). Multistate analysis of factors associated with intimate partner violence. American Journal of Preventative Medicine, 22, 156–164.
Acknowledgements
This research was partially supported by grants from the Social Sciences and Humanities Research Council, the Canadian Institutes of Health Research, and the Fonds Québécois de la Recherche sur la Société et la Culture. The Concordia Longitudinal Risk Project was initiated in 1976 by Jane Ledingham and Alex Schwartzman. The authors wish to thank Claude Senneville, Ming Wang, Lucie Bonneville, and the Concordia Project team for their assistance in data collection and analysis. Finally, we are most indebted to the participants in the study.
Additional information
Author Note
Caroline E. Temcheff, Lisa A. Serbin, Alexa Martin-Storey, Dale M. Stack and Alex E. Schwartzman, conducted this research at the Centre for Research in Human Development and Department of Psychology, Concordia University. Sheilagh Hodgins is at King's College London. Jane Ledingham is at the School of Psychology, University of Ottawa.
About this article
Cite this article
Temcheff, C.E., Serbin, L.A., Martin-Storey, A. et al. Continuity and Pathways from Aggression in Childhood to Family Violence in Adulthood: A 30-year Longitudinal Study. J Fam Viol 23, 231–242 (2008). https://doi.org/10.1007/s10896-007-9147-2
Received:

Accepted:

Published:

Issue Date:

DOI: https://doi.org/10.1007/s10896-007-9147-2
Keywords
Family violence

Childhood aggression

High-psychosocial risk