Abstract
Previous research has consistently shown that there is a strong association between psychological and physical aggression in intimate relationships. Theories as to why this association exists include that they have a single underlying etiology with differing thresholds, or they have separate etiologies and there is a two-step process by which psychological aggression moves to physical. The current study suggests that these two theories are not necessarily competing theories. The genetic and environmental covariance between psychological and physical intimate partner aggression were examined in 134 monozygotic (MZ) and 41 dizygotic (DZ) twin pairs. Results showed that psychological and physical aggression have largely the same genetic etiology, and any differences between the two are a function of differing nonshared environmental influences.
Access options
Buy single article
Instant access to the full article PDF.
USD 39.95
Price includes VAT (USA)
Tax calculation will be finalised during checkout.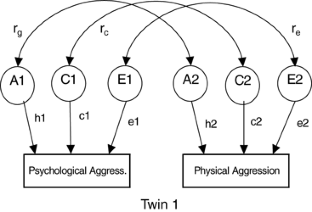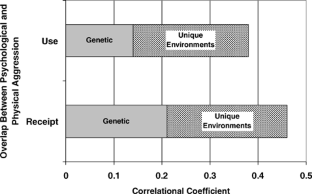 References
Coccaro, E. F., Bergeman, C. S., Kavoussi, R. J., & Scroczynski, A. D. (1997). Heritability of aggression and irritability: A twin study of the Buss-Durkee aggression scales in adult male subjects. Biological Psychiatry, 41, 273–284.

Eaves, L. J., Eysenck, H. J., & Martin, N. G. (1989). Genes, culture and personality. San Diego, CA: Academic Press, Inc.

Follingstad, D. R., Rutledge, L. L., Berg, B. J., Hause, E. S., & Polek, D. S. (1990). The role of emotional abuse in physically abusive relationships. Journal of Family Violence, 5, 107–120.

Gottesman, I. I., Goldsmith, H. H., & Carey, G. (1997). A developmental and genetic perspective on aggression. In N. L. Segal, G. E. Weisfeld, & C. C. Weisfeld (Eds.), Uniting psychology and biology: Integrative perspectives on human development (pp. 107–130). Washington, DC: American Psychological Association.

Hines, D. A., & Saudino, K. J. (2003). Gender differences in psychological, physical, and sexual aggression among college students using the Revised Conflict Tactics Scales. Violence and Victims, 18, 197–218.

Hines, D. A., & Saudino, K. J. (2004). Genetic and environmental influences on intimate partner aggression: A preliminary study. Violence and Victims, 19, 701–718.

Hutchings, B., & Mednick, S. A. (1977). Criminality in adoptees and their adoptive and biological parents: A pilot study. In S. A. Mednick & K. O. Christiansen (Eds.), Biosocial bases of criminal behavior (pp. 127–141). New York: Gardner Press.

Loehlin, J. C. (1987). Latent variable models: An introduction to factor, path, and structural analysis. Hillsdale, NJ: Erlbaum.

Magnus, P., Berg, K., & Nance, W. E. (1983). Predicting zygosity in Norwegian twin pairs born 1915–1960. Clinical Genetics, 24, 103–112.

McGue, M., & Bouchard, T. J. (1984). Adjustment of twin data for effects of age and sex. Behavior Genetics, 14, 325–343.

Morse, B. J. (1995). Beyond the conflict tactics scale: Assessing gender differences in partner violence. Violence and Victims, 10, 251–272.

Murphy, C. M., & O'Leary, K. D. (1989). Psychological aggression predicts physical aggression in early marriage. Journal of Consulting and Clinical Psychology, 57, 579–582.

Neale, M., & Cardon, L. R. (1992). Methodology for genetic studies of twins and families. Dordrecht, Netherlands: Kluwer.

Neale, M., Boker, S. M., Xie, G., & Maes, H. H. (2002). Mx: Statistical modeling. VCU Box 900126, Richmond, VA 23298: Department of Psychiatry. 6th Edition.

Plomin, R., & DeFries, J. C. (1979). Multivariate genetic analysis of twin data on scholastic abilities. Behavior Genetics, 9, 505– 517.

Plomin, R., DeFries, J. C., McClearn, G. E., & Rutter, M. (1997). Behavioral Genetics, (3rd ed.). New York: W.J. Freeman and Company.

Raine, A. (1993). The psychopathology of crime: Criminal behavior as a clinical disorder. San Diego, CA: Academic Press.

Scarr, S., & McCartney, K. (1983). How people make their own environments: A theory of genotype-environment effects. Child Development, 54, 424–435.

Stets, J. E. (1990). Verbal and physical aggression in marriage. Journal of Marriage and the Family, 52, 501–514.

Straus, M. A. (1974). Leveling, civility, and violence in the family. Journal of Marriage and the Family, 36, 13–29.

Straus, M. A., Hamby, S. L., Boney-McCoy, S., & Sugarman, D. B. (1996). The revised conflict tactics scale (CTS2). Journal of Family Issues, 17, 283–316.

Straus, M. A., & Sweet, S. (1992). Verbal/symbolic aggression in couples: Incidence rates and relationships to personal characteristics. Journal of Marriage and the Family, 54, 346–357.
Acknowledgements
This research was supported by Grant MH64252-01 from the National Institute of Mental Health and the Twins Days Research Grant. Special thanks go to the Family Research Lab and Crimes Against Children Research Center seminar participants for their feedback on a previous version of this manuscript. This paper is based on the doctoral dissertation research of the first author.
About this article
Cite this article
Saudino, K.J., Hines, D.A. Etiological Similarities Between Psychological and Physical Aggression in Intimate Relationships: A Behavioral Genetic Exploration. J Fam Viol 22, 121–129 (2007). https://doi.org/10.1007/s10896-006-9059-6
Keywords
Physical abuse

Psychological abuse

Intimate partner violence

Etiology

Genetic