Abstract
New colorimetric and fluorometric fluoride ion probe, anthra[1,9-cd]pyrazol- 6(2H)-one (1), was synthesized by one-step condensation. The probe 1 shows F−-selective color change from colorless to pink and appearance of red fluorescence. The fluorescence quantum yield of free probe 1 in DMSO was calculated to be 0.03. After addition of 15 equiv. of F−, its fluorescence quantum yield can be increased to 0.37. The analytical detection limit for F− was 2.8 × 10− 7 M. 1H NMR analysis and DFT calculation show that the F−-induced colorimetric and fluorometric responses of 1 are driven by deprotonation process.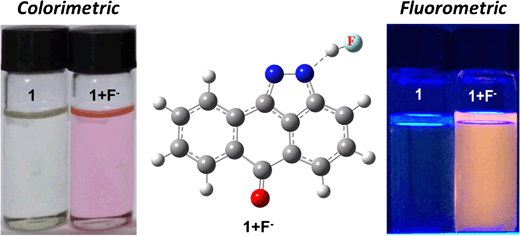 This is a preview of subscription content, log in to check access.
Access options
Buy single article
Instant access to the full article PDF.
US$ 39.95
Price includes VAT for USA
Subscribe to journal
Immediate online access to all issues from 2019. Subscription will auto renew annually.
US$ 99
This is the net price. Taxes to be calculated in checkout.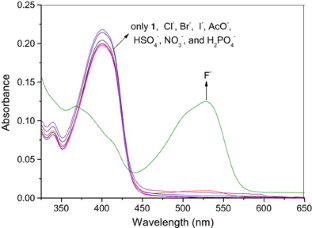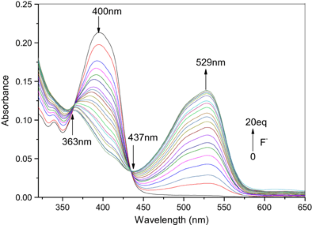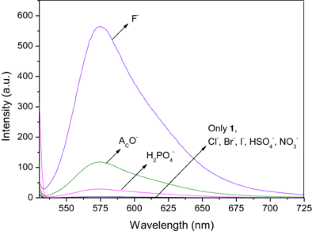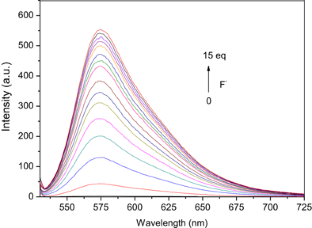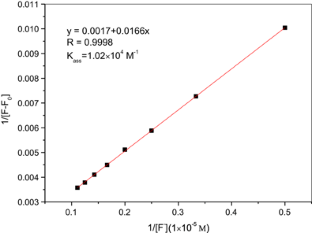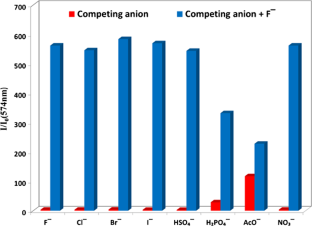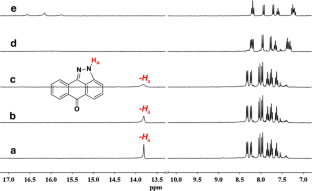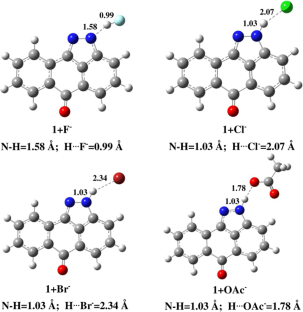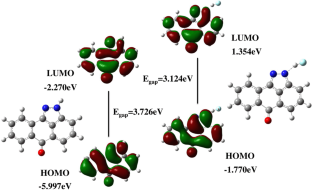 References
1.

Kirk KL (1995) Biochemistry of the halogens and inorganic halides. Plenum Pless, New York, p 58

2.

Kleerekoper M (1998) The role of fluoride in the prevention of osteoporosis. Endocrinol Metab Clin N Am 27:441–452

3.

Gavrilescu M, Pavel LV, Cretescu I (2009) Characterization and remediation of soils contaminated with uranium. J Hazard Mater 163:475–510

4.

John GH, May I, Collison D, Helliwell M (2004) Synthesis, structural and spectroscopic characterisation of three di-μ-fluoro-bis [dioxouranyl] complexes. Polyhedron 23:3097–3103

5.

Seneda J, Figueiredo F, Abrao A, Carvalho F, Frajndlich E (2001) J Alloys Compd 323:838–841

6.

Matuso S, Kiyomiya KI, Kurebe M (1998) Mechanism of toxic action of fluoride in dental fluorosis: whether trimeric G proteins participate in the disturbance of intracellular transport of secretory ameloblast exposed fluoride. Arch Toxicol 72:798–806

7.

Weatherall JA (1969) Pharmacology of fluorides. In: Handbook of experimental pharmacology XX/1. Springer-Verlag, Berlin, pp 141–172 Part 1

8.

Willard HH, Winter OB (1933) Volumetric method for determination of fluorine. Ind Eng Chem Anal Ed 5:7–10

9.

De Marco R, Clarke G, Pejcic B (2007) Ion-selective electrode potentiometry in environmental analysis. Electroanalysis 19:1987–2001

10.

van den Hoop MAGT, Cleven RFMJ, van Staden JJ, Neele JJ (1996) Analysis of fluoride in rain water comparison of capillary electrophoresis with ionchromatography and ion-selective electrode potentiometry. J Chromatogr A 739:241–248

11.

Suksai C, Tuntulani T (2003) Chromogenic anion sensors. Chem Soc Rev 32:192–202

12.

Cao YC (2015) A capillary based chemiluminscent multi-target immunoassay. J Fluoresc 25:563–568

13.

Liu C, Zhou Z, Zou L, Cao YC, Liu JA, Lin Y (2016) High sensitivity bacillus thuringiensis cry1Ac protein detections using fluorescein diacetate nanoparticles. J Fluoresc 26:451–457

14.

Okutan E, Tümay SO, Yeşilot S (2016) Colorimetric fluorescent sensors for hemoglobin based on BODIPY dyes. J Fluoresc 26:2333–2343

15.

de Silva AP, Gunaratne HQN, Gunnlaugsson T, Huxley ATM, McCoy CP, Rademacher JT, Rice TE (1997) Signaling recognition events with fluorescent sensors and switches. Chem Rev 97:1515–1566

16.

Cao YC, Wang Z, Yang R, Zou L, Zhou Z, Mi T, Shi H (2016) Quantum dots encoded Au coated polystyrene bead arranged micro-channel for multiplex arrays. Talanta 146:749–753

17.

Lu W, Zhang M, Liu K, Fan B, Xia Z, Jiang L (2011) A fluoride-selective colorimetric and fluorescent chemosensor and its use for the design of molecular-scale logic devices. Sensors Actuators B 160:1005–1010

18.

Thiagarajan V, Ramamurthy P, Thirumalai D, Ramakrishnan VT (2005) A novel colorimetric and fluorescent chemosensor for anions involving PET and ICT pathways. Org Lett 7:657–660

19.

Santos-Figueroa LE, Moragues ME, Raposo MM, Batista RM, Costa SP, Ferreira RC, Sancenon F, Martinez-Manez R, Ros-Lis JV, Soto J (2012) HBT-based chemosensors for the detection of fluoride through deprotonation process: experimental and DFT studies. Org Biomol Chem 10:7418–7428

20.

Cho EJ, Moon JW, Ko SW, Lee JY, Kim SK, Yoon J, Nam KC (2003) A new fluoride selective fluorescent as well as chromogenic chemosensor containing a naphthalene urea derivative. J Am Chem Soc 125:12376–12377

21.

Wu Y, Peng X, Fan J, Gao S, Tian M, Zhao J, Sun S (2007) Fluorescence sensing of anions based on inhibition of excited-state intramolecular proton transfer. J Org Chem 72:62–70

22.

Ke B, Chen W, Ni N, Cheng Y, Dai C, Dinh H, Wang B (2013) A fluorescent probe for rapid aqueous fluoride detection and cell imaging. Chem Commun 49:2494–2496

23.

Zhao P, Jiang J, Leng B, Tian H (2009) Polymer fluoride sensors synthesized by RAFT polymerization. Rapid Commun 30:1715–1718

24.

Hung HC, Chang YY, Luo L, Hung CH, Diau EW, Chung WS (2014) Different sensing modes of fluoride and acetate based on a calix [4] arene with 25, 27-bistriazolylmethylpyrenylacetamides. Photochem Photobiol Sci 13:370–379

25.

Bhosale SV, Bhosale SV, Kalyankar MB, Langford SJ (2009) A core- substituted naphthalene diimide fluoride sensor. Org Lett 11:5418–5421

26.

Im HG, Kim HY, Choi MG, Chang SK (2013) Reaction-based dual signaling of fluoride ions by resorufin sulfonates. Org Biomol Chem 11:2966–2971

27.

Fu L, Tian FF, Lai L, Liu Y, Harvey PD, Jiang FL (2014) A ratiometric "two-in-one" fluorescent chemodosimeter for fluoride and hydrogen sulfide. Sensors Actuators B 193:701–707

28.

Lee HN, Singh NJ, Kim SK, Kwon JY. Kim YY, Kim KS, Yoon J (2007) New imidazolium systems bearing two pyrene groups as fluorescent chemosensors for anions and anion induced logic gates. Tetrahedron Lett 48:169–172

29.

Yoon J, Kim SK, Singh NJ, Kim KS (2006) Imidazolium receptors for the recognition of anions. Chem Soc Rev 35:355–360

30.

Jeyanthi D, Iniya M, Krishnaveni K, Chellappa D (2015) Novel indole based dual responsive "turn-on" chemosensor for fluoride ion detection. Spectrochim Acta A 136:1269–1274

31.

Shiraishi Y, Maehara H, Hirai T (2009) Indole-azadiene conjugate as a colorimetric and fluorometric probe for selective fluoride ion sensing. Org Biomol Chem 7:2072–2076

32.

Mahapatra AK, Maji R, Maiti K, Adhikari SS, Das Mukhopadhyay C, Mandal D (2014) Ratiometric sensing of fluoride and acetate anions based on a BODIPY-azaindole platform and its application to living cell imaging. Analyst 139:309–317

33.

Ghosh T, Maiya BG, Wong MW (2004)) Fluoride ion receptors based on dipyrrolyl derivatives bearing electron-withdrawing groups: synthesis, optical and electrochemical sensing, and computational studies. J Phys Chem A 108:11249–11259

34.

Rivadehi S, Reid EF, Hogan CF, Bhosale SV, Langford SJ (2012) Fluoride-selective optical sensor based on the dipyrrolyl-tetrathiafulvalene chromophore. Org Biomol Chem 10:705–709

35.

Shahid M, Srivastava P, Misra A (2011) An efficient naphthalimide based fluorescent dyad (ANPI) for F– and Hg 2+ mimicking OR, XNOR and INHIBIT logic functions. New J Chem 35:1690–1700

36.

Bose P, Ahamed BN, Ghosh P (2011) Functionalized guanidinium chloride based colourimetric sensors for fluoride and acetate: single crystal X-ray structural evidence of-NH deprotonation and complexation. Org Biomol Chem 9:1972–1979

37.

Zhou Y, Zhang JF, Yoon J (2014) Fluorescence and colorimetric chemosensors for fluoride-ion detection. Chem Rev 114:5511–5571

38.

Iniya M, Jeyanthi D, Krishnaveni K, Chellappa D (2015) A bifunctional chromogenic and fluorogenic probe for F– and Al3+ based on azo-benzimidazole conjugate. J Lumin 157:383–389

39.

Pereira G, Castanheira EMS, Ferreira PMT, Queiroz MRP (2010) Synthesis and photophysical studies of new fluorescent indole derivatives obtained from β-bromodehydroamino acids–interaction with fluoride anions. Eur J Org Chem 464–475

40.

Anand T, Sivaraman G, Iniya M, Siva A, Chellappa D (2015) Aminobenzohydrazide based colorimetric and 'turn-on' fluorescence chemosensor for selective recognition of fluoride. Anal Chim Acta 876:1–8

41.

Jeong HY, Lee SY, Kim C (2017) Furan and julolidine-based "turn-on" fluorescence chemosensor for detection of F– in a near-perfect aqueous solution. J Fluoresc 27:1457–1466

42.

Kim M, Wiemer DF (2004) EDC-mediated condensations of 1-chloro-5- hydrazino-9, 10-anthracenedione, 1-hydrazino-9, 10-anthracenedione, and the corresponding anthrapyrazoles. Tetrahedron Lett 45:4977–4980

43.

Yang X, Pan ZT, Ma Y (2003) Rhoda mine B as standard substance to measure the fluorescence-quantum yield. J Anal Sci 19:588–589 (in Chinese)

44.

Benesi HA, Hildebrand JH (1949) A spectrophotometric investigation of the interaction of iodine with aromatic hydrocarbons. J Am Chem Soc 71:2703–2707

45.

Joshi BP, Park J, Lee WI, Lee KH (2009) Ratiometric and turn-on monitoring for heavy and transition metal ions in aqueous solution with a fluorescent peptide sensor. Talanta 78:903–909

46.

Boiocchi M, Del Boca L, Gómez DE, Fabbrizzi L, Licchelli M, Monzani E (2004) Nature of urea-fluoride interaction: incipient and definitive proton transfer. J Am Chem Soc 126:16507–16514
Acknowledgements
This study was supported by the Science Foundation for Creative Research Groups of HBNU (No. T201501) and Foundation for Hubei Key Laboratory of Pollutant Analysis and Reuse Technology (No. PA150204).
Electronic supplementary material
Below is the link to the electronic supplementary material.
About this article
Cite this article
Hu, Y., Liu, Y., Li, Q. et al. New Colorimetric and Fluorometric Fluoride Ion Probe Based on Anthra[1,9-cd]pyrazol-6(2H)-one. J Fluoresc 27, 2287–2294 (2017). https://doi.org/10.1007/s10895-017-2170-7
Received:

Accepted:

Published:

Issue Date:
Keywords
Colorimetric

Fluorometric

Fluoride ion

Anthra[1,9-cd]pyrazol-6(2H)-one

Theoretical calculations