A Highly Selective Turn-on Fluorescent Chemodosimeter for Cu2+ Through a Cu2+-Promoted Redox Reaction
Abstract
A highly sensitive and selective photoinduced electron transfer (PET) fluorescence chemodosimeter L for Cu2+ detection has been synthesized and characterized. This PET chemosensor composed of a butano-tethered electron-riched phenothiazine (Ptz) donor and acridine orange (AO) signalling element. Based on the Cu2+-promoted oxidation of Ptz donor, the signalling element AO showed a unique fluorescent turn-on properties, which led to a highly Cu2+-specific fluorescent chemodosimeter. A fluorescent enhancement factor over 8-fold can be reached by fully blocking the PET channel with a detection limit down to the 10−7 M range. Meanwhile, the reversibility of the chemodosimeter L can be realized by the addition of L-cysteine.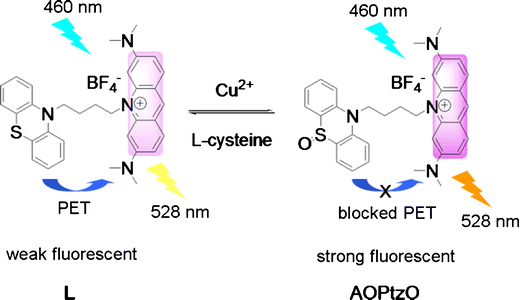 Keywords
Fluorescence spectroscopy 
Sensor 
Acridine orange 
Copper ion 
Redox reaction 
Notes
Acknowledgments
We gratefully acknowledge the Natural Science Foundation of China (NNSFC 21272172), the Program for New Century Excellent Talents in University (NCET-09-0894) and the Natural Science Foundation of Tianjin (12JCZDJC21000).
Copyright information
© Springer Science+Business Media New York 2014