Abstract
TiO2 colloidal nanoparticles and nanocrystals are prepared by hydrolysis of titanium isopropoxide employing a surfactant-free synthetic hydrothermal method. The synthesized samples are characterized by X-ray diffraction (XRD), HRTEM and FTIR. The XRD study confirms that the size of the colloidal nanoparticle is around 4 nm which the HRTEM analysis indicates the sizes of the colloidal nanoparticles are in the range of 2.5 nm. The fluorescence property of the TiO2 colloidal nanoparticles studied by the emission spectrum confirms the presence of defect levels caused by the oxygen vacancies. We have observed new emission bands at 387 nm,421 nm, 485 nm, 530 nm and 574 nm wavelengths, first one (387 nm) being emission due to annihilation of excitons while remaining four could be arising from surface states. The emission spectrum of annealed nanocrystallites is also having these four band emissions. It is observed that the surface state emission basically consists of two categories of emission.
Access options
Buy single article
Instant access to the full article PDF.
USD 39.95
Price excludes VAT (USA)
Tax calculation will be finalised during checkout.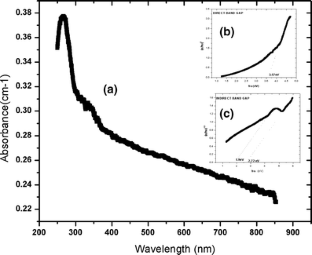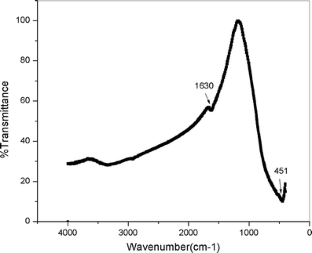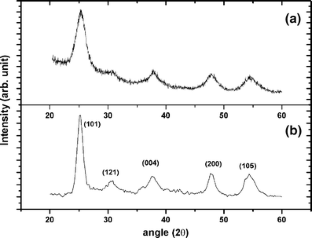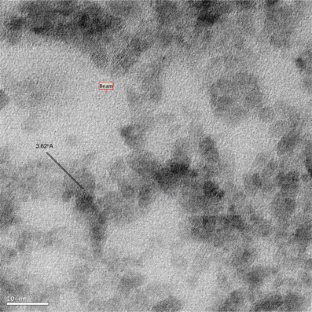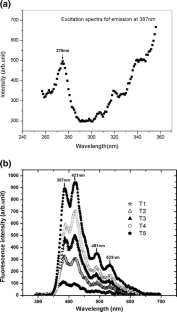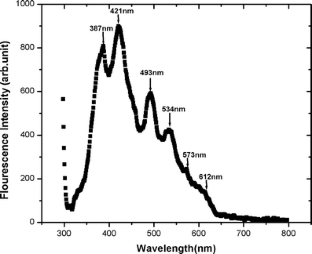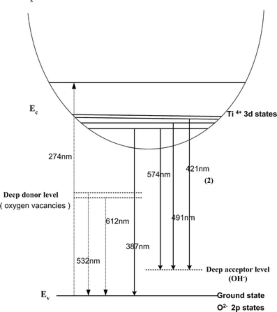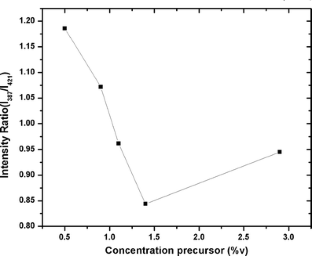 References
Li L, Hu J, Yang W, Alivisatos AP (2001) Nano Lett 1(7):349–351

Alivisatos AP (1996) Science 271:933–937

Singh Nalwa H (2000) Nanostructured materials and nanotechnology. Academic Press 257–259

Wang Y, Herron N (1988) J Phys Chem 92:4988

Brus LE (1983) J Chem Phys 79:5566

Ito S, Yamada Y, Kuze M, Tabata K, Yashima T J Mater Sci 39(18):5853–5856

Nakato Y, Tsumura A, Tsubomura H (1982) Chem Phys Lett 85:387

Oregan B, Gratzel M (1991) Nature 353:737

Berenson ME (1984) Color Res Appl 9(2):98–102

Hudec B, Husekova K, Dobrocka E, Lalinsky T, Aarik J, Aidla A, Frohlich K (2010) IOP Conf Series Mater Sci Eng 8:012024

Zhang JZ (2000) J Phys Chem B 104(31):7239–7253

Plugaru R, Cremades A, Piqueras J (2004) J Phys Condens Matter 16:S261–S268

Pascual J, Camassel J, Mathieu H (1978) Phys Rev B 18:5606–5614

Glassford KM, Chelikowsky JR (1992) Phys Rev B 45:3874–3877

Serpone N, Lawless D, Khairutdinov R (1995) J Phys Chem 99:16646

Shirke BS, Korake PV, Hankare PP, Bamane SR, Garadkar KM J Mater Sci Mater Electron. doi:10.1007/s10854-010-0218-4

Tang H, Berger H, Schmid PE, Levy F (1993) Solid State Commun 87(9):847–850

Zhao Y, Li C, Liu X, Feng Gu, Jiang H, Shao W, Zhang L, He Y (2007) Mater Lett 61:79–83

Wang X, Feng Z, Shi J, Jia G, Shen S, Zhou J, Li C (2010) Phys Chem 12:7083–7090

Koch U, Fojtik A, Weller H, Henglein A (1985) Chem Phys Lett 122:507

Irimpan L, Deepthy A, Krishnan B, Nampoori VPN, Radhakrishnan P (2007) Size dependent fluorescence spectroscopy of nanocolloids of ZnO. J Appl Phys 102:063524

Jacques I (1971) Pankove - Optical processes in semiconductors. 422 pages –

Daude N, Gout C, Jouanin C (1977) Phys Rev B 15:3229

Madhu Kumar P, Badrinarayanan S, Sastry M (2000) Thin Solid Films 358:122–130

Mochizuki S (2003) Physica B 340–342:944–948

Pan D, Zhao N, Wang Q, Jiang S, Ji X, An L (2005) Adv Mater 17:1991

Hanamura E (1990) Phys Rev B 42:1724
Acknowledgments
The authors wish to acknowledge UGC New Delhi for the financial assistance through CELOS project.
About this article
Cite this article
Mathew, S., kumar Prasad, A., Benoy, T. et al. UV-Visible Photoluminescence of TiO2 Nanoparticles Prepared by Hydrothermal Method. J Fluoresc 22, 1563–1569 (2012). https://doi.org/10.1007/s10895-012-1096-3
Received:

Accepted:

Published:

Issue Date:

DOI: https://doi.org/10.1007/s10895-012-1096-3
Keywords
Colloidal nanoparticles

Anatase

Fluorescence