Abstract
In pH 2.8~3.6 HCl-NaAc buffer solution, eosin Y (EY) can react with verapamil hydrochloride(VP) to form a 1:1 ion-association complex, which not only causes the change of absorption spectra and the quenching of fluorescence, but also results in the great enhancement of resonance Rayleigh scattering (RRS). Furthermore, a new RRS spectrum with the maximum wavelength at 324 nm will appear. In this work, the spectral characteristics of absorption, fluorescence and resonance Rayleigh scattering spectra, the optimum conditions for the reaction, the influencing factors and the analytical properties have been investigated. Thereby, a sensitive, simple, rapid and new method for the determination of VP by using eosin Y as a probe has been developed. The detection limit is 0.95 ng/mL for RRS method, 6.4 ng/mL for fluorophotometry and 0.18 μg/mL for spectrophotometric method. The absorbance, RRS and fluorescence intensity is proportional to the concentration of VP in the range of 0.6036~4.0 μg/mL, 0.0032~4.5 μg/mL and 0.0213~4.0 μg/mL, respectively. The effects of the reaction of verapamil hydrochloride and eosin Y on the absorption, fluorescence and resonance Rayleigh scattering spectra have been investigated. Meanwhile, the influences of coexisting substances are tested by RRS method and the results show that this method can be satisfactorily applied to the determination of VP in tablet and human serum samples. The composition and structure of the ion-association complex and the reaction mechanism are discussed. Moreover, the energy transfer among absorption, fluorescence and RRS was investigated briefly in this work.
Access options
Buy single article
Instant access to the full article PDF.
USD 39.95
Price excludes VAT (USA)
Tax calculation will be finalised during checkout.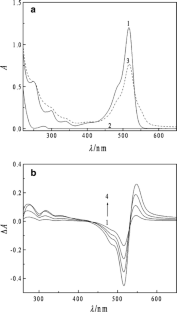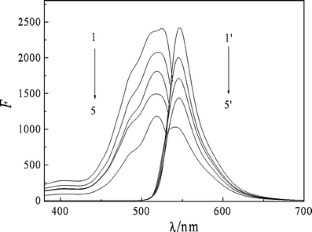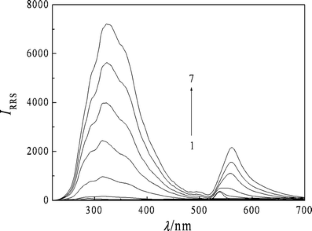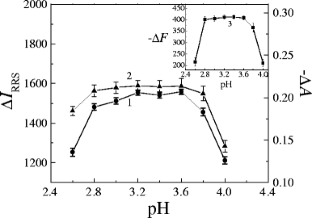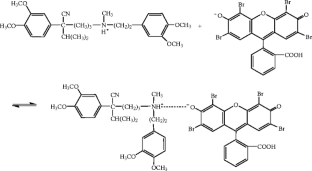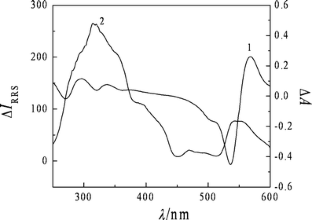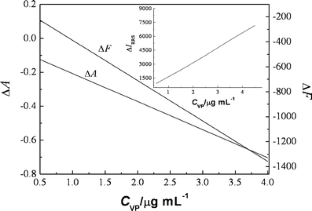 References
You QD (2004) Medicine chemistry. Chemical Chemistry Press, Beijing, p 305

Song HB, Zhang J (1998) Clinical application of verapamil. J Clin Med Chin 14:394–396

Rahman N, Hejaz Azmi SN (2004) Spectrophotometric method for the determination of verapamil hydrochloride in pharmaceutical formulations using N-bromosuccinimide as oxidant. Farmaco 59:529–536

Wang CY (2000) Determination of verapamil hydrochloride tablets without denuding the sugarcoat. J Chin Pharm 35:45–46

Long Y, Feng JZ, Tong SY (1993) Spectrophotometry of verapamil tablets with charge transfer reaction. Chin J Pharm 24:267–270

Rahman N, Hoda MN (2002) Spectrophotometric determination of verapamil hydrochloride in drug formulations with chloramine-T as oxidant. Anal Bioanal Chem 374(3):484–489

Soini H, Riekkala ML, Novotny MV (1992) Chiral separations of basic drugs and quantitation of bupivacaine enantiomers in serum by capillary electrophoresis with modified cyclodextrin buffers. J Chromatogr 608:265–274

Rui J, Zhou X, Lin S, Yuan Y, Xiang B, An D (1998) Simultaneous determination of the enantiomers of verapamil and norverapamil in plasma by high performance capillary electrophoresis. Acta Pharm Sin 33:517–522

Walash M, Belal F, El-Enany N, Abdelsalam A (2006) Spectrofluorometric determination of verapamil hydrochloride in pharmaceutical preparations and human plasma using organized media: application to stability studies. J AOAC Int 89:1565–1572

Esteves da Silva JCG, Leitao JMM, Costa FS, Ribeiro JLA (2002) Detection of verapamil drug by fluorescence and trilinear decomposition techniques. Anal Chim Acta 453(1):105–115

Muscara MN, De-Nucci G (1993) Measurement of plasma verapamil levels by high-performance liquid chromatography. Braz J Med Biol Res 26:753–763

Ozkan Y, Yilmaz N, Ozkan SA, Biryol I (2000) High-performance liquid chromatographic analysis of verapamil and its application to determination in tablet dosage forms and to drug dissolution studies. Farmaco 55:376–382

Jhee HJW, Om AS, Lee MH, Lee WS, Shaw LM, Lee JW, Kang JS (2005) Direct determination of verapamil in rat plasma by coupled column microbore-HPLC method. J Pharm Biomed Anal 37:405–410

Chen GL, Li YF, Lee FY (2000) A stability indicating method for verapamil by high-performance liquid chromatography/diode array detector. Chin Pharm J (Taipei, Taiwan) 52:113–122

Drummer HS, Kourtis S, Syrjanen ML, Tippett P (1994) Capillary gas chromatographic drug screen for use in forensic toxicology. J Anal Toxicol 18:134–138

Khalil S, Kelzieh A (2002) Determination of verapamil in pharmaceutical formulations using atomic emission spectrometry. J Pharm Biomed Anal 27:123–131

Kasim EA, Ghandour MA, El-Haty MT, Ahmed MM (2002) Determination of verapamil by adsorptive stripping voltammetry in urine and pharmaceutical formulations. J Pharm Biomed Anal 30:921–929

Xu DP, Liu SP, Liu ZF, Hu XL (2007) Determination of veraphamil hydrochloride with 12-tungsto-phosphoric acid by resonance Rayleigh scattering method coupled to flow injection system. Anal Chim Acta 588:10–15

Anglister J, Steinberg IZ (1983) Resonance Rayleigh scattering of cyanine dyes in solution. J Chem Phys 78:5358–5368

Liu SP, Zhou GM, Liu ZF (1999) Resonance Rayleigh scattering for the determination of cationic surfactants with Eosin Y. Fresenius J Anal Chem 363:651–654

Hao XL, Li NB, Luo HQ (2009) Determination of dextran sulfate sodium with crystal violet by triple-wavelength overlapping resonance Rayleigh scattering. Spectrochim Acta Part A 71:1673–1677

Liu JT, Liu SP, Liu ZF (2010) The resonance Rayleigh scattering of the interaction of copper (II)-bleomycinA2 with DNA and its analytical application. Sci China B 53:619–625

Li YF, Shen XW, Huang CZ (2008) A coupled reagent of o-phthalaldehyde and sulfanilic acid for protein detection based on the measurements of light scattering signals with a common spectrofluorometer. Talanta 75:1041–1045

Fan Y, Long YF, Li YF (2009) A sensitive resonance light scattering spectrometry of trace Hg2+ with sulfur ion modified gold nanoparticles. Anal Chim Acta 653:207–211

Yu LH, Liu ZF, Hu XL, Kong L, Liu SP (2010) Tungstate ion resonance Rayleigh scattering method for determination of basic triphenylmethane dyes. Chin Sci Bull 55:693–700

Wei XQ, Liu ZF, Liu SP (2005) Resonance rayleigh scattering method for the determination of tetracycline antibiotics with uranyl acetate and water blue. Anal Biochem 346:330–332

Liu SP, Wang F, Liu ZF, Hu XL, Yi AY, Duan H (2007) Resonance rayleigh scattering spectra for studying the interaction of anthracycline antineoplastic antibiotics with some anionic surfactants and their analytical applications. Anal Chim Acta 601:101–107

Qin MY, Liu SP, Liu ZF, Hu XL (2009) Resonance rayleigh scattering spectra, non-linear scattering spectra of tetracaine hydrochloride—erythrosin system and its analytical application. Spectrochim Acta Part A 71:2063–2068

Hu XL, Xu DP, Liu SP, Liu ZF, Liu S (2009) Determination of propafenone hydrochloride by flow-injection analysis coupled with resonance light scattering detection. Luminescence 24:79–83

Yu LH, Liu ZF, Liu SP, Hu XL, Liu LF (2009) Fading spectrophotometric method for the determination of polyvinylpyrrolidone with Eosin Y. Chin J Chem 27:1505–1509

Matveets MA, Shcherbov DP, Akhmetova SD (1979) Study of spectrophotometric and luminescence properties of hydroxyxanthene dyes in aqueous solution. Zh Anal Khim 34:1049–1054

Zhou GD (2003) Dictionary chemistry (in Chinese). Chemical Industry Press, Beijing, p 654

McPhie P (2006) Resonance light scattering profiles must be corrected for instrument performance. Anal Biochem 348:157–159

Stanton SG, Pecora R, Hudson BS (1981) Resonance enhanced dynamic Rayleigh scattering. J Chem Phys 75:5615–5626

Zhang YH (1988) Physical chemistry. Shanghai Jiaotong University Press, Shanghai, p 538 (in Chinese)

Liu SP, Wang F, Liu ZF, Hu XL (2007) Study on the interaction between epirubicin hydrochloride and nucleic acid and its analytical application by resonance rayleigh scattering spectra. Acta Chim Sinica 65:962–970

Liu SP, Hu XL, Liu ZF (2006) Study on the resonance Rayleigh scattering spectra and resonance non-linear spectra of congo red-amikacin system and its analytical application. Sci China B 49:507–516

Raman CV (1930) The molecular scattering of light. Nobel lecture delivered at Stockholm, December 11th

Tang XL, Liu ZF, Liu SP, Hu XL (2007) Study on the interaction between diphenhydramine and erythrosin by absorption, fluorescence and resonance Rayleigh scattering spectra. Sci China B 50(1):54–62

Editorial Committee of the Pharmacopeia of People's Republic of China (2005) The pharmacopeia of People's Republic of China (Part II). Chemical Industry Press, Beijing, p 269
Acknowledgements
The authors gratefully acknowledge the financial supports from the National Natural Science Foundation of China (No.20875078), Chongqing Municipal Key Laboratory on Luminescence and Real-Time Analysis (CSTC, 2006CA8006) and the Natural Science Foundation Project of CQ CSTC (CSTC, 2007BB1359)
About this article
Cite this article
Li, C., Liu, S., Liu, Z. et al. Study on the Interaction Between Verapamil Hydrochloride and Eosin Y by Absorption, Fluorescence and Resonance Rayleigh Scattering Spectra and Their Analytical Applications. J Fluoresc 21, 723–732 (2011). https://doi.org/10.1007/s10895-010-0762-6
Received:

Accepted:

Published:

Issue Date:

DOI: https://doi.org/10.1007/s10895-010-0762-6
Keywords
Resonance Rayleigh scattering

Spectrophotometry

Fluorescence quenching

Verapamil hydrochloride

Eosin Y